The Penn Yan Named Penny An
A rebuilt lake boat ready to zoom into the next century
By Chris Chapman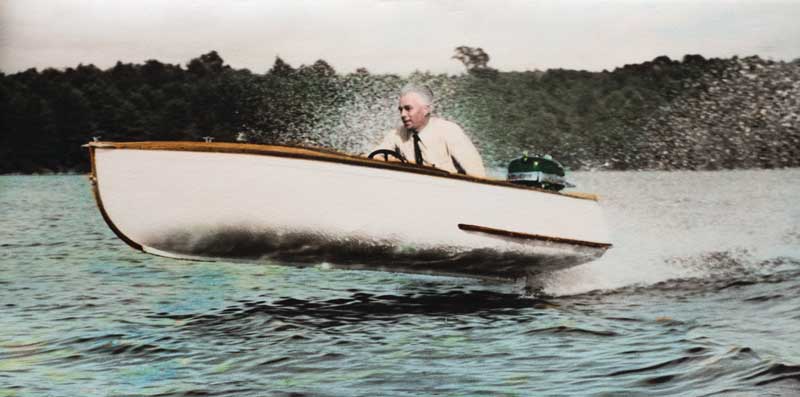 This hand-colored photo shows Penny An's original owner Jim Chapman jumping a wake and going airborne on Damariscotta Lake circa 1954. An amateur photographer, he developed and colored the image himself. Photo courtesy Chris Chapman
Sometimes an object becomes a legend if it hangs around long enough. And if you happen to "own" that object, you become the one responsible for keeping its legacy intact. In fact, you don't own it, you are just the one responsible for safeguarding it—you have the honor of being its steward.
That's where I find myself with Penny An, a Penn Yan Swift, CZT 4959 Class C racing runabout. My uncle, Jim Chapman, bought her off the floor of the Boston Boat Show in 1946. He said it was love at first sight, and he treated her that way. All of us who knew her shared that love.
The Chapman cousins looked forward to Uncle Jim's month-long August vacation. A ride in his boat was what we waited for—a chance to climb in and zoom around Pemaquid Lake in Damariscotta, Maine.
For me, rides in Penny An were the thrill of the summer. She had two cockpits, and four of us could squeeze in for a ride. My favorite spot was under the forward deck, away from the wind and close to the action. I could feel her slice through the water just a few thin planks away from my head and thump my body as we rode the waves. Besides, she was a beauty to behold: a mahogany-planked deck and gunwales, then the two cockpits separated by more decking. Long and low, made of varnished wood and a gleaming white canvas hull with a snappy red pinstripe, her mighty 12 feet cut an elegant form both in and out of the water.
Jim Chapman and his Penn Yan were well known on the lake. He claimed, in jest, to be the "Commodore of the Pemaquid Fleet," and we all knew why. His boat was quite a phenomenon with him behind the wheel. He could ride the crests of waves like a surfer—gliding over the surface and finally doing a quick 360 to come toward shore. She could turn on a dime in a clean and graceful curve, then zoom past us to put on another show.
Uncle Jim could even take her airborne, the "feat to beat." He took it as a personal challenge, and, in order to execute it perfectly, he contracted with a Michigan propeller company to make a customized prop for his 10-horse Mercury with the perfect pitch to fly over the wakes of other boats. In his instructions to the company, he included his body weight and the weight of a full tank of gas for the calculations. All that fuss paid off. He could catch his own wake at just the right angle to acquire enough loft to jump out of the water. When he sent a photo of this sensational feat to the Penn Yan company, people there said it was impossible and that the image must have been altered. But, this was in the mid 1950s—no technology existed to do that. It was an honest shot. Uncle Jim and my father, David, were the only two people who could coax Penny An to fly.
By the 1970s, Penny An no longer ruled the waves. Uncle Jim retired to Maine and kept his boat stored in Dad's barn at the Chapman farm. He would take her out for a few rides in the summer, but eventually she just sat like a coveted trophy from an earlier time.
Then, in 1991, I built a little bunkhouse on Damariscotta Lake, on land that my father and his three brothers had inherited from their aunt.
In the 1950s and 1960s we would go there for picnics, boating, and swimming, but all of that had been gone for 20 years. Now there was a picnic table, a screened kitchen and, of course, a dock. Jim and his wife would come with my folks for picnics, revisiting the pleasure of those long-gone days at the lake. That's when Jim gave my father his beautiful Penn Yan—it was the time for her to come out of retirement. She was immediately registered and launched, and the two brothers got to enjoy her into their 80s and 90s. Eventually they realized she needed to be passed on, and that is how she came to me.
So, for the past 20 years, the Penn Yan and I have provided rides and thrills for those original cousins, their children, grandchildren, nephews, and nieces each summer. That, along with many admirers on Damariscotta Lake, means she's acquired quite a fan club. When she turned 71, I decided she needed some TLC and brought her to Mitch Garey at Edgecomb Boat Works. The first year of the restoration, he supported her with a cradle trying to "get the hog out" and, as he studied her, he advised getting a new trailer with more support. Garey let me use her for a few weeks that next summer if I was careful as she was very tender.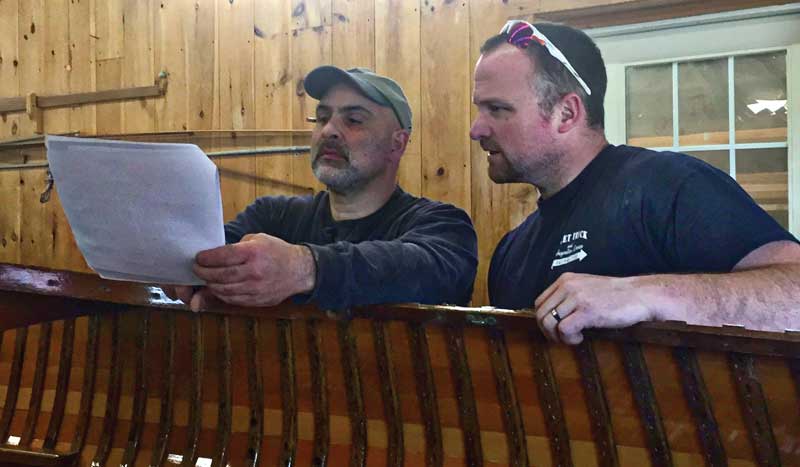 Once Penny An arrived at Edgecomb Boat Works, the crew realized she needed a thorough restoration. Photo courtesy Chris Chapman
Turns out I had been riding the waves on borrowed time—she was long overdue for attention, as we learned when Penny An went back into the Edgecomb shop the next winter. Once the canvas came off, they discovered broken, rotted, split planking, and a dilapidated keel that fell apart in their hands. Even the screws in the floor boards were nothing more than rusty nibs. It seemed the skin alone had been holding her together. When I visited  Penny An that winter she was not much more than a pile of pick-up sticks held together with a hope and a prayer.
New planking was milled and formed to her mostly original oak ribs. As I visited her, her shape began to evolve as the Edgecomb crew researched, pondered, and calculated what it would take to return her to her elegant form. Every inch needed major attention. They told me that if the decking had not been in such good shape, it would have been hopeless to restore the boat. Thank goodness she had always been stored indoors.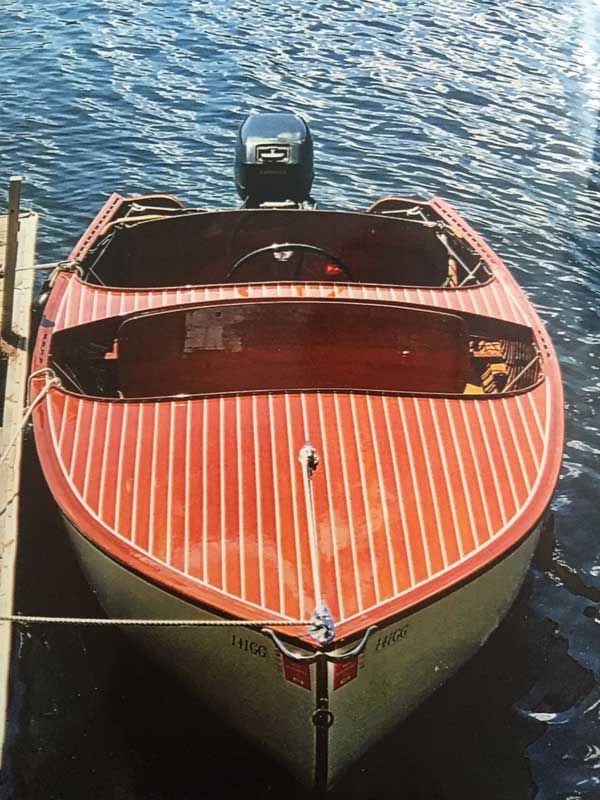 Penny An is fully restored and ready for another 50 years of lake adventures. Photo courtesy Chris Chapman
As the winter progressed and their hard work began to pay off, I think the men at Edgecomb Boat Works fell in love with Penny An, too. Through their careful planning and hundreds of hours of painstaking work, they brought her back to her former glory. Her decks, refurbished with new white lines and many coats of varnish, her new planking, a stronger keel, and replicated new seats mean she is seaworthy again. The beautiful form of her transom blooms and then races to the bow. She looks ready to conquer the lake again, sure to bring admiring smiles for her classic beauty as she flies by.  
---
Chris Chapman is a retired high school and college art teacher and a well-known potter. She grew up on Chapman Farm in Damariscotta.
Share this article:
2023 Maine Boat & Home Show

Join Us for the Maine Boat & Home Show!
Art, Artisans, Food, Fun & Boats, Boats, Boats
August 11 - 13, 2023 | On the waterfront, Rockland, Maine
Click here to pre-order your tickets.
Show is produced by Maine Boats, Homes & Harbors magazine.