Finestkind Boatyard
A Do-It-Yourself Boatyard
By Ted Hugger
All photos by Ted Hugger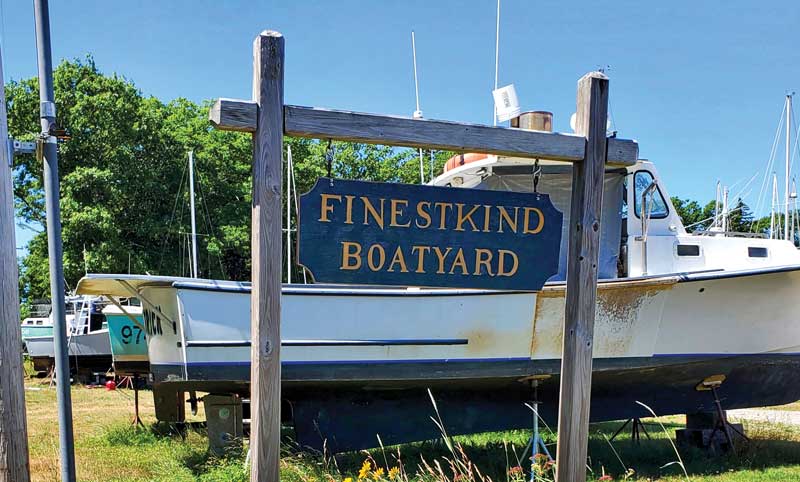 Finestkind Boatyard, on Basin Cove in South Harpswell, welcomes do-it-yourself boat owners.
Finestkind Boatyard's roots run to Ogunquit, where the Hubbard family founded Finestkind Scenic Cruises in 1956. Operating three wooden tour boats left the business in a quandary with limited options for the storage, repair, and maintenance of their fleet. "We started the yard to maintain those boats," said Mark Hubbard, Finestkind's president. "The tourist season starts early in the year and ends late so trying to find a yard that would let us do our own work was difficult."
In 1982, the family purchased an 11½ acre site along the shores of Basin Cove in South Harpswell with lots of room and protected deepwater access. "It was just a field when we started," Hubbard recalled. "At that time, I was working as a captain for my father on the tour boats in the summertime. In the fall and winter, we built one building at a time."
The first winter project was the company's small shop, a 24' x 44' building. The yard's office came next—a 16' x 32'  structure. The 36' x 60' main shop was then built, followed by a 60' x 120' storage building.
"I even built our first hydraulic trailer just to haul boats around the yard. We really didn't plan on getting into the transport business, but it just took off like wildfire!" Hubbard said. In the beginning, he had one of only three boat-hauling trailers in the entire state. "By the time we got out of the business in 1993, there were 30 boat haulers in competition. At one point, we had two crews and two hauling rigs, moving 1,200 boats a year over the road."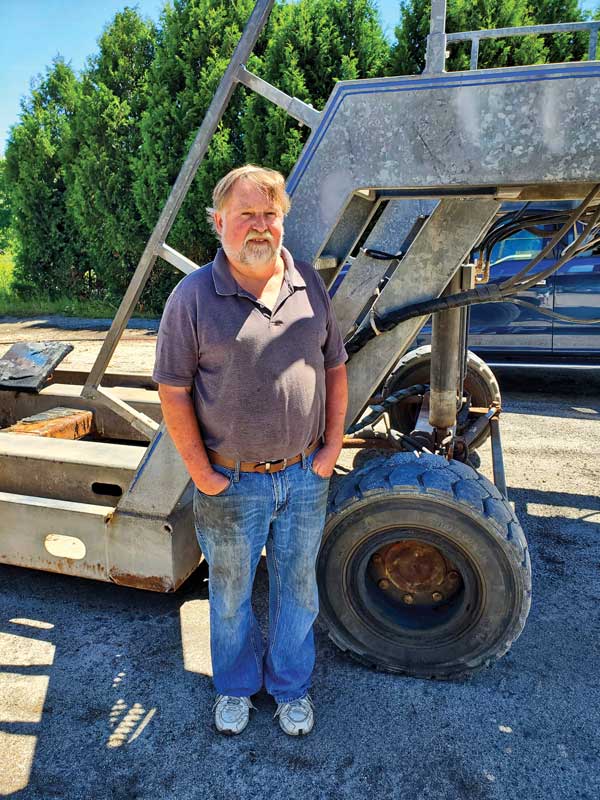 Mark Hubbard founded Finestkind Boatyard with his family in 1982. Hubbard is a man of many hats, a necessary evil when you're running an eight-person boatyard. "Unfortunately," he said with a grin, "I have my fingers in all of it. I'm the one who runs the hauling rig. I'm the one who runs the crane. I'm the one who does the metal fabrication. And anything life-changing, like planks or frames, I get to do that too—with help, but I'm in charge of it."
The yard's focus is on boaters who wish to do most or all their own work. "Out of all the boats that we store here, fewer than 30 are what I would call 'full-service' customers; the rest pretty much do their own work. They'll have us do a little thing here and there, but they're trying to make boating affordable by doing much of the work themselves," Hubbard said.
Last year when many boatyards on Casco Bay stopped taking new customers, Finestkind went from storing 110 boats to 160 in just one season, which was tough, Hubbard said, because the yard is understaffed.
The state's shortage of skilled tradespeople and general laborers has made finding skilled help difficult, he said. "It's hard to say how many more employees we really need, because I refused so much work this year. We've got eight employees, and that's nowhere enough for the work we have in-house now, let alone all the work I turned down. The customers that did come, I told them right up front 'we can haul your boat and we can launch it, but when it comes to any kind of work, expect to do your own.'"
That said, except for repairing outboard motors, the yard can handle just about any job: woodwork, glasswork, paintwork (including Awlgrip) and varnish, and engine rebuilding. The yard even has a small machine shop on the premises for stainless steel and aluminum fabrication.
But unless he can find more help, Hubbard does not plan on taking in any new customers this year. "With 11½ acres, we have the space; I could easily put up one or two storage buildings. Our equipment certainly can handle lots more growth. So, the restriction boils down to not having enough staff, and not overwhelming our current staff."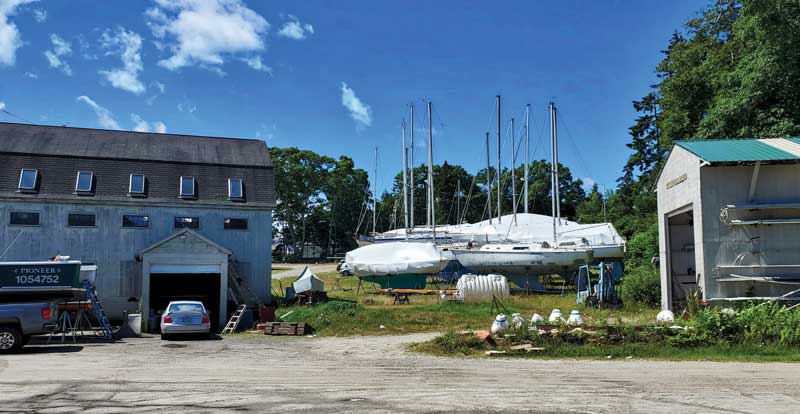 Finestkind Boatyard is host to 160 boats, most of which are owner maintained.
The crew he does have is top notch, Hubbard was quick to add. Take Sheri Feley, Finestkind's office manager. Hubbard leaned over in his chair behind a desk piled high with magazines, catalogs, and years of stuff and hollered to Sheri in the outer office, "How long have you been here, Sheri ?" In a nanosecond, she laughed and fired back, "Too long!" Fact is, this trusty right-hand person has been with the yard for 10 years; she manages scheduling, accounts receivable and payable, and payroll. Better yet, she's part of a two-fer package; her husband, Bob, does electrical, wiring, plumbing, and electronics installation for the yard. The couple owns a 40' Tashiba sailboat, and their plan is to retire and take off sailing.
Brandi Johnson will be taking Sheri's place once she and Bob retire. Mechanic Andrew Peters is also capable in fiberglass work, painting, and "just about anything you ask him to do," Hubbard said. Nicole Frizzle's role is mostly painting and varnishing, but she'll lug jack stands and blocking and power-wash bottoms. Chris Benoncourt and his girlfriend, Rebecca Upshaw, started with the company when they arrived on their 32' Cheoy Lee sailboat. The couple live aboard during the summer and both do all sorts of yard work including prepping and painting bottoms, Hubbard said.
The heart and soul of the yard is its unique hydraulic boat trailer, an innovative piece of engineering that Hubbard designed and had built by Hostar Marine in 2003. It's really not a trailer, because there's no truck to pull it—it is self-propelled, the first ever built.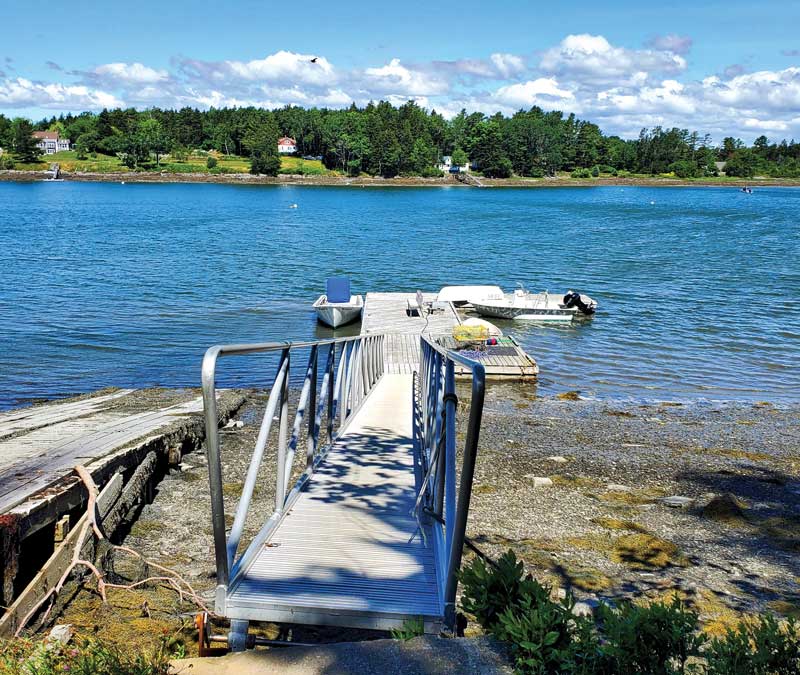 The yard's deepwater property lies at the tip of Harpswell Neck in Casco Bay.
Hubbard cited the rig's combination of adept maneuverability, compact size, and impressive 20-ton capacity. "The largest boat we've moved is a Wesmac 50. We hauled it out of the water, lengthened the boat to 57', and then launched the Wesmac with the self-propelled hauler."
When he had the boat loaded on the hauler ready to launch, Hubbard nervously surveyed the boat's overhang, then turned to the owner and said "This is gonna be a one-way trip." With that, he clambered up on the end of the rig and started jumping up and down, trying to convince himself that the front wheels of the hauler wouldn't come off the ground. It wasn't the additional weight that worried him, it was the overhang of the boat off the end of the hauler. "It was more my nerves than anything else," he recalled, "but the rig handled it fine."
Two of the three family cruise boats, which run about 15 trips a day from late April through October, are stored and maintained at Finestkind. "We do quite a bit of work on them. They're wooden boats, plus they must pass their Coast Guard inspection each year and everything must be right up to snuff," Hubbard said.
The 36' Finestkind I is the newest boat, built in 1976. The 37' Finestkind II was built in 1957. And Finestkind III, built in 1968, is the oldest and 44' in length. You might ask yourself, why is Finestkind I newer than Finestkind II and III? With a chuckle, Hubbard explained: "When my father had Finestkind III built, he sold the original Finestkind I. People kept asking him, ′What happened to Finestkind I, did she sink? Dad got so sick and tired of the endless questions that when he had the new boat launched, he named it Finestkind I just to put a stop to THAT conversation."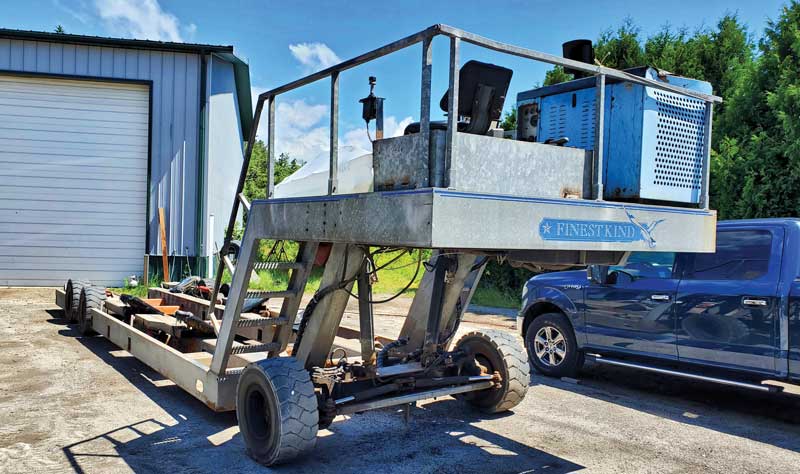 In 2003, Finestkind president Mark Hubbard designed, and then had Hostar Marine build, a self-propelled boat hauler, which he says is the first of its kind.
The yard has seen its share of new builds over the years, including two one-off high-performance offshore fishing boats. Both are Spencer Lincoln hull designs: a 38' built in 1993 and a 36'′built in 2005.
The 38's hull is strip-planked Baltek DuraKore, panels are balsa cored, and everything is layed up and post-cured with Gougeon Brother's Pro-Set laminating epoxy.
Always the innovator, Hubbard developed a unique post-curing procedure for this project. Instead of building an oven to post-cure the laminations, he used PEX tubing—the type developed for radiant heat flooring—and draped it over the hull, covered everything with insulation and hooked the tubing up to the shop′s heating boiler. "The beauty of this was that the temperature was regulated at exactly 165 degrees Fahrenheit for the specified optimal cure temperature and time. Since it was hot-water circulation there were no hot spots, no low-temperature spots; the temperature was perfectly even and steady throughout the entire lamination."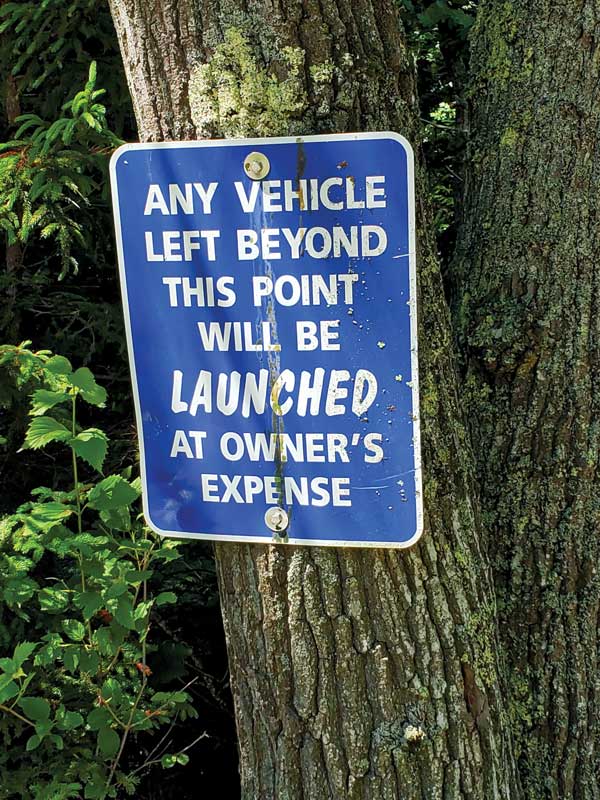 Keeping the yard's deep-water launch and float cleared for action is a priority. Also unique to this boat, Hubbard designed it with just one through-hull; that through-hull feeds a sea chest. All the cockpit drains feed into a common drain system to just one set of scuppers in the stern of the boat. The electronics transducers were flush mounted, so except for the prop and rudder, there is nothing sticking out of the bottom of the boat to create performance-robbing resistance. Hubbard's innovations attracted the attention of Bruce Pfund who wrote an article about the project for Professional BoatBuilder magazine; at that point, flush-mounted transducers were considered cutting-edge technology.
Light weight and speed are the name of the game, and the 38 delivered in spades. The original motor was an International 530 truck engine, the only 530 ever marinized. Unfortunately, the company doing the marinization went out of business right after the owner picked up the engine. "The company was supposed to have boosted the horsepower from 330 to 550, but when we pulled the engine and had it dyno-ed a year later, we discovered they'd never completed the work. But even with just 330 horsepower, this 38' fully loaded boat did 30 knots.
The 36' sportfisherman is a similar study in light-weight construction. Powered by a 420-hp Isuzu diesel, it also runs at 30 knots. Unlike the 38, the 36 was built with ATC foam core planking. All the panels were Nida-Core honeycomb. The completed hull, deck, trunk, house, fuel tanks, and pilothouse (but not the engine and running gear) weighed in at a remarkably light 4,200 pounds.
"We're a small yard and even though we offer full services, we're truly dedicated to helping the do-it-yourselfer," Hubbard said. And then with a hopeful smile he added, "And we're looking for help!" 
---
Ted Hugger moors his 53-year-old Grand Banks 32 in Southport, and owns the Cedar Crest Inn in Camden with his wife, Jill.
Finestkind Boatyard
11 Bristol Way, Harpswell, ME
207-833-6885; www.fkby.com
Share this article:
2023 Maine Boat & Home Show

Join Us for the Maine Boat & Home Show!
Art, Artisans, Food, Fun & Boats, Boats, Boats
August 11 - 13, 2023 | On the waterfront, Rockland, Maine
Click here to pre-order your tickets.
Show is produced by Maine Boats, Homes & Harbors magazine.