Hunt Harrier 25 Sport
A great design stands the test of time
By Art Paine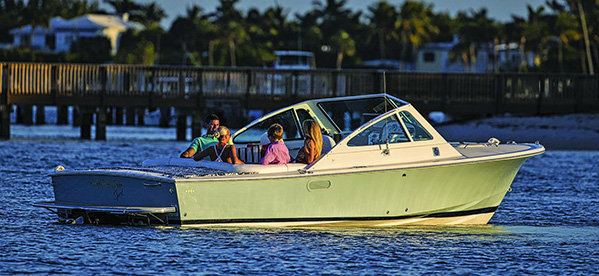 Sharing the same hull and engineering as the Hunt Harrier Series, the new 25 Sport is designed to look futuristic, yet retro classic. A platform over the engine in the stern makes a comfortable seating area, and there is a small cabin with a handy marine toilet. Photograph by Onne van der Wal
By Art Paine As a writer I get to indulge my fantasies, which include dreaming in print about boats I would own if I had unlimited means. If I had a powerboat, I'd definitely want to keep it small; single-engined to be sure, although still big and fast enough to make a beeline from Mt. Desert Island to the tip of Provincetown, Massachusetts, and the warm, sandy shorelines south of the Cape Cod Canal. In my fantasy I am wealthy enough to proceed flat-out with scant regard to the cost of fuel. Actually, I've spent lots of time in nearly the ideal powerboat. Called
Buffalo Soldier
, it's a C. Raymond Hunt design from more than 50 years ago. In terms of size, shape, great looks, ample cockpit, nice cuddy and full-throttle seaworthiness,
Buffalo Soldier
is wonderful. I've spent many a blissful summer day aboard. This boat does have a few drawbacks, however. The single gasoline engine is an older model, with older carburetion. It isn't fuel-efficient, nor does it boast an impressive power-to-weight ratio. If only there were a fiberglass version, nearly identical in terms of its deep-V "Hunt" bottom. Better yet, a boat with the famous Hunt offshore capability, but affordable for a person with an ex-sailor's instinct for frugality. Of course I wouldn't have mentioned any of this if I didn't already know that such a boat exists. It's a just-launched design called the Hunt Harrier 25 Sport. The philosophy behind the Sport was to build a boat with the performance virtues of Hunt's yachty "Harrier 25" powerboats, while significantly reducing the price and maintenance costs. It wouldn't surprise me a bit if the hull shapes of the Sport and
Buffalo Soldier
are nearly identical-even though
Buffalo Soldier
is only 22 feet long and was designed and built almost 50 years ago. Certainly the bottom configurations below the major chine are very close. While there might be a tiny bit more acidity to the ocean now, and a degree higher water temperature, wind, water, and waves haven't changed much in the past 50 years. If you want to go fast in big waves, you cannot improve upon the combination of a nearly constant, deep deadrise angle and lifting strakes. The idea goes back to 1960 when Hunt designed a deep-V wooden ocean-racing boat named
Moppie
for Richard Bertram.
Moppie
became the plug for the Bertram 31, a design so successful that Bertam later challenged Chris-Craft for copying it. The effort failed and that might have been a good thing. The basic geometry of Hunt's design has become ubiquitous, making powerboats everywhere safer in rough water. For example, his hull configuration has become commonplace on RIBs and marine patrol craft.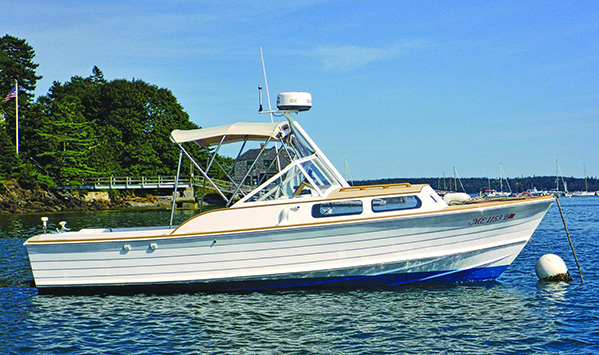 Designed 50 years ago by C. Raymond Hunt,
Buffalo Soldier
features the same deep-V hull still used by Hunt Yachts today. Unlike the Harriers,
Buffalo Soldier
was built from wood and has lapstrake planking. Photo by John K. Hanson, Jr.
In my opinion no design office understands the intricacies of the deep-V hull better than Hunt. I've always loved that distinctive Hunt look-a conventional, hard chined, boxy topside over a modern, purposeful underbody. This new "sport" variation brings to mind a vintage Porsche sports car. There's something in the shape of them that screams to me of their racing heritage. Not every weekend voyager is likely to go wave-jumping to Nantucket. It's nice, though, to have the confidence that one could do that, as well as to pilot something that looks fit for the task. The Sport has a bit more bow flare than
Buffalo Soldier
. In such a fast boat, flare does not have much of an effect on spray, because the hull deflects spray outwards. Rather, what I like about the extra flare is the extra foredeck area it creates for those times near a dock when you want more working room. Virtually all Hunt designs feature wide cockpits going all the way aft. The Sport does not have a conventional cabin. Instead an elevated windshield provides headroom for an area under the raised dashboard. I've been noodling about the windshield of the earlier Harrier 25 for as long as I've known it. I'm still unsure if to my own personal taste the small extra side "vent" window is a visual plus or not. When I interviewed Ray Hunt (C. Raymont Hunt's grandson and the Director of Manufacturing and Engineering of Hunt Yachts) for this article, he explained that this vent is actually a godsend on hot days when it directs a welcome stream of fresh air to pilot and copilot.
Buffalo Soldier
has an intriguing windshield shape, too-nobody besides an artistic genius like C. Raymond Hunt could have achieved such visual grace with a plain old triangle. The Sport's engine is in the same place as
Buffalo Soldier
's, fully aft and linked directly to the outdrive. While I'm not an expert on powerboat dynamics, I have been told that in powerboats that have the potential of leaping out of the water, the farther aft an engine is placed, the better the performance. Ray Hunt told me the Hunt deep-Vs also work their best with the lightest weight power- plants. That's one reason for the several options of Volvo gasoline engines on the Sport 25. I have little doubt that as soon as a light diesel with sufficient horsepower becomes available, it will find its way aboard a Hunt 25. Whatever the engine choice, in this boat the powerplant is covered by a sundeck large enough to accommodate two people. The extreme tumblehome that's so fashionable today would've nixed that aft lounging platform.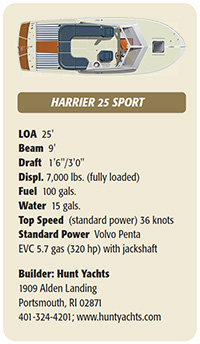 Illustration courtesy of Hunt Yachts
Although the Harrier is three feet longer than
Buffalo Soldier
, its cuddy cabin does not have any more actual room-just enough to hide a marine toilet and to sleep two people. The few things that provide the rudiments for galley work are all up on deck. This boat has sufficient accommodation for my purposes, which are to hunker down overnight in Quisset or Cuttyhunk, and it's vastly preferable to the average runabout with no accommodations at all. Do you think I gave
Buffalo Soldier
short shrift? Okay, so here goes: I love the look of lapstrakes on the topsides and wish Hunt had copied that on the glass boat. Also,
Buffalo Soldier
's trunk cabin with its ample windows provides light and panoramic views from down below. Beyond practicality, that tiny cabin with its old-fashioned windows looks "pert" atop the purposeful straight Hunt sheer. What it comes down to for me is that these fast stepsisters, each in its own way, are both sweet dreamboats. Contributing Author Art Paine is a boat designer, fine artist, freelance writer, aesthete, and photographer who lives in Bernard, Maine.
Share this article:
2023 Maine Boat & Home Show

Join Us for the Maine Boat & Home Show!
Art, Artisans, Food, Fun & Boats, Boats, Boats
August 11 - 13, 2023 | On the waterfront, Rockland, Maine
Click here to pre-order your tickets.
Show is produced by Maine Boats, Homes & Harbors magazine.