A record rainbow trout, new life for the Schooner Bowdoin, the caffeinated Boatyard Dog
By Polly Saltonstall
New destroyer guided by 80-year-old river pilot
Captain Earl Walker wasn't about to retire before seeing the Navy's futuristic Zumwalt destroyer safely down the Kennebec River to the Atlantic Ocean.
The 80-year-old river pilot and sea captain extended his contract at Bath Iron Works to ensure he could pilot the 610-foot warship Zumwalt safely through three sea trials last winter and spring, according to a recent story by the Associated Press.
The river's tricky currents and twisting turns leave little margin for error when steering big warships as they come and go from the shipyard. The $4.5 billion Zumwalt, bristling with high-tech gear and weighing in at 15,000 tons, cleared the river bottom with less than two feet to spare, Walker told the AP.
Walker's official job title is Port Captain and he works under contract to serve as the skipper of Bath-built warships before they become Navy property. Over the years, he has piloted frigates, destroyers, cruisers, and container ships built in Bath.
Back in the old days, white-knuckle moments came when ships were launched into the river for the first time with a splash, the AP story noted. It was great fun for spectators but not for Walker, who oversaw the tugs that kept the ships from being swept into the nearby bridge by the river's strong currents.
Today, warships at Bath Iron Works are built at a land-level transfer facility and floated in a dry dock with less drama. But the ships must still travel down the Kennebec River, and they do so at high tide to guarantee maximum clearance.
For Zumwalt, Walker said care was required to prevent the largest destroyer ever built for the U.S. Navy from drifting sideways, and to keep the sonar and propellers from nicking the river bottom.
Because the ship displaces more water when it moves, the 2 feet of underwater clearance at several locations on the river actually shrank to only 12 to 18 inches, he told the wire service.
If that wasn't tricky enough, visibility was restricted. Because of the ship's design, Walker couldn't see the water directly alongside its sloping hull when docking and undocking.
With the ship being transferred to Navy ownership and his contract ending last July, Walker probably won't be piloting any more Navy ships downriver.
Zumwalt was scheduled to leave Bath Iron Works this fall to travel to Baltimore to be commissioned into service. By then, the shipyard will have a new Port Captain, Mark Klopp, although Walker will stay on for another year as Klopp's backup.
"It's time for me to move on, as much as I hate to," said Walker, who's been semiretired since 2001. "I really would prefer to work but time catches up with you. Let's face it. Most guys would've quit when they were 65. I didn't. It was only because I love the work. You hate to give it up."
---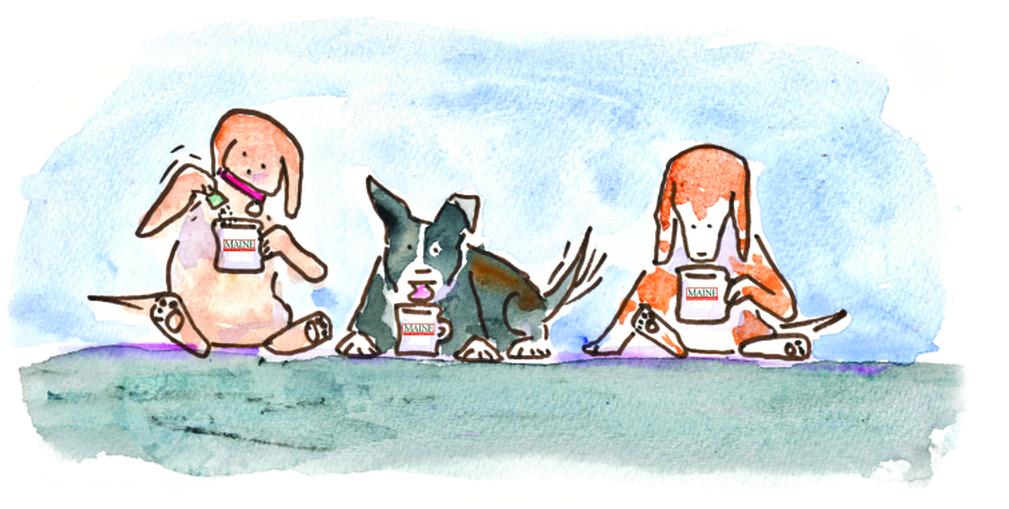 Illustration by Ted Walsh
New coffee blend makes tails wag
MBH&H helped the folks at Rock City Coffee in Rockland buy a new smokeless coffee roaster. In return, the Rock City brewers decided to name a custom coffee blend for us.
A tasting crew consisting of four of the magazine's most avid coffee addicts settled down in June to test six different versions. We learned new terms like mouth feel, bright, fruity, acidity, bold, vessel for fruit. We learned how one bean makes an impression on the front of your mouth, while another doesn't hit until later. We also learned that drinking too much coffee all at once is like drinking too much wine. By the time, we settled on a blend of yirgacheffe and Bali moon beans, we were giddy and giggly. The new Boatyard Dog Blend (bright and fruity) went on sale in June at Rock City's Rockland cafes and was an instant tail-wagging hit. Let's bark to that!
---
Record rainbow trout caught in island quarry
We've always wondered what aquatic life might be lurking under the surface in abandoned quarries that have filled with water. According to a report in the Bangor Daily News, a quarry on Vinalhaven was home to a record-setting rainbow trout.
Tim Kelley, a Waldoboro native who now lives in Arkansas, was visiting his father's home on Vinalhaven last spring when he decided to go fishing in one of the island's quarries.
"Since I was here for the weekend, I bought a cheap $25 Shakespeare ultralight trout rod from Wal-Mart, and a package of $5 Blue Fox rooster tail [lures]," Kelley said. "And I went out fishing."
Before he was done with that June 4 fishing trip, he'd landed himself in the Maine record books with the largest rainbow trout ever caught in the state, a monster that weighed 13 pounds, 7 ounces and measured 32½ inches.
The fish was more than five pounds larger than the previous record holder, an 8.42-pounder caught in the Kennebec River near Starks.
Kelley said he was fishing from shore, perched on a rock, when the fish struck his lure.
"I had my drag set pretty low, so I thought it was a big bass," Kelley told the BDN. "But it made a couple of good runs where I said, 'This is going to be a good one.' It wasn't until it surfaced and then went on another run that my buddy that I was fishing with got a little excited."
Though Kelley's fish is impressive, it's also a bit mysterious. Wes Ashe, a fisheries biologist for the Maine Department of Inland Fisheries and Resources, said there's really no reason why a rainbow trout should be in a quarry pond on Vinalhaven.
"We do stock a few quarry ponds on the island, but we only stock brook trout. The state has never stocked rainbows there. So it's likely a private stocking," Ashe told the newspaper in an e-mail. 
Ashe said quarry ponds are mostly man-made, often have no inlet or outlet, and not much lives in them.
"I would imagine the number of fish species was originally very, very limited … like zero," Ashe wrote. "I think the only fish species that could have actually reached the vast majority of these ponds, on their own, was American eels. Eels are crazy critters, capable of slithering across very long stretches of waterless terrain."
The other way fish might have arrived in the quarries is through stocking.
"Humans love to relocate fishes," Ashe noted. "So, many of these quarries now have more complex fish assemblages. In the quarry pond Tim [Kelley] visited, we have confirmed just eel, golden shiner, and stocked brook trout. The state
hasn't sampled this particular quarry since 1989, so the fish assemblage could be markedly different now. We may head out there this summer to sample."
---
Hinckley splashes its 1,000th jetboat
Boat launchings and boat christenings are special celebrations that gather together everyone involved in the act of creation: owners, designers, and builders. They also have an eternal and mythic quality—the symbolic transfer of a vessel from land to sea.
The June 15, 2016, christening of Lucky Woman, the 1,000th jetboat built by the Hinckley Company was all that and more.
First launched in 1994, sleek jetboats gave this venerable sailboat company a new life and the boating world a new icon. If all 1,000 jetboats built so far were lined up bow to stern, the resulting line would stretch more than seven miles, according to Hinckley Chief Operating Officer Mike Arieta.
The first Hinckley jetboat, the Picnic Boat that started it all, was launched in Southwest Harbor. "Since then, we've had the pleasure of building these boats for a thousand families, most of whom have come here to see the boat as it's being built or—like these owners—come here to christen their new boat and enjoy the spectacular Maine cruising grounds," said Hinckley's General Manager of Maine Operations Andy Fitzpatrick.  
Lucky Lady is a Talaria 48 flybridge model built for a Texas couple who plan to cruise the boat south to the Florida Gulf.
In developing the first Hinckley jetboat, the company was turning its attention from sail to power. It wanted to distinguish the new model by building a boat that had a traditional downeast look and offered technical advances. At the time, water jets had been used in military and commercial applications but hadn't been taken seriously by the recreational boating industry. With no underwater gear to run afoul of lobster pots, the system seemed perfect for Hinckley, "and it quickly became apparent that jets make so much sense for any place where there is shoal water, or for anyone who likes to get in close to the beach," said Phil Bennett, VP of Sales, who took part in shaping the first
Picnic Boat. The early jetboats also incorporated new materials, like Kevlar, which would make the boats lighter, stronger, and better suited to the new propulsion system.  
The control system that Hinckley developed a few years later further enhanced the jetboat product. "The Hinckley Jetstick brought joystick operation to boating and allowed the person at the helm to have a degree of easy control that meant even novices could dock a boat with confidence," said Bennett. And the rest is history.
Hinckley introduced larger and smaller models and grew the line to its present offering of boats from 29 to 55 feet in length, including the current iteration of the Picnic Boat, now 37 feet in length with twin jets. 
---
Young boatbuilders launch their craft
As the economy picks up and the demand for fine Maine-built boats increases, it's good to know that some schools are planning for the future by training young builders. It's also wonderful to see boatbuilding used as a vehicle to teach students other topics such as science, math, and physics.
Ten students from Searsport District High School and nine community volunteers joined master boatbuilder Greg Rössel to spend about five months building two Shellback dinghies for the class "The Geometry of Boat Building." Joel White designed the dinghy, which the students launched May 26. This is the sixth year Rossel has led the collaboration between Searsport District High School and the Penobscot Marine Museum at the museum's Hamilton Learning Center.
As they build the boats, the students explore marine physics and engineering concepts, Newton's laws of motion, traditional and modern woodworking, chemical reactions, and navigation. They also got a navigation lesson from Wayne Hamilton, owner of Hamilton Marine, and worked with sailmaker Grant Gambell to make sails for the dinghies. 
We hope some are inspired to continue their training after graduation.
---
New life for schooner Bowdoin
The famed Maine-built Arctic schooner Bowdoin left the shadows of the boat shed at Lyman-Morse at Wayfarer in Camden, Maine, on June 6 and embarked on the next phase of its long and well-traveled career.
Designed by William Hand, and built in 1921 at the Hodgdon yard in East Boothbay, Bowdoin logged more than two dozen trips to the far north under former skipper and renowned explorer Admiral Donald B. MacMillan. The 88' x 21' boat was built for duty in the Arctic's heavy seas and relentless ice, with double framing, double planking, an external layer of Brazilian greenheart "ice armor," and a big steel shoe on the prow. It features a distinctive rounded hull profile that helps it pop up unscathed if trapped in the ice.
After its time with the admiral, the boat passed through a number of subsequent lives—a World War II tour of duty establishing airbases in Greenland, and then stints as a training and/or museum vessel. Maine Maritime Academy acquired the boat in the mid-1980s, and after numerous additional voyages to the north, brought it to Lyman-Morse at Wayfarer for a long-needed major refit.
Crews removed and preserved the original interior, then attacked rotted frames, punky planking, and deteriorated stanchions. The new frames were of 3" white oak. Stanchions were of black locust, which is said to be almost metallic in its toughness. The 3" white pine decking came from a plantation in Vermont that had been carefully tended by generations of the same family.
There was also a good bit of systems upgrading to bring Bowdoin up to snuff for a renewed career of sail training at MMA. 
Lead builder on the project was Andros Kypragoras, a Greek Cypriot. How did a boatbuilder from an ancient island in the eastern Mediterranean come to be working on an Arctic schooner? Well, Kypragoras is an MMA alumnus, and has headed up several projects on Bowdoin over the years.
Launch day didn't quite bring your normal smash-the-bottle-and-push-the-boat-overboard routine. Since the schooner had spent nine months on the hard, it was expected that seams would have opened up and would likely leak copiously. So the L-M crew dunked Bowdoin gradually from slings off the overhead lift, to let her leak risk-free until the swelling process started to diminish the work for the pumps. Of course, there were a couple of unexpected moments with other leaky seams. As one crew member hollered, "Where's Andros?" another replied, "Where do you think, he's down in the bilge!"
Finally after a few hours, up went the signal flags, BOOM! went the signal cannons, and Bowdoin eased out of the launch slip and off on the next phase of its long and adventurous career.
---
Rockport Marine acquires brokerage
Custom wooden boatbuilder and designer Rockport Marine of Rockport, Maine, has acquired David Jones Yacht Brokerage. This acquisition expands Rockport Marine's offerings beyond the design, construction, and refit of wooden yachts to the sales of new and used vessels to and for the company's customers. David Jones Yacht Brokerage has facilitated the sales of classic wooden yachts for 16 years. Jones will continue working with Rockport Marine for at least one year during the transition of the brokerage ownership. 
"Joining forces with David Jones is a natural fit. For a long time we've really appreciated the way he does business," said Sam Temple of Rockport Marine. "We're certain the addition of a successful brokerage office at Rockport Marine adds value for our customers." 
---
Friendship sloop rebuild
The crew at Elk Spar and Boat in Bar Harbor completed the two-year restoration of the 1965 Friendship sloop Amicitia, according to the Ellsworth American.
Built in 1965 by the Lash Brothers of Friendship and designed by John Alden, the 33' Amicitia is an unusual Friendship sloop design, with a hull that comes nearly flat before the turn in the bilge. The boat was finished by Simm's boatyard in Scituate, Massachusetts, for a doctor in that town. There more yacht-like touches were added, such as a teak and holly cabin sole, mahogany trim, and an ornate varnished pin rail at the mast, the American reported.
Jeff Pontiff of New Bedford, Massachusetts, has owned the boat since 1975. He met Jim Elk when he needed a new mast in 2014. Elk delivered the mast himself and when he took a look at the boat realized it was desperately in need of repair. 
"It was a mess," said Elk. "The cabinside was all rotten, the deck was all rotten. Everywhere we went, it was bad—except for the hull itself. The hull was in really good shape, so the boat was definitely worth fixing up."      
Share this article:
2023 Maine Boat & Home Show

Join Us for the Maine Boat & Home Show!
Art, Artisans, Food, Fun & Boats, Boats, Boats
August 11 - 13, 2023 | On the waterfront, Rockland, Maine
Click here to pre-order your tickets.
Show is produced by Maine Boats, Homes & Harbors magazine.