Eggemoggin Reach Wrap Up
Sometimes, it's not all about winning the race.
By John K. Hanson, Jr.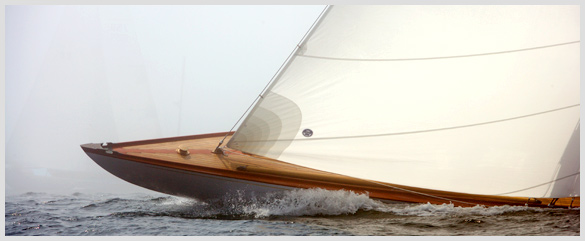 Eggemoggin Reach Regatta. Photo by Alison Langley
Sometimes, a regatta is all about winning. But when things don't go so well, it's good that some regattas are about something more. The Eggemoggin Reach Race is about just that -- more beauty, more history, more camaraderie, more fabulous wooden boats. This year's race was held in a fog that grew quite dense-- picture more than 100 classic yachts banging up the shoreline of Swans Island with just boat lengths of visibility. Fortunately, there were no collisions and only a few boats got intimate with Swans Island itself. On board my boat,
Fiery Jubilee
, we didn't press as hard as we would have with better visibility, but the fog had not yet shut down when we sailed to the wrong mark. No excuses for just being a bonehead.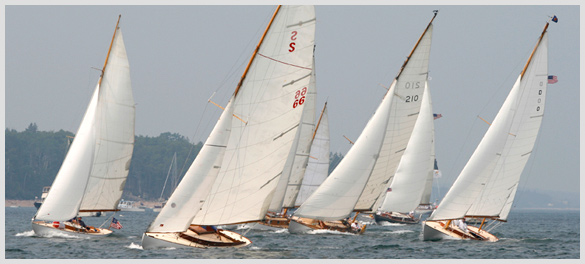 Eggemoggin Reach Regatta. Photo by Andrew Sims
Who could complain, though, about drag-racing a Herreshoff S-Boat on a close reach, bow waves just a-roaring? What a sight that was. As was the moment when the bigger boats came up out of the fog, spinnakers flying, going fast, going past us, and then gone.
Eggemoggin Reach Regatta. Photo by Andrew Sims
We came out of the fog only to see boats that we thought were way behind us were actually way ahead, but that only hurt for a moment. Then the great visuals kicked in again as we watched the yachts finish, each more gorgeous then the last. Perhaps the best day of the regatta is early Sunday morning. As usual, the band played late in Brooklin, and early Sunday, the mooring field was quiet, still, and flat. Rowing amidst the silent fleet is one of my great annual joys. Alden, Fife, Sparkman and Stephens, Herreshoff: examples from all the greats are there, lovingly cared for, lovingly sailed. The Eggemoggin Reach Race is good for the soul no matter where you place. But it's even better when you win.

Share this article:
Digital Edition Available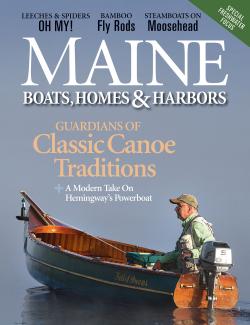 Can't get to the store to buy your magazine? We deliver the stories of Maine's coast right to your inbox. Sign up here for a digital edition.