A Letter from the Publisher - Issue 136
Gone Sailing
By John K. Hanson, Jr.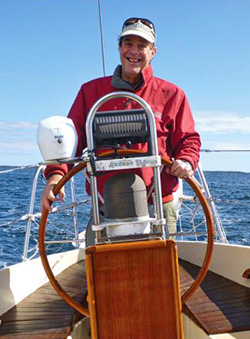 Often I am told that my attitude toward work-especially during the summer-leaves a lot to be desired, and frankly, sets a bad example. So true, so true. I look at Penobscot Bay outside my window. I look at the harbor where my sailboat is moored outside my window. I am a master of rationalizations. It's my job to play around on boats and convince others of the absolute joy of playing around on boats. My absences from the office are all work related. Those trips to the boatyard? Those were reporting expeditions. My colleagues in the office see through my charades, though. They just remind me there is real work to be done, work such as putting together a boats and homes show-the best show on the coast of Maine. I hope that you will come see the result: the 13th annual Maine Boats, Homes & Harbors Show, August 14, 15 and 16 on the waterfront in Rockland (outside my window). Some of the finest yachts, art, crafts, and furniture will be on display. We have also added many new features to the show this year. On the water, the Refit Dock will highlight the tremendous work Maine yards are doing to make old yachts like new. We have made Buoy Park over into a Marine Experience Park. Here, Hurricane Island Foundation will lead hands-on science sessions for the younger set; The Maine Center for Contemporary Art will work with show-goers to make a beautiful piece of art that will actually be able to set sail. Those who want to learn flyfishing can try their hand with the folks from Trouts Unlimited. If you think your helmanship skills are a little rusty, head over to the Rockland Yacht Club building where the U.S. Power Squadron has a state-of-the-art navigation simulator. Plus, we are having a Boston Whaler Rendezvous. For more information and tickets, go to
www.maineboats.com
. Please come join us and see for yourself. It's much easier to rationalize going off to play on boats when you know you have an incredible staff back in the office. -JKH
Share this article:
2023 Maine Boat & Home Show

Join Us for the Maine Boat & Home Show!
Art, Artisans, Food, Fun & Boats, Boats, Boats
August 11 - 13, 2023 | On the waterfront, Rockland, Maine
Click here to pre-order your tickets.
Show is produced by Maine Boats, Homes & Harbors magazine.