Monson Arts: Cultivating the Muse
Artists and writers find space, time, and community on the shores of Lake Hebron
By Carl Little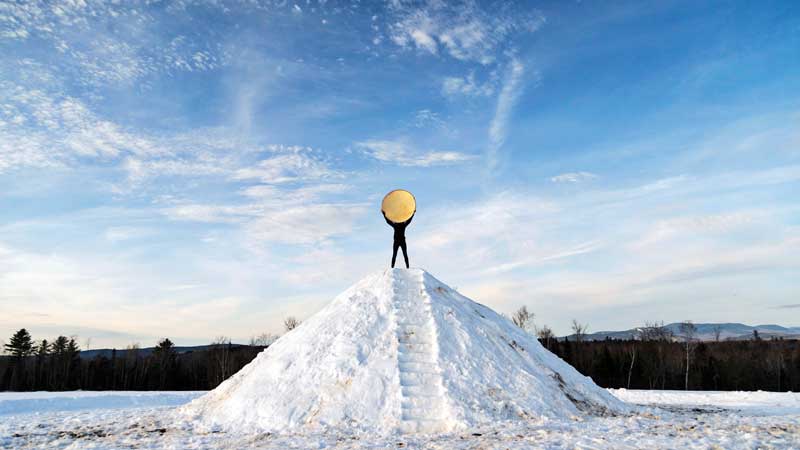 Performance for Monumento, March 2019, a site-specific ephemeral snow work by Francisco Vazquez Murillo and Thalassa Raasch. Monumento documentation by Murillo and Raasch
The Monson Arts origin story is now part of Maine's cultural history: how the Libra Foundation, a Portland-based philanthropic organization founded on the wealth of Elizabeth Noyce (1930-1996), decided to invest millions in the small Piscataquis County town of Monson on the shores of Lake Hebron; how the foundation bought up and renovated a bunch of properties (30 or so) to use for lodging, studios, a gallery, and other purposes; and how they transformed this gateway to the Appalachian Trail and Moosehead Lake into a mecca  for artists and writers of all stripes looking for a place to create—and find community.
Stuart Kestenbaum, former long-time director of the Haystack Mountain School of Crafts, remembered reading about the project on the front page of the Boston Globe back in June 2017. His friend, painter Alan Bray who lives in Sangerville, a couple of towns over from Monson, confirmed that it was the real deal: Libra had purchased the elementary school, which had closed in 2008, and work was under way. Most significantly, the makeover plan had the backing of the town.
Kestenbaum was intrigued, so when Jessica Tomlinson at the Maine College of Art and Design convened a group of people involved in residencies and similar programs around Maine to share their knowledge with Libra, he was there. Meeting with foundation folks afterwards "as a kind of Maine arts citizen," he proffered some ideas for the residency. On the spot, Libra asked him to design the program.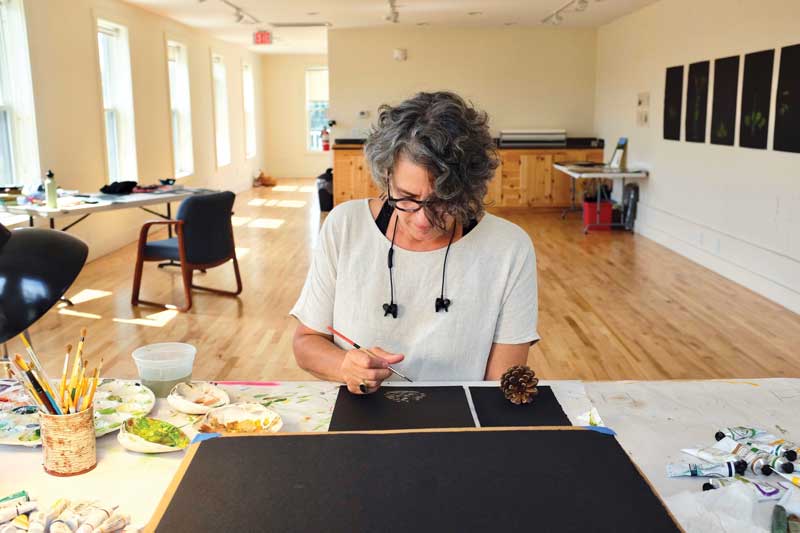 Painter Jeanne Paterak works in her studio at Monson Arts, August 2020. Photo by Denielle Klebes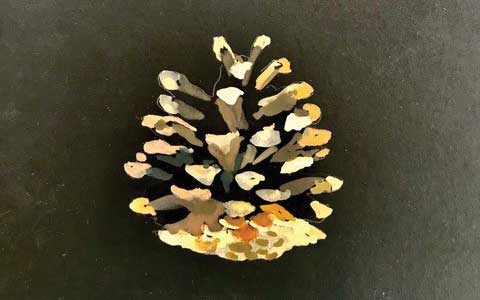 Jeanne Paterak, Faith in a Seed (after Thoreau), gouache and graphite on Stonehenge black paper, 12" by 9". Artwork courtesy of artist In the next few months, Kestenbaum met with Bray, furniture maker John Wentworth, and other Monson community members to talk about their vision for the program. He also hired the first director, Dan Bouthot, a Blue Hill kid who had attended Haystack in his teens and gone on to earn degrees at the Rhode Island School of Design and the California College of the Arts.
Bouthot moved on last year, but he left the program in excellent shape, with innovative programs and workshops in the works. His replacement, Chantal Harris, who took over in January 2021, brings her own set of special credentials to the position, including an eight-year tenure as director of the Emmanuel College Artists in Residency Program in Boston.
With studio spaces and housing mostly ready for occupancy, the first residents arrived in June 2018. Kestenbaum had reached out to RISD, Maine College of Art & Design, and the School of the Art Institute of Chicago to send alumni to help fill early slots. Those partnerships continue today, with the Maine Writers and Publishers Alliance and other groups added to the mix. At last count, more than 250 painters, printmakers, sculptors, and writers have made their way north to find and/or cultivate their muse. There would have been more but for Covid.
From the beginning, the main mission of Monson Arts has been to provide "the biggest, best spaces" for the residents, Kestenbaum noted, and not have it be "equipment-intensive"; shops for metal and woodwork are the only add-ons. The program provides artists with a stipend in addition to food and lodging: $500 for two-week residences, $1,000 for month-long stays.
The writers' quarters were also designed to maximize their experience. Brandon Dudley, a 2018 Monson resident from Brunswick where he teaches high school English, pinned index cards on the Homasote-paneled walls to help plot his narratives. Two years later he won the MWPA's Maine Chapbook Contest for Hazards of Nature: Stories.
Among his recommendations for the program's design, Kestenbaum put a premium on community connections. "It's not only artists showing up that's going to change things," he told Libra; "You need to make sure you're engaging the community."
That includes students: The High School Art & Writing Program launched in the 2019-2020 school year. A group of 25 young artists and writers from six area high schools spent two full school days each month at Monson Arts working with painter Bray and poet Dawn Potter. They also met and mingled with resident artists and writers.
Kestenbaum recalled sitting in on one of Potter's workshops. "When she's talking with the kids, she's serious with them because writing is serious," he said, adding, "They're having conversations about being writers and they're talking about work at a high level."
Another community connector is the Monson Arts Gallery on the main drag. The exhibitions have highlighted the arts of the region, beginning with "Monson and Surrounds," curated by fresco artist Barbara Sullivan, who wanted to showcase the wealth and breadth of the art made in the region. The next show, "Art All Around Us: Art Educators from the Tri-County Region," featured the work of K-12 teachers from community schools in Piscataquis County and the greater region. "Monson Arts wants to be a part of what's there already," Kestenbaum explained.
The set-up in Monson differs from other Maine residencies. Where places like Haystack and the Skowhegan School of Painting and Sculpture were purposely sited away from the world and its distractions, Monson Arts is smack dab in the middle of the community, an arrangement that makes for close contact between, well, residents and residents.
Kestenbaum loves this aspect of the residency. He related how Iranian-born painter Arghavan Khosravi, one of the first artist residents, lived above the Monson General Store. "She's walking down the main street of Monson, you know, talking to people, and I'm thinking, 'Well, this is pretty amazing: We have someone from Iran in the middle of Monson who is an artist." The interactions, he imagined, were not about "what does your country think about this or that, it's just human, one-on-one, and I felt, 'Well, that's pretty great: It's not going to solve all the problems in the world, but it made a connection.'"
Kestenbaum can point to many other instances of these connections. Writer and multimedia artist Asata Radcliffe's visit to the Monson Historical Society led to the exhibition "A Convenient Soldier: The Black Guards of Maine" at the Maine Historical Society in 2020. Sculptor Celeste Roberge worked with Monson Arts studio tech James Pullen to procure wood and slate for some of her pieces. Susie Brandt, head of the textiles department at the Maryland Institute College of Art, struck up friendships with the women who work at the general store. She will be returning to Monson this summer to teach a quilting workshop.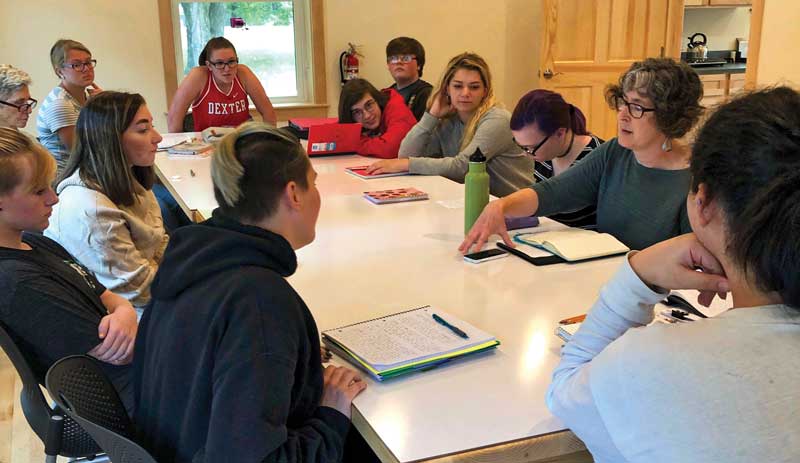 Poet Dawn Potter (at right) leads a writing workshop for area high school students in Monson Arts' Tenney House event space. Photo by Stuart Kestenbaum/Monson Arts
More connections are in the works. A partnership with the furniture and industrial design program at RISD will bring students to Monson to work on projects. It's a nod to the town's heritage: The Moosehead Manufacturing furniture mill was once the town's main employer. The design program also supports one of Libra's and Kestenbaum's central visions: to create a place for entrepreneurship and economic development.
So, about four years on, how's the program going? To begin with, thanks in large part to Kestenbaum's outreach efforts, the program is known far and wide, with several hundred applications coming in each year from across the country. Word of mouth has played a significant role in attracting applicants to this out-of-the-way place.
Three former residents, all from Maine, offer glowing testimony. Photographer Thalassa Raasch came to Monson as part of a pre-Covid cohort in March 2019. Then teaching at Colby College (and now at the University of Iowa), Raasch had a specific project to focus on: a book about Everard Hall, one of the last traditional gravediggers in Maine.
To help break the tedium of editing and managing files—"not very glamorous, but it needed to get done"—Raasch collaborated with fellow resident Francisco Vazquez Murillo, an artist from Argentina, on an outdoor experiential work. With an overabundance of snow, the two created a large sculpture in a nearby farm field using an excavator loaned by a local construction company. Monumento is a central Maine equivalent of an Incan temple.
In sharing the highlights of her stay Raasch raved about the food at The Quarry, the restaurant run by Philippines-born chef Marilou "Lulu" Ranta that provides food for the residents. She also tried to find the gravestone of the renowned photographer Berenice Abbott, who lived in the area in the last decades of her life. "I went to pay my respects," Raasch recounted, "but the snow was so deep all I could do was shout out my praise to the tops of tombstones peeking out from the field of white."
Jewelry designer and painter Jeanne Paterak, who co-manages Zero Station, a gallery and frame shop in Portland, arrived in Monson in mid-August 2020 determined to, in her words, "rebuild a career that for various reasons has been put on hold." She worked on a series of "plant portraits" begun in 2019, each one meant to honor an individual specimen, mainly roadside weeds, as a "sentient being."
Paterak ended up completing around 30 pieces. She began exhibiting her work again at the Turtle Gallery on Deer Isle and sold several works from her residency. One plant portrait was juried into the exhibition "Flora" at Gallery 263 in Cambridge, Massachusetts. As she had hoped, her career got a kickstart, thanks to her time away.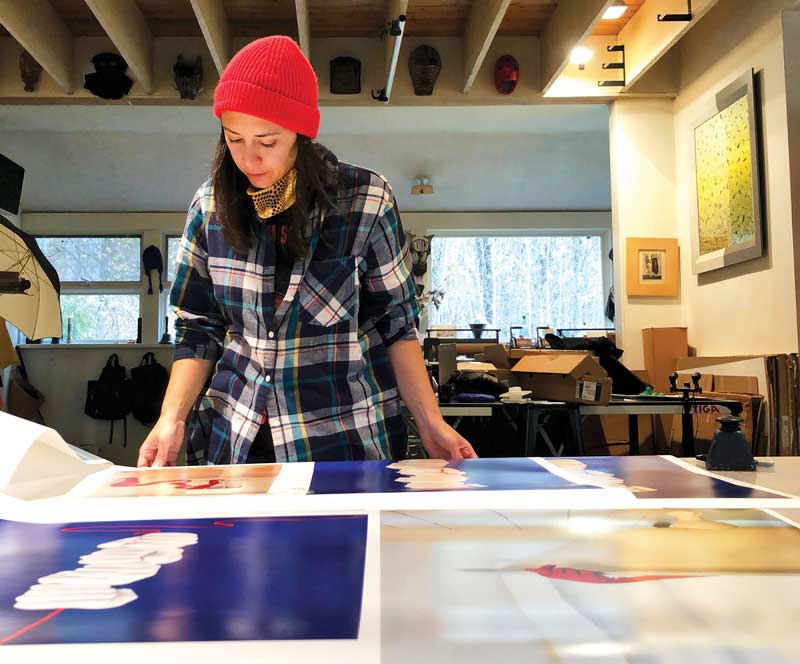 Rockland-based photographer Chelsea Ellis looks over proofs in Todd Watts's studio in Blanchard. Photo by Sam Giberson
Rockland photographer Chelsea Ellis spent the month of October 2021 working with photographer Todd Watts at his studio in nearby Blanchard. Watts originally came to Maine in the late 1970s to assist Berenice Abbott in making prints of her work. Monson Arts added the Abbott-Watts residency to its offerings last year.
Ellis relished the uninterrupted time to work on her abstract figures. "It was honestly a little jarring, going from creating art around my day job schedule to having so much freedom," she noted. She also had access to an Epsom P9000 for printing 30-by-40-inch images, much larger than what she had previously printed on her own.
The future of Monson Arts—and Monson—looks bright. Where people used to drive through the town on their way to somewhere else, Kestenbaum reported, they're now stopping. They might buy a bowl at Jemma Gascoine's pottery shop or pick up a slate souvenir or a sandwich at the general store—or strike up a conversation with an artist. 
Kestenbaum finds the sense of community pride in Monson "profound." The residency program and its offshoots promise to build on that spirit, big time. 
---
Carl Little is guest curator for "The Art of Monson: A Bicentennial Celebration" opening May 26 in the Monson Arts Gallery and running through October.
View additional work by Asata Radcliffe at www.asataradcliffe.com; Celeste Roberge at www.celesteroberge.com; Susie Brandt at www.susiebrandt.com; Thalassa Raasch at
thalassaraasch.com; Jeanne Paterak at www.jepaterak-jewelry.com; and Chelsea Ellis at chellisea.com. Learn more: www.monsonarts.org.
Share this article:
2023 Maine Boat & Home Show

Join Us for the Maine Boat & Home Show!
Art, Artisans, Food, Fun & Boats, Boats, Boats
August 11 - 13, 2023 | On the waterfront, Rockland, Maine
Click here to pre-order your tickets.
Show is produced by Maine Boats, Homes & Harbors magazine.