The Joy of Pond Hockey
A winter ritual that spans the generations
By Jonathan Ives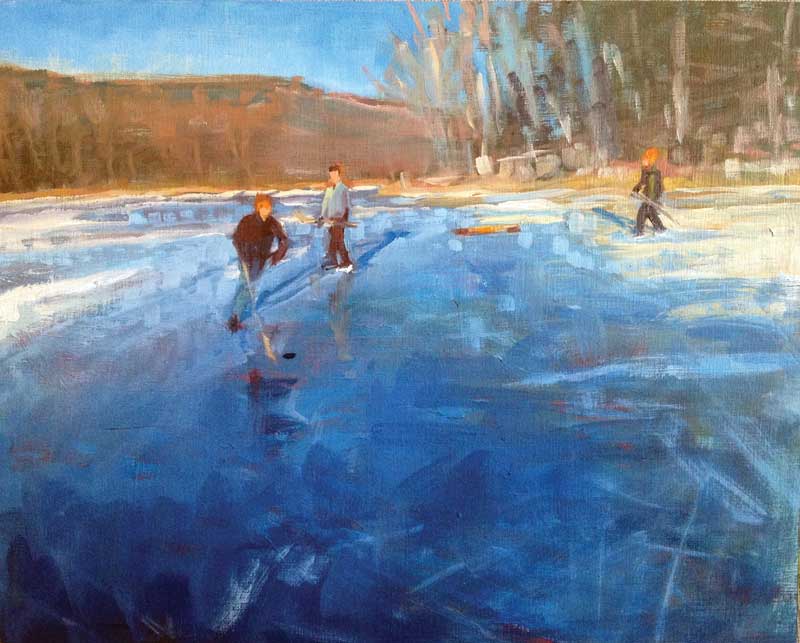 Painting by and courtesy of Jessica Ives
Every winter The Carpenter's Boat Shop sets up a hockey rink on a small pond in New Harbor.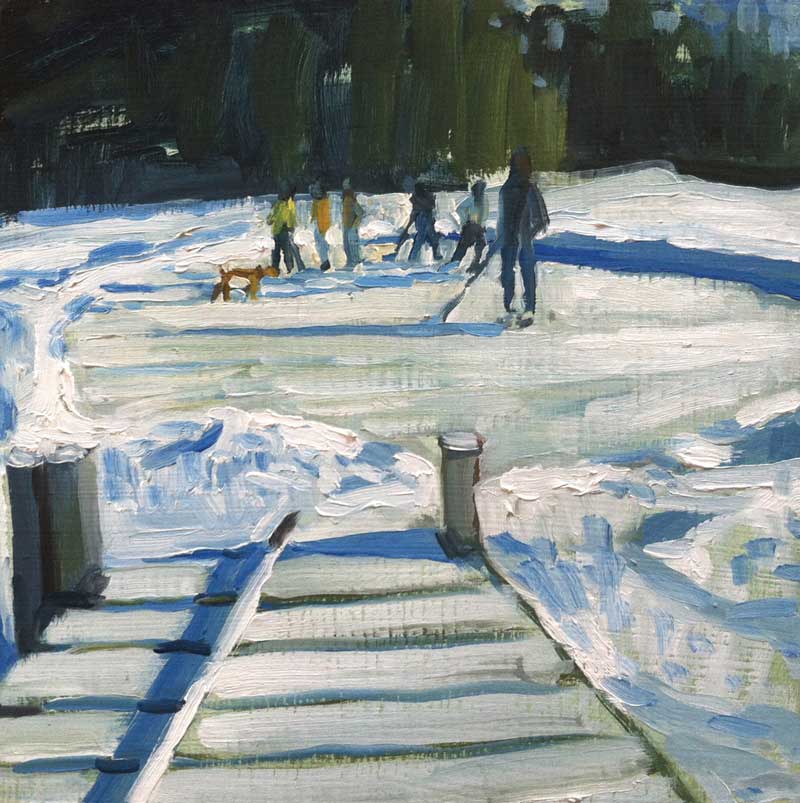 Painting by and courtesy of Jessica Ives Built with 2x6s screwed into a 2x4 base, the rink is just high enough to keep the puck in and the snow out. Still, it's a lot of work trying to maintain an outdoor rink all winter. At the end of every snowstorm, we put on our skates and shovel the ice with the same care and precision we use to build boats.
At the start of each game, everyone throws their sticks in the middle of the rink to be divided randomly so it's never awkward choosing teams, and the teams are always different. The rules are simple: no lifting the puck, no hurting, no name calling, and every game always ends with a tie. We don't play to win and we always try to encourage passing more then scoring.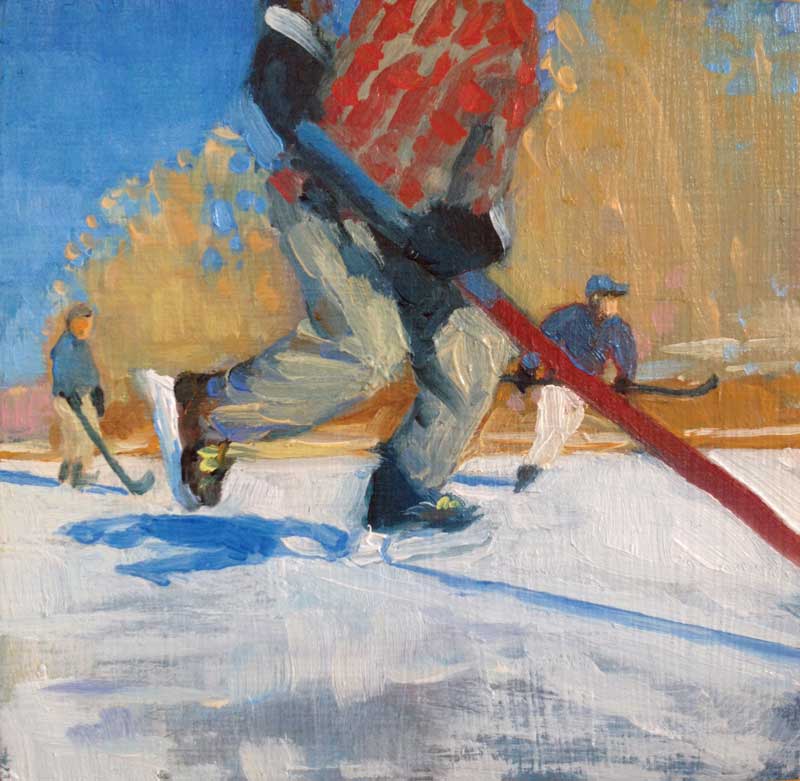 Painting by and courtesy of Jessica Ives
Once while we were shoveling the rink, a man driving by in his pick-up stopped to make us an offer we couldn't refuse. "I've got a snowblower back at the house. If one of you guys wants to come back and help load it up, you can use it." I volunteered, hopped into the truck, and off we went. As we drove, the man told me how he had played ice hockey on that pond for years, before his knees gave out. I could see his eyes smile as he relived the memories. We got the snowblower into the bed of his truck, and made it back to find my two friends leaning on their shovels, with only a quarter of the rink cleared. The snowblower made short work of the eight inches of snow that had fallen the night before. I thanked the man for his generosity. He smiled before he drove off and said, "You gotta save that energy for the important things."
After work, even when it's getting dark, we grab our LED light-up puck and head down to skate before suppertime. The owner of the house overlooking the pond has two big flood lights that he turns on as soon as he hears the first slap of the puck against the boards. 
He loves hockey just as much as we do, and even at 85, he'll still come down to play a game or two. One Saturday afternoon he, his son, grandson, and great grandson joined us on the ice. What an incredible experience it was to skate with four generations, all of us enjoying a game as timeless as the love and happiness it creates.  
---
Jonathan Ives wrote this while working as a boatbuilding instructor for The Carpenter's Boatshop in Pemaquid. He and his wife now live and practice clinical massage in downtown Camden. Learn more about their work at makingmovement.com and jessicaleeives.com.
Share this article:
2023 Maine Boat & Home Show

Join Us for the Maine Boat & Home Show!
Art, Artisans, Food, Fun & Boats, Boats, Boats
August 11 - 13, 2023 | On the waterfront, Rockland, Maine
Click here to pre-order your tickets.
Show is produced by Maine Boats, Homes & Harbors magazine.