Printed Boat Parts? You Bet.
Boatbuilders join the 3D-printing revolution
By Laurie Schreiber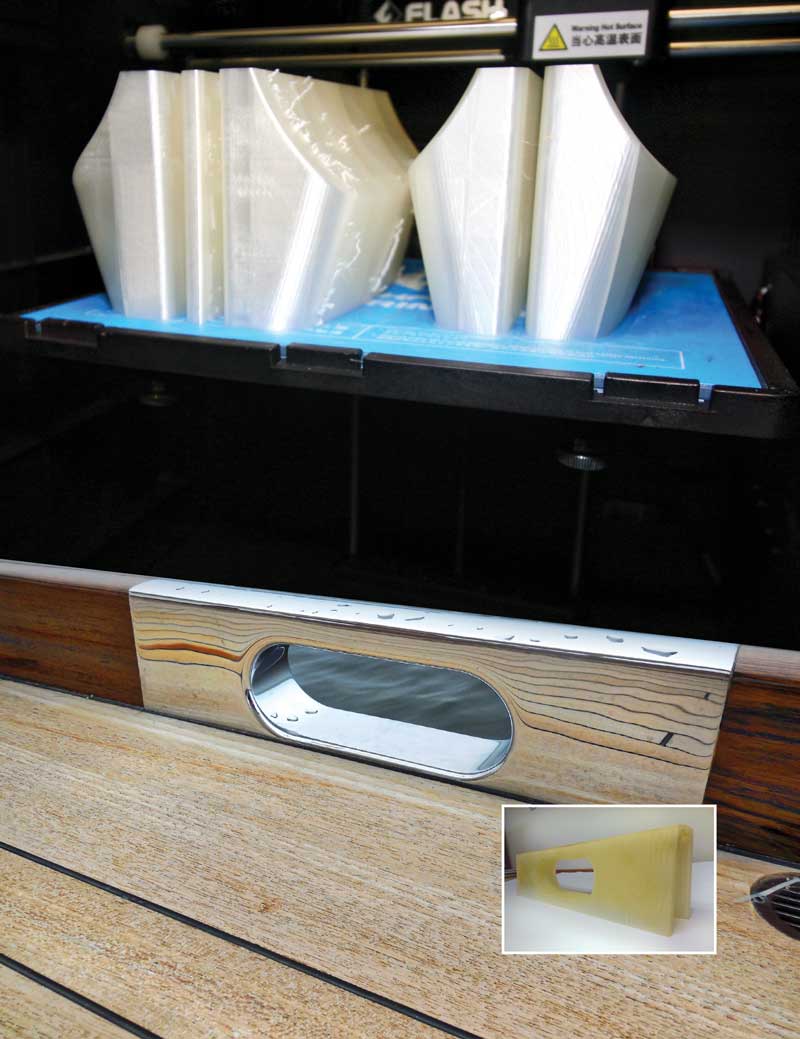 Above: 3D printing in process. Photo by Laurie Schreiber. Below: This 3D-printed plastic rapid prototype was used to create a casting mold for stainless steel scupper drains, like the one above, on Brooklin Boat Yard's 91' sloop Sonny. Photos courtesy Brooklin Boat Yard
In the design office at New England Castings, in Standish, Maine, a 3D printer extrudes molten thermoplastic in a continuous strand of paper-thin filament. Over the course of 60 hours, layer after layer of that filament will meld together into sections of a boat chock. Eventually, this plastic model will become the prototype for a metal casting of the real thing.
Custom metal boat parts have long been hand-tooled and cast in foundries. But now 3D printing is revolutionizing the process. The technology is all the buzz in the world of luxury yacht manufacturing, which is looking at giant (and expensive) printers to create everything from large boat parts to hull molds and the hulls themselves. A number of yards in Maine have embraced the technology to various degrees and see great potential.
"This is the future, in my opinion," said Drew Lyman, president of Lyman-Morse Boatbuilding in Thomaston, Maine.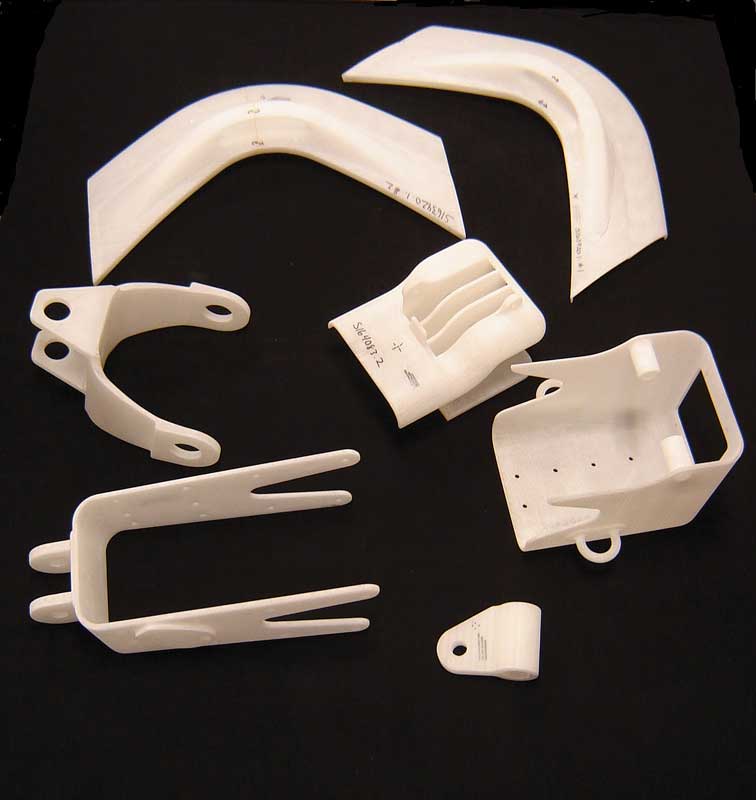 Rapid prototypes printed on a 3D printer by New England Castings in Standish, Maine. Photo courtesy New England Castings Lyman recently purchased a 3D printer, tried numerous prototypes, and eventually printed out a piece of molding for Anna, a 65-foot Stephens Waring-designed sloop launched earlier this year. "This is what I want to do more of," he said. "Three-D printing makes a lot of sense. And if it can go straight onto the floor to be used, that's wonderful."
Back at New England Castings, once the 3D printer has finished printing the plastic boat chock sections, the prototype will be dipped numerous times into ceramic slurry. When the ceramic has hardened, the plastic prototype inside will be melted out, leaving behind a shell that will then be kiln-fired to make it strong enough to withstand being filled with molten metal heated to 3,000 degrees.
After the metal cools, the ceramic will be broken off, revealing a perfectly formed high-chrome stainless steel chock, ready to be polished to a mirror finish. This custom, one-of-a-kind piece was being made for a high-end yacht builder in Canada.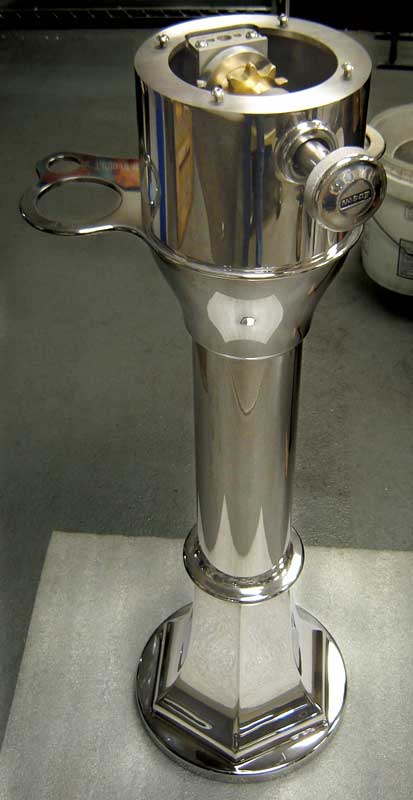 New England Castings' rapid prototyping method allowed Front Street Shipyard to get creative and incorporate a tapered hexagonal base in the steering pedestal design for a Hinckley 70. Photo courtesy New England Castings 3D printing, also called "rapid proto­type" because a prototype of a part can be printed relatively quickly, is far less expensive than traditional tooling methods for casting parts. Using computer-aided design software, the process provides flexibility for modifying designs and creating individualized pieces that are optimized for the complex curvatures of a boat or simply designed for aesthetic flights of fancy. And it shaves weeks off production, since it only takes a day or two to print a prototype, compared with a month or two to produce a traditional molding tool.
New England Castings makes products for multiple industries. Recent projects include subway train door handles and coat hooks, rifle trigger guards, industrial gas turbine parts, medical tools, reproductions of parts for a vintage Harley-Davidson, and bronze light fixtures in the shape of an eagle. Most of these items were identical replicas of each other, produced in the hundreds or thousands.
"If you were an industrial customer and wanted a thousand metal widgets, we would make an aluminum tool that we would inject with wax, and make a thousand wax parts," explained the company's co-owner, Joseph Butler.
The rapid prototype method is ideal for making singular pieces, he said. No one has to make a tool, which can cost thousands or even tens of thousands of dollars. Instead, the piece can be designed on the computer. The file is sent to the printer, which captures every nuance in exquisite detail.
Boatbuilders and/or naval architects can create the CAD file for the desired part themselves. Increasingly, said Butler, those firms are creating the actual "prints" themselves, as more firms acquire their own 3D printers. That allows them to inexpensively dry-fit the prototype on the boat, and make adjustments if needed, before sending the final prototype to Butler for final casting.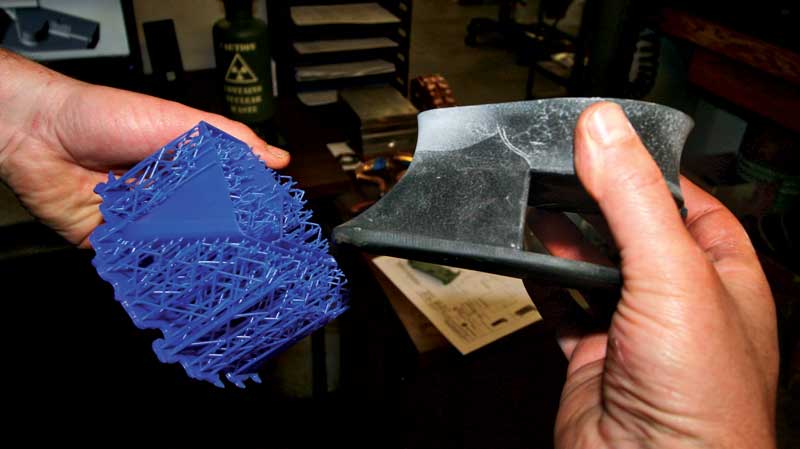 On the left is the latest iteration of a 3D printed bow piece, supported by scaffolding that is printed with the piece. A previous iteration was cast and is seen on the right. Photo by Laurie Schreiber
"Boat owners want custom pieces that are unique to their boats," said Butler. They don't want to make a mold because, one, it's expensive and, two, it can be produced again. So for low-volume parts we can use a 3D printed part instead of the wax method."
At Hinckley Yachts, parts of Dasher, the yard's recently debuted 28-foot electric yacht, were 3D-printed through a partnership with the University of Maine's Advanced Structures & Composites Center. They include the top half of the steering console, a complex part with a high level of tolerance that would otherwise have been tough to mold, according to Hinckley's Director of Engineering Scott Bryant. Dasher's titanium hardware also was printed by an outside contractor. The process achieved shapes and a level of precision unavailable in typical construction methods. Plans are in the works to further incorporate 3D printing in the building process.
"The console pieces required tight tolerances, so the fact that we printed them allowed us to maintain and execute on that tolerance," said Bryant. "The six parts on the console all nest and interlock in a particular way. That would have been difficult to do with molded FRP [fiberglass reinforced plastic] parts because of shrinkage."
Brooklin Boat Yard started using 3D printing when the team was working on Foggy, a yacht designed with input from architect Frank Gehry.
"He wanted to use 3D printing for some cosmetic parts," said designer Will Sturdy. That included the yacht's fancifully designed pedestal shrouds and bowsprit shroud. Since then, the yard, using outside contractors, has used the process for items such as pad eyes. 3D printing provided the opportunity for Brooklin Boat Yard to create honeycomb structures and complex geometry for chocks on Toroa, a 72-foot sloop launched in 2017, and Sonny III, a 91-foot high-performance cruising yacht launched this year.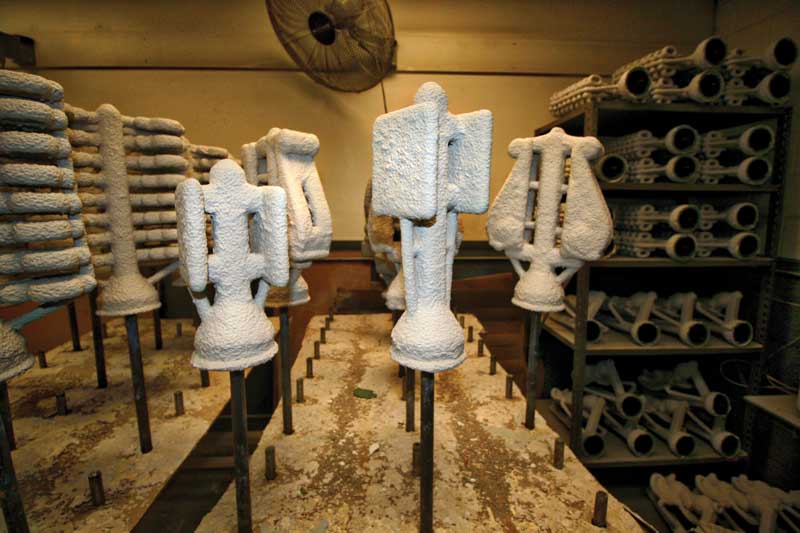 Whether using rapid prototyping (3D printing) methods or traditional casting to produce plugs, the rest of the process involves building a ceramic shell around the plug. Photo by Laurie Schreiber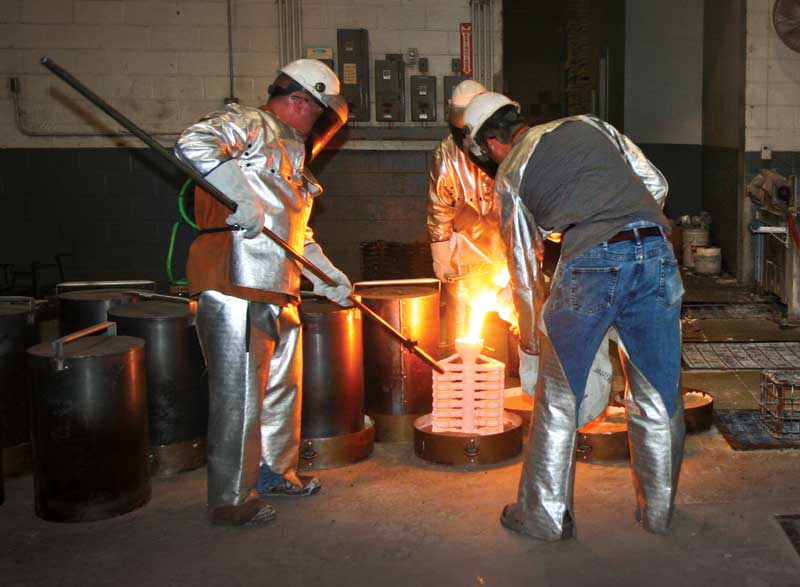 The plug is then melted out and the shell is filled with molten metal to create the part. Photo by Laurie Schreiber
"For really low-production-run pieces, it's a great way to get finished parts without having to go through tooling up and the cost of casting," said Sturdy. "For us, it's a really important technology because we're a custom yard and build one boat at a time. Since it's normally the only boat to that design, we don't have a library of those parts."
Boatbuilders are becoming more aware of 3D printing as an option to make individual parts, said New England Casting's Butler.
"It used to be, 'I need a chock made for a boat I'm building,'" he said. "Having them define what they wanted was the big hurdle. They'd know what they wanted in their mind; they could see it. But there would be times when we'd give them a chunk of wax and they'd carve out the shape they wanted, or they'd make a wooden mold, and then we'd have to reverse-engineer that."
Today, almost all yards use digital processes to some extent to achieve custom design and precise fits. So for many, said Butler, it just comes down to a bit of education. Take Front Street Shipyard in Belfast, Maine. They were doing a major refit for a Hinckley 70. The owner wanted a new steering pedestal.
"So we mocked up in wood a pedestal with ideas from the owner and the captain," said the yard's president, JB Turner. "Then we said, 'Who's going to build it?'" He had recently learned of rapid prototype capabilities at New England Castings and was interested in exploring the process.
"When we started talking with JB, he showed me pictures of standard pedestals," said Butler.
"'Can you do this in polished stainless?' was his first question. We said, 'Well, yes, but let's jazz it up a little. It doesn't have to look just like that. It can look like anything you want.' All the constraints are gone. You have all this flexibility and freedom."
Front Street ended up working with Butler's company to produce a more ornate pedestal with a tapered hexagon base. "They strayed from the traditional design, just because they could," said Butler, proving why 3D printing has become so popular. 
---
MBH&H Contributing Editor Laurie Schreiber is also a Mainebiz staff writer and has covered topics in Maine for more than 25 years.
---

Maine at the forefront of 3D innovation
By Polly Saltonstall
While boatbuilders are now using 3D printing for smaller parts, the University of Maine's Advance Structures and Composites Center is working on technology to print thermoplastic molds for resin-infusion hulls, as well as actual whole boat hulls at some point in the future.
The challenge has been to develop a cost-effective material to use in the printing process, said James Anderson, a senior R&D program manager at the composites center, in a talk at a recent Maine Built Boats conference. The center has national expertise in the extrusion of wood-filled plastics and global expertise in nanometer-sized wood fibers also known as nano-cellulose.
The technology exists now to use 3D printing for very large objects. Oak Ridge National Laboratory in Tennessee has produced a number of fully functional 3D-printed objects, including a fully functional Jeep body, a submarine hull, and a mold for a 34' catamaran. 
"If you can print a Jeep, then there should be a use for this in the marine world," Anderson told the MBB audience.
A full set of boat molds can currently take 6-12 months to produce. 3D printing, or additive manufacturing, can help significantly lower production time and increase the flexibility and speed in design and customization. In addition, the 3D-printing process allows fine-tuning to support final boat production, such as the addition of channels in the mold for cooling and heating.
Typical desktop 3D printers use plastic filament that costs around $20/lb. Large 3D printers use plastic pellets that typically cost $5/lb. Using bio-filled material can significantly increase the performance of the plastic and increase its recyclability, said Anderson, while drastically reducing the material cost to around $1-$2/lb.
According to Anderson, his lab had already printed a 45-foot-long mold in 10 pieces that were then bolted together. The stumbling block has been the high cost of the thermoplastics. Anderson said his lab is exploring the use of a wood/plastic composite that could cut the price in half.
The center is working with Maine boatbuilders to test some printed marine tools and molds utilizing bio-filled materials, and is working with Maine-based compounders to develop a local supply chain for low-cost, recyclable bio-filled materials. Anderson's group recently partnered with Hinckley Yachts to develop 3D printed parts for the all-electric Dasher. The helm of Dasher was 3D printed in nine parts, which Hinckley painted and assembled. 
"By the University of Maine having these technologies and giving access to Maine boatbuilders, boatbuilders have an opportunity to continue the tradition of innovation and development and stay on the cutting edge of the boatbuilding industry," Anderson said.
Looking into the future, he said the center is seeking to obtain a large-scale 3D printer to further investigate the use of 3D printing using low-cost, bio-filled materials from Maine sourced wood fibers.
Share this article:
2023 Maine Boat & Home Show

Join Us for the Maine Boat & Home Show!
Art, Artisans, Food, Fun & Boats, Boats, Boats
August 11 - 13, 2023 | On the waterfront, Rockland, Maine
Click here to pre-order your tickets.
Show is produced by Maine Boats, Homes & Harbors magazine.