Not to miss in Newfoundland
By Nancy Harmon Jenkins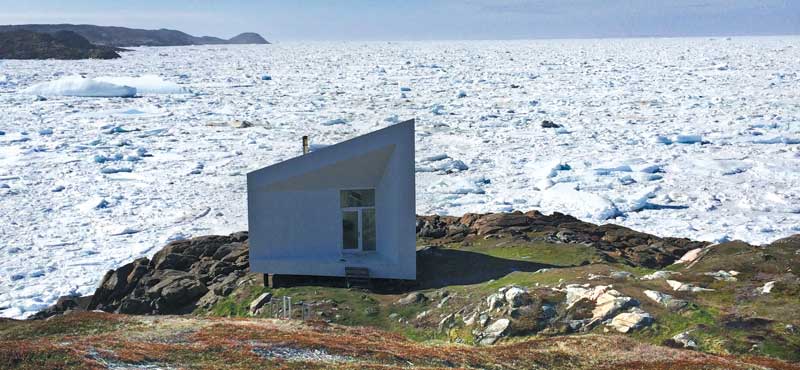 In splendid isolation, Squish Studio, one of several provided by Fogo Island Arts for its artists-in-residence program, looks out across ice-packed Labrador Sea. All photo courtesy Nancy Harmon Jenkins
Newfoundland has much to offer. Here are some tips on great destinations, places to eat and stay, and sights not to be missed for your trip to this Canadian gem.
L'Anse aux Meadows, the Viking site at the top of the Great Northern Peninsula. 
Gros Morne National Park, a UNESCO World Heritage Site. This vast (1,800 square kilometers) park comprises a stunning stretch of coastline along the Gulf of St. Lawrence; some of the highest mountains in eastern Canada, including the northernmost stretch of the Appalachians; a spectacular fresh water fjord; Western Brook Pond; and the Tablelands, a unique formation of barren rock composed of the earth's mantle, thrust up through the crust several hundred million years ago. 
Twillingate, a lovely town on its own island on the north coast, on the edge of Iceberg Alley. A great spot for whale watching and iceberg gazing, with frequent excursion boats. 
Fogo Island, reached by ferry from Farewell (45 to 75 minutes on a fair day, depending on whether the ferry makes a secondary stop at Change Island). There are eight or ten small villages on Fogo, including the eponynous capital, Joe Batt's Arm, Seldom Come By, and Tilting. The Fogo Island Inn website has loads of good information. Fogo Island Inn is breathtakingly expensive but there are plenty of other options in B&Bs and Airbnb.
Castle Hill fortress, Placentia, on the west side of the Avalon peninsula, fascinating and beautifully positioned site of ongoing struggles throughout the 17th and 18th centuries between British and French forces attempting to control Newfoundland fisheries. Spoiler alert: the British won. The museum here has a really good didactic display relating to the fisheries, the culture and the struggles for control. 
Cape St. Mary's, for serious birders and all fans of stupefying natural phenomena, Bird Rock is home to hundreds of thousands of seabirds, everything from common gulls to thick-billed murres, northern gannets, and kittiwakes; the nearest accommodations and eating places are in St. Bride's, about 20 kilometers north of the sanctuary. 
St. John's: The provincial capital is well worth a visit, if only to stroll along the colorful downtown streets, shop, and poke into the historic harbor. Two sites in particular should not be missed: 
Signal Hill, the windblown top of a steep formation overlooking the town with a breathtaking view of the Northwest Atlantic. On a clear day, you can see Ireland—well, almost. There's lots to look at, a fine gift shop, and a museum devoted to the amazing geology of the island, with an elevator that will take you into the bowels of the earth.  
The Rooms, a public space that combines an art gallery, a lovely restaurant, a museum of art and artifacts relating to Newfoundland history, and an archive of historical records. Plan to spend an entire day exploring this handsome modern structure, an architectural gem that occupies the site of Ft. Townsend, once one of the largest fortifications in North America. 
GOOD LOCAL FOOD
Porte aux Choix
The Anchor Café, 10 Fisher Street, 709-861-3482. Our introduction to Newfoundland food could not have been better—especially the crisply fried cod "tongues"—the café is cozy, friendly, fresh, and fun.
L'Anse aux Meadows
The Norseman, right on the harbor front, 709-623-2766. I will hazard an opinion that this is the best restaurant in Newfoundland, certainly the best we encountered; we liked it so much we dined there for lunch and dinner two days in succession. The ingredients are pristine, the cooking is simple but excellently executed, the staff are friendly, and the owners accommodating. 
St. Lunaire-Griquet
Dark Tickle, 75 Main Street, 709-623-2354. This is the place for all those confections made from Newfoundland's amazing selection of berries. The products are made as low in sugar as government regulations permit in order to let the full flavor of the berries to shine through. Note: Upstairs, next to a display of the history of the French Shore, is a fine little café where breakfast and lunch are served. 
Twillingate
The Cozy Tearoom & Bakery, 123 Main Street, 709-884-1466. We stopped in for breakfast--baked beans, eggs, and fish cakes--but it's also a great place for lunch or afternoon tea, an enchanting little nest painted in cheerful yellow and blue and run by two jolly ladies who do most of the cooking themselves. Like the ladies, the cuisine is determinedly local, fresh, and full of flavor.
Hillgrade
Doyle Sansome W. Sansome & Sons Super Lobster Pool, 709-628-7421. Being from Maine, of course we could not resist trying Newfoundland lobster for comparison, and you know what? It actually was quite excellent and would have fit right in at Spruce Head or Port Clyde. A dockside location adds to the appeal, although the harbor was thoroughly jammed with pack ice.
Fogo
Nicole's Café, Highway 334 (main road to Tilting), Joe Batt's Arm, 709-658-3663. Friendly, engaging, just plain delicious food, most of it sourced locally, and very-well executed and presented.
Tilting
Tilting Harbor B&B, 709-658-7244. Tom, the owner of this comfortable small B&B right in the heart of Tilting, is a very fine cook. If you stay here, in addition to the delicious breakfast scones, you can also persuade Tom to prepare dinner for you. We had a robust deconstructed fish chowder with local scallops, followed by massive snow crabs, steamed and served with a tasty aioli.
Dildo
Dildo Cove Coffee & Krafts, 126 Front Road, 450-803-4498. We stumbled into this place looking for a cup of coffee on a Sunday morning when everything else was closed. The coffee was delicious but what's more, so was the pouding au chomeur, a traditional Quebecois treat made with maple syrup and cream. Coffee & Krafts is worth a stop, if only for that.
St. John's
Merchant Tavern, 291 Water Street, 709-722-5050. A friendly open space filled with happy customers dining on local specialties done with an ever so slightly modernist twist. We had a starter of raw, slivered scallops with fermented gooseberries in a simple olive oil sauce, but the real star of the evening was an old-fashioned gratin of cod, enriched with a sauce of grated Gruyere and Parmigiano. 
Share this article:
2023 Maine Boat & Home Show

Join Us for the Maine Boat & Home Show!
Art, Artisans, Food, Fun & Boats, Boats, Boats
August 11 - 13, 2023 | On the waterfront, Rockland, Maine
Click here to pre-order your tickets.
Show is produced by Maine Boats, Homes & Harbors magazine.