Lobsterboats of 2019
A trend back to more modest sizes
By Brian Robbins
Photographs by Brian Robbins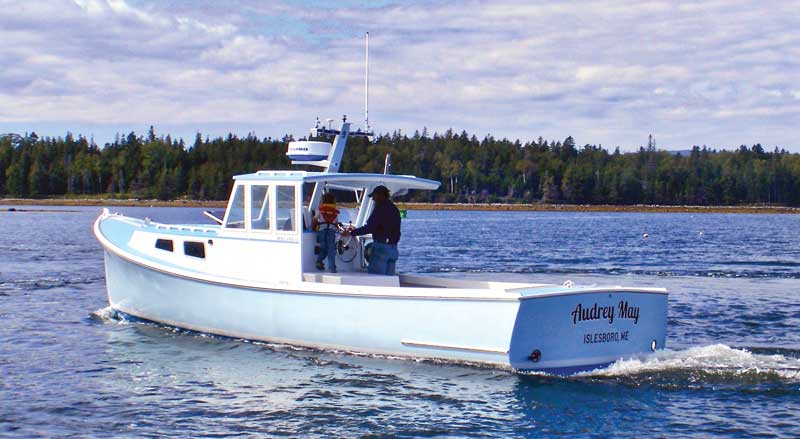 Randy Durkee's Audrey May, a Holland 32: classic looks and a slippery bottom.
For the last several years, the majority of new lobsterboats built in Maine have been in the 42-foot to 50-foot range, many of them powered by diesels packing well over 1,000 horsepower. 2019 saw its share of broad-beamed behemoths hit the water, but many builders also fielded inquiries about smaller hulls with more modest powerplants tucked into their bilges.
"It's no surprise," said one boat finisher. "When the lobsters were late in coming this year, there were a lot of guys who were suddenly concerned about fuel economy, rather than speed. Between that, rising bait prices, and changing fishing regulations, I think you might see a trend toward smaller boats."
Glenn Holland of Holland's Boat Shop in Belfast has always believed in traditionally proportioned lobsterboat hulls, and has kept busy for decades building Holland 38s (with a 12'10" beam) and the 10'6"-wide Holland 32.
While his boats are known for speed, Holland has long maintained that an easy-sailing hull makes for good fuel economy, no matter how fast you want to go.
Take, for instance, the 32' Audrey May, which the Holland shop launched this year for lobsterman Randy Durkee of Islesboro, powered by a 425-horsepower QSB 6.7 SL Cummins. While Durkee will be the first to admit he likes his speed (he and his daughter Lindsay have campaigned her 32' Holland Black Diamond for years on the summer lobsterboat race circuit), he likes Audrey May's stinginess when it comes to fuel. With the Cummins throttled back to 2000 rpm (from 3000 rpm wide-open), the blue-hulled 32 will slide along at 20 knots—and only burn 8.8 gallons an hour while doing it.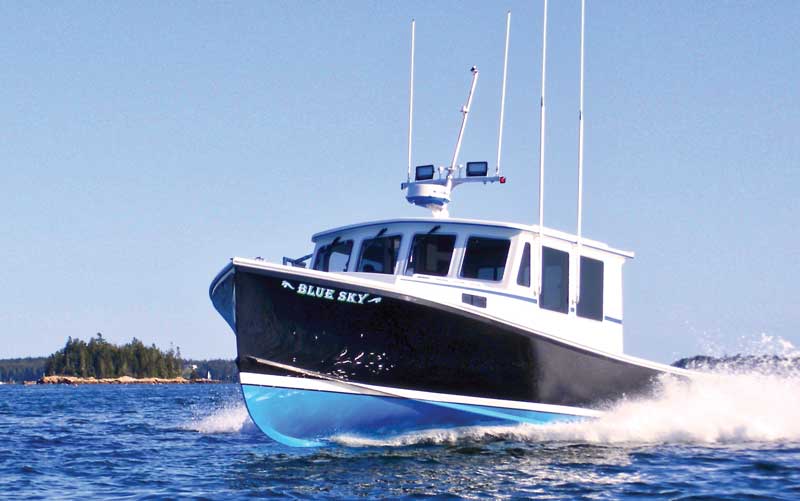 Sandy and John White's new Calvin Beal 36 Blue Sky has enough room for everybody—including Katie, their dog.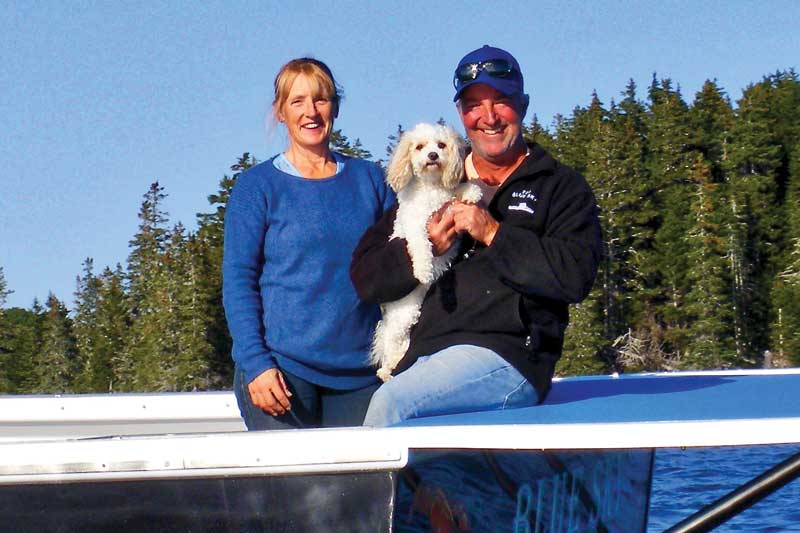 Another fiberglass design that's held its own for a while is the Wayne Beal 36. Originally designed by Calvin Beal Jr. for his brother Wayne in the early 1990s, the 36' x 13'3" model marked a departure from the longtime 3:1 length to width ratio for downeast lobsterboat hulls, while retaining Beals Island-style looks and sailing abilities. Wayne Beal's Boat Shop of Jonesport, offers models up to 46' (and has even stretched one of those to 50'), but the Wayne Beal 36 has remained a popular choice for inshore lobstering.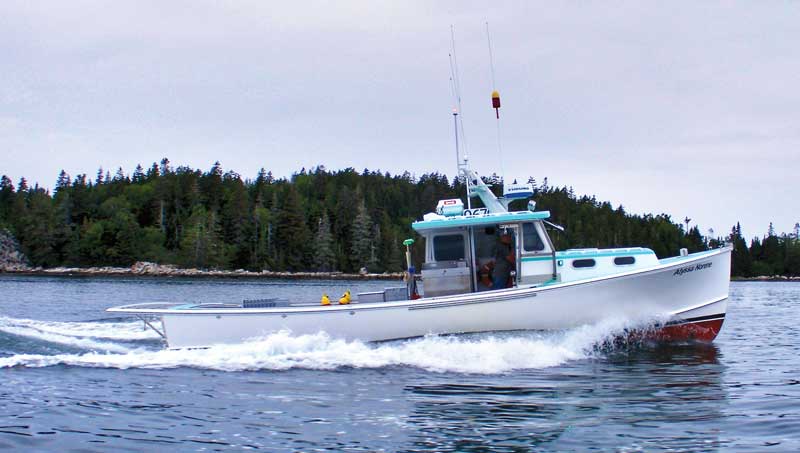 Alyssa Noreen is a Wayne Beal 36 launched this year for 65-year-old lobsterman Clayton Joyce of Stonington. Below is finisher Jeff Eaton (sitting) with Clayton.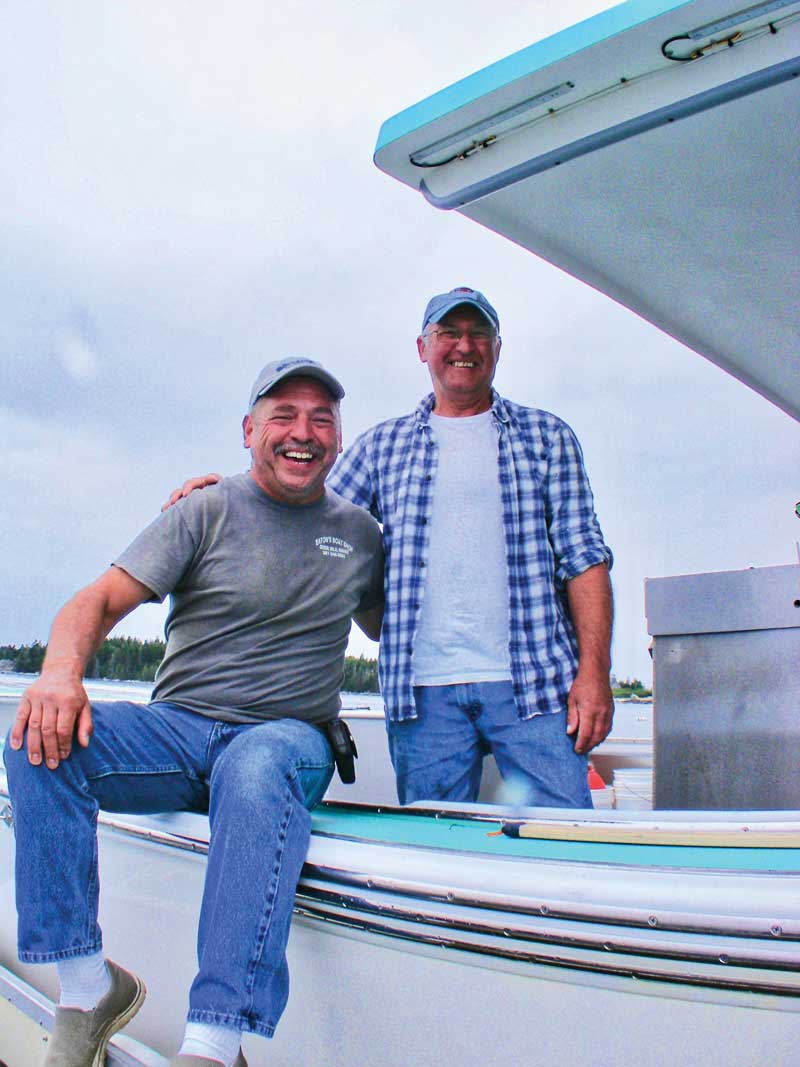 Clayton Joyce of Stonington, has owned three boats over his 45-years-and-counting lobstering career: a 34' wooden Jonesporter; a Webber's Cove 34 that he fished for over two decades; and a low-sheer Duffy 35 that turned 19 this year. Joyce, who is 65 years old, did a lot of thinking before he finally decided to build a new boat this year, a Wayne Beal 36. "My last one," he said. Eaton's Boat Shop of Deer Isle, finished Joyce's 36' Alyssa Noreen. And shop owner Jeff Eaton (who also goes lobstering) applied his familiarity with Joyce's fishing preferences to the project. The result is a roomy hull that handles well.
"She's been easy working around lobster gear," reported Joyce after his first few hauls. A slow-turning QSL9 Cummins (450 hp @ 2100 rpm) gives the Alyssa Noreen a top end of 23 knots with a 17-knot cruise.
Another popular Calvin Beal Jr.-designed model line is the one bearing his name offered by SW Boatworks of Lamoine. Calvin Beal 44s and 42s have been the hulls of choice for many fishermen over the last few years. But the smaller Calvins also offer inshore fishermen spacious working room and trap-carrying capability.
Mainely Boats of Cushing, finished a Calvin Beal 34 for Jeff Woodman of Owls Head this year. Woodman's 34' x 13' Captain Carl (named for his father) hit the water just in time to chase tuna in between setting loads of lobster gear.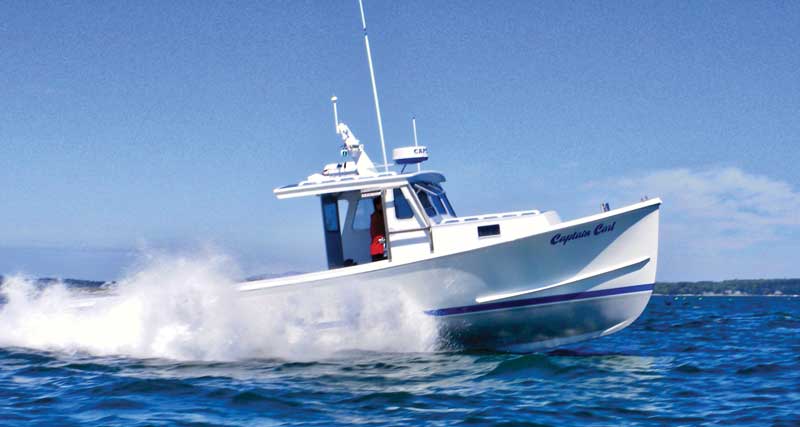 Owls Head lobsterman Jeff Woodman was pondering having something in the 20' range built, but when his father Carl said "I'd like to catch a tuna before I die," Jeff decided on a Calvin Beal 34.
A 675-hp Scania diesel was Woodman's power of choice; matched up to a 1.5:1 Twin Disc gear and spinning a 28"x28" four-blade prop, Captain Carl topped out at 31 knots with an easy 25-knot cruise.
Blue Sky was another example of the Calvin Beal line to hit the water in 2019: a 36-footer with a 13'9" beam. John and Sandy White of Brooklin, had local shop Atlantic Boat Company do the finish work on their lobsterboat (along with Brooklin Boat Yard, which handled the custom interior woodwork). A 625-hp Volvo Penta gives Blue Sky a top speed of 28.8 knots.
Then there's  the Sarah Christina, a 34-footer that raised a lot of eyebrows when she tied up in her homeport of Stonington this summer with a 425-hp Yamaha outboard mounted on her transom.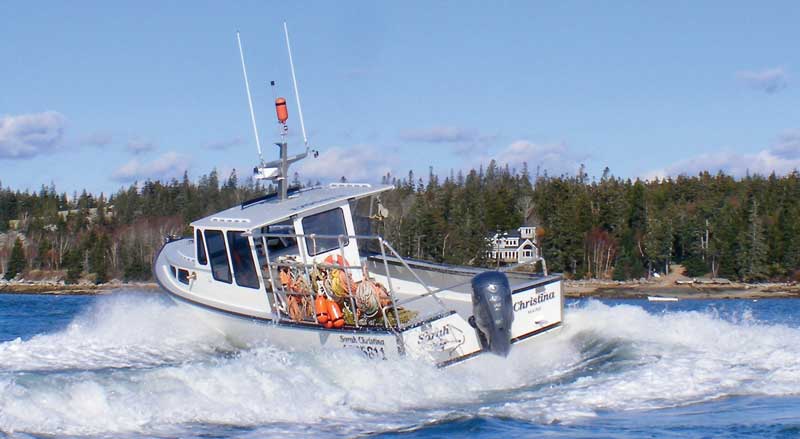 Between her trimmed keel and 425-hp outboard, Devin Bray's 34' Libby Sarah Christina is a fast and nimble inshore lobster-catching machine.
The 34 Libby was built by East Side Boat Shop in Machiasport, for lobsterman Devin Bray. Bray was looking to not only size down from the 45-footer he previously owned, but gain maneuverability and less draft for fishing traps in around the shore.
East Side owner Frank Coffin said Sarah Christina's hull was already built with a full keel and skeg when Bray approached him about the outboard project. "We cut the keel and built up the transom for this one. If we were starting from scratch, I think there are some things we could do to gain performance."
Bray has no complaints: His 34'x13' Ernest Libby-designed hull tops out in the 30s with a 22-knot cruise. And he had no problem this summer fishing right in the rocks when he wanted to. 
---
A former offshore lobsterman, Brian Robbins is senior contributing editor for Commercial Fisheries News when he's not writing about music or riffing on various things with strings in the Horseshoe Crabs.
Builders:
Atlantic Boat Company
207-359-4658
Brooklin Boat Yard
207-359-2236
Eaton's Boat Shop
207-348-2804
East Side Boat Shop
207-259-6105
Holland's Boat Shop
207-338-3155
Mainely Boats
207-691-2824
SW Boatworks
207-667-7427; www.swboatworks.com
Wayne Beal's Boat Shop
207-497-2173
Share this article:
2023 Maine Boat & Home Show

Join Us for the Maine Boat & Home Show!
Art, Artisans, Food, Fun & Boats, Boats, Boats
August 11 - 13, 2023 | On the waterfront, Rockland, Maine
Click here to pre-order your tickets.
Show is produced by Maine Boats, Homes & Harbors magazine.