Lincolnville
Where Neighbors Pull Together
By Mimi Bigelow Steadman
Photos by Mimi Bigelow Steadman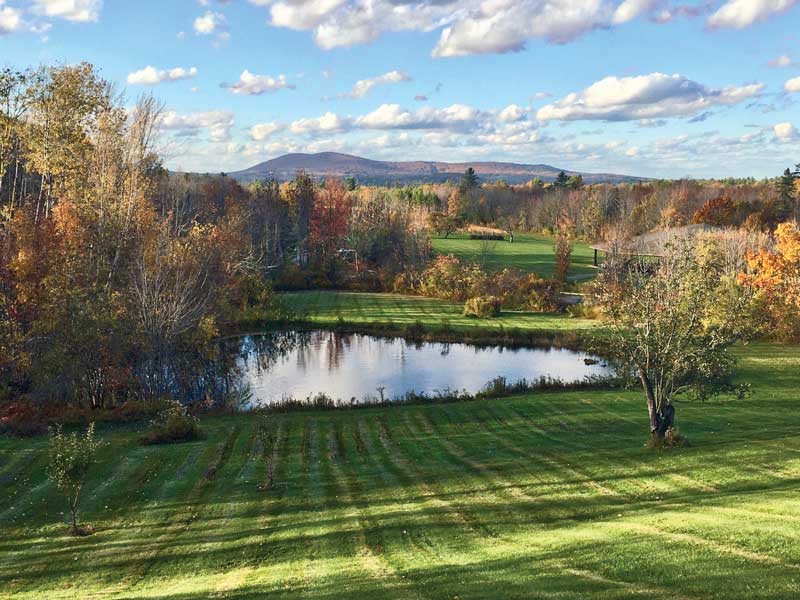 In the heart of the Lincolnville countryside, Cellardoor Winery offers visitors a toast-worthy view over the vineyard to Levenseller Mountain.
On an unseasonably warm late-October day, a southwesterly breeze dusted the dark blue bay with frothy little whitecaps. Standing on the sand at Lincolnville Beach, I watched the Margaret Chase Smith leave the ferry dock and slide through the wavelets on her crossing to Islesboro. I'd come to Lincolnville to get better acquainted with the town, and the beach—probably the best-known spot in town—seemed the perfect place to begin.
Comprising both Lincolnville Center and Lincolnville Beach, this quiet, bayside community between Camden and Belfast may be overshadowed by its neighbors. But residents know it's a fine place to live—one where people offer rides to appointments, help to search for lost dogs, or share an overabundance of perennials.
"Lincolnville has a huge heart," declared my friend Christine Burstein, who bought a house here with her husband two decades ago. She cited the time a few years ago when some 200 locals came together to pull on a rope to move a dilapidated mid-1800s schoolhouse to its new home across the road. Fully renovated by townsfolk and fitted with solar panels, the sweet little building now serves as the community library.
"That was a great event," recalled Diane O'Brien when we spoke on the phone. "People who weren't there still wish they had been." President of the Lincolnville Historical Society, writer, and weaver, O'Brien has been a community leader for at least 50 years. "We have a great variety of people and incomes," she explained. Whether fishermen, creatives, professionals, tradespeople, energetic retirees, longtime residents, or recently arrived young families, "we all work pretty well together," she said. "We see ourselves as Lincolnvillians."
Just up Route 1 from the beach, another 19th-century structure has also found new purpose. At Windsor Chairmakers' showroom in a rambling old farmhouse, owner Mike Timchak invited me to explore 18 rooms spread out on the ground floor and up narrow stairways to the second floor, all filled with masterfully crafted reproduction Windsor chairs as well as period tables, beds, bureaus, and desks. There's a gallery of Shaker-inspired furniture, too.
From Route 1, I turned onto Route 173 and drove inland past meadows and well-kept farmhouses to town-owned Breezemere Park, named for a dance hall that stood here in the 1940s and 1950s. Set beside Norton Pond with the Camden Hills beyond, the park's centerpiece is the bandstand, used for town-band concerts and everything from church events to picnics.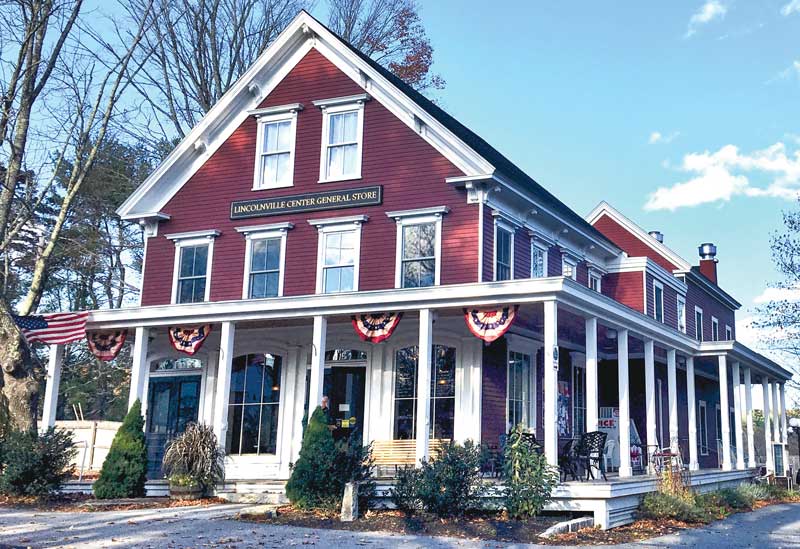 An original 19th century store restored from the foundation up, the Lincolnville Center General Store is once again a community hub.
In a handsomely restored dark-red clapboard structure, the Lincolnville Center General Store sits at the heart of town. On its shelves, I found standard canned and packaged staples alongside more unusual and gourmet goods—perhaps reflecting the eclectic profile of Lincolnvillians.
Heading south on Route 52, I made a left onto Youngtown Road at the lovely old Youngtown Inn and continued a mile to Cellardoor Winery. Its tasting room in a massive, rebuilt 18th-century post-and-beam barn boasts stunning views over the grapevines to Levenseller Mountain. The woods framing the vista were garbed in ocher and mustard-hued leaves, tolling the end of foliage season, yet the panorama remained undulled.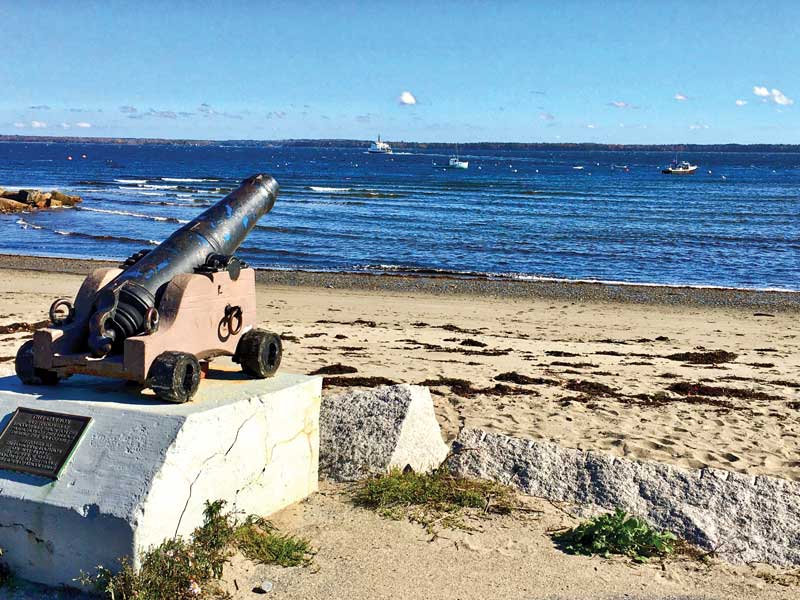 At Lincolnville Beach, a cannon dating from the War of 1812 keeps the ferry to Islesboro in its sights.
Finally, I looped back to Lincolnville Beach, arriving as the descending sun cast its glow on the topsides of lobsterboats bobbing at their moorings. Across the road, a bold sign proclaiming "Maine Artisans" drew me into a large shingled building where the creations of some 70 members of the Maine Artisans Collective are displayed. As I browsed for early Christmas gifts, a number of late-season tourists dropped in to buy mementos of Maine.
Walking back to my car at dusk, I passed the Beach Store, recently reopened by a new owner. Enticing aromas drifted out as locals exited with boxed pizzas and headed home, content to live in a place where people still gather at the town bandstand, honor their architectural heritage, and pull together for the good of the community. 
✮
---
Contributing Editor Mimi Bigelow Steadman lives on the Damariscotta River in Edgecomb.
If You Go to Lincolnville
On the Water
"We welcome travelers," said harbormaster David Kinney. The town's three guest moorings, available at no charge, confirm his statement. The approach in deep water is straightforward—just be sure to keep clear of ferry traffic. Kinney does advise that it's not a comfortable place for overnighting when the wind is out of the southeast. Dinghies may tie up at the town pier beside the ferry slip. A launching ramp, also beside the ferry dock, is best used at half tide and above.
Eat and Drink
The beachside Whale's Tooth Pub is set in a handsome, 1700s-era brick building whose atmosphere evokes a cozy English pub. Fittingly, the menu features elevated pub fare such as fish and chips, short ribs, and shepherd's pie. Open throughout most of the winter, its huge fireplace provides a warm welcome on chilly evenings. A Lincolnville Beach landmark since the 1920s, the Lobster Pound Restaurant offers classic seafood dishes including an old-fashioned, roll-up-your-sleeves lobster feed. At the opposite end of the beach, McLaughlin's Lobster Shack serves lobster rolls and other takeout choices; enjoy them at a nearby picnic table. Across the way, the Beach Store sells to-go pizzas, calzones, sandwiches, and salads. Just down the road, Dot's Market stocks gourmet food items, many of them Maine made, plus delectable prepared dishes, baked goods, and sandwiches. On the other side of the road, Green Tree Coffee and Tea sells its roasted-in-house coffee beans plus a wide selection of teas. The barista will also be happy to make you a cup to go. Nestled in the countryside at the Youngtown Inn, Aster & Rose serves a modern, refined menu in an intimate setting. A mile down the  road, Cellardoor Winery's guests enjoy the view while tasting a flight of wines or sipping a glass of their favorite from the winery's selection of reds and whites. Light food is also available. Check their website for special events.
Do
The exhibits at the Lincolnville Historical Society's Schoolhouse Museum delve into such facets of the town's past as its maritime and fishing heritage, the lime industry, and farming. It's open late June to early October.
Hike and Paddle
While the entrance to Camden Hills State Park is in Camden, more than half of its 5,700 acres lie in Lincolnville. Of the park's more than 30 miles of interconnected hiking trails, the most popular lead to the top of Mt. Battie and stunning lookouts over Camden harbor and Penobscot Bay. Another favorite, the Maiden's Cliff trail takes hikers to the crest of an 800-foot cliff with great views along the way of Megunticook Lake and the bay. On a peninsula in Megunticook Lake, Fernald's Neck Preserve encompasses a gentle, double looped trail and a small beach. Also within the town's borders are the small Murray Preserve, which edges the salt water; and the 1,140-acre Ducktrap River Preserve, in the Lincolnville countryside adjacent to the Tanglewood 4-H Camp, which lies along the river and is used by a broad spectrum of children and adults for education and recreation. Ducktrap Kayak Rentals, on Route 1, rents and sells kayaks and SUPs. Paddle in the bay, or launch into Norton Pond (ramp at Breezemere Park) or Megunticook Lake. A narrow passageway beneath the Ken Bailey Bridge connects Megunticook Lake and Norton Pond.
Shop
Lincolnville Center General Store meets locals' needs for both staples and upscale food and drink items, including well-chosen wines. Excellent pizzas, breads, and roasted vegetables and meats come from the wood-fired oven. There are a few small tables for eating in, and wine is served. Informal suppers are sometimes served upstairs in the off season. At the beach, the large Maine Artisans store features a wide array of handcrafted items including pottery, glass art, paintings, photography, and jewelry. A few doors away, Lincolnville Fine Art and Antiques Gallery showcases small antiques plus carved birds, sculptures, and artwork, including boldly saturated paintings by Philip Barter and Jill Hoy. Windsor Chairmakers is highly regarded for its finely wrought reproduction furniture. Stop by Diane O'Brien's farmhouse on Beach Road (Route 173) to purchase the colorful Sleepy Hollow Rag Rugs she weaves in her barn, as well as her knitted goods, jewelry, and other handmade items.
Share this article:
2023 Maine Boat & Home Show

Join Us for the Maine Boat & Home Show!
Art, Artisans, Food, Fun & Boats, Boats, Boats
August 11 - 13, 2023 | On the waterfront, Rockland, Maine
Click here to pre-order your tickets.
Show is produced by Maine Boats, Homes & Harbors magazine.