View from the Porch - Issue 123
Issue 123
By Peter Bass
Nothing ever seems as cold as the inside of an unused summer cottage in the winter. The periodic visits we make to the cottage in winter always give me a shiver, probably because the setting itself is so deeply associated with open doors and warm breezes. The shock of opening the kitchen door and realizing that the visual clues are at odds with the temperature makes the chill seem deeper. We make a quick check to make sure that no teenagers with too little to do have dropped by to see if the liquor locker is empty, and that the collection of varmints that used to drop by for a snooze and the few bits of dog kibble that had dropped behind the refrigerator have decided that our housekeeping is too good. If the sun is warm we linger a moment on the porch with our memories of parents and grandparents and children and grandchildren. I can now say that I have been each of those things on this very porch at one time or another. Then we smile quietly and head home. Now let's hit the cyber porch and see what's happening.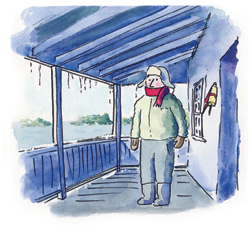 All illustrations by Ted Walsh
A Torrefying Development
We have more than a passing interest in Maine's North Woods here on the porch, having enjoyed fishing, hunting, paddling, and just hanging around this great swath of land. It is the great natural resource of inland Maine. The sharp reduction in the use of paper in the electronic age due to e-mail and online news, and, most recently, the decrease in print advertising in the Great Recession, has hit places like Millinocket and East Millinocket hard. A year ago the East Millinocket mill, which had been closed, reopened as Great Northern Paper again under the ownership of investment company Cate Capital. The fate of the closed Millinocket mill, however, awaits more favorable market conditions. Now something has happened, and it involves a word no one on the porch had ever used before: torrefication. It derives from the French
torréfier
, "to toast." Evidently, the heat output of wood pellets that have been made from wood biomass then toasted in the absence of air is about 30% greater than your garden variety wood pellets. This toasted product, torrefied wood, can be used as a co-fuel in coal plants to reduce emissions and is in demand in Europe and the United Kingdom for just that purpose. Since the product has a heat density similar to coal, the economies of manufacturing and transportation make the product a viable fuel even with a long boat-trip factored in. Cate Capital is in the process of building a $48 million plant and machine to produce torrefied wood pellets in Millinocket, according to an article in the
Bangor Daily News
. In November, demolition of some buildings on the Millinocket Great Northern site was taking place in advance of construction. If all goes well in the next years, as many as five machines may be in operation there. Each will convert 250,000 tons of wood waste into 110,000 tons of uber-pellets annually. A toast is in order.
It's ALIVE
A story we have been following for a couple of years, harnessing the tides for power generation, achieved a significant milestone in mid-September: the connection went live. Maine's own Ocean Renewable Power Company and Bangor Hydro connected the first generating unit to the grid.(See p. 62 for more information and photographs of the project.) Remember the restaurant slogan that went something like, "The lobster that you eat today spent last night in Casco Bay"? Think instead, "The electrons that you are using to burn your toast today spent last night in Cobscook Bay." (I am sure my understanding of physics has a few holes in it that some reader will point out; just think of me as a big-picture kind of guy.) According to a
Bangor Daily News
article, the generating unit that went online is made up of four horizontal turbine units, the blades of which look like long spiraling ribbons but are actually foils like airplane wings, and spin the same way whether the tide is running in or out. (Get your head around that!) A lot of grant money went into the startup of ORPC, and the company expects to be profitable by 2020. The University of Maine is heavily involved. Mast builder Hall Spars is the principal subcontractor for the turbine units, which are made of composites, as are the spars of racing sailboats.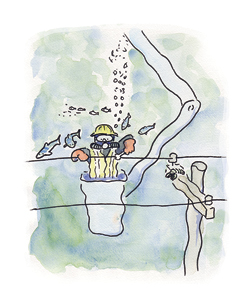 All illustrations by Ted Walsh
The current array produces 180 kilowatts of power at peak, which would be at mid-tide, which equals the power needed by about 25 to 30 homes according to the article. Digging a little further in electricity usage is a lot of fun, particularly revisiting the things you have forgotten from high school physics, such as the difference between power and energy. This little bit of understanding alone can make you the energy guru on your porch.
Our Bounty
The hot topic of the sailing world in the aftermath of Hurricane Sandy is the loss of the replica vessel
Bounty
and two of its crew. Many Mainers thought of the ship as "our"
Bounty
, since it was serviced at Boothbay Harbor Shipyard (formerly Samples) from time to time. It was a great treat to see the
Bounty
on the ways and imagine life aboard a square-rigger. Perhaps by the time this issue is published, the reasons for Captain Walbridge's decision to depart New London to take the ship out to sea around Hurricane Sandy and back to Florida will be better understood. He was a highly respected seaman and had been with the ship for 20 years. Many of us who have undertaken offshore passages in that region had the same reaction, "Why was the
Bounty
there?" We remember fall passages canceled or postponed due to hurricanes, or being caught in rapidly developing lows in December in that area. Early reports sound as if the conditions (40 knots of wind, 18-foot seas) were survivable with functioning pumps and generators, but there was a failure in that equipment. Certainly the same conditions could have occurred in a rapidly developing low, and the decision to sail would not be receiving the scrutiny that it has, although the condition of the vessel and its equipment certainly would be investigated by the Coast Guard in any event. The lost crewmembers were the captain, who has not been recovered at this writing, and a volunteer crewman named Claudine Christian who was recovered but could not be revived. Ms. Christian claimed to be a descendent of the original
Bounty
mutineer, Fletcher Christian.
Laundering Elvers
I again have to thank Stephen Rappaport of the
Ellsworth American
for keeping me up to date on a variety of obscure topics I find fascinating, among them elvers and alewives. I just finished reading one of his excellent pieces on the upcoming elver season, and how the Department of Marine Resources and Marine Patrol intend to control the expected mayhem of the 2013 season after the earnings bonanza of 2012. Two things about elvers—baby eels—gave us a chuckle on the cyber porch. The first was that there will be a lottery for open licenses and non-renewed fyke net permits, and that it will be run by the Maine Lottery Commission, which supervises games of chance in Maine. We are hoping for a television gala, where the winning fishermen will run up on stage to claim their prizes, followed by live interviews and appropriate thanks to deities. The second concerned the fishery itself, which is legal only in Maine and South Carolina, although many rivers along the Atlantic coast have elver runs, particularly in the mid-Atlantic. In most Atlantic states it is illegal to keep elvers, but larger eels may be kept for consumption and bait. So let's say you have a large quantity of live elvers that happened to jump into an aerated tank in your pickup. It would be awfully tempting to slither on up to Maine and sell them for $2,500 per pound, where it is legal to possess them. This action is known to regulators as "elver laundering." Thank you Stephen, for this new and important part of my cocktail party prattle.
The Case of the Purloined Bulldozer
Here is proof that you can be "numb as a hake" while living far from the sea. As reported in the
Lewiston Sun-Journal
, my old hometown newspaper when I lived in Wilton, a young man from Livermore Falls, who some years ago had been convicted of breaking into buildings and stealing a snowmobile at the Spruce Mountain Ski Area in Jay, went back to the well one more time. In late October, this young man returned to the scene of his previous pranks, liberated a bulldozer, and started up Spruce Mountain. Most of the trails on the mountain are visible from town, so it should come as no surprise that his activity was noticed and reported. Also, there was a video surveillance system at the ski area, presumably as a result of this chap's previous burglaries. He was quickly apprehended and taken to the Franklin County Jail in Farmington, an institution about which we used to sing a little ditty as school children. Perhaps he hoped to sell the purloined bulldozer. I can see the advertisement now: "Used Caterpillar D7 for sale. May be inspected at the top of Spruce Mountain in Jay. Offered as-is, where-is. All offers considered. Call Ron at the Franklin County Jail for details." As I write this Hurricane Sandy has passed by, and those affected in New Jersey and New York are struggling to get back on their feet. Another northeaster is getting organized to roar up the coast and maybe give the mountains the first snowfall of the season. Let's hope it gives the ski areas a head start on a good season, doesn't bother anybody else too much, and rains only prosperity. From my periodic vantage point at the top of the Intracoastal Waterway, there has been an uptick in one economic indicator: there seem to be a lot more boats headed south this year.
If you left the northern seas For rummy drinks and green palm trees, Drink a toast to all of those Whose boats lie wrapped in winter's throes.
While you chase an errant lime Or pop the cork of well-chilled wine Remember with winter hard upon us We'd love to meet you in St. Thomas.
Just an e-mail note away We'll hop a plane and plan to stay For just a week and no more (this time I promise not to snore).
You'll be back at winter's end By then our boat will be back in On the mooring rocking steady Feet up, binoculars at the ready.

Long-time
MBH&H
Contributing Editor Peter Bass is a freelance writer and raconteur who divides his time between porches in Maine and Virginia.
Click here to read other articles by Peter Bass »
To submit your comments... newsy tidbits, photos, illustrations, clippings, rants, and raves for possible use in this column, use the form below. Or mail to "View From the Porch," P.O. Box 566, Rockland, ME 04841 or fax to 207-593-0026. Items may be edited for length and clarity; materials become the property of Maine Boats, Homes & Harbors, Inc.
Share this article:
2023 Maine Boat & Home Show

Join Us for the Maine Boat & Home Show!
Art, Artisans, Food, Fun & Boats, Boats, Boats
August 11 - 13, 2023 | On the waterfront, Rockland, Maine
Click here to pre-order your tickets.
Show is produced by Maine Boats, Homes & Harbors magazine.