Tide power remains a force in Maine
By Polly Saltonstall
While historic tide mills no longer power Maine communities, the state has become a leading innovator in modern technology to harness the energy of ocean and river currents.

One of ORPC's huge tidal turbines. Photo courtesy ORPC
In 2012, a Maine-based company installed the country's first ever grid-connected ocean energy system in Cobscook Bay near Eastport, taking advantage of the current created by the area's huge tides. That system involved an underwater turbine capable of producing 150 kilowatts of energy during peak tides—enough to power 150 houses, said Ocean Renewable Power Co. President John Ferland. In place for just a year, the system helped the company improve its technology and develop a river-based turbine that has been installed in a remote community in Alaska, reducing its dependence on diesel-powered generators, Ferland said.
Headquartered in Portland, ORPC has an operations center in Eastport, and an engineering lab in Brunswick, as well as offices in Montreal, Dublin, and Patagonia, Chile. The company has been focused on microgrid energy projects that are designed to provide baseload power and reduce the need to use diesel.
While much of the alternative energy discussion in Maine has focused on wind and solar, tidal power has potential, said Dan Burgess, director of the Governor's Energy Office.
"Maine is lucky to have a ground-breaking company like ORPC developing tidal energy technology, which includes a power purchase agreement to develop a project in the state, and we support efforts to advance their technology and make Maine a leader in tidal energy," he said.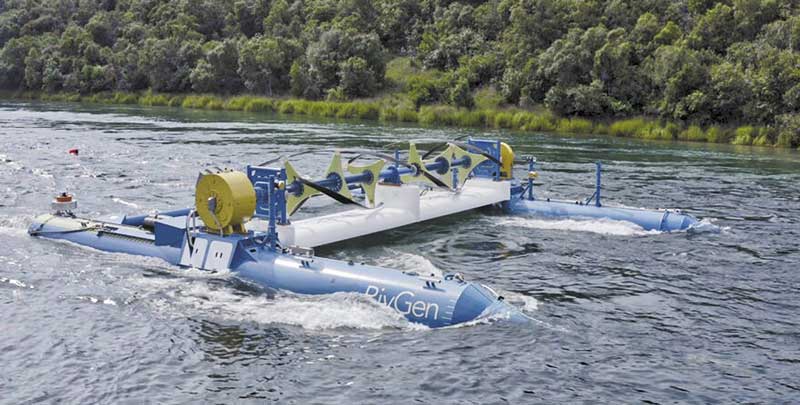 ORPC's River Gen system floating on the surface before installation in a river in Alaska. Photo courtesy ORPC
Currently, ORPC is partnering with several organizations and the city of Eastport to develop a plan for a microgrid powered in part by turbines in the Western Passage between Eastport and Canada—a stretch of water with one of the world's most powerful tidal flows. The project is receiving technical support from the U.S. Department of Energy, which chose Eastport as one of 11 sites nationally to receive such backing; Islesboro also is on the DOE list. The program's purpose is to advance the development of resilient energy systems in remote and islander communities.
Eastport is at the end of a vulnerable 40-mile long electricity distribution line. When that line goes down, back-up power historically has been provided by an aging, diesel-powered generating station, Ferland explained. Plans call for systems testing and community outreach over the next two years. Another Maine ORPC project in the works involves testing a smaller version of its RivGen power system in partnership with Millinocket as part of redevelopment for a former mill site.
"Work in Maine has become internationally significant," Ferland said. It "has enabled companies like us to mature and go to market. And that enables us to come back and not only to continue to use Maine as a test site, but convert those activities to commercial operations over time."
Ferland expects water-based energy projects eventually to provide electricity at competitive market rates while also fitting in with today's three biggest energy trends: the need for climate change mitigation, providing clean energy jobs, and supporting environmental equity and justice.
"The tidal opportunity is a nice fit because of its community scale and its relevance to how it fits in with waterfront communities," he said.  
---
Polly Saltonstall is editor of this magazine.
Share this article:
2023 Maine Boat & Home Show

Join Us for the Maine Boat & Home Show!
Art, Artisans, Food, Fun & Boats, Boats, Boats
August 11 - 13, 2023 | On the waterfront, Rockland, Maine
Click here to pre-order your tickets.
Show is produced by Maine Boats, Homes & Harbors magazine.