Maine Course - Aragosta: Stonington
Finigan's Dream: A chef to watch opens a farm-to-table restaurant
By Kim Ridley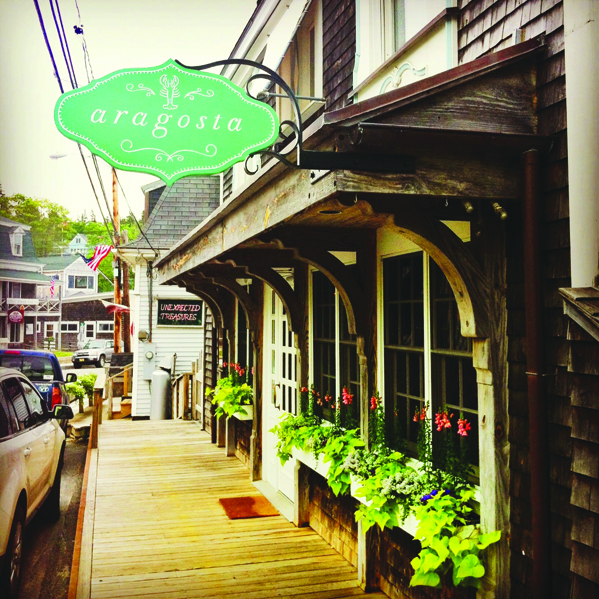 Photographs by Sebastian Greene and Forest Putnam
Last spring found chef Devin Finigan pickling freshly harvested fiddleheads and ramps, infusing simple syrup with lemon balm leaves, and concocting her own vegetable-flavored salts. "I'm inspired by handmade everything," said Finigan, who has poured that inspiration into Aragosta, her new farm-to-table restaurant on Stonington Harbor. "Aragosta" is Italian for "lobster." The name reflects both Finigan's passion for Italy and the restaurant's location in the heart of Stonington: the town with the highest lobster landings in the state of Maine (123 million pounds last year). The fog held off long enough for us to enjoy the view of lobsterboats and granite islands, Isle au Haut hulking on the horizon, when we visited Aragosta on a cool evening in June. Simple décor—white table linens, flickering votive candles, and small bouquets of lupine and lilacs in antique glass inkwells—created an elegant but relaxed ambiance in the 35-seat dining room. Just about everyone at our table of eight had been following Finigan as she cooked her way around the Blue Hill Peninsula over the past few years, most recently at the Blue Hill Inn. I was intrigued to see what she would do with her freedom, and interested in the reactions of my hardcore foodie friends. As we sipped our drinks and sampled house-made bread with butter and bright green asparagus salt, we pored over the menu: five appetizers and five entrées featuring the week's harvest from local waters and farms. After civilized debate, everyone made their choices and agreed to share samples for tasting.
One of the hardcore foodies, who has dined around the world, also had the lobster ravioli. What did he think? "The best lobster dish I've had," he said.
Beignets, those decadent balls of deep-fried choux pastry, are typically served for dessert, but Finigan had prepared a savory version as an appetizer. Her house-cured haddock beignets were crispy on the outside and finely textured on the inside. Served as a pair atop slices of blistered tomato that were intensely concentrated and sweet, they were accompanied by jots of sweet-and-sour lemon aioli and small leaves of fried sage. These gave the dish a subtle aromatic bite and delicate crunch. Fresh asparagus is a fleeting luxury, so I tried Finigan's version of asparagus soup. A gorgeous, vivid green, it was at once delicate and rich, a glossy purée served at room temperature and topped with walnuts, pickled ramps, and a handful of radish leaves poached in an herb-infused butter. I was especially curious about the pickled ramps, the notoriously potent wild onions that grow from the Carolinas to Quebec. Finigan's pickling sweetened and subdued them into a lively but not overpowering accent to the soup. Finigan's signature dish is lobster ravioli, which she became known for at the Blue Hill Inn. From the first bite, I was happy with my choice. Butter poached and tender, the ravioli were stuffed with sweet lobster meat and lightly sauced with a citrus beurre blanc and lemon confit. The three large ravioli were served with the meat from two lobster claws and crowned with local salad greens, making for a beautiful presentation and perhaps cutting the butter a little. One of the hardcore foodies, who has dined around the world, also had the lobster ravioli. What did he think? "The best lobster dish I've had," he said. One in our party ordered the fiddlehead ricotta agnolotti (small pillows of pasta) in a reduced parmesan broth, pea tendrils, crispy shallots, and Four Season Farm carrots; others ordered the halibut, which was served with preserved lemon and lobster risotto, local bok choy, ramp aioli, and celery leaf salad. The halibut was pristinely fresh, but two diners noted that they would have preferred it a bit less well cooked and served with a sauce rather than the risotto. We returned a week later with two more friends and I tried the halibut for myself. This time the halibut was just right: moist and served over local bok choy and lush, black forbidden rice. One friend ordered the New York center-cut steak, which was served with garlic mashed potatoes, caramelized onions, reduced jus, and micro greens. She gave it a thumbs-up and said it was perfectly cooked. Finigan prepares all the food at Aragosta, including the desserts. Our favorites from our two visits were her cheesecake, which is served with Black Dinah's lemon custard ice cream and fresh raspberries, and the vanilla bean crème brûlée, which is accompanied by a pair of Finigan's strawberry truffles.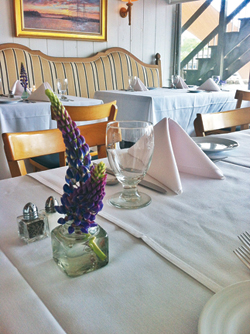 Throughout both evenings, warm, attentive service made our experience even more enjoyable. Whether we were at a larger table or a smaller one, we felt relaxed and welcomed. This is a place to linger with friends or enjoy a small celebration for two. Aragosta features specialty cocktails, a handful of beers, and a small wine list that emphasizes big reds and crisp whites, along with several sparkling wines; the menu suggests options for wine pairings with various entrees. Tom and I enjoyed a Thistly Cross hard cider, which struck a nice balance between dry and slightly sweet. We're looking forward to going back to Aragosta to have lunch on the deck, which is perched over Stonington Harbor. With mid-day fare that includes a lobster po' boy, a vegetarian quinoa salad, and pulled pork from a local farm, there's something for everyone. There's also a children's menu. It's early days at Aragosta, but it's already clear that Finigan has a profound respect for the freshest local food and a gift for infusing the essences of a season, or even a day, into every dish. From start to finish, her creativity and passion grace every plate. A joyful aesthetic is blossoming here. May it grow and flourish for a very long time.

Maine Blueberry Sorbet
Maine Blueberry Sorbet 3 cups fresh blueberries, frozen 1/8 cup simple syrup, infused with lemon peel 11⁄2 cups Prosecco 1 Tbsp. mascarpone Combine all ingredients in a blender. Process slowly to combine, then increase speed to high. The mixture should be smooth. Add more Prosecco if needed. Freeze in an airtight container for at least two hours. Serve the sorbet with fresh lemon zest for a refreshing dessert, or serve a scoop in a flute with champagne for a Sunday brunch. Keep in an airtight container in the freezer. (serves 4-6)
—Devin Finigan, Aragosta
Kim Ridley is a freelance science writer and editor who also writes about food, art, and architecture.
. FOR MORE INFORMATION:
Aragosta
27 Main St., Stonington, ME 04681 207-367-5500
www.aragostamaine.com
Lunch is served Wednesday-Saturday, 11 a.m.-2 p.m.; dinner hours are Monday – Saturday, 5 p.m.-9 p.m.
Share this article:
2023 Maine Boat & Home Show

Join Us for the Maine Boat & Home Show!
Art, Artisans, Food, Fun & Boats, Boats, Boats
August 11 - 13, 2023 | On the waterfront, Rockland, Maine
Click here to pre-order your tickets.
Show is produced by Maine Boats, Homes & Harbors magazine.