Gunkholing with Gizmo: Casco Passage
Gunkholing with Gizmo: Casco Passage
By Ben Ellison

NOAA Chart 13313, 1:40,000 scale, relief by Memory Map. All Photos by Ben Ellison
Click on image to expand.
If there's a "busy intersection" for Maine coastal cruisers, it has to be Casco Passage, where Jericho and Blue Hill bays connect and boats bound for Mount Desert, Swans Island, the Deer Isle Thorofare, Eggemoggin Reach, and other notable waypoints all cross paths. Thus it's all the more remarkable that the unspoiled and idyllic archipelago that comprises the north side of the passage seems so lightly visited. That was my thought from the anchorage just behind Opechee (1) and Black (2) islands on a "smoky sou'wester" August day last season. The bar that connects the islands provided comfortably flat water but didn't impede the cooling breeze or the views of yachts negotiating the passage and the distant ridge of Isle au Haut beyond. I'm not sure there's a sweeter panorama of the MDI mountains than was our view aft, plus we had several uninhabited islands to explore and no other party to share them with.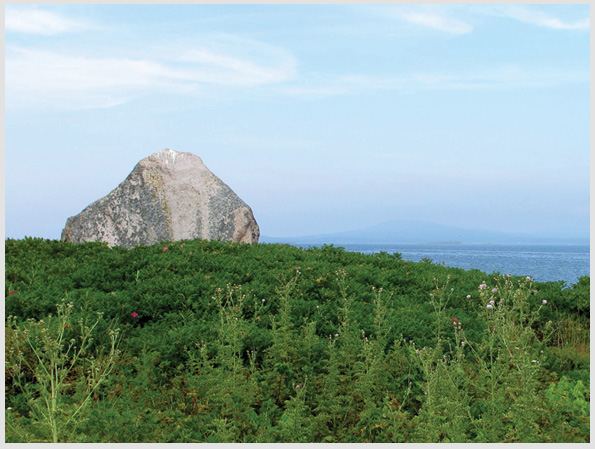 Sheep Island abounds in glacial erratics and lovely views, including Mount Desert Island (visible in the hazy distance).
Click on image to expand.
The obvious first stop was Sheep Island (3), both because there's a good haul-out beach on the southeastern shore and because its low, shrubby terrain suggested a possible circumnavigation. That turned out to be possible (though good footwear was needed in some spots), and the island was bountiful in rose hips, raspberries, and both song- and seabirds. Meanwhile, huge glacial erratics and a broad palette of beach stones were our first hints at what a geological confluence this island group is. Visitors will be delighted to learn that Sheep Island is now forever conserved and public under the auspices of Maine Coast Heritage Trust. MCHT also holds an easement on Eagle Island (4), though public access is not forever guaranteed and is, in fact, physically difficult. Eagle has a much bolder Vinalhaven-style granite configuration, its interior is jumbled with spruce blow-downs, and much of the shore is challengingly steep, at least during the height of tide. That's when we visited, and while we didn't get far, neither did we regret the effort.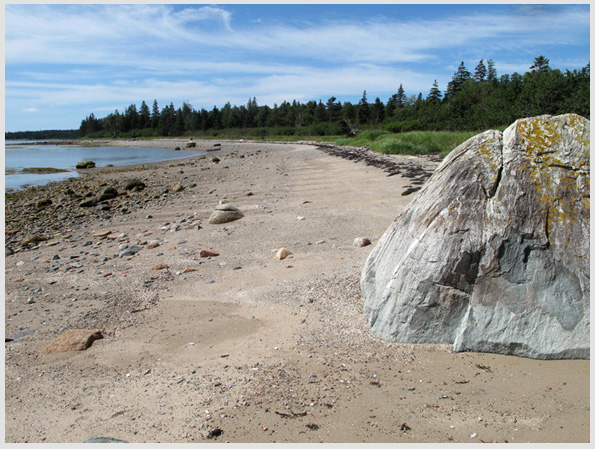 Sheep Island abounds in glacial erratics and lovely views,
including Mount Desert Island (visible in the hazy distance). Click on image to expand.
Sheep Island abounds in glacial erratics and lovely views, including Mount Desert Island (visible in the hazy distance).Pond Island (5) is also conserved and public under the supervision of Acadia National Park; it, too, was empty when we visited. Even the Maine Island Trail Association campsite was unoccupied, though it had recently been cleaned to perfection in classic MITA fashion. The island seemed a pleasant blend of Sheep's beach accessibility and Eagle's intriguing severity, but it's also quite large and our explorations thus far have been only tentative. Acadia National Park also has an easement on John Island (6), which might be an interesting visit in settled conditions. Opechee and Black, however, remain mysteries; while they appear uninhabited from the anchorage, I've yet to find any signs, literal or otherwise, confirming public access. If you have any information to share, please do so by sending an email to Ben at the address below.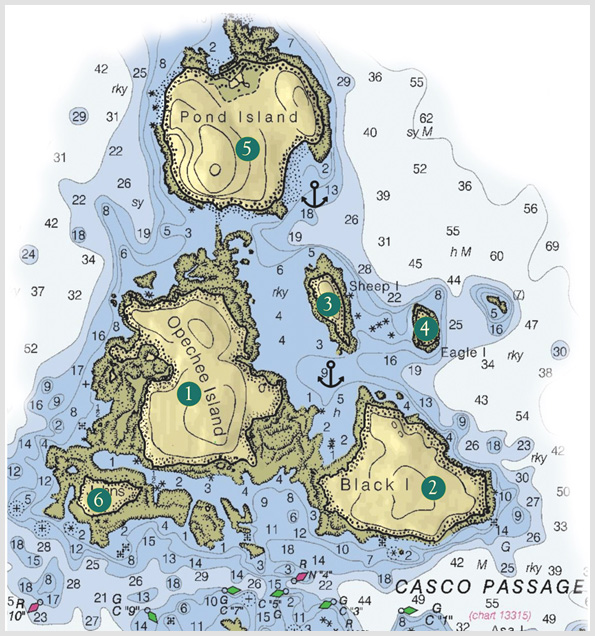 NOAA Chart 13313, 1:40,000 scale, relief by Memory Map. All Photos by Ben Ellison
Click on image to expand.
Charlet Key: 1. Opechee Island 2. Black Island 3. Sheep Island 4. Eagle Island 5. John Island

E-mail Ben (
gizmo@panbo.com
) or leave him a note via the form below to tell him about restaurants, parks, and the like that he can visit aboard the M/V
Gizmo
.
Click here
to travel with Ben Ellison and
Gizmo
on other
coastal adventures
on the Maine coast.
Share this article:
2023 Maine Boat & Home Show

Join Us for the Maine Boat & Home Show!
Art, Artisans, Food, Fun & Boats, Boats, Boats
August 11 - 13, 2023 | On the waterfront, Rockland, Maine
Click here to pre-order your tickets.
Show is produced by Maine Boats, Homes & Harbors magazine.