Sea Chanteys and Jigs
Performed by the Ancient Mariners Fife & Drum Corps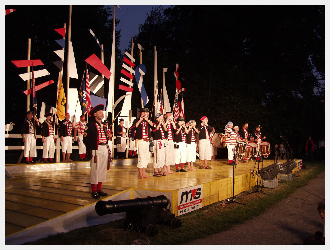 Ancient Mariners Fife and Drum Corps.
The Ancient Mariners Fife & Drum Corps will perform a program of haunting sea chanteys and up-tempo popular jigs and work songs used aboard ship on Saturday, March 28, 2009, at the Rockport Opera House at 7:00 p.m. This Bay Chamber Concerts nautical event, which we are helping to promote, will be of interest to local readers of Maine Boats, Homes & Harbors. The Mariners' passionate renditions of traditional maritime music vividly portray the sights, sounds and sweat of the colonial seaman. Hope to see you there. The Ancient Mariners will perform such nautical favorites as "Chicken on a Raft," "Herzogin Cecile," "Bully in the Ally," "The War of Jenkin's Ear" and more. Built around the wood fife and the rope tension drum, these enchanting songs of the sea will take you back to the days of the square rigger and boatswain. The concert is co-sponsored by The Edge Oceanfront Dining. "These songs speak of our own nautical past, of the maritime history of Midcoast Maine," said Bay Chamber Concerts' artistic director Thomas Wolf, "it was not too long ago that much of the Maine economy depended upon the trade brought aboard the windjammers and schooners anchored in our harbors." Founded on July 4, 1959 by Roy Watrous, this Connecticut based Mariners' Corps carries the unique distinction of being the world's first and only international fife & drum corps. As a singing historical presentation of seafaring life, the Ancient Mariners shine while performing this specialized style of folk music. The Ancient Mariners will also hold a pub sing at Gilbert's Publick House on Sunday, March 29, 2009 at 4:00 p.m. Come raise your voice (and your glass) with the Ancient Mariners chanteymen as they lead the room with such work and fo'c'sle songs as "Haul Away Joe" and "The Lakes of Sligo." An event sure to bring out the singing sea dog in everyone! The pub sing is free and open to the public. Most tickets are $20, prime seating $40, discounted up to 50% with subscription. $8 for youth ages 18 and under, limited availability. For more information and tickets contact Bay Chamber Concerts,
www.baychamberconcerts.org/PASancientmariners.php
. or
click here
to learn about this and other March events.