Maine Events - March 2009
This month: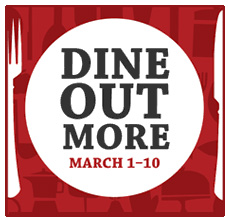 March 1 - 10, 2009: throughout Maine
Restaurant Week Maine
During this ten-day dining event in the state of Maine, chefs will be serving specially priced, three-course meals. Foodies and curious diners are invited to take advantage of Restaurant Week by sampling new restaurants and visiting favorites. Depending upon the restaurant, menu pricing for 2009 will be $20.09, $30.09 or $40.09. Pricing is per person and excludes beverage, tax and gratuity. Also during Restaurant Week, a variety of culinary events will be available, including tastings, tours, book signings, cooking demos and guest chefs. For a list of events participating restaurants, visit
www.restaurantweekme.com
.

monthly, ongoing: Hope
Thursday Night Jazz Jams at the Hatchet Mountain Pub
Hope4Jazz will be welcoming back one of the highlights of last summer's Hope Jazz Festival, Paavo Carey and his band. A New York City native, Paavo Carey has been a professional saxophone, flute and clarinet player with the Tito Puente Orchestra, Aretha Franklin and many other well known artists, continuing to perform regularly with his own groups. Paavo is also the new Artistic Director of Hope4Jazz and has brought new energy and excitement to the Hope Jazz Festival, which will be held on July 25, 2009. Bring the entire family to hear this energetic band. The Hatchet Mountain Public House is located on Rte 235/Hatchet Mountain Rd in Hope. A $5.00 per person donation is suggested in support of Hope4Jazz. Reservations are recommended, performances start at 7:00 pm. Call 207-763-4565 for reservations and schedule.
www.hatchetmountain.com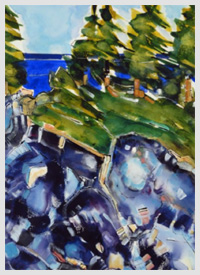 Works of Terry Hilt on display in Portland.
March 4 - 28, 2009: Portland
Terry Hilt: Maine Coastal Trails at Aucocisco Galleries
Hilt's work flirts with abstraction, never departing fully from the representations of the natural elements by which they were inspired. More than landscapes, her works are explorations of human complexities as they relate to forces of nature. Terry has completed residencies at the Carina House on Monhegan Island in 2005 and the Acadia National Park residency at Schoodic Point in 2006, and shown widely throughout the state. This is her third show at Aucocisco having exhibited in 2003 and 2007, respectively. Terry Hilt's First Friday Art Walk opening reception will on Friday, March 6th from 5:00 - 8:00pm at Aucocisco Galleries, 613 Congress Street.
www.aucocisco.com/artists/terry_hilt/album/index.html
CAPTION: Approach to Whitehead, watercolor, 16.5" x 22.5", 2009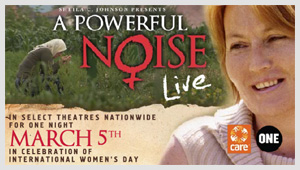 March 5, 2009: Brunswick
"A Powerful Noise", Live
Fathom, CARE and ONE are proud to present a one-night event featuring the acclaimed documentary "A Powerful Noise," followed by a live town-hall discussion with leading humanitarian experts and activists, celebrating International Women's Day and highlighting the important role that women play in bringing lasting solutions to global poverty. Executive produced by Sheila C. Johnson, "A Powerful Noise" takes you inside the lives of three women from different countries to witness their daily efforts to fight HIV/AIDS, champion girls' education, and unite ethnically divided communities. The presentation will conclude with a panel of renowned advocates discussing how women, equipped with proper resources, have the power to help families and entire communities escape poverty. Broadcast live from New York City, this inspiring event will take place in select movie theaters nationwide on Thursday, March 5 at 7:30 pm ET / 6:30 pm CT / 5:30 pm MT and tape-delayed at 8 pm PT and 7 pm in Hawaii. Shown in Maine at the Regal Brunswick 10, 19 Gurnet Street, 207-798-4505.
http://apowerfulnoise.fathomevents.com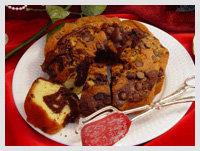 March 14, 2009: Rockland
4th Annual Chocolate March
The Historic Inns of Rockland roll out the cocoa carpet for the 4th Annual Chocolate March to kick off National Chocolate Week. The event combines tours of the Inns along with chocolate tastings, recipes and plenty of choco-fun with more than twenty restaurants and businesses in Rockland participating. Demonstrations are scheduled from 10:00am to 5:30pm. Tickets for the one-day event are $20.00 per person. Some participating restaurants are also offering a free chocolate dessert redeemable with the purchase of a lunch or dinner entrée and a Chocolate March ticket. To learn more about the 4th Annual Chocolate March, visit
www.HistoricInnsofRockland.com
or call 1-877-ROC-INNS (877-762-4667).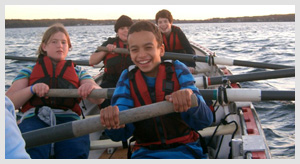 Station Maine Auction
March 17, 2009: Rockland
Saint Patrick's Day Auction to benefit Station Maine
The public is invited to join Station Maine for their annual Saint Patrick's Day Auction featuring Rockland's Senior Auctioneer, Bruce Gamage. Proceeds from the event will benefit Station Maine, an organization of community members committed to providing boating experiences for youth of all ages in the Midcoast area. This year's auction will be on board the M/V
Monhegan
at the Middle Pier in Rockland, 7:00 pm. For more information, call Station Maine at 207-691-2037.
www.stationmaine.org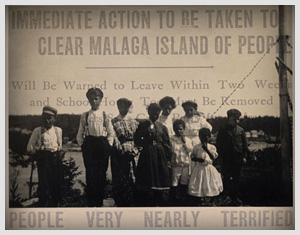 Malaga Island documentary at
The Salt Institute, Portland.
through March 27, 2009: Portland
"Malaga Island: A Story Best Left Untold" on exhibit at The Salt Institute for Documentary Studies
This project features a one-hour documentary radio program by producer Rob Rosenthal and photography and constructed imagery using historic documents and photographs by Kate Philbrick. In 1912, the state of Maine evicted about 45 people from Malaga Island off the coast of Phippsburg. The island residents were poor, black, white, and mixed race and this eviction is typically viewed as a shameful moment in the state's history. During the process of evicting the Malaga community, the state committed eight islanders to the Maine School for the Feebleminded in New Gloucester. The remaining residents left the island taking their homes with them. Once the community was removed, the state relocated the island school. Then, the state dug up the island cemetery and reburied the remains in the graveyard at the Maine School for the Feebleminded (now known as the Pineland Center). The gallery show includes photographs of the island today and constructed images from historical documents and old postcards plus a presentation of the radio program. Additionally, artifacts from archeological work conducted on the island will be on display. Salt Institute for Documentary Studies, 561 Congress Street. For gallery hours call, 207-761-0660.
www.malagaislandmaine.org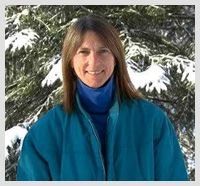 Author, Debbie Miller
March 17, 2009: Brunswick
Book signing & presentation by Debbie Miller, "Songs from Around the World: An Arctic Refuge Journey"
Miller has explored the Arctic National Wildlife Refuge for many years. In this presentation, she will take the audience on a slide-show journey through the refuge to learn about the extraordinary songbirds that arrive each spring to breed, along with the great diversity of other Arctic species. Her program is based on a two-week-long, 75-mile trek through the refuge where she studied songbirds that migrate there from five continents; and encountered bears, wolves, and other Arctic wildlife. She reveals the importance of the refuge, where nowhere is it more apparent that the ecosystems of the world are linked by birds. Miller has been honored with the Refuge Hero Award from the U.S. Fish and Wildlife Service for her nature writing and for her education and conservation efforts. She has worked to protect the Arctic Refuge for two decades, and is a founding board member of the Alaska Wilderness League. She has traveled to Washington three times to testify before Congress about the wonders and extraordinary value of the Arctic Refuge, and about why it is a place worth saving for the world. 7:30pm. Book signing in cafe, slide-show to follow in theater. Frontier Cafe, Cinema & Gallery, 14 Maine St., Mill 3 - Fort Andross. 207-725-5222;
www.explorefrontier.com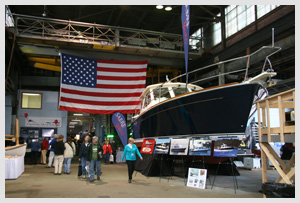 Maine Boatbuilders Show, Portland
March 20 - 22, 2009: Portland
Maine Boatbuilders Show
A gathering of the finest fiberglass and wooden custom boatbuilders on the East Coast with numerous manufacturers of boating equipment, sailboats, powerboats, canoes, kayaks, and rowing boats displayed with the builders there to discuss and sell their work. Visit the
Maine Boats, Homes & Harbors
booth to meet us and get a free sticker and special pricing on magazine subscriptions. Admission is $15.00 per day at the door. Children under 12 accompanied by adults, free. Friday and Saturday, 10:00 a.m. – 6:00 p.m.. Sunday, 10:00 a.m. – 4:00 p.m. Portland Company Marine Complex, 58 Fore Street. 207-774-1067;
www.portlandcompany.com/boatshow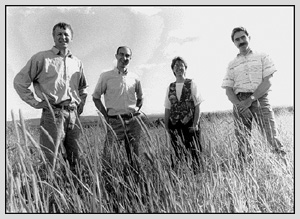 Evergreen
, Bluegrass Band.
March 22, 2009: North Vassalboro
Evergreen "House Concert" at Klarity Multimedia
Evergreen has been entertaining New England audiences since 1991. Their eclectic style blends elements of bluegrass, folk, blues, old-time, country and swing into a seamless mix of upbeat, energizing music that appeals to a wide range of listeners. Tight harmonies, solid instrumentation, original interpretations and strong songwriting all combine to create a uniquely engaging show, and everywhere they play - from big-time festivals to backyard barbecues - folks tell them how much they enjoy what they do. "Meet & Greet" from 4:00 - 5:00 pm, followed by potluck & concert. Bring a dish to share & BYOB, Klarity will provide plates & utensils. 36 Maple Street. 207-873-3911;
www.evergreenmaine.com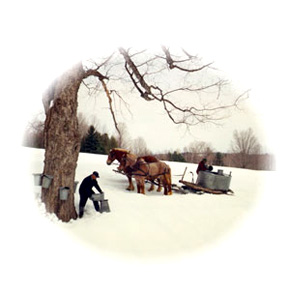 Maine Maple Sunday, Statewide
March 22, 2009: throughout Maine
Maine Maple Sunday
Enjoy the fruits of Maine's maple producers each spring as they celebrate Maine Maple Sunday, the day when sugar makers around the State open the doors of their sugarhouses for the public to join them in their rites of spring - making maple syrup. Here's a chance to see first hand how 40 gallons of maple sap is turned into just one gallon of that golden delight. Most sugarhouses offer free tasting and a live demonstration of how syrup is produced, from tap to table. Many offer a variety of other treats and activities, including syrup on pancakes or ice cream, sugarbush tours, sleigh or wagon rides, and lots more. Many sugarhouses will arrange special tours and demonstrations for groups on other days as well - call them to make arrangements.
www.getrealmaine.com/visit/maine_maple_sunday.html
March 26 - 29, 2009: Bath
"Around the World in 80 Ways" community variety show to benefit the Chocolate Church Arts Center
"Hot Chocolate Jubilee - Around the World in Eighty Ways" is a community variety show to benefit of the Chocolate Church Arts Center. This fifth biyearly event features acts representing a variety of countries and the ways to get to there. Come and see the huge range of musical styles with the Jubilee Chorus of more than 40 voices, the Jubilee Pit Band, jazz, African drums and distinct dance numbers, and by popular demand, the Master of Ceremonies is Bath favorite, Tom Anglim, who humorously brings it all together. Part of the The Maine Stage series and sponsored by Bath Iron Works, the show will feature a cast of 150 from more than 14 surrounding communities. $10 - $15. March 26, 27 & 28 at 7:30pm, March 29 at 2:00pm. For tickets and information about this and all Chocolate Church events, please call the Box Office at 207-442-8455 or visit the Chocolate Church Arts Center website at
www.chocolatechurcharts.org
.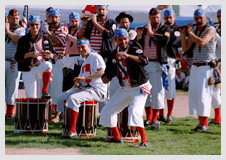 March 28 & 29, 2009: Rockport and Camden
Ancient Mariners Performance and Pub Sing
Sponsors Brewster Point and The Edge Oceanfront Dining bring haunting sea chanties and up-tempo popular jigs and work songs to the Rockport Opera House, performed by the Ancient Mariners. Built around the wood fife and the rope tension drum, the Mariners' traditional music brings to life a vivid display of the colonial seaman. Most tickets $20. Prime seating $40, discounted up to 50% with subscription. $8 for Youth ages 18 and under, limited availability. 7:00 pm, 6 Central Street, Rockport. Additionally, the Mariners will hold a Pub Sing on Sunday, March 29. Raise your voice, and your glass, with the Ancient Mariners chanteymen. From "Haul Away Joe" to "The Lakes of Sligo," these work and fo'c'sle songs will bring out the sea dog in everyone. Free and open to the public, no ticket necessary. 4:00 pm. Gilbert's Publick House, Camden.
www.baychamberconcerts.org/PASancientmariners.php
March 28, 2009: Portland
Maine Maritime Academy's Annual Fundraiser, "A Night By the Bay"
The Academy will be holding, "A Night By the Bay", to raise money for the school's Annual Fund, benefiting Maine Maritime Academy students and faculty. The evening will include dinner, silent and live auction bidding, live music, comedic entertainment, and dancing held at the Holiday Inn By the Bay. Guests at the event may bid on a variety of exciting items and travel excursions ranging from MMA memorabilia and a flat screen television, to a weekend stay aboard the schooner Bowdoin and a two week stay at a private home in the Hawaiian Islands. For more information and tickets, contact Karen Cukierski at 207-326-2177 or via e-mail
karen.cukierski@mma.edu
anightbythebay.mma.edu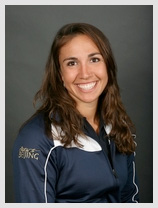 Olympic gold medalist,
Anna Goodale
March 29, 2009: Rockport
Anna Goodale speaks to benefit Station Maine
Olympic Gold Medal rower Anna Goodale, of Camden High School, will be telling the audience about her personal journey at the Rockport Opera House. A compelling story, told simply and graciously by this local hero, is sure to inspire. Reception to follow. Donation of $10 is requested. Proceeds to benefit Station Maine in its efforts to put more young rowers on Maine waters. For more information call Station Maine at 207-691-2037. --- Events compiled by Nadine Gallagher. To send us details on an event for possible inclusion, e-mail a short description to:
events@maineboats.com
. Submissions may be edited for length and clarity.