French & Webb: Leilu
A "Jewell" destined for lake sailing
By Art Paine
Dr. Frank Kielisek and his wife, Meg, did not have time to build their own kit boat, so they went to French & Webb. They will sail the small cruiser on Pennesseewassee Lake in Norway, Maine. Photographs by Amanda Green, courtesy French & Webb
By Art Paine The first thing that grabbed me about watching the little lapstrake daysailer
Leilu
being put together at French & Webb in Belfast was that the design, to my eye, was so obviously European. My eye was right;
Leilu
is the work of Francois Vivier, a French designer who specializes in kit boats. But the name of the design is "Jewell," and that does not sound the least bit French.
Nowadays kit boats can be exceptionally pretty and at the same time terrific performers.
Turns out Jewell refers to an island of that name in Casco Bay and is a nod to Vivier's collaboration on the design with his U.S. kit agent Clinton Chase, a Portland boatbuilder, Landing School graduate, and, lately, instructor. Chase designs and markets some nice and easily-built kit boats, including ones qualified to race in Maine's Small Reach Regatta, an annual "raid" of boats powered by oars and sails. Most kit boats are built using mahogany marine plywood as a medium. The patterns are designed on a computer and the pieces are cut using computer-aided cutting machinery. This sort of build-it-yourself boat is especially popular in Europe. Whole bays and estuaries in Brittany and Normandy fill up with homebuilt-Vivier designs on summer weekends.
Vivier met Chase while looking for someone to market his designs in the Unites States. They collaborated on the Jewell, which was configured with American sail-and-oar adventures, automobiles, launching ramps, and one particular island, in mind.
Leilu
's owner, Dr. Frank Kielisek, met Chase at the Small Reach Regatta, learned about Vivier's kits and decided a Jewell would make the perfect lake boat for his home on Pennesseewassee Lake in Norway, Maine. The presence of many unmarked rocks and shallow areas means lake sailing almost always requires a centerboard, a keel-centerboard, or swing keels, and many boaters use the launching ramp for every excursion. Of course, a trailerable sailboat has the added feature of availability for the seashore, and thus access to Maine's uncountable inshore islands. Too busy to build his own boat, from a kit or otherwise, Kielisek started looking for a builder to put the Jewell together. Chase suggested French & Webb in Belfast. "We had been in touch with the amazing work French & Webb had done," Kielisek said. "But I was under the misimpression that they only did large, high-end boats." The Kieliseks met with Peter Webb and were pleasantly surprised to find that one of his craftsmen already had his eye on the Jewell design.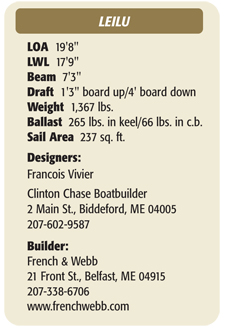 "I can't speak highly enough of Peter and his craftsmen," Kielisek said. "They took Vivier's plans, Clint's ideas and a CNC plywood kit, and incorporated some of our quirks—like the coin at the base of the mast—to produce a real 'jewell.'" There was a time when many kit designs intended for amateur building were mediocre. That is no longer true. Nowadays kit-boats can be exceptionally pretty and at the same time terrific performers. The Jewell yawl trailers easily, is stable, sails to windward nicely under jib and jigger, and has just enough room in the cabin to support weekend camping. All of this makes it a great candidate for lake sailing, "raid" competition, and coastal cruising. There's a world of saucy designs available from competent designers both here and overseas. And just because a design falls into the "amateur-build" or "kit-boat" category doesn't mean it's heretical to select a premium yard to put it together. That's the tack Kielisek and his wife, Meg, took and they couldn't be more pleased. "It was just what the doctor ordered," he said, with a grin. Contributing Editor Art Paine is a boat designer, fine artist, freelance writer, aesthete, and photographer who lives in Bernard, Maine.
Share this article:
2023 Maine Boat & Home Show

Join Us for the Maine Boat & Home Show!
Art, Artisans, Food, Fun & Boats, Boats, Boats
August 11 - 13, 2023 | On the waterfront, Rockland, Maine
Click here to pre-order your tickets.
Show is produced by Maine Boats, Homes & Harbors magazine.