Boatyard Dogs® — Issue 135
Riley and Cobbie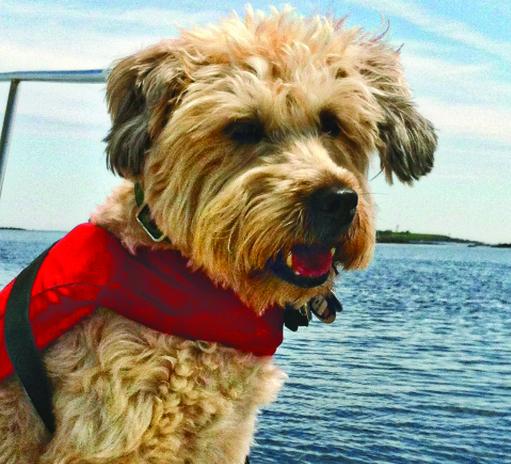 Riley a soft-coated Wheaton terrier, truly lives the Life of Riley. He spends summers with his family the Masseys at Biddeford Pool and has been boating for his entire life (10 years). When his life jacket comes out, he knows where he's going. A great day for Riley involves time on the Marion B, the Masseys' 28' Cape Dory trawler, from which he watches the buoys, the birds, and the waves. He and his family spend winters in Naples, Florida, boating whenever they can. If that's not living the "life of Riley," we don't know what is!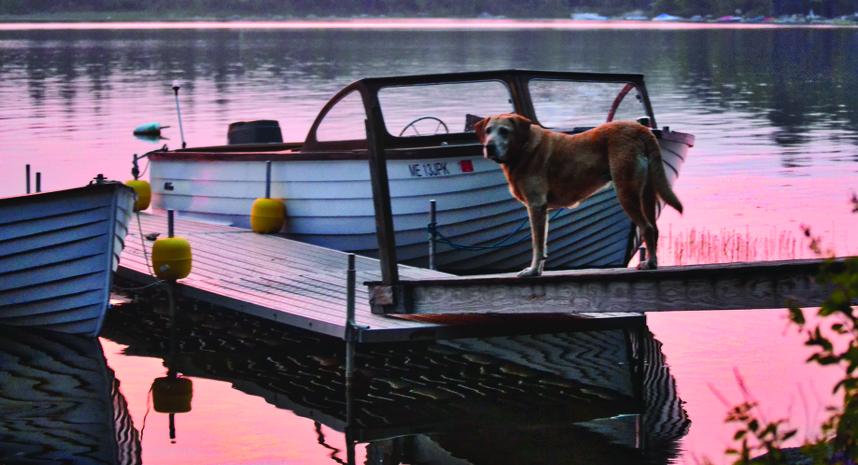 Cobbie (short for Cobscook) is a 12-year-old yellow Lab and the constant companion of Jake and Sue Ward of Hampden and Ellsworth, Maine. He is shown here with a classic 1957 Old Town 18' Ocean Model that belongs to his people, but he is at home on a variety of vessels ranging from a 13' Whaler to a tandem sea kayak. Really, though, he would rather go swimming than boating. Cobbie grew up entertaining himself by dropping tennis balls off the dock and fetching them, over and over. At some point, he began to chew holes in the balls so they would sink, then he would dive to the bottom to retrieve them. Witness his diving skills:
---
Do you have a dog that helps on your boat or accompanies you alongshore? We'd like to see your water-friendly canine. Email a clear photo and pertinent details to editor@maineboats.com or mail it to
Boatyard Dog, P.O. Box 566, Rockland, ME 04841.