Artist Feature: Dahlov Ipcar
Celebrating the reissue of the 1945 classic "The Little Fisherman"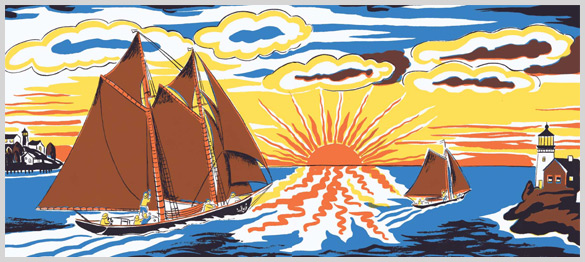 The Little Fisherman
written by Margaret Wise Brown, illustrated by Dahlov Ipcar.
Re-issued in 2008 by
Islandport Press
.
The childrens' book
The Little Fisherman
was a milestone that helped kick off the four-decades-long career of the legendary artist Dahlov Ipcar. Originally published in 1945, it was the first children's book illustrated by the then-28year-old artist, and the authenticity of its coastal scenes helped establish Ipcar's distinctive style. From there she went on to write and illustrate more than 30 books for children, all from a studio overlooking her farm on Georgetown Island, Maine.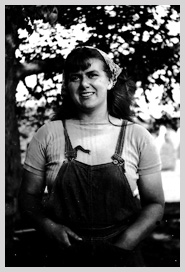 Dahlov Ipcar, 1944
Visit the Portland Museum of Art on Sunday June 8, 2008, for a book signing with the artist, who is now 90 years old. This will be a special event, designed to celebrate the release of a new commemorative edition of Ipcar's classic children's book,
The Little Fisherman
. The afternoon of art and books will be family-friendly, and will be held in the museum's Great Hall. The Ipcar festivities will also feature special children's activities related to Ipcar's illustrations. Families can make their own paper fish kites to fly from the end of child-sized fishing poles and can help decorate a paper ocean in the museum. Special guests will read from the book in the auditorium during the event. 1:00 pm - 3:00 pm. Free with museum admission of $10 for adults, $8 for seniors and students with I.D. and $4 for youth ages 6 to 17. Children under 6 are free. For more information, call 207-775-6148, extension 3293.
www.portlandmuseum.org
.
Click here for details about the book signing at the Portland Museum of Art and other selected Coastal Maine events.
Find out more about Dahlov Ipcar at:
www.exitfive.com/dahlov
.
The Little Fisherman
Written by Margaret Wise Brown, Illustrated by Dahlov Ipcar $16.95 (Hardcover) ISBN: 978-1-934031-14-8 The Little Fisherman can be purchased at local booksellers or by visiting:
www.islandportpress.com.
Image Gallery:
Roll over numbers to view thumbnails