Sabre 43 Salon Express
Sleek design, modern touches
By Laurie Schreiber
Images courtesy Sabre Yachts

Production is spooling up for the new Sabre 43 Salon Express; the company already has orders for the boat through 2024.
In Raymond, Maine, Sabre Yachts is known for its philosophy of continual design. This is thanks to an in-house team of naval architects and engineers that keeps a collective ear tuned to new technology, customer desires, and the possibilities presented in their evolving lineup of powerboat models.
That willingness to embrace unfolding potential most recently led to the debut of the Sabre 43 Salon Express. The first two hulls were launched and delivered in 2022, and the third is close to completion.
"The production run is spooling up," said Kevin Burns, vice president of design and product development for Sabre and its sister company, Back Cove Yachts, in Rockland. "We have orders through 2024."
The 43SE is a project of unique significance for the team. Since the late 1980s, Sabre has constructed more than 660 boats across 15 different sail and power models in the 40 to 45-foot range. This range, which Burns lightheartedly called the "Goldilocks Zone," is pivotal, and even a little sentimental, for the 50-year-old company.
"We understand the proportions of boats of this size very well," he said. "We've spent a lot of years, and even decades, refining the spaces and making sure we're optimizing the volume at this size." Additionally, the company has plenty of experience with respect to the ergonomic challenges and compromises that come with development.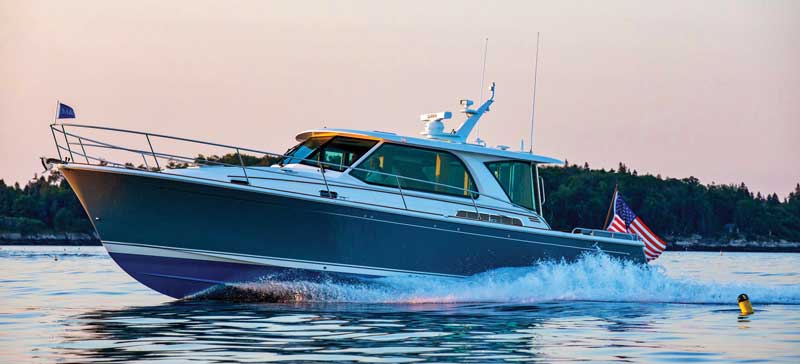 The 43SE features a "nouveau-vintage" silhouette whose proportions optimize environmental and performance considerations.
The 43SE features expansive fixed-glazed windows, sloping deck rails, and a sleek new mast design, all contributing to a "nouveau-vintage" silhouette. The overall proportions aim to optimize both environmental and performance considerations. The model leans into Sabre's drive toward modernization and innovation, with oft-requested solutions such as added storage under the galley sole and versatile guest accommodations in the form of a convertible hybrid lounge.
"Boats at this scale are at the confluence of where our lovely lines and proportions really get in step with the human scale and the ergonomic balance between ease of operation and comfort," said Burns.
For owners, the details are huge. Maximized arrangements of available volume accommodate day-to-day conveniences that make the boat more practical. Take storage: Key among the solutions are hatches under the side-deck steps that provide easy stowage for fenders and lines, a galley outfitted with under-counter and counter-level compartments, and a multipurpose utility space under the salon sole that offers various storage and appliance options, including a wine cooler, and even separate side-by-side washer and dryer units.
"Storage spaces aren't going to blow people's mind at a boat show," said Burns. "But the folks who are experienced owners, who know how they'll use a boat like this—they know how valuable that is."
The hybrid lounge was also carefully planned.
"The couple can sit down there out of sight of the marina, enjoy time to themselves, watch a movie, enjoy a meal," Burns related. "Then they can press a button and turn that space into a berth for their overnight guests."
The use of 3D modeling helped maximize space.
"It's how most folks approach the development of any project like this," said Burns. "The power is there for everyone to visual these spaces and see them. I think it needs to be balanced with the wisdom of what to do with it."
The model features technology usually found on much larger yachts. The 43SE is the first fully-networked Sabre that's less than 58 feet long. Owners can check critical functions and control any circuit on the boat from either the helm MFDs or an iPad mini, and control the "mode of operation" or "scene"–setting the lighting and circuit configuration of the boat with the touch of a button. Remote access as well as GPS monitoring, geofencing, trip logging, and NMEA 2000-based alarms are available via cell phone through the included Sentinel Telematics feature.
The innovations stem from customer feedback and Sabre's own continual drive to optimize every aspect of their models.
"We have some owners who have owned many Sabres," said Burns. "Their opinions and their insights are the most valuable bit of product development data that we have." 
---
MBH&H Contributing Editor Laurie Schreiber is also a Mainebiz staff writer and has covered topics in Maine for more than 30 years.
---
Sabre 43 Salon Express
Modified deep-V planing hull design
LOA: 47' 2"
LWL: 42' 7"
Beam: 14' 2"
Draft: 3' 5"
Power: Twin Volvo-Penta IPS-500s w/D6 380-hp engines
BUILDER: Sabre Yachts
12 Hawthorne Road, Raymond, ME
207-655-3831
Share this article:
2023 Maine Boat & Home Show

Join Us for the Maine Boat & Home Show!
Art, Artisans, Food, Fun & Boats, Boats, Boats
August 11 - 13, 2023 | On the waterfront, Rockland, Maine
Click here to pre-order your tickets.
Show is produced by Maine Boats, Homes & Harbors magazine.