Maine Events - August 2009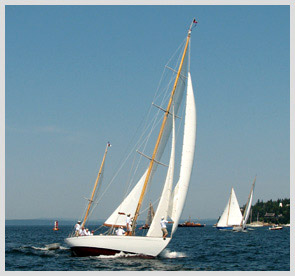 Eggemoggin Reach Regatta
August 1, 2009: Brooklin
Eggemoggin Reach Regatta
The Eggemoggin Reach Regatta began humbly in 1985 as an opportunity for wooden boat owners to get together and enjoy each others' company as well as to compete. The race quickly grew to 125 boats and is now co-hosted by Brooklin Boatyard and Rockport Marine. The regatta's 15-mile course has remained the same for many years, and only once was the race canceled due to fog. The Camden Feeder Regatta and the Castine Classic Yacht Race have joined the ERR to create a truly spectacular three-day event. Wooden boats of 26' or longer are qualified to enter. For more information on the regatta, feeder races and registration info, visit
www.erregatta.com
or contact Molly Blake at:
molly@erregatta.com
.
August 2, 2009: East Boothbay
Boothbay Boat Builders Festival
Celebrate the working waterfront and the recovery of Washburn & Doughty's shipyard following a devastating fire in 2008. The Annual Boat Builders Festival benefiting Boothbay Region Land Trust is a unique "down-home" festival with activities for the entire family including many new activities for 2009. Tour East Boothbay's famous shipyards, marina and sail lofts, meet small boat builders with their boats. Enjoy a gigantic seafood spread, live music, marine exhibits & demonstrations, popular activities tent for kids, and a nautical art show and sale, as well as a classic Lyman boat parade. Two special films will be shown to support the Boothbay Region Land Trust, pirates raid the festival as "The Pirates of the Dark Rose" sail into the harbor and shoot cannons. Kids will love getting to meet pirates in the Story & Sing-a-Long tent. 10 a.m to 4 p.m. Route 96. 207-633-4818;
www.bbrlt.org
August 6, 2009: Rockland
An Evening with Bob Schieffer at the Strand Theatre
Veteran journalist Bob Schieffer, marking 40 years with CBS News, is The General Henry Knox Museum's guest speaker and Gala honoree this year. He will make a public presentation at 6 pm at the Strand, and will speak and be honored at a 7:30 pm Gala reception and dinner to follow at Camden National Bank's historic Spear Block location in Rockland. Schieffer will speak about his 52-year career in journalism, including his role as moderator of "Face the Nation" since 1991 and his coverage of national politics. He will then answer questions from the audience. In addition, he will speak about and sign copies of his new book, Bob Schieffer's America. The book signing precedes lecture, 4 – 5:30 p.m. Museum members $25, general admission $35. 6 p.m.
www.rocklandstrand.com/detail.html?id=480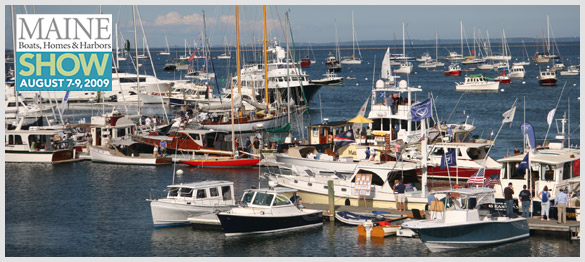 Overlooking the docks at the Maine Boats, Homes & Harbors Show.
August 7 – 9, 2009: Rockland
Seventh Annual Maine Boats, Homes & Harbors Show
The seventh annual Maine Boats, Homes & Harbors Show will feature boats in the water, boats on land, fine furniture and home wares, the arts, architecture and delicious food. This event is Maine's only in-the-water boat show, and it is also the only show to feature dozens of Maine's most talented furniture makers, architects, and builders. Combined on one spectacular waterfront site, these craftspeople present all the essential components for living the good life on the coast of Maine. There will be hands-on demonstrations, live music, children's activities, exhibits, and, of course, the ever-popular World Championship Boatyard Dog® Trials on Sunday (only pre-registered dogs may compete, see maineboats.com/boatshow for entry information). This show is a must-attend for everyone who enjoys life on the Maine coast. Please leave ALL pets at home. Admission: $10 adult, under 12 free. Gates open at 10 a.m. daily.
www.maineboats.com/boatshow
-------------
COASTAL CREATIVITY WEEK IN ROCKLAND
The Maine Boats, Homes & Harbors Show has sparked a city-wide collaboration of fun events in Rockland, loosely called "Coastal Creativity Week." Here's a guide to some of what's happening around the show: ALL WEEKEND: Special Combo! One $20 ticket gets you into both the Farnsworth Art Museum AND the MBH&H Show. These one-day passes are available for Friday, Saturday, or Sunday. On sale at both the Farnsworth and at all MBH&H show gates. FMI: 207-596-6457 or
www.farnsworthartmuseum.org
WEDNESDAY
Bay Chamber Concerts presents 20th Anniversary: Reunion Concert
Wednesday, August 5, 8:00 p.m. Historic Strand Theater, Main Street St. Lawrence String Quartet will perform Strauss's Capriccio for String Sextet; Haydn's String Quartet in F Major, Op. 77; and other works. FMI: 207-236-2823 or
www.baychamberconcerts.org
Sponsored by Maine Boats, Homes & Harbors. SATURDAY
Midcoast Fishermen's Co-op Haddock Bake
Saturday, August 8, 4:00 p.m., Saint George Town Hall, Tenants Harbor An event to support the Midcoast Fishermen's Co-op:
www.portclydefreshcatch.com
or 207-372-8065
Paint the Town
Saturday, August 8, all day The Farnsworth Art Museum's annual event. Painters, photographers, sculptors, and poets hit the streets (including the waterfront and show grounds) and create artwork in various mediums throughout Rockland from 9 a.m. to dusk. All creations are then auctioned on the Farnsworth's lawn from 4:00-6:00 p.m. to benefit the museum.
Rockland Art Walk
Saturday, August 8, 5:00-8:00 p.m. Select galleries will stay open late so visitors can enjoy a summer evening exploring the art of Rockland. For participating galleries:
www.artsinrockland.com
Nautical Fashion and Variety Show
Saturday, August 8, 7:30-9:00 p.m. Historic Strand Theater, Main Street This rollicking 70-minute variety show will feature the heights of nautical fashion through the ages, lively music by members of the Sweet Chariot Music Festival and ragtime pianist Glenn Jenks, and big-screen footage of vintage yachting. Jon Burstein (a.k.a. Slim Goodbody of Nickelodeon fame) will be the master of ceremonies. Tickets: $25 -$125. FMI: 207-548-2529 x216 or
www.penobscotmarinemuseum.org
Presented by the Penobscot Marine Museum, sponsored by Maine Boats, Homes & Harbors. -------
August 8 & 13, 2009: Appleton and Rockport
Nature Outings With The Georges River Land Trust
Partake in a Mushroom Foray with the Georges River Land Trust (GRLT) and the Maine Mycological Association (MMA) with this introductory talk, guided walk and species identification of a representative showing of the mushroom species in evidence on the site, at GRLT's Appleton Preserve in Appleton. Registration is necessary and space is limited. To sign up, call GRLT at (207) 594-5166. Saturday, August 8, 10:00 AM – 1:00 PM. An event for the whole family, a Turtle Walk (slow walk) for kids, will be led by Bruce Gerard and Jay Astle (GRLT staff) at Thorndike Brook Trail Section of the Georges Highland Path in Rockport. Meet at the trailhead on Hope Street off of Route 17. Bring snack and water. Thursday, August 13, 10 am-noon.
www.grlt.org
August 28 – 30, 2009: Bangor
2009 American Folk Festival
The American Folk Festival is a large-scale, three-day event, held each year at the end of August in downtown Bangor, the Festival presents the music and dance from the many cultures that make up America today. Over two dozen of the nation's finest performing groups sharing the traditional arts of their region, culture and heritage. This year offers five stages of continuous music and dance, traditional craft demonstrations and exhibits, a children's area with performances and activities for the whole family, dozens of food vendors offering ethnic food, regional specialties and traditional festival favorites, and a Folk Art & Craft Marketplace offering unique, handcrafted items for sale. Donations keep admission free.
www.americanfolkfestival.com