A Letter from the Publisher - Issue 110
Issue 110
By John K. Hanson, Jr.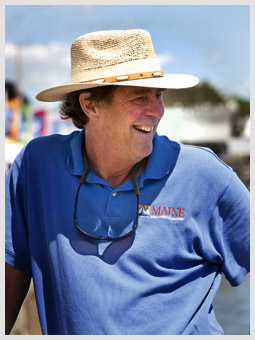 John K. Hanson, Jr., publisher,
Maine Boats, Homes & Harbors, Inc.
Photo by Jeff Scher
Rockland, Maine
Living Life by the Sea
This past spring my family and I went out to the deserts of Arizona for our spring break. My wife loves the desert, my boys love the swimming pool, and I enjoy both, but they're not salt water. The desert was green, but... and the vistas were a glorious stretch of the eye, but... and the three-men-in-a-tub games in the pool were fun, but... and the amazing diving neighborhood dogs were quite fantastic, but… and the annual pod of Harleys in town for the McLaughlin Run was impressive in its numbers and in the average age of the riders (higher than it used to be), but... Where was the over-the-top volume of a lobsterboat race? Where was the ocean? We even rented a houseboat on Lake Mead for a few days, which was quite wonderful. It was a well-mannered 50-footer powered by twin 90-hp Johnsons. Seeing the desert and the canyons with dual throttles in my hand was better, but…. We and the blackflies returned to Maine at the same time. We had gardens to till and boats to launch. Out in the shop, I had to put the finishing touches on a new pram; the bigger boats were in good shape for a change. As I had been sailing the Laser on—and sometimes under—the St. George River all winter, I was not as desperate to get on the bay as I usually am by mid-May, but I was still pretty excited for the first sail, or the first sprint across the bay to North Haven. Salt water is in my veins. I'm not a deep-water sailor. I don't make my living from the sea. But I live my life by the sea, and that's just fine by me.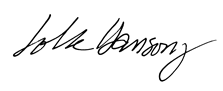 Share this article:
Digital Edition Available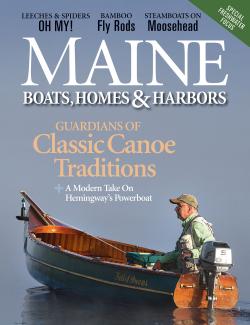 Can't get to the store to buy your magazine? We deliver the stories of Maine's coast right to your inbox. Sign up here for a digital edition.