Maine Course - 50 Local, Kennebunk, Maine
Approachable food and handcrafted drinks
By Kim Ridley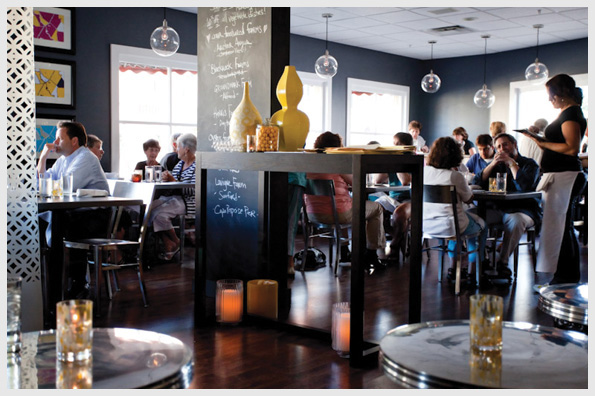 A low-key atmosphere enhanced by urban touches.
Photos by Brice Bowman-Laberge
The last time I checked, "handcrafted" referred to furniture, pottery, and other objects made by humans, not machines. But in perusing the menu at 50 Local in Kennebunk, where Tom and I had dinner one recent spring evening, I discovered that we now have the "handcrafted cocktail." For the sake of due diligence, I sampled 50 Local's bohemian cooler. It seems the difference between a regular cocktail and a handcrafted one has to do with the ingredients, which in this case include St. Germain, a French elderflower liqueur, balanced with rye, Maine Root ginger beer, and lemon. The result: a light and zingy spring tonic.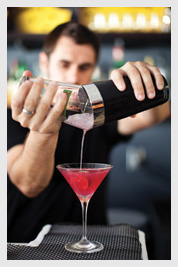 Handcrafted drinks are all the rage
"We like to take traditional cocktails and put a small spin on them," owner and manager Merilee Paul later told me. "The menu is simply by the season. We have no flavored liquors on the bar. Like the food, we allow the quality of the ingredients to speak for themselves." Indeed. Dinner at 50 Local makes good and creative use of fresh, seasonal ingredients from local farms. There's a list of what each farm has provided written on a tall blackboard pillar in the middle of the dining room. The night we visited, farms in the Kennebunks, the Berwicks, Dayton, and other nearby places had supplied everything from pea shoots and pork to goat cheese and root vegetables. In the summer, the restaurant uses produce, meat, and seafood from some 15 local purveyors. All of this is put to good use in a menu that leans toward subtle variations on French bistro fare and New England standbys, with Asian and Italian influences to keep things lively. That translates into such dishes as steak frites, lobster carbonara, and a vegan noodle bowl that features Maine sugar kelp.
In the summer, the restaurant uses produce, meat, and seafood from some 15 local purveyors.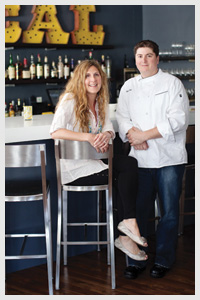 Owners Merilee Paul and David Ross
It took Tom and me awhile to choose starters and decide among the dozen entrées, because we were a bit distracted by 50 Local's excellent white bean spread, which is enlivened with toasted and ground coriander, cardamom, fennel seeds, and other spices and seasonings. I decided on the poached egg salad, because the idea of a "crispy poached egg" seemed to defy the laws of physics. What arrived at the table was a fun presentation: the egg was finished with Japanese panko breadcrumbs and was perched atop a bed of pristine local greens and shaved pecorino. Crunchy and fluffy, the egg had a big, runny orange yolk that added richness and depth to the light caesar dressing that coated the greens.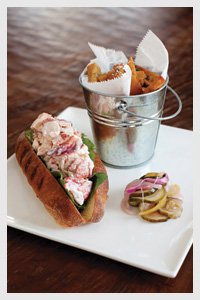 Subtle variations on New England standbys:
one specialty at 50 Local.
Tom started with the spring rolls, which were filled with chicken confit and then fried. Small and savory, they were drizzled with a slightly sweet sesame-soy sauce accompanied by orange aioli. I was debating between the cavatelli and the Arctic char with lemon risotto and spring vegetables, but our server persuaded me to go with the pasta. "It's one of my favorite dishes," he said. The dreamy look that flashed across his face for a few seconds convinced me that he was sincere. I'm glad I trusted that. The housemade cavatelli, dense and toothsome bullet-shaped pasta, was the perfect delivery vehicle for the sauce: a tomato ragout with small chunks of pork aigre doux ("sour-sweet") cooked to buttery tenderness. The dish was finished with creamy local goat cheese and spinach, and was garnished with crunchy local pea shoots. Tom chose the pork Milanese with beet salad and curry vinaigrette, which made for another interesting take on a classic dish. The tender cutlets were pounded, breaded with panko crumbs, crisply fried, and served atop a fresh salad brightened with golden beets and slivers of pickled local carrots and red onions. Tom and I both agreed that the flavors were nice and light, but that this dish could have used a touch more oomph, perhaps with a simple cream sauce.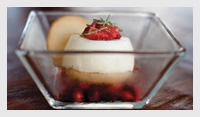 It's wise to save room for dessert.
Though we had saved room for dessert, we just weren't up to the beignets with crème anglais or the malted cupcake shake. Instead, I picked a zippy lemon-rosemary sorbet, and Tom went with sea salt caramel gelato, both from the Portland-based Gelato Fiasco. Tom and I enjoyed 50 Local's low-lit ambiance and low-key atmosphere, which is the brainchild of Merilee Paul, a Kennebunk native, and her husband David Ross, who's the chef. Wanting to be near family after they had a child, the couple moved from Boston, where Ross had been executive chef at Lucca and Sasso, back to Kennebunk to launch the restaurant, which occupies a small storefront on Main Street with about a dozen tables. We appreciated Ross's gift for subtly lacing seasonal flavors, such as ginger, lemon, and pickled vegetables, throughout his menu with a restraint and care that let freshness speak for itself. We also appreciated the couple's commitment to supporting local farms, which isn't so easy in Maine in the winter. I did, however, think the prices were a bit steep for a couple of the dishes, including the cavatelli, which was $26. As of now, 50 Local is offering $2 tapas on Tuesdays, as well as small-plate-priced fare, such as fish and chips, and a great-looking burger. We'll be back to see what Ross and Paul have cooking for summer, and to research more of those handcrafted drinks.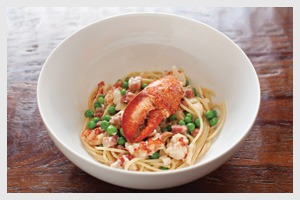 Lobster Carbonara
1 lb. fresh lobster meat, cooked 1 lb. (dry) spaghetti 1 Tbsp. salt 1 cup fresh peas, cooked tender 1/2 cup pancetta or bacon, diced small 1 Tbsp. extra virgin olive oil
Sauce
2 cups heavy cream 1 egg Directions Whisk together heavy cream and egg until light and fluffy. Set aside. Cook spaghetti in a large pot of boiling salted water. Drain, keep hot. Heat olive oil in sauté pan, add bacon, render until semi-crispy. Add lobster meat, peas, and cream and egg mixture. Control the heat so the sauce does not boil, or the eggs will overcook and clump. Stirring will also help prevent the eggs from clumping. Once the sauce is hot, add the cooked spaghetti to the sauté pan and toss until the sauce covers all the ingredients. Divide into pasta bowls and serve.

Kim Ridley is a freelance science writer and editor who also writes about food, art, and architecture.
www.kimridley.com
FOR MORE INFORMATION:
50 Local
50 Main Street, Kennebunk. 207-985-0850
www.localkennebunk.com
Share this article:
2023 Maine Boat & Home Show

Join Us for the Maine Boat & Home Show!
Art, Artisans, Food, Fun & Boats, Boats, Boats
August 11 - 13, 2023 | On the waterfront, Rockland, Maine
Click here to pre-order your tickets.
Show is produced by Maine Boats, Homes & Harbors magazine.