Boatyard Dog - Issue 121
Colby: A Captain of Industry
By The Editors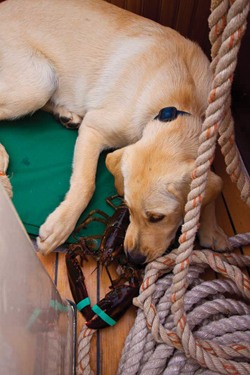 Photo by Jim Dugan
Technically, Colby, a Labrador retriever, is not a boatyard dog. Rather, she's a businesswoman, serving faithfully as office dog for the cruise schooner
Mary Day
. Colby works alongside Capt. Jennifer Martin, who is co-owner (with her husband Capt. Barry King) of the
Mary Day
, and manager of shoreside operations. At least twice a year—at the beginning and the end of the sailing season—and once in a while in between, Capt. Martin joins a cruise aboard the schooner. That's when Colby the Office Drudge enters a closet (telephone booths being obsolete), rips off her power suit, and emerges as Colby the Schoonerdog, Capt. Martin's Executive Officer and best pal to the entire crew. No doubt there are those who might wonder about the proper ... er... um... facility for a schoonerdog at sea. While some wags have suggested that there has always been a real location, hence the origin of the term "poop deck", we must point out that Colby, being as decorous at sea as she is in the office, would not think of using it; she always waits patiently to take the ship's boat ashore.  By the way, the schooner
Mary Day
is currently celebrating its 50-year anniversary in the Maine windjammer fleet. Designed, owned, and skippered by the late Havilah "Buds" Hawkins, former owner of the
Stephen Taber and the Alice Wentworth, it was built in 1962 by Harvey Gamage in South Bristol and has sailed out of Camden ever since. FMI: www.schoonermaryday.com.

Share your Boatyard Dog's story with our readers! Send a clear photo and pertinent details to: BYD, P.O. Box 566, Rockland, ME 04841, or click here and use our online contact form.
The wild and crazy 10th Annual World Championship Boatyard Dog® Trials, presented by MBH&H and sponsored by Custom Float, The Bark, Loyal Biscuit, and Sea Bags, will be held on Sunday during the Maine Boats, Homes & Harbors Show, August 10-12, 2012. Click here for entry details. No pets are allowed on show grounds except the pre-selected trials participants (or bona fide service animals): please leave all your pets at home.)
Share this article:
2023 Maine Boat & Home Show

Join Us for the Maine Boat & Home Show!
Art, Artisans, Food, Fun & Boats, Boats, Boats
August 11 - 13, 2023 | On the waterfront, Rockland, Maine
Click here to pre-order your tickets.
Show is produced by Maine Boats, Homes & Harbors magazine.