British-born Builder Brings Back Classic Maine Designs
By Brian Robbins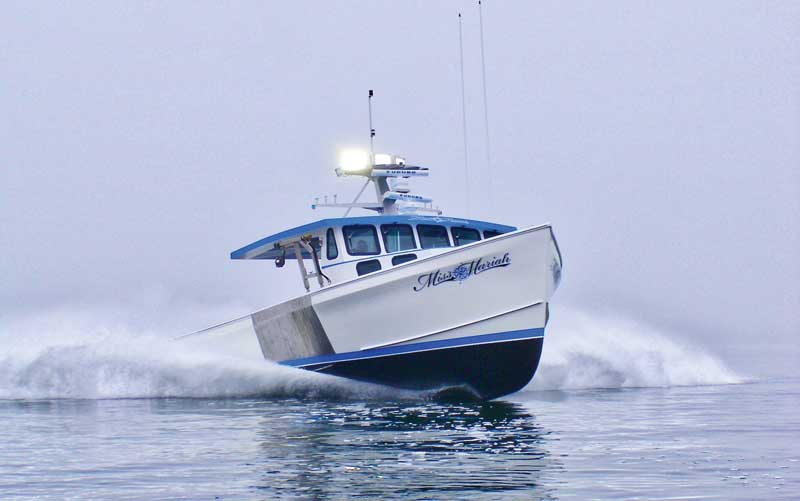 Besides offering a line of Willis Beal-designed models, Taylored Boats custom finishes other builders' hulls: Miss Mariah is a 47' Osmond Beal lobsterboat. Photo by Brian Robbins
Listen: I grew up on Deer Isle, Maine, and am accustomed to folks unfamiliar with the downeast accent commenting on mine. Next time someone mentions it, though, I'm sending them to boatbuilder Peter Taylor, owner of Taylored Boats in Addison, Maine.
Now there's an accent for you. Of course, he comes by it righteously: by way of Banbury, England.
That's England England.
Like, the United Kingdom.
That's what I call way, way downeast.
So how does a former cattle slaughterman and truck driver in the British Army end up building boats on the coast of Maine, teamed up with a legendary Beals Island designer, to boot?
Well, it's like this ...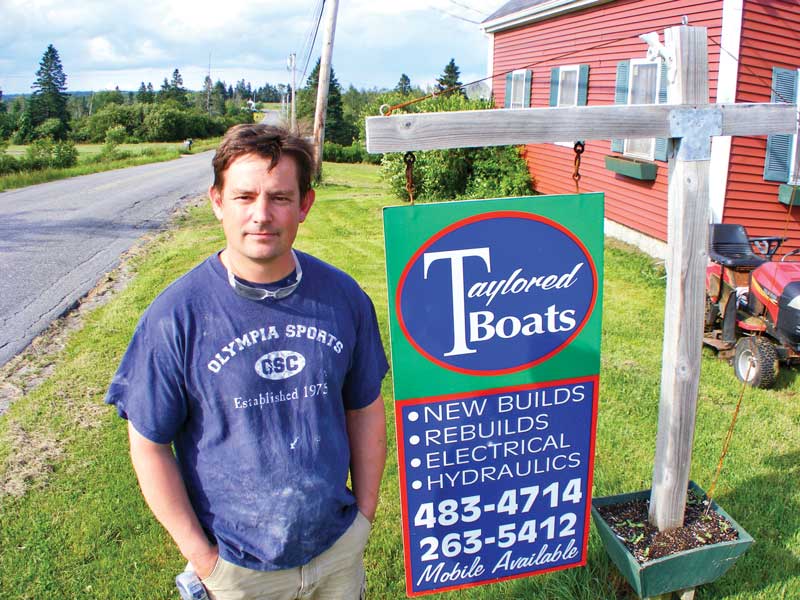 Peter Taylor at his home/shop in Addison, Maine. Photo by Brian Robbins
The Taylored Boats story begins back in February of 2001 when Peter Taylor and his wife Rhonda flew to Maine from their home in England to visit her father in Addison, which lies just west of Jonesport.
It might have been the dead of winter, but Taylor was immediately taken with downeast Maine.
"I'd worked in the slaughterhouses in Banbury and spent nine years in the British Army driving around the whole of Europe," he said. "I knew the grass was greener somewhere else; after that visit in 2001, I knew that 'somewhere' was Maine."
Of course, there wasn't much green grass in Maine in February, Taylor admitted. When his mother saw a picture of him standing next to a five-foot snowbank, she told Taylor, "You're going to ... live there? You've lost your marbles."
Marbles or not, a year later found Taylor and his family settled in Addison. He drove trucks for a while; that was followed by a stint as crew on a lobsterboat (his only other experience on the water was aboard an Army cargo ship).
Taylor knew that he didn't want a career as a lobsterman—but lobsterboats were a different story. A quick learner with a natural talent for working with his hands, he was hired at RP Boats in Steuben in the fall of 2002. Taylor credits shop owners Eugene Robinson and Dick Pinkham (the "R" and the "P" in RP Boat Shop, which closed after a devastating fire in 2010), with giving him the opportunity to prove himself—which he did, in short order.
"I learned a lot in the six years I worked at RP," said Taylor. "By the end, I was in charge of builds, laying up hulls, doing wiring, hydraulics, and cosmetics, plus driving the crane and boat hauler. Anything I could do to learn something, I'd do it."
At the time, RP was busy building both commercial and pleasure boats, with a model line designed by Willis Beal of Beals Island, Maine.
It didn't take long for Taylor to appreciate the capabilities of the Willis Beal models, as well as the talents of their designer. Said Taylor: "Willis is the man."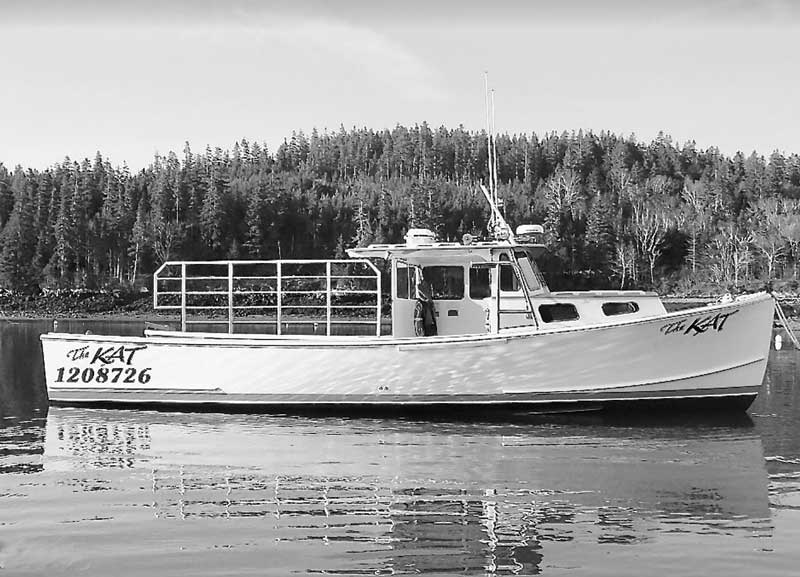 The Kat is a Willis Beal-designed RP 40. Photo courtesy Taylored Boats.
Fellow Beals Islanders—Calvin Beal Jr., Osmond Beal, and Ernest Libby Jr.—all had lines of fiberglass models bearing their names years before 76-year-old Willis Beal finally made the transition from wood to fiberglass.
"I dreaded to see it coming," he said, when asked about his early impressions of the fiberglass age and what it meant to wooden boat building. "But at the same time, it was progress. You just knew that once it came, it was going to take over."
Willis Beal learned early on in his life about hard work, helping to tend herring weirs and lobster gear when he was a young boy.
There were boatshop visits as well—back in the days when there were 13 builders between Beals Island and Jonesport (on the mainland side of Moosabec Reach). "Probably the first work I ever did in a shop was when I was six or seven," Willis Beal said. "Merrill Frost was finishing up a sardine carrier and he showed me how to tap the bungs in the deck."
As a teen and later into his post-high school years, Willis spent winter months working alongside such Beals Island names as Alvin Beal, Clinton Beal, and Freddie Lenfesty. It was an invaluable education. You'd be hard pressed, for instance, to find any boatbuilding school in the world that features a course in planking a hull with frost-filled planks in below-zero weather.
In the meantime, he experimented with his own design ideas on scaled-down model boats, eventually building a 23' lobsterboat for brother Robert in 1965.
By 1966, Willis had opened his own shop. In the years that followed, he built 26 wooden boats ranging from replicas of the old torpedo-sterned Will Frost boats to a 42' lobsterboat/gillnetter, all while lobstering full-time, as well.
"Sometimes it made for long days," he admitted, "but I liked what I was doing. A man's lucky to be able to say that."
Willis kept an eye on the fiberglass boat market as it gained momentum, but the 1970s and 1980s went by without him making the plunge. "I had chances to get involved, but I just didn't want to. I knew it was coming to it—and I didn't blame the boys who went ahead and started designing for fiberglass, not at all. I figured I'd know it when the right opportunity came along."
In 1991 that opportunity showed up at Willis's shop in the form of Eugene Robinson and Dick Pinkham of RP Boats, who approached Willis about designing for them.
"I did a lot of thinking and asking around," Willis said. "Anybody who knew the pair of them said they were good, honest men, and I decided that was the chance I'd been waiting for."
RP's first design request was for a hull based on the wooden 34-footer Willis had built for brother Robert a couple of winters previously, "just longer, wider, and higher."
That model became the RP 35, and over the next 19 years the stable expanded to include 31', 38', and 40' Willis Beal designs, as well.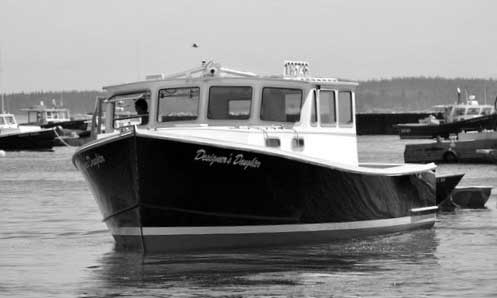 The RP-40 Designer's Daughter served as the plug for Taylor's 40' hull mold. Photo courtesy Taylored Boats.
Peter Taylor left RP Boats in 2008 to do finish work at H&H Marine in Steuben, while laying the groundwork to start his own shop.
He remembered hearing the news in 2010 that RP Boats had been lost, molds and all, in a fire. "It was a sad thing in so many ways," Taylor said.  "Besides what I'd learned working at RP, those were great boats. I really loved building them and was always impressed with their performance, whether they were finished as a basic lobsterboat or a live-aboard sportfisherman."
By 2011, Taylored Boats was up and running as a custom finish shop: you chose the hull and Peter Taylor would take it from there. He has earned a reputation as a hard worker, willing to tackle challenges. And he has turned out some beautiful boats.
While Taylored Boats kept busy with a steady run of hulls to finish from various downeast builders, Taylor never forgot about the Willis Beal models he cut his teeth on. His dream was to bring those hulls back.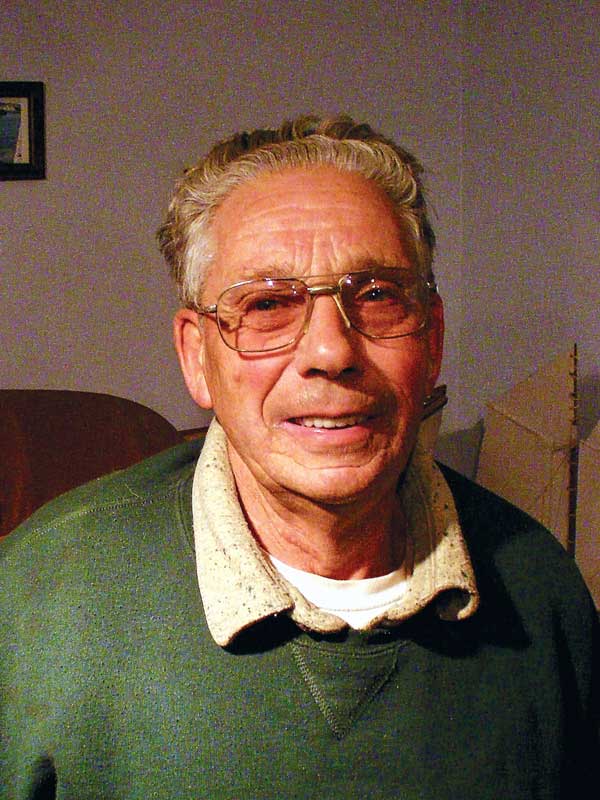 Willis Beal: "He's the man," says Peter Taylor. Photo by Brian Robbins In 2018, he began the process, with the blessing and guidance of Willis Beal.
Designer's Daughter was the first 40-footer that RP launched years ago—it was owned by Willis's son-in-law Travis Beal. Taylor worked out a deal to bring Designer's Daughter into the shop, strip her down and prep the hull to use as a plug for a new mold.
The reborn Willis Beal 40 (with a beam of 15'3") gives Taylor a base hull to work with that can be lengthened, and/or broadened to meet a customer's requirements. (The shop launched a 50' lobsterboat earlier this year, birthed from lengthening and widening a 40' Willis Beal hull.)
Taylor repeated that process with an older 35-footer to build the mold for a 35'x13'6" Willis Beal that's available in lengths up to 38'. He has plans to bring the 31 back to life, as well.
"Work boats, pleasure boats—these hulls proved themselves back when I was finishing them at RP," said Taylor. "It's great to have them to work with once again, and I'm proud to have Willis's name on them."
---
A former offshore lobsterman, Brian Robbins is senior contributing editor for Commercial Fisheries News.
---
Taylored Boats
56 East Side Road, Addison, ME
207-483-4714
Share this article:
2023 Maine Boat & Home Show

Join Us for the Maine Boat & Home Show!
Art, Artisans, Food, Fun & Boats, Boats, Boats
August 11 - 13, 2023 | On the waterfront, Rockland, Maine
Click here to pre-order your tickets.
Show is produced by Maine Boats, Homes & Harbors magazine.