Remembering the Oakey L. Alexander
Local folk helped with the dramatic rescue off Cape Elizabeth
By Eva Murray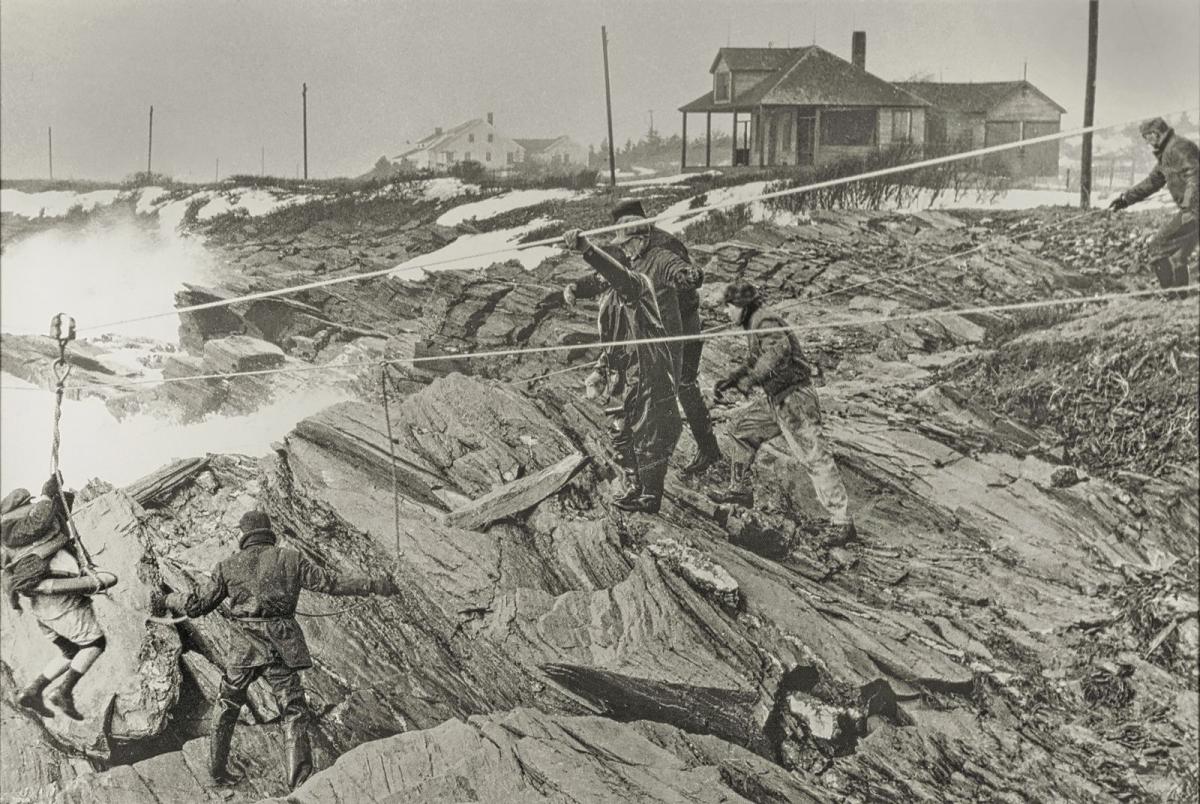 A number of local men and boys from Cape Elizabeth were involved in the rescue. Here, Arnie Murray (bottom left) helps the man in the sling. In the middle, his brothers Bryce and Doug, and their father, Alonzo, and cousin Elmer Murray, help stabilize the line. Courtesy Arnold Murray
These days most of us leave rescuing to the professionals, although inhabitants of remote places like offshore islands and rural outposts know that sometimes everybody turns out to help in an emergency. Not so very long ago, the men of Cape Elizabeth, Maine, felt that same sense of duty and ran to help.
It was in the pre-dawn dark of a stormy March day in 1947 when a 130-foot section broke off the bow of the collier Oakey L. Alexander off Cape Elizabeth. The 395-foot-long vessel, which worked a regular coastal route, was laden with coal and carried 32 men. With all his men accounted for, and still under power, Capt. Raymond Lewis turned toward shore in hopes of rescue, but then ran aground on the ledges off Two Lights. There, the entire crew was safely removed from the wreck, one by one.
Much has been written about this rescue, as great crowds of people, including photographers, newspaper reporters, and hundreds of locals of all ages came to view the wreck that day and in days to follow. Most published accounts credit the United States Coast Guard for saving the crew. However, the men of Station Cape Elizabeth didn't respond alone. Many of the rescuers were civilians, a number of them the members of the Cape Elizabeth volunteer fire department, including some who were barely out of high school.
One of the rescuers was teenager Arnold "Arnie" Murray. Now 85 years of age, Murray still lives in his native Cape Elizabeth, and recalls the events of that day.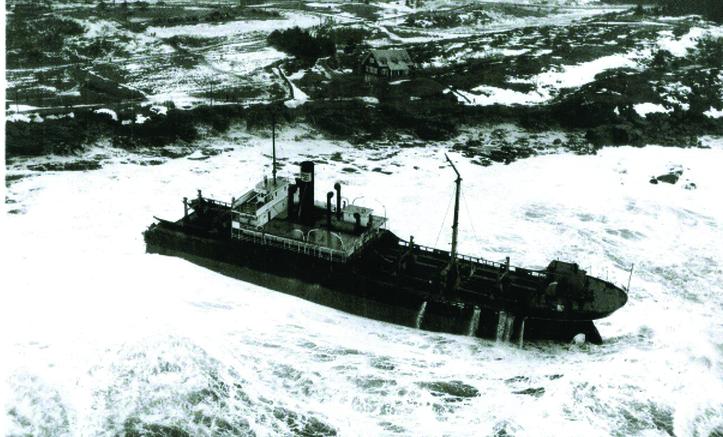 The Alexander came to rest on ledges off Cape Elizabeth. All 32 crew members were rescued. Courtesy Cape Elizabeth Historical Preservation Society "At around 4 o'clock in the morning you could hear that the captain of some boat was on the horn making a heck of a racket. He just laid on that horn and kept blowing it steady," said Murray. "We knew something was going on. Somebody rang the fire bell on the Town Hall up near to where we were living. They assembled the firemen because they didn't have enough Coast Guard men down there. We all went down to see what we could do, all individually—we didn't take fire trucks or anything."
Back then the entrance to Portland was marked by the lightship Portland.
"Unbeknownst to Captain Lewis—and to the people on the lightship, at first—the lightship had dragged its anchors and had drifted down toward Biddeford a ways," said Murray. "So the Alexander came up and went around the lightship as they normally would, and started in, thinking they were headed toward Portland, and hit a submerged rock offshore."
Other accounts mention heaving seas lifting the bow high out of the water, with the damage caused by the action of the massive waves alone. The storm that night was monumental, with hurricane-force winds and snow.
With the ship beached on the rocks about 600 feet from shore in heavy surf, rescuers set up to remove the crew with a breeches buoy. This meant rigging lines from something stable aboard the ship to something solid on land, then hauling men across storm-washed ledges in a seat that resembled a round flotation ring with a harness. To rig the apparatus, somebody had to shoot a projectile carrying the first line from land out to the helpless ship. 
The Lyle gun, the device used to fire the first line, was set up by a retired Coast Guard man named Rocky Dennison working with Chief Warrant Boatswain Earle Drinkwater, who was the officer in charge of the Cape Elizabeth station, according to Rocky's son Herb Dennison.
"Drinkwater had just come back from sea duty and was a little nervous about firing it. My father got it all set up, and Drinkwater said, 'well, you might as well pull (the trigger cord),' but my father said, 'No, you're the chief, you do it.'" Drinkwater then fired the line under Dennison's close supervision.
"It all came down to Rocky Dennison. He was the one who really saved all those people," recalled Murray. Rocky Dennison was in bed sick when the call came to help. "He really didn't feel good, but they got him out to help."
Dennison was just one of many local people who turned out. "All the farmers and fishermen helped pull ropes," Herb Dennison said. "The Coast Guard didn't have manpower enough."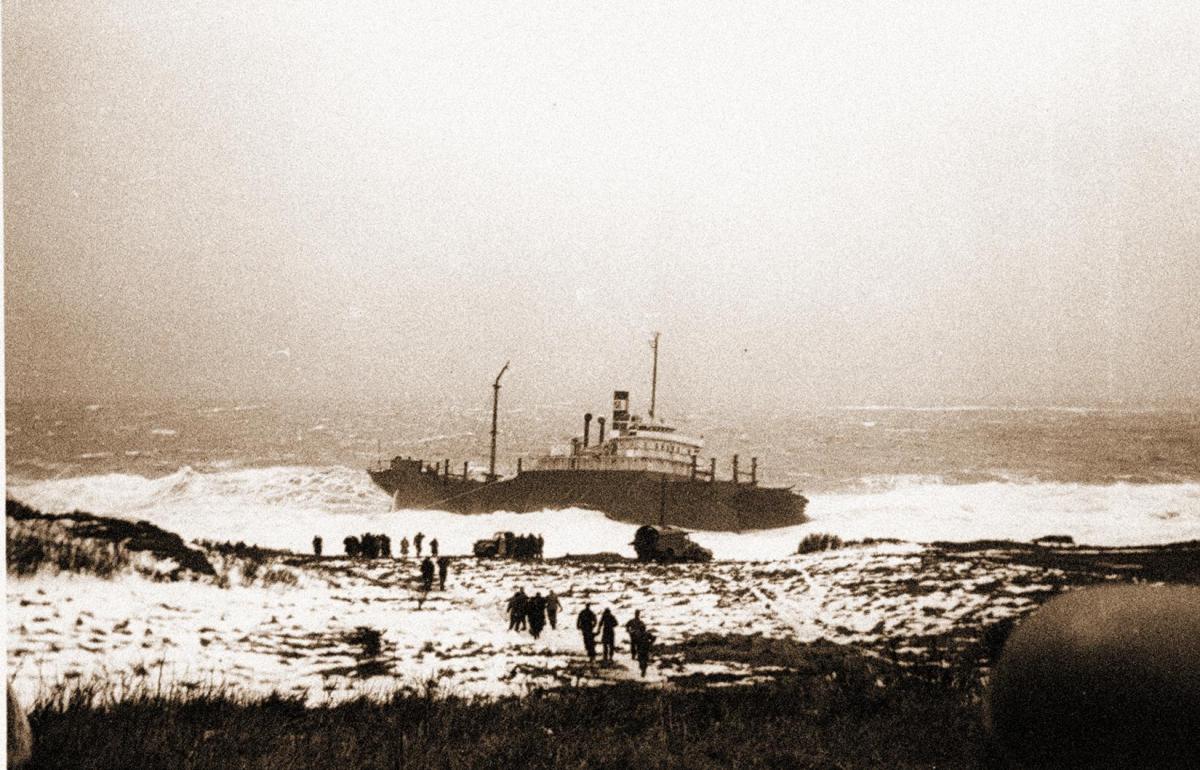 There is no shortage of photographic documentation of the wreck. An amateur photographer named Clyde Knight took pictures and sold them to tourists. "Every weekend you could hardly move for the steady stream of people driving out here to see the wreck," Arnie Murray said. Courtesy Cape Elizabeth Historical Preservation Society (2)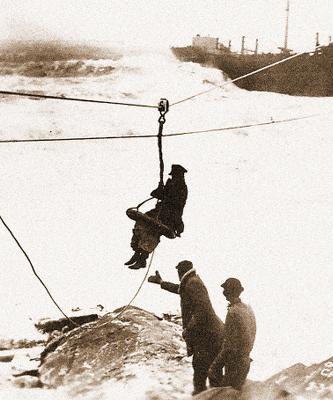 A "breeches buoy" is a ring-shaped life buoy with a support in the form of a pair of breeches. The buoy is suspended from a pulley running along a rope from ship to shore. Cape Elizabeth natives can be proud that so many uncles and cousins were down on the shoreline trying to assist with the lifesaving effort. Many others turned out to watch. Wayne Brooking of Cape Elizabeth remembered having "touched the ropes" that morning as a 12-year-old boy. Norm Jordan said his schoolteacher brought her students to see the wreck. "I was either in sixth or seventh grade that year. Old Miss Storey thought we all ought to see that ship, so she got the school bus driver to come with the bus and take us all down there."
According to Murray, the cook was the first one off. The Alexander was balanced and wobbling on the ledge. "When that wreck would roll," Murray explained, "the poor guy in the thing (breeches buoy) would disappear right into the water, then when it would roll back he'd go way up in the air. When that first fellow got across, he knelt right down and kissed the rocks."
David Rogers, that 18-year old cook, later told reporters that he hadn't been too nervous until he reached land; when he looked back at his ship, he "lost his nerve."
Eventually all members of the Oakey L. Alexander's crew were rescued.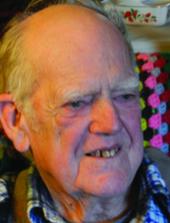 Nobody was injured. "Some of them were damned cold because they'd had a few dunkings on the way in," said Murray. "They were soaking wet, but they were all right." 
The Portland Press Herald reported the following day (March 4, 1947) that two of the dunked crewmen had been hospitalized for exposure, but were in good condition. When asked whether the captain was the last man off, Murray smiled. "Yep, he was."
---
Eva Murray lives year-round on Matinicus Island. Her latest book, Island Schoolhouse: One Room for All (Tilbury House), was published in September 2012. Arnie Murray is her uncle-in-law.
Share this article:
Digital Edition Available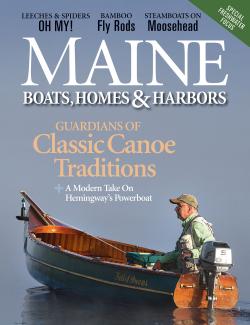 Can't get to the store to buy your magazine? We deliver the stories of Maine's coast right to your inbox. Sign up here for a digital edition.