Boatyard Profile: Washburn & Doughty
Keeping busy building tugs, ferries, and other large workboats
By Ted Hugger
Photographs by Polly Saltonstall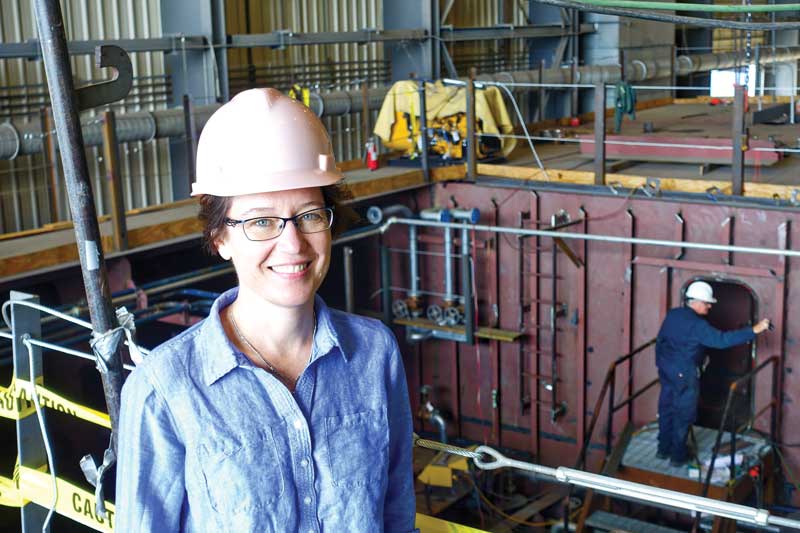 Katie Doughty Maddox has taken over from her father Bruce Doughty as the new president of Washburn & Doughty Associates Inc. The yard specializes in large steel boats including tugs and ferries. Behind her is the future engine room of a 154-foot ferry under construction for the state of Maine. The $8.8 million ferry will be able to carry 250 passengers and up to 23 cars.
Bruce Doughty and Bruce Washburn were working at Bath Iron Works building large Navy vessels in the 1970s when they decided that they'd rather be working for themselves. So, in 1977, they leased some land in Brunswick, Maine, and built a commercial fishing dragger on spec, working nights and weekends while keeping their day jobs. They started Washburn & Doughty Associates Inc. when they sold the dragger and got orders for more boats.
Bruce Doughty's daughter Katie Doughty Maddox, who took over from her father as company president last May, recalled that the pair built that first boat without knowing whether it would sell. "They didn't have a buyer; they just took out an ad in National Fisherman and found someone to buy her," she said.
"Our business got its start with offshore fishing vessels, and through the years, we have built everything—casino boats, tugboats, fishing boats, and barges. Our focus remains on custom-steel projects."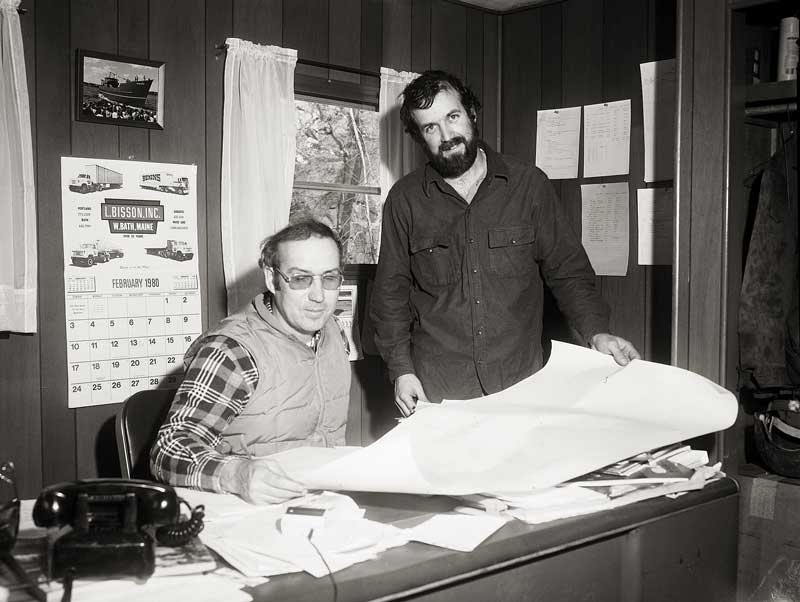 After the first few sales, Washburn and Doughty moved the operation to a site in Woolwich and worked there until the mid-1980s, when they purchased the Gamage Yard from Eddie Gamage and moved the business to the East Boothbay waterfront. A year ago, the company purchased and expanded into Hodgdon Yacht's adjacent buildings.
Today Washburn & Doughty employs more than 100 people—all year-round, full-time—and is considered the East Coast's premier builder of tugboats, and other large, steel commercial vessels. On a recent spring day, the yard buzzed with activity. Tied up at the docks were a hybrid propulsion tugboat (93' x 38') and a ferry headed for Shelter Island, New York (130' x 44'). Inside the cavernous metal-sided buildings were another tugboat under construction (6,700 HP, 93' x 38'), and two ferries, one headed to Chebeague Island (54' x 20') and the other (154' x 38') for the Maine State Ferry Service, which plans to use it for Swan's Island and Vinalhaven. Tugboat hulls #130 and #131 were in design, and the company expected to start cutting steel for them in July.
Doughty Maddox is confident in her role and the direction of the business. Slight and energetic, she has worked at the company in various positions since graduating from Bowdoin College in 1996. On a recent tour, General Manager Chris Teel waited until his boss was out of earshot, to whisper, "She's doing a really great job."
The privately held company remains a family business. Doughty Maddox's husband, Matthew Maddox, is the chief financial officer (they met while working for Outward Bound). Her sister, Kristen Danaher, also works for the firm, off site in Massachusetts. Bruce Doughty remains chairman of the board. Washburn sits on the board and works as a naval architect for the company—he's designed most of their tugboats over the years.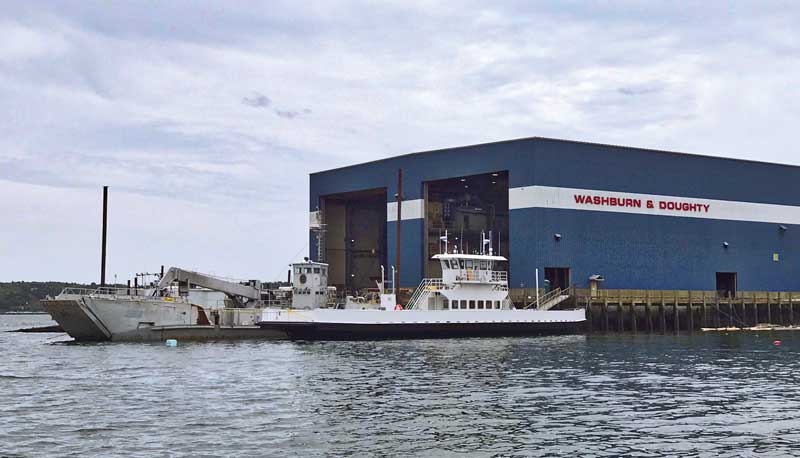 The company built a big modern building on its East Boothbay site after the old one was destroyed in a devastating fire in 2008. The ferry tied up here is headed to Shelter Island, N.Y.
Washburn & Doughty has found its niche building commercial steel vessels, particularly tugs. "I really don't see us going beyond that niche where we're both surviving and thriving," said Doughty Maddox. "We have a strong core group of employees, and I want to make sure we have an organization that will support them."
A recent commission was to design and build two 93' x 38', 200-gross-ton hybrid Z-drive harbor-assist tugs. One was delivered to its home port in Louisiana last June. The second was scheduled for a summer delivery.
When describing the work on these boats, Doughty Maddox became animated. "These hybrid tugs are really a big deal. They are among the first in the country," she said. "Our guys put a lot of effort into the design and building of these boats. It's something we're very proud of."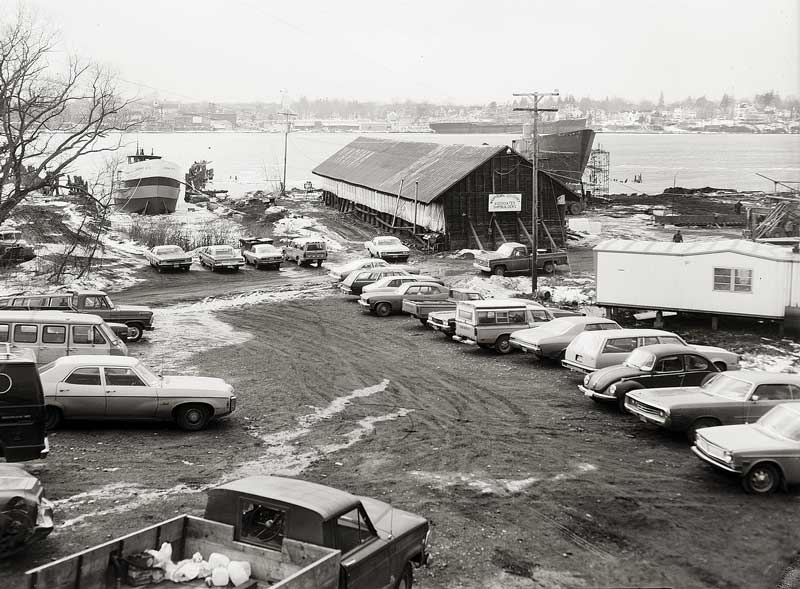 The yard as it looked in February 1980 when it was still located in Woolwich. Photo by Everett L. "Red" Boutilier, courtesy Penobscot Marine Museum
The hybrid propulsion systems include big diesel engines combined with electric motors powered by the ship's generators. The hybrids promise far greater operating efficiencies, as well as extending the service lives of the primary power plants. The hybrid tug still has big engines, but it also has three diesel gensets and electric drive motors. They can operate in a highly efficient "transit mode" with the electric motors, yet still have the big horsepower engines online when engaged in power-hungry, ship-handling mode.
The company has not always had such smooth sailing. A devastating fire in 2008 sparked by a welding torch did millions of dollars' worth of damage and forced the company to lay off most of the employees.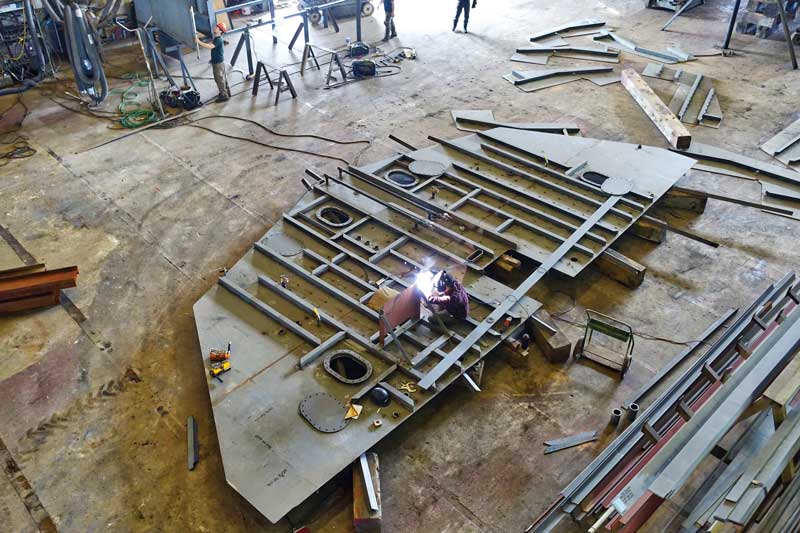 A worker welds parts for the new ferry.
When rebuilding—the company launched a new boat within a year—management invested in a state-of-the-art, highly efficient building facility. "One of the benefits of the fire," Doughty Maddox explained, "was the addition of a CNC (computer numerical control) burn table for cutting steel. We were one of the early adapters, one of the first small yards to install this technology."
The new burn table allowed the company to eliminate much of the hand-cutting of steel parts and pieces. "This equipment helps minimize labor, reduces material waste, saves money and leads to exceptional efficiency," said Doughty Maddox.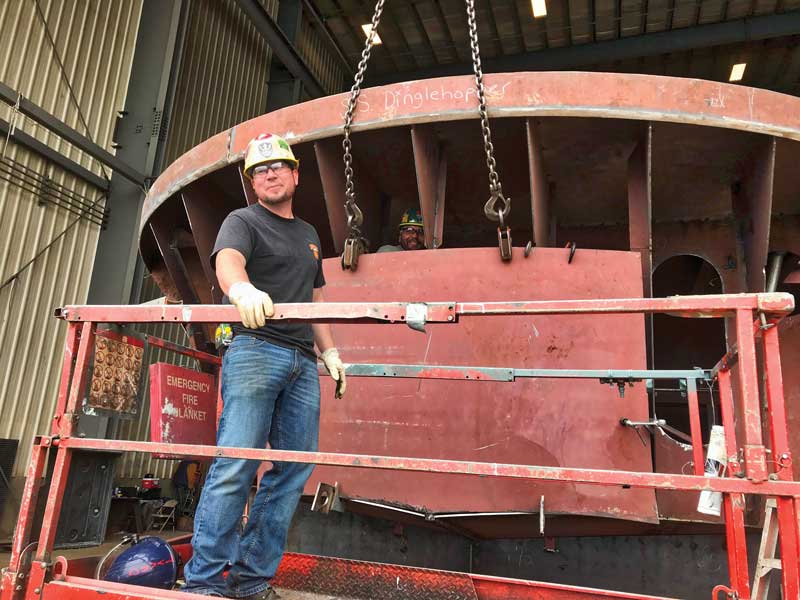 Workmen have nicknamed the new Maine state ferry the S.S. Dinglehopper, in honor of the Disney movie, The Little Mermaid. Most likely that will not be the boat's official name.
Much of Washburn & Doughty's success is based on efficiency and construction sequencing. "Having an efficient build strategy driven by timely design, receipt of materials and trade coordination is what sets our company apart," Doughty Maddox said. "And understanding what needs to be done, and when it needs to be done. The worst thing you can do on one of these 93-foot tugs is to suddenly have 40 people all trying to work on various systems in the engine room at the same time."
Washburn & Doughty's chief rivals are yards down south on the Gulf of Mexico that can build boats outside year-round. But the Maine company remains highly competitive.
"We're known for quality craftsmanship, and we have a reputation for building good boats," said Doughty Maddox. 
---
Ted Hugger owns and operates the Cod Cove Inn in Edgecomb and the Cedar Crest Inn in Camden with his wife Jill.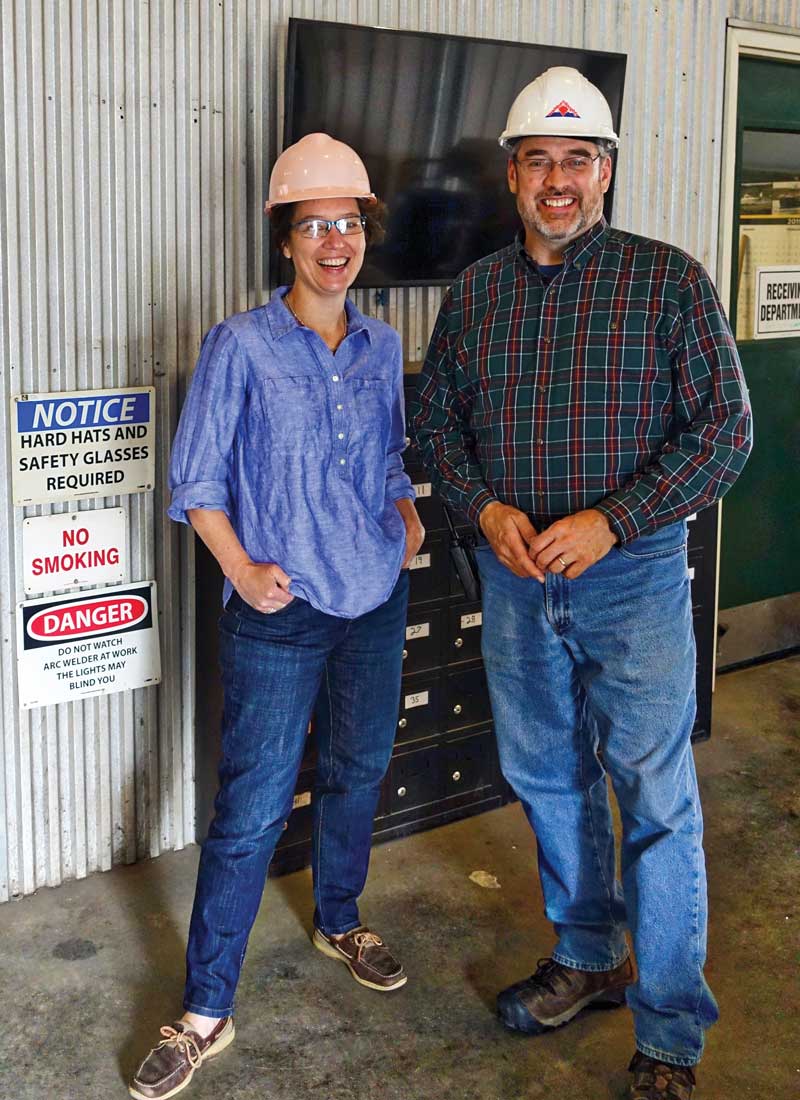 Katie Doughty Maddox and General Manager Chris Teel.
Washburn & Doughty
7 Enterprise St., East Boothbay, ME
207-633-6517
Share this article:
2023 Maine Boat & Home Show

Join Us for the Maine Boat & Home Show!
Art, Artisans, Food, Fun & Boats, Boats, Boats
August 11 - 13, 2023 | On the waterfront, Rockland, Maine
Click here to pre-order your tickets.
Show is produced by Maine Boats, Homes & Harbors magazine.