Flights of Fancy
This ecologist knows his seabirds
By Ronald Joseph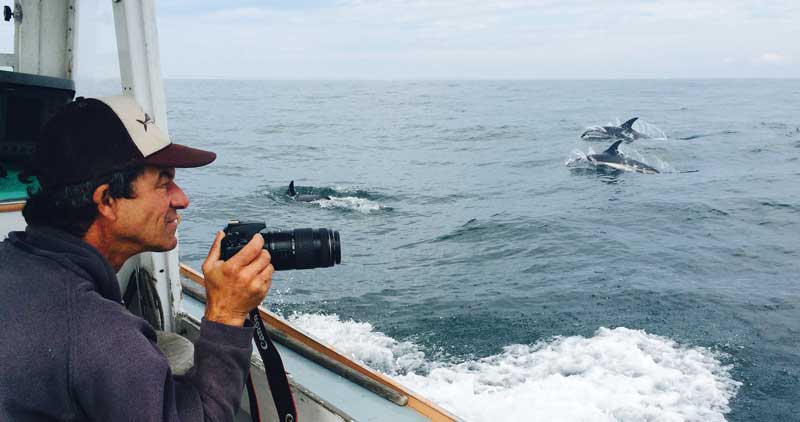 Ecologist John Drury watches a playful pod of white-sided dolphins. Photo by Flora Drury
By age six, John Drury was smitten with seabirds. When most boys his age were trading baseball cards, John's idea of entertainment was crawling through bird guano counting seabird eggs. His father, William Drury, was a renowned international seabird biologist who taught ecology at
Harvard University and later at College of the Atlantic in Bar Harbor. He died in 1992. "I helped my father survey gull, tern, and eider duck colonies on Maine's coastal islands," said Drury. "He paid me a dollar a day to be his research assistant." 
This introduction to field biology inspired Drury to pursue his own career as a seabird ecologist. In 1987, he began leading Maine Audubon bird-watching trips from his home on Greens Island, next to Vinalhaven. 
"My business began small by taking a few birders to view seabird nesting colonies on Brimstone, Seal Island, and a few other islands," he explained.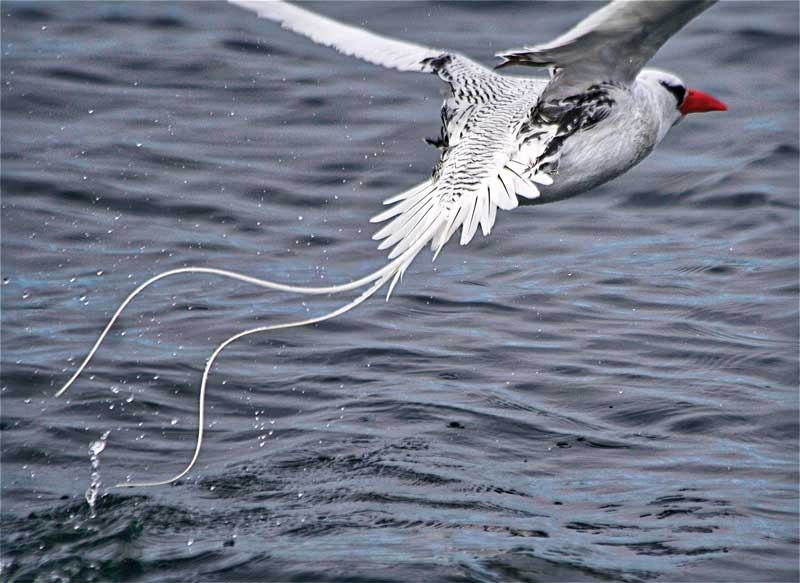 Since its arrival on Seal Island in 2005, Maine's lone Red-billed Tropicbird has attracted hundreds of birders. These birds normally live in the southern hemisphere. Photo by John Drury
Since those humble beginnings, Drury has guided well over a thousand birders, mostly from his boat Skua, a Jarvis Newman 36' fiberglass lobsterboat built in Southwest Harbor in 1973. His business—Maine Seabird Tours—has flourished, along with his reputation. In 2014, Yankee Magazine named his business the best seabirding tour in New England. 
The award is well deserved: his ability to see and identify nearly invisible birds on the horizon borders on clairvoyant. "Port side, about 200 meters out" he sang out to three clients on a recent trip, "is a Wilson's storm-petrel." Several seconds later I saw the dove-sized bird skimming the swells. "This species of petrel nests in Antarctica in January," he added. "It summers in the Gulf of Maine to escape winters there. If you look closely at the charcoal-colored bird, you can see the yellow lines between its toes." I could barely see the bird in my Swarovski binoculars, let alone its feet. 
With uncanny abilities born of a lifetime at sea, the 58-year-old then explained the subtle plumage differences between nearly identical Arctic and common terns: "Terns are plunge diving for herring in front of the boat. The short-legged ones perched on the nearby island are Arctic terns. Common terns are perched with them, however, notice that their legs are longer."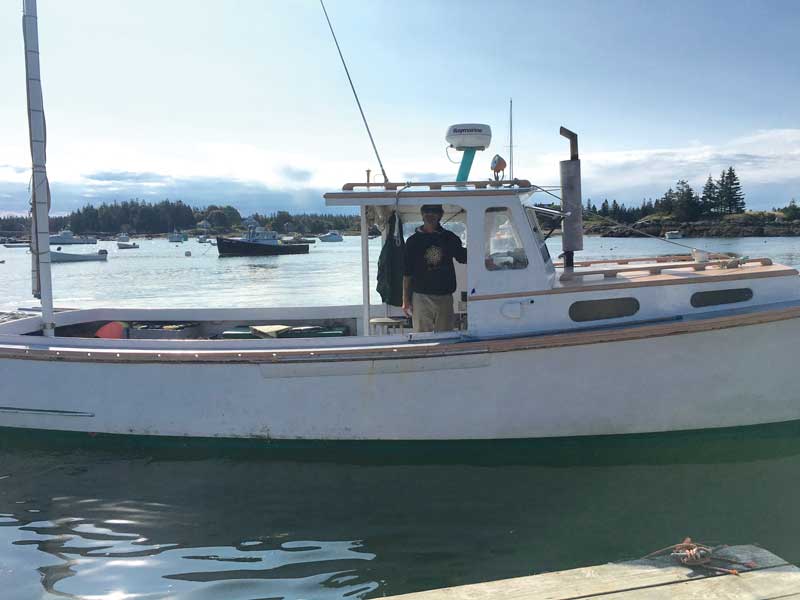 John Drury aboard his boat Skua, which is named for a group of predatory sea birds. Photo by Polly Saltonstall
Following a trip aboard Skua, Keith Mueller, a skilled Connecticut bird carver, raved, "I've met many bird guides but two really stand out. To me it goes deeper than the bird, it goes to the heart of the experience and the person's willingness to share their knowledge, passions, and their love for the birds. John Drury's passion is an inspiration to create my art. My other favorite guide resides in Costa Rica." 
Drury cemented his name and credibility among New England birders by finding and photographing rarely seen pelagic birds, including a black-browed albatross and an ancient murrelet. The former nests in the Falkland and South Georgia islands of South America; the latter nests in the Aleutian Islands of Alaska. Both species—from polar opposite regions—had never before been documented in Maine. 
The bird that has brought Drury the most notoriety, though, is a red-billed tropicbird. Red-billed tropicbirds rarely stray from their home range, which encompasses the Galapagos Islands, Panama, the Virgin Islands, the Cape Verde Islands, and as far east as the Persian Gulf. 
A Peruvian friend of Drury's first reported the exotic visitor on Seal Island in May 2005, while supervising a crew of bird researchers. The same bird has returned to Maine each May since, said Drury. "For several years, he flew to Machias Seal Island and then to Matinicus Rock, before eventually settling into a rocky cavern on Seal Island in 2008. And he's been a loyal summer resident there for the past ten years." 
My shipmates aboard Skua were a southern New Jersey couple. Learning that they drove nonstop to Rockland to board the Vinalhaven ferry, I asked why they booked a trip with Drury. "Other companies offer seabird trips to Seal Island," they answered, "but we selected John because of his vast knowledge of marine life. There's puffins, razorbills, and other cool birds to see out here. But a tropicbird? Are you kidding? That bird's a rock star, and John's success rate of showing it to clients is off the charts." 
The tropicbird, according to Drury, doesn't like being upstaged by other seabirds. "If I turn my back on the tropicbird to watch puffins, 'Troppy' comes screaming overhead, flashing into view as if to say, 'Hey, people are paying you to see me!'" Drury said. "He's the main attraction and he knows it."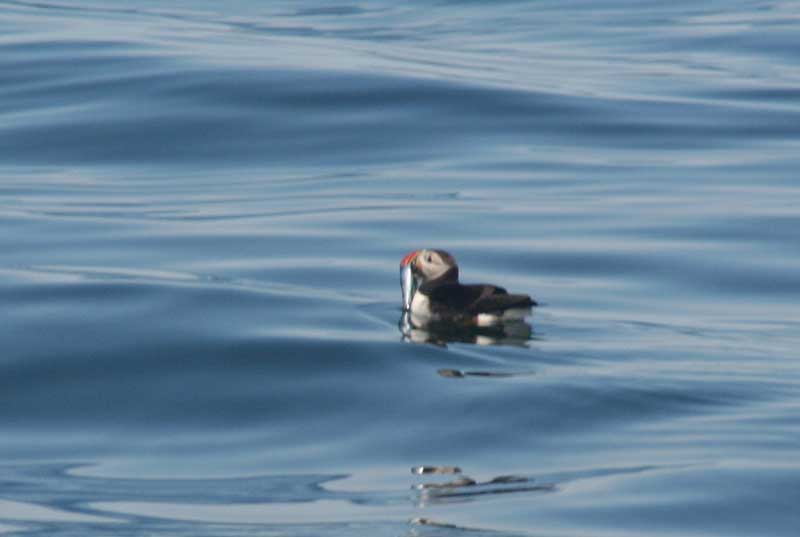 (Top) The puffin population in the Gulf of Maine continues to grow and expand. (Bottom) The razorbill, a close relative of the extinct great auk, is another species that has made a comeback. Photos by Sam Hanson (2)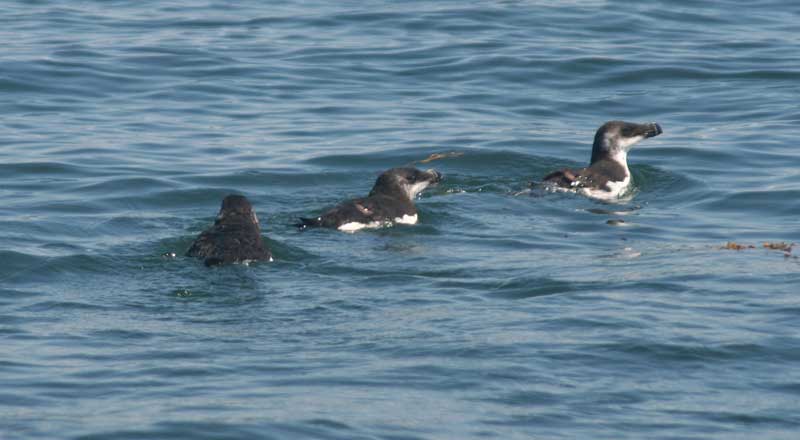 Drury and Troppy (Drury's nickname for his avian friend) know each so well that if they were a couple they might finish each other's sentences. "Troppy will emerge from his burrow at 4 p.m.," Drury said when the New Jersey couple asked when the bird would appear. At 3:30 p.m., Skua anchored several hundred feet offshore of Seal Island, offering great views of puffins, murres, guillemots, great cormorants, gannets, and terns. As the countdown neared, Drury revved the boat engine for several seconds. "To let him know we're here and waiting," he said. As if on cue, the tropicbird appeared out of thin air. I checked my watch: 3:56 p.m. 
The tropicbird does not disappoint: it's the crème de la crème of seabirds. "I've guided about 500 hopeful tropic-bird viewers aboard the Skua," Drury said. "They've traveled to Vinalhaven from California, Washington State, Florida, Alaska, Colorado, Austria, Germany, France, Brazil, Spain, and Australia." 
Why Troppy returns annually to Seal Island from waters near the equator is the source of much speculation. Drury thought he had a plausible explanation: "Maybe he suffers from an identity crisis, and thinking he was a tern, followed terns north to Seal Island." To test this theory, bird carver Keith Mueller made a life-size wooden tropicbird decoy which Drury placed in the waters offshore of Seal Island. "The tropicbird courted the wooden replica," he said, "and eventually tried breeding with it. So, now we think the bird knows he's not a tern." 
Each year he matures, Troppy's tail feathers grow longer, Drury said. "I'm hopeful that next winter, a female tropicbird will find him so irresistible she'll follow him north to Maine from the Caribbean. What's that line in a well-known poem? Hope springs eternal." 
Back in my room later at the Libby House on Vinalhaven, I drifted off to sleep reading Alexander Pope's poem "Essay on Man," and dreamed about Troppy and a mate raising a family on Seal Island in 2019.  
---
Writer Ronald Joseph is a retired Maine wildlife biologist. He lives in central Maine.
Check out conservationist Byron Swift's account of a birding expedition with John Drury HERE
Share this article:
2023 Maine Boat & Home Show

Join Us for the Maine Boat & Home Show!
Art, Artisans, Food, Fun & Boats, Boats, Boats
August 11 - 13, 2023 | On the waterfront, Rockland, Maine
Click here to pre-order your tickets.
Show is produced by Maine Boats, Homes & Harbors magazine.