Building a Bamboo Bike
A bamboo-framed bicycle is strong, resilient, and can be built by anyone who can follow instructions.
By Marie Malin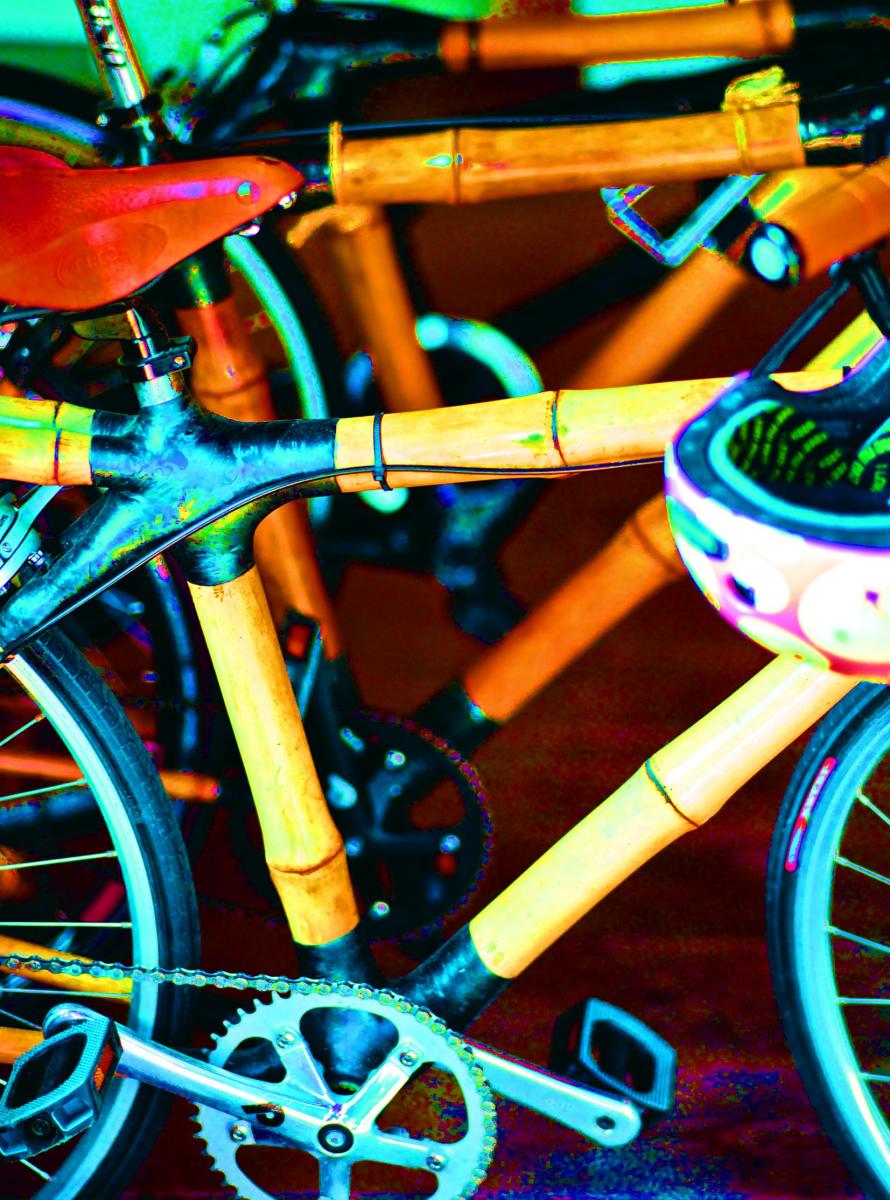 Photographs by Wing Goodale
You can't help doing a double-take when you see one. A bicycle? Made from bamboo? It doesn't quite compute at first.
But then you look closer at the frame and realize how well suited the material—actually a type of strong, hollow grass—is for the tubes of a bicycle frame. Take into consideration how easy bamboo is to grow, how economical and environmentally friendly it is, and you will see why the collaborative known as the Bamboo Bike Studio has developed a whole model around the versatile material.
Perhaps most important to the Bamboo Bike Studio crew, who are educators at heart, is that bamboo is easy to work with, which means just about anyone can make their own bike frame—including me, a 30-something woman with little woodworking experience and even less bike expertise. To prove it, last summer I spent a weekend building my own bamboo bike at one of the studio's workshops held in Camden in a former blacksmith's shop near the harbor.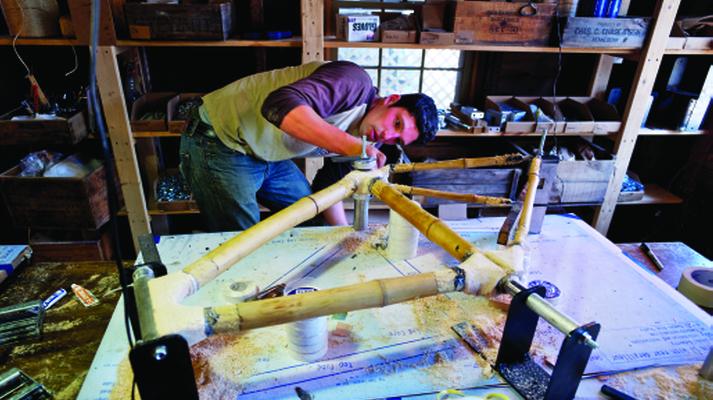 The Bamboo Bike Studio was humming with eager students and curious passersby, and frequently punctuated by the laughter of Jessie Tobias and Jodi Maltese, who run the studio's Maine operations and provide workshop instruction. In less than 48 hours, a student can build and ride away on a quality, custom bicycle with a beautiful frame. But they should be prepared: they'll come away with much more than a bike.
As the morning sun streamed through the Bamboo Bike Studio's paned glass doors early on a Saturday in July, my three fellow students and I gathered around a big table in the studio's wood shop. Jessie and Jodi had laid out for each student several bamboo tubes and a custom blueprint based on individual body measurements we had each provided ahead of time. I had chosen to build the Express model, described as, "a Jack of all trades efficient enough for long rides, agile enough for urban riding, and comfortable enough for touring."
The Bamboo Bike Studio uses traditional-geometry diamond frame sets, which consist of four tubes plus a fork, seat stays, and chain stays. Everything but the fork and the head tube (which connects the handlebars to the fork and contain the steering mechanism) is made from bamboo.
As we arranged the bamboo's seams and nodes to taste and got ready to trim the ends of each tube, Jodi suddenly looked up at me through her black-framed glasses.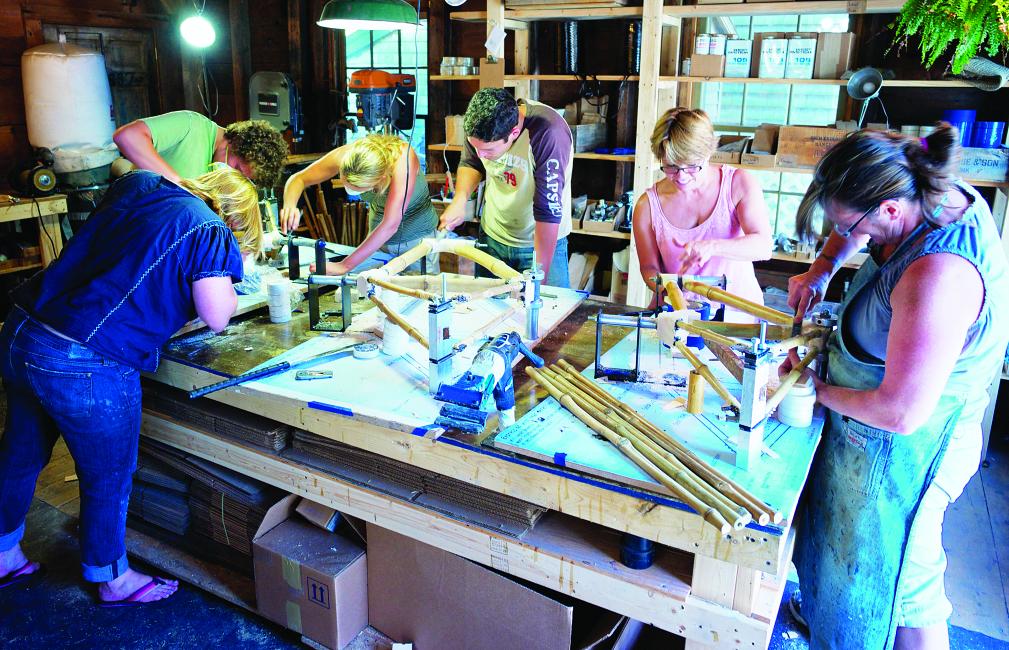 "We fell under the spell of working our hands." "Do you wear skirts?" she asked. She led me to the front of the shop and showed me her personal bamboo bike.
"If you want," she said, "we can drop the top tube down an inch or two so it's easier to get your leg over without flashing the neighborhood."
I laughed. "That'd be great!"
The tube running from seat to handlebars trimmed to a skirt-friendly length, I began to scrape the teeth of a flexible pull saw along the last few inches of each tube to roughen the cuticle, or outermost layer, of the bamboo and make it more receptive to the epoxy and carbon fiber that would bind it to the balsa wood lugs that, when wrapped in carbon fiber and epoxy, bind the tubes to one another. 
Roughing bamboo turned out to be harder than it looked; my saw kept snagging. "It helps to relax your shoulders," Jessie offered. Bingo. I eased into the rhythm of making smooth, sweeping strokes.
Chatter subsided as the four of us fell under the spell of working with our hands. I marveled at the contrast of the bamboo's smooth, gleaming cuticle and the rough, fibrous layer just beneath.
"Why bamboo?" is one of the most common questions asked of the Bamboo Bike Studio's crew. For one thing, bamboo—essentially a giant grass—is fast growing and inexpensive, with a negligible carbon footprint. For another, it is strong, lightweight, and better at dampening vibration than steel or carbon, which translates to an extremely comfortable ride. With a woven structure and the same tensile strength as steel, bamboo has earned the nickname "nature's carbon fiber." In lab testing, the studio's frames have met the highest safety standard of the U.S. Consumer Product Safety Commission. They have also met the highest standard set by New York City bike messengers, who have street-tested the frames.
To the Bamboo Bike Studio crew, the most compelling feature of bamboo is its workability, fulfilling the collaborative's mission to make bike construction accessible to as many people as possible.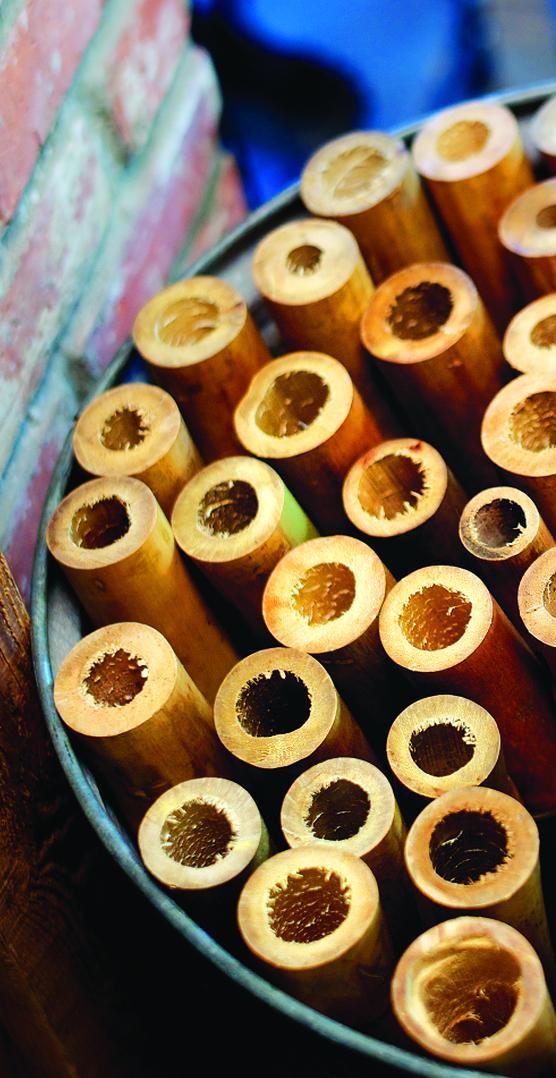 Actually a hollow grass, bamboo is strong, lightweight, and renewable.
Unusual as they seem, bamboo bikes are nothing new. Frames, forks, and even handlebars were made from the woody grass as early as 1892.
The first batch of bamboo the studio crew used came from a stand growing beside the highway in New Jersey, near where the collaborative was founded. The tubes for my bike were Dendrocalamus strictus—"iron bamboo"—from Mexico's Yucatan, where it is grown to replenish soil depleted by deforestation. Recently the studio began using a species from Alabama.
"We're always trying different species to find the best one," Jessie said. Alternately, student builders are welcome to harvest their own bamboo.
"Time to tack,"Jodi said when we had finished roughing our tubes. We would be using J-B KwikWeld, a fast-setting, two-part epoxy cold-weld system.
Using bamboo splinters as tools, we mixed the epoxy and catalyst, spread it on the rim of each tube, and then pressed each end against corresponding blocks of strong, light balsa called lugs. We broke for lunch to give the epoxy time to cure.
Downtown Camden is a great location for a weekend workshop for many reasons, not least of which is all the places to eat. Unable to decide on a single place to get lunch, I picked up a Thai chicken salad from Boynton McKay, a perky bar (peanut butter and chocolate) from the Camden Deli, and a cappuccino from Zoot coffee shop.
We shaped the lugs after lunch. I picked out a rounded iron file and ran it gently over the corners of the balsa. I was surprised how soft the wood was, how easily it yielded beneath even light pressure. First I eyeballed the transition from lug to frame tube, then I closed my eyes and relied on my hands to suggest where to continue filing.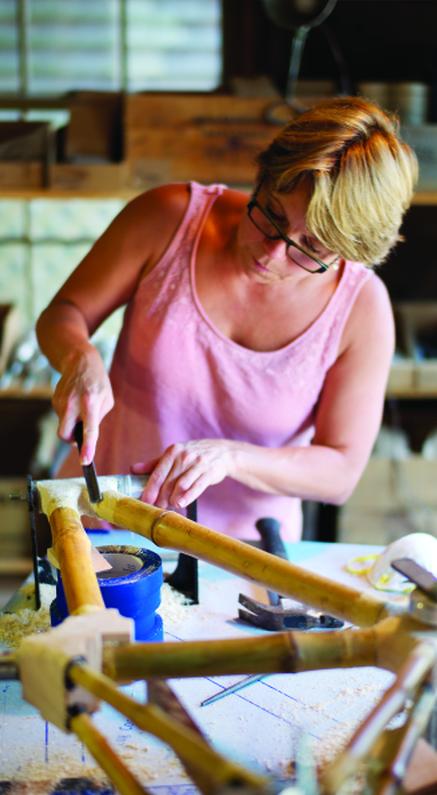 "We shaped the lugs after lunch."
Our lugs shaped into seamless transitions with the bamboo tubes, Jessie pulled out handsome wooden spools of silky carbon fiber. She partially unwound one, dipped the gleaming strands into a container of catalyzed epoxy, gently squeezed down the length with her fingers to eliminate excess, and then deftly wrapped the wet black ribbon in a figure-eight pattern around the lug and the adjoining top and seat tubes, binding everything together. She smoothed out any bubbles with her finger, then handed me the remainder of the now-gooey spool. "Here you go!" she said.
I dunked the entire spool in the epoxy again and tentatively began to wrap. Even with rubber gloves, handling the slippery carbon fiber was a delightfully tactile experience.
"I had no idea how cool carbon fiber is," I said.
Jessie nodded. "You get closer to the materials when you're making something," she said.
Having cured overnight, the epoxy/carbon-fiber lugs were ready to be filed smooth early the next day. The morning sun streamed through the workshop windows as we set about filing the largest ridges and lumps of epoxy. This was harder and more time consuming than filing the buttery balsa, but satisfying in its own right.
Most bamboo bike makers choose to leave their carbon fiber-wrapped lugs exposed unfinished, which lends a handsome, utilitarian look to the frame. Lugs can also be painted or finished with a cosmetic wrap of fabric soaked in epoxy, which is the option I chose.
Jessie showed me her fabric collection. "Do you want to use any of this?" she said.
My eyes widened. In the pile was a yard of pink-and-white seersucker. "Would that be too girly?" I asked sheepishly. She laughed, knowing I had already made my selection.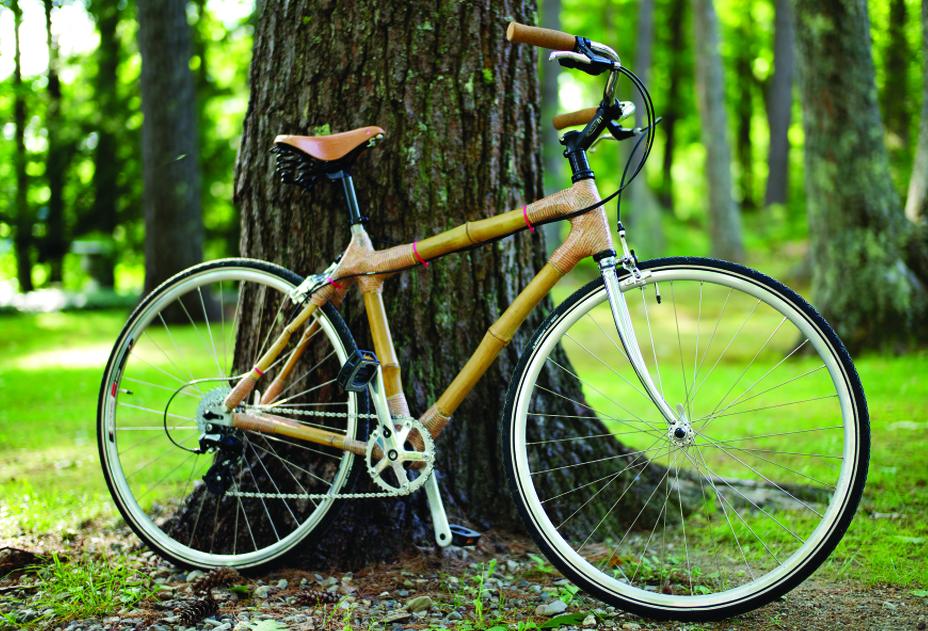 The author's ride: sturdy, practical, no-nonsense.
Part of what makes a hands-on class at the Bamboo Bike Studio so special is the instructors. They are patient, empowering teachers; their creativity and enthusiasm are contagious.
"We're a 'let's try this' culture," Jodi told me as she spontaneously made a pencil holder from the cutoff of a particularly attractive stalk of bamboo.
A former Outward Bound leader, schooner captain, harbormaster, swim coach, and more, Jodi joined the team as a fabricator and now does a little of everything. "There's always something different to do," she said, "and I love all of it, from picking out the bamboo to lathing the metal parts."
Jessie became involved in the Bamboo Bike Studio through her brother Marty Odlin, one of the collaborative's three original founders. After building a bike in the studio's shop New York, she helped set up a Bamboo Bike Studio shop in San Francisco and then came to Camden in 2011.
Jodi and Jessie each have children and believe deeply in empowering young people to make and fix things. When Jodi's home radio broke recently, she called over her daughter's friends to watch while she rewired it. Jessie has a similar ethos.
"It's important to me that my kids grow up knowing they can build useful things and be creative at the same time," Jessie said. "I want my kids to be able to say, 'There are so many things I can do. Whatever my heart desires, I can make happen.'"
A steady stream of visitors came through the shop over the weekend, no doubt drawn in by the words "Bamboo Bike Studio" peeking out from bright pink-and-green annuals cascading down over a chalkboard set in a frame made from an old pallet.
Held in a space with lots of windows and a barn door rolled open in the warm weather, the class I attended was in full view of passersby.
"We were initially wary of the open space, wondering how the builders would feel," Jessie said, "but they end up becoming spokespersons as well as builders."
"I think it draws people in," Jodi added, "because you don't often see folks building things anymore."
Jessie recited a verse from the poem "Village Blacksmith," by Maine's own Henry Wadsworth Longfellow:
And children coming home from school Look in at the open door;
They love to see the flaming forge,
And hear the bellows roar.
Sunday afternoon came, and as I sat in the sun on the shop's front stoop and sanded smooth the epoxy-hardened fabric, I found myself answering with ease the many questions from families strolling by. "Why bamboo?" they asked. "How long does it take to make a frame?" "What does it ride like?"
"It's super springy and smooth," I'd answer the last question. "Do you want to try one?"
Most folks demurred, but without exception those who decided to give a bamboo bike a spin came back with grins on their faces.
"To watch someone get on their bike for the first time," Jessie said, "to see their face light up and know they made it themself—that's pretty cool. What's great is that people come out of the workshops empowered, more comfortable around tools, more inclined to start building and tinkering and fixing things themselves. We're not only about bikes, we're about building anything you can use."
The collaborative, which makes decisions collectively via a board, has bike-making studios in San Francisco; Toronto; and Greensboro, Alabama. In addition to workshops like the one I took in Camden, the Bamboo Bike Studio offers master classes and training for educators as well as mail-order do-it-yourself bamboo bike kits. Popular in schools, the kits contain all the materials, tools, and instructions to make a bike frame in about 20 to 30 hours.
The studio had also partnered with middle schools and high schools to engage kids in design, engineering, and fabrication. Last summer Jessie and Jodi hosted the collaborative's first day camp, in which kids age 14-16 made a solar charging station for phones and handheld devices. "We want to give back in as many ways as we can," Jessie explained.
Indeed, the Bamboo Bike Studio is rooted in a desire to give back. The project was initiated in 2008 to develop a quality, affordable bike for the developing world. The kits were developed and offered for sale to fund the project but then took on a life of their own, leading to workshops and the studio as it's known today. The collaborative dedicates ten percent of revenue to its work around the world, including a bike-making factory in Ghana that allows locals to manufacture quality bamboo frames for less than the cost of an imported metal frame. An additional factory in Quito, Ecuador, is being developed.
Workshop participants can choose and install their own components (seat, pedals, handlebars, brakes, gearing, etc.), or enlist the knowledgeable staff to help based on budget and riding style. I could have finished my frame that weekend, put on the components, and ridden away, but I chose to take my time getting the fabric wrap just right. I would go home and return later to finish up.
"I'm pretty rough on my gear and I don't want to spend too much," I had said when I signed up for the workshop. "No problem!" I was told by a staff member based in New York. "We'll find you just the right components." And she did.
The following week when I returned to finish my bike, I felt like a kid at Christmas as I opened the boxes that contained my sturdy pedals, chrome fork, shiny upright handlebars, and other gear. My splurge was the saddle, a gorgeous leather Brooks creation with brass rivets.
After Jessie gave the completed bike a once-over before my inaugural ride, I hopped on and started pedaling down Camden's bustling Bayview Street. "This is so fun!" I yelped, causing several passersby to turn their heads. Jessie beamed.
The bike was springy, responsive, lively. I couldn't help weaving back and forth, pedaling in circles, speeding up and slowing down—playing. I had forgotten how joyful riding a bike is. And this wasn't just any bike.
During my first ride at home in southern Maine, as I was tooling up a hill toward the local market, I glanced back and saw a spandex-clad cyclist closing in on me. He was out of the saddle, pumping hard on his sleek composite frame. For a moment I felt a tad self conscious about my upright, handmade bike accented with pink seersucker.
There was no need to be. "Nice bike!" he said, giving me the thumbs-up as he sped past. All I need now is a bell to acknowledge the compliments.
---
When not working as a chaplain, Marie Malin enjoys exploring Maine and learning from its craftspeople.
As this story goes to print, the Bamboo Bike Studio is moving its headquarters to Greensboro, Alabama. Bike-making workshops will continue to be held in Maine and other locations on the East Coast. 
For More Information:  
www.bamboobikestudio.useful-arts.com, bikes@bamboobikestudio.com 
Share this article:
2023 Maine Boat & Home Show

Join Us for the Maine Boat & Home Show!
Art, Artisans, Food, Fun & Boats, Boats, Boats
August 11 - 13, 2023 | On the waterfront, Rockland, Maine
Click here to pre-order your tickets.
Show is produced by Maine Boats, Homes & Harbors magazine.