Maine Course - Lobster Twofer
Thrift to warm the most frugal downeast heart.
By Nancy Harmon Jenkins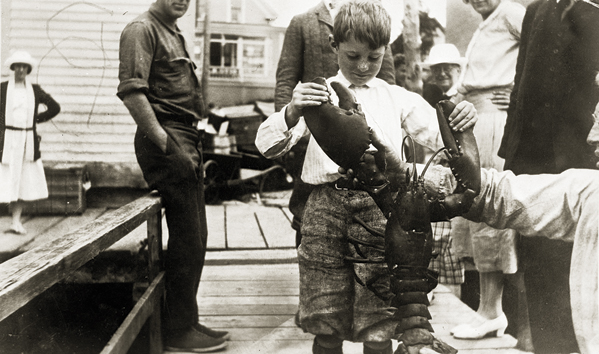 Images: Courtesy Penobscot Marine Museum A lobster this big, caught in the early 1900s somewhere off South Bristol, would make a lot of salad and bisque. But Maine State Law now prohibits keeping any lobster measuring more than 5 inches from the eye to the base of the tail.
On a very hot morning last July, my sister and I went off to Albion to have lunch with Aunt Jo, a long-lost relative, who is a second cousin or perhaps a first cousin once removed (I've never been certain of the distinction). With Aunt Jo, we share great-grandparents in Joshua and Josephine Whitney of Jonesboro. Aunt Jo's maternal grandfather (Henry Whitney) and our paternal grandmother (Phoebe Whitney Harmon) were brother and sister, part of the huge Whitney clan. There were 11 siblings in all, most of whom were born in the late nineteenth century, and all of whom survived to adulthood (unusual in that day and age). Many of them still lived as adults along the old Whitney Road, which ambles up a ridge above the Chandler River just before it empties into Englishman Bay.
And of course there's an added bonus for any die-hard Yankee: getting lobster salad for six and lobster bisque for another six, all from the same batch of five one-pound lobsters.
Jonesboro, where the Whitneys came from, is truly downeast, although downeast is a concept more than a geographical fact. As my Uncle Howard used to say: "Downeast is always a little farther along from where you are." Downeast, wherever it is, is where the lobsters are, so we had suggested bringing lobster salad for lunch since it is the single most glorious gastronomic expression of summer in Maine. And as long as you have lobster at the ready, lobster salad is the easiest thing in the world to do. I had lobsters at the ready from my go-to fishmonger, Jess's Market on Rockland's South Main Street—soft-shell lobsters that are so easy to open, no nutcrackers are required because the shells break apart with a quick twist and the sweet meat almost tumbles out. Drained and combined with chopped scallions, chopped celery, chopped red onion, a spritz of lemon juice, salt and a hint of black pepper, plus mayonnaise—Kraft or Hellman's, you pick—but bottled mayo is better for this than home-made. I hate to say it, but preservatives in the bottled product actually make the salad more stable on hot summer days when home-made mayo can be a little tricky. I used a half-cup for a pound of lobster meat, which was the yield from five cooked lobsters.
As my Uncle Howard used to say: "Downeast is always a little farther along from where you are."
The salad was delicious and really pleased Aunt Jo, who says she loves lobster. Albion is not exactly downeast since it's at least 30 miles from Penobscot Bay, the nearest salt water, so Aunt Jo doesn't get lobster very often. We sat around her dining table, my sister and I, plus Aunt Jo, her niece Sheila, and Sheila's daughter Emily who had organized all this, and we ate almost all the salad, with a little bit put aside for Aunt Jo's supper. We talked about the Whitneys, this one and that one, and who was related to whom. "I have all their obituaries," Aunt Jo said. So once we finished lunch she got out her file and we passed around obituaries from various newspapers over the years and talked about who was related to whom. "Mayflower Whitney?" I said, "What kind of a name is that?" "Why, that's Aunt Mae," cried Aunt Jo. It was that kind of a day. Later Sheila told us about taking her Harley out to Michigan to a motorcycle rally and I thought how far that was from Aunt Mae's lifetime—or indeed the lifetimes of any of those long-lived Whitneys from way downeast.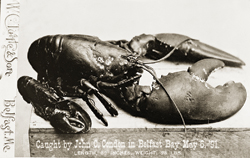 Just in case you cannot read the fine print, John C. Condon in Belfast Bay caught the lobster shown above on May 6, 1891. It was 39 inches long and weighed 23 pounds. The largest lobster ever caught in Maine (in 2012) weighed 27 pounds.
When I got back home, I was faced with five lobster carcasses, since all the meat had been picked out and used in the salad. What to do with these tasty but awkward and difficult treasures? I turned to
Lobster At Home
, the greatest lobster cookbook ever written, by a man who really knows New England seafood, Chef Jasper White of the eponymous Jasper White's Summer Shack in Cambridge and Boston, Massachusetts, and also at Mohegan Sun Resort in Connecticut. Who better to instruct me in the use of lobster carcasses? Idly flipping the pages of White's book, I stopped short at a recipe for lobster bisque. And why not? Growing up in Lobster Land as I had, I learned to cherish lobster stew and lobster chowder, but lobster bisque, when I first had it long ago at the Ostau de Baumaniere in Provence (at that time, if memory serves me, one of the handful of Michelin three-star restaurants in France), was a revelation. The complexity of flavor came from roasting lobster carcasses at a high oven heat, then slowly simmering them with a range of seasoning, from saffron to bay leaves to chili pepper, and finally finishing with burnt cognac and cream. I don't want to say it beats Maine lobster stew, but it comes darned close. And of course there's an added bonus for any die-hard Yankee: getting lobster salad for six and lobster bisque for another six, all from the same batch of five one-pound lobsters. Thrift like that thrills a downeaster's heart as much as her pocketbook.

Lobster Bisque
Adapted from Jasper White's recipe from Lobster at Home (Scribner, 1998) Carcasses of 5 or 6 small lobsters 6 tablespoons extra-virgin olive oil 4 or 5 garlic cloves, crushed and coarsely chopped 1 medium onion, coarsely chopped 1 or 2 medium carrots, coarsely chopped 2 outer (green) celery stalks, coarsely chopped 1 fennel bulb, coarsely chopped One 28-ounce can plum tomatoes, including juice 1½ cups chicken stock 1½ cups dry white wine 6 to 8 cups water 3 or 4 bay leaves Couple of sprigs of fresh thyme 1/2 teaspoon saffron—threads or powdered, but if the latter be sure it is really saffron 1 small dried red chili pepper, or 1/4 teaspoon of ground or flaked red chili—French
piment d'Espelette
is a good choice Sea salt and freshly ground black pepper 1/3 cup converted (Uncle Ben's) brown or white rice 1/4 cup Armagnac or cognac 1/3 to 1/2 cup heavy cream Garnish: about 3/4 cup finely chopped cooked lobster meat 1/2 cup chopped fresh chives About 1/2 cup heavy cream, unsweetened, whipped Set the oven to 400º F. Spoon 2 tablespoons of the olive oil over the bottom of a roasting pan that will just hold the lobster carcasses. Split the carcasses in half and arrange in the pan, then spoon another 2 tablespoons of olive oil over the top. Transfer to the oven and roast for 30 to 40 minutes, turning the carcasses over halfway through the cooking time. Roast until the shells have become brittle and turned from bright red to tan. While the carcasses are roasting, set a stockpot over medium heat and add another 2 tablespoons of olive oil, plus the chopped garlic, onion, carrots, celery, and fennel. Cook, stirring frequently, until the vegetables have softened. Add the tomatoes, crushing them in your hands as you do so, then the tomato liquid, and give the pot a good stir. Remove the roasting pan from the oven and transfer the carcasses to the stockpot, adding chicken stock, wine, and at least 4 cups of water. Set the roasting pan over medium heat and add a cup of water. Bring to a boil, scrape up all the pan drippings, and add to the stock pot. If the liquid doesn't cover the lobster shells, add more. Bring to a simmer and stir in the bay leaves, thyme, saffron, chili, and salt and pepper to taste. Once the liquid is simmering again, turn the heat down to a slow but steady simmer, cover the pot, and cook steadily for 1½ to 2 hours. Give the contents of the pot a stir every now and then, and if the liquid cooks down below the lobster shells, add more water (but bring it to a boil first!). Taste and adjust the seasoning, adding more salt or pepper if necessary. Now remove the lobster carcasses (tongs are great for this), letting the liquid drip back into the pot. Remove the bay leaves, the whole chili pepper, and any thyme twigs. Discard the carcasses and seasonings, which have done their duty. If the liquid is cooked down and thick, add another cup or so of boiling water along with the rice. Stir the rice in, return to a simmer, and cook for another 30 to 40 minutes or until the rice is somewhat overcooked. Let the soup (which is what this now is) cool somewhat, then use an immersion blender to purée the rice and all the vegetables in the liquid. (You could also use a regular blender or food processor, but you will have to do it in two or more batches.) When it is very smooth, put it through a chinois if you have one, pounding it to extract all the goodness. Or work it through a fine-mesh sieve. Or leave it as it is—it is delicious any way. You can freeze the bisque, if you wish, or refrigerate it for several days. When ready to serve, heat it up again, taste and adjust the seasoning once more. Heat the alcohol in a soup ladle and light it, then as the flames (and the alcohol) burn off, pour it into the soup. Stir in the cream and taste once more for a final seasoning adjustment. Garnish each serving with a spoonful of chopped lobster meat, a dollop of unsweetened whipped cream, and a sprinkling of fresh green chives. This makes enough for 6 to 8 servings.
—NHJ
Nancy Harmon Jenkins grew up on the Maine coast before becoming a world traveler, authority on Mediterranean cuisines, author of many books, and contributor to The New York Times, Bon Appetit, and numerous other publications. She lives in Maine and Tuscany.
.
Share this article:
Digital Edition Available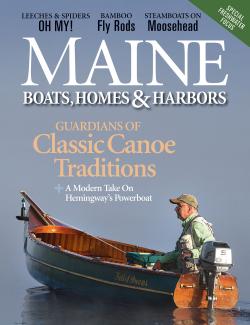 Can't get to the store to buy your magazine? We deliver the stories of Maine's coast right to your inbox. Sign up here for a digital edition.