View from the Porch - Issue 132
Issue 132
By Peter Bass
Codforsaken gulf, kelp beer, and an eye on the tides and wind
As I write this in early September, it's fair season, and there's a full month of these wonderful annual expositions ahead. I hope you managed a visit to one or two. I have a particular affection for the Farmington Fair in mid-September, an event so epic and important in Franklin County that we used to get a day off from school to attend. In the 1950s, announcements would pop up in store windows and on telephone poles. Now fairs have web sites as well. This fall was the 174th Farmington Fair, organized by the Franklin County Agricultural Society. For the town kids, this was often our closest look at livestock, although in a small town surrounded by family farms, it was a rare kid in Wilton who hadn't spent time with a classmate on a nearby farm. My uncle operated a dairy farm not far from Wilton, and we often spent time with our cousins there, so the smell of manure around the fair was not unfamiliar. There were rides, a midway with shooting galleries and games of chance, and horse racing, which as a kid I didn't find particularly compelling. My favorite tent was the one where the local car dealers would show off the next year's models and the area where you could climb around on the tractors.
Kelp! Kelp! I'm drinking
Marshall Wharf Brewing Company of Belfast is a small brewery that is not afraid to try new ingredients, such as oysters and hot peppers. When word got out that they were brewing a Scotch Ale with some Maine sugar kelp added, the news went viral, attracting among others, National Public Radio, from which I gleaned the details.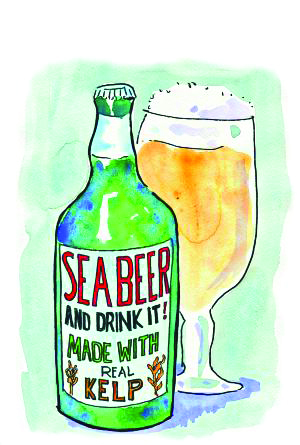 Illustration by Ted Walsh
It seems that the owner of Marshall Wharf Brewing, David Carlson, got quite excited about a beer from Scotland called Kelpie. He reached out to Sarah Redmond of the UMaine Center for Cooperative Aquaculture Research for help. Ms. Redmond is something of a kelp evangelist and hooked Mr. Carlson up with Peter Arnold of Maine Fresh Sea Farms. It all came together this summer with the first batch of Sea Belt, a peat-smoked, malt-based Scotch ale with 6 pounds of dried sugar kelp per 200-gallon batch. Ten pounds of fresh kelp equals 1 pound of dry. For you home brewers, sugar kelp is a variety widely used in food worldwide. Don't think you can go buy a can of Blue Ribbon malt extract and pitch in a few handfuls of whatever is drifting by your skiff. I am dispatching my beer patrol to Belfast for a taste test soon. On their beer menu at marshallwharf.com you'll find some other offbeat entries as well, such as Cant Dog IPA and Chaos Chaos stout. I wonder if there are any motels in walking distance.
Codforsaken Gulf of Maine
In one of Bill Trotter's blogs on the
Bangor Daily News
web site, we learned that last year was grim for the Gulf of Maine cod population. Mr. Trotter deserves credit for my title since his was "Cod Forsaking the Gulf of Maine." Cod were what initially drove Europeans to New England; Portuguese cod fishermen were on Damariscove Island years before the Pilgrims. Now the Northeast Fisheries Science Center reports that the fish biomass actually declined in 2013 despite strict fisheries management rules designed to rebuild the stocks. If the science holds up, more restrictions loom on the horizon. That, coupled with last year's suspension of shrimp fishing, means the news is just getting worse for Maine fishermen. Man cannot live by (or on) lobster alone. Speaking of lobster, as of the end of August, some dealers were reporting landings to date about 20 percent lower than 2012, the year of the early season shedder glut. Some dealers were even predicting a smaller than average season this year. The price, however, has held up thanks to improving demand in a healthier economy.
Bass Harbor Riches
Our avid reader may remember a short article in 2011 noting the launch of one of the prettiest little lobsteryachts we had ever seen, the 28-foot
Andromeda
. Built by Chummy Rich to a design by his father,
Andromeda
had that "just right" look, and traditional oak, cedar, and bronze construction. The lead man on the project was Rich Helmke, himself an owner of a 1959 version of the same boat. He had joined Chummy at Bass Harbor Boat after bringing his own boat there for some work. Chummy Rich sold the shop to Helmke this last spring, a deal that had reportedly been percolating for years. Rich plans to continue working at the yard. Congratulations to Helmke; we look forward to seeing the work of this yard for years to come. And in nearby Southwest Harbor, the Hinckley Company is hard at work on their new sailboat, the Bermuda 50, designed by Bill Tripp, III, the son of Bermuda 40 designer, Bill Tripp, Jr. It is a thoroughly modern performance cruiser that will undoubtedly see some time on a race course, while providing a splendid platform for sailing fast in comfort and style. Or, as a close friend of mine called it (after adding a few creature comforts to his Tripp 41 raceboat), "cruising with an attitude."
Happy landing
The Landing School in Arundel named a new president, Richard Schuman, who not only has a Ph.D. in engineering, but also graduated from the Landing School itself almost 30 years ago. He'll also serve on the faculty as a professor of Engineering Design. His resume is staggering and includes impressive stints as a scholar, teacher, and administrator. Quite a catch. The Landing School has filled a niche in Maine higher learning by providing a hands-on education for those who want to find a career in the marine world, whether boatbuilding, yacht design, or marine systems. They have had great success in placing their graduates in the industry. With the appointment of Dr. Schuman, the school promises to continue that success and growth. Check out landingschool.edu. Your next boat may be rambling around in one of those young brains right now. If you love boats and Maine, think about supporting the school. One way to do it is to buy one of their boats.
Other mind-altering news
In 2013 Portland voters supported a petition to legalize recreational marijuana. This election season has several other cities following suit. I read in the
Bangor Daily News
that the Lewiston City Council decided to send the question to the voters in November. The Lewiston petition was written to allow the City Council to legalize pot on its own or send it to the voters, which probably explains why the vote was unanimous to do the latter. South Portland and York will also get a shot at similar petitions. I have always thought that the Portland vote was kind of silly; a municipality can't expressly authorize the use of a substance that is illegal on state and federal levels. Probably the rationale is to express a sentiment for publicity purposes, like when the US House voted a thousand or so times to repeal the Affordable Care Act. That was certainly effective in drawing a lot of attention to the House Republicans, though perhaps not the kind they were looking for. Maybe we can somehow combine casinos and pot into one giant statewide referendum. We could have special economic zones where you could service all of your addictions in one place, surrounded by fields of weed and distilleries.
Eyes on the tides
A company named Halcyon Tidal Power is running into some stiff local opposition to its proposal to dam a cove in Pembroke for a tidal power facility. We have noted the successful tests of submerged turbines in the area, home to some of this country's most powerful tides. This project is vastly different in that it blockades a cove and will require a lock for navigation of fishing boats up to 42 feet.
The Quoddy Tides
reported on the meeting, which is one of three community meetings required by the Federal Energy Regulatory Commission. In a time when we applaud the removal of dams to re-establish historical fish runs, damming an estuary when there seems to be a less invasive way of harnessing this natural power source doesn't make a lot of sense. Admittedly I am clueless as to the comparative cost-effectiveness of the two approaches. Conceptually I fall on the side of free flowing rivers, although this isn't exactly a river. As you can see I am somewhat conflicted. However, if I lived on that cove and my living depended on getting in and out of it in a boat, I'd probably get a little wound up at the prospect of a dam.
Chips ahoy
Staying in the "Far East," August saw the first shipment of wood chips from Eastport to Ireland for biomass-fueled energy production. The
Bangor Daily News
article by Jacqueline Weaver did not specify what technology on the other end will utilize the product, whether it will be burned for heat directly or used to produce electricity. At any rate the bulk handling system and storage yard in the Port of Eastport made the arrangement possible. The chips have to be dried and later sanitized aboard ship to meet European Union requirements. The heating is to kill the pinewood nematode, a microscopic pest that kills trees. The chips use wood harvest byproducts unsuitable for higher value uses such as paper pulp. When the
BDN
article was written in early August, the biggest obstacle seemed to be finding the labor to harvest the wood waste. Here again, the University of Maine played a key role in developing the processes to sanitize the product for shipment, called phytosanitization. Aside from our interest in promoting the export of Maine products, it is really fun to use words like phytosanitization and nematode.
Wind in the waves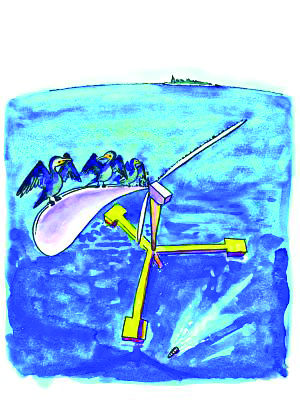 Illustration by Ted Walsh
In one last plug for the University of Maine and its various technology centers, early September marked the first anniversary of the scaled wind turbine project developed by the University's Advanced Structures and Composites Center. This project demonstrated the feasibility of a floating turbine attached directly to the power grid. The center's chief, Habib Dagher, called the year-long test a complete success and will now turn his attention to a full-scale version with 450' blades. Maine Maritime Academy provided a vessel to ferry an assemblage of politicians, U.S. Department of Energy, and university representatives to the test site to applaud the project and garner some press for it, which you may remember from a previous column was partially funded at the junior varsity level by the DOE. The pace and success of this project might move it up the roster. Let's hope so. My only question is how many cormorants can perch on it when the blades aren't moving? There is nothing like fall for a hike in Maine, whether up Morse Mountain in Phippsburg, the peaks of Acadia, or the mountains of Franklin County. It's a great time of year. Time to put the chairs away And last Summer's libations. Those of you with yachts afloat May proceed with your migrations. As you read I'm setting up My perch in Crawford Bay. Monitoring your anchoring skills As you stop along your way. We'll be watching for all boats With downeast ports of hail, With binoculars at the ready And feet upon the rail.

Illustrations by Ted Walsh Contributing Editor Peter Bass hopes some sailing snowbirds will drop off a case of Sea Belt on their way south this fall. To submit your comments... newsy tidbits, photos, illustrations, clippings, rants, and raves for possible use in this column, use the form below. Or mail to "View From the Porch," P.O. Box 566, Rockland, ME 04841 or fax to 207-593-0026. Items may be edited for length and clarity; materials become the property of Maine Boats, Homes & Harbors, Inc.
Share this article:
Digital Edition Available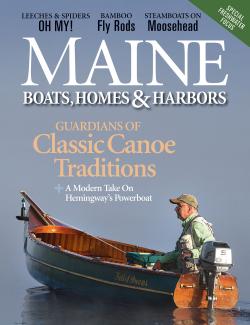 Can't get to the store to buy your magazine? We deliver the stories of Maine's coast right to your inbox. Sign up here for a digital edition.