Artisan Boatworks: Vim
A 1957 classic rebuilt with modern touches
By David R. Getchell, Jr.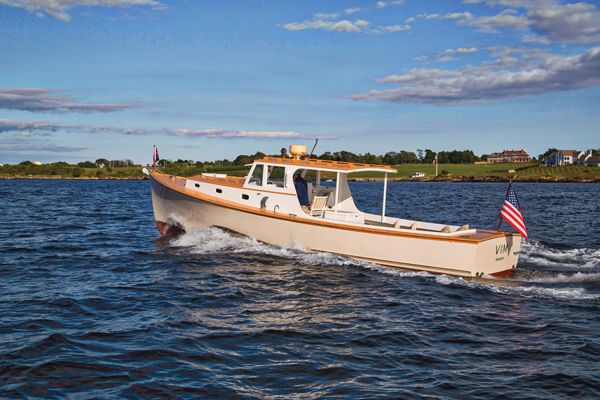 From the water, Vim looks like a vintage wooden lobsteryacht, but under the surface it is loaded with modern conveniences. Photos by Billy Black (2)
By Dave Getchell, Jr. The motto for this magazine's annual boat and home show, "Tradition Shapes Innovation," describes how Maine boatbuilders' long experience of constructing simple, sturdy vessels helps them adapt new technologies to move boat design forward. Then along comes a Maine-built boat that turns this saying around into "tradition sometimes hides innovation." Restored last year by Artisan Boatworks, the classic 1950s lobsteryacht
Vim
houses a full suite of modern onboard systems—turbodiesel power, bow thruster, full electronics package (GPS chartplotter, autopilot, radar, depthfinder, VHF, etc.), LED lighting, galley with refrigerator, microwave oven and electric cooktop, freshwater flush toilet, even a surround-sound stereo. The boat started life in 1957 at the Newbert & Wallace yard in Thomaston. Renowned for his graceful, highly capable wooden lobsterboats, designer Roy Wallace produced a series of 36- and 38-footers adapted to pleasure use. This particular 36-footer logged many years' faithful duty in the service of one family on Islesboro, where it was known as Owl. Eventually the years took their toll. Artisan Boatworks gave the boat, now renamed
Vim
, a lavish refit. Work started at the waterline, where fresh 1" mahogany planking replaced original timber around the turn of the bilge. Some 60 new laminated oak frames restored the hull to its intended lines with sweeping sheerline and pert tumblehome transom. "The boat still had good bones," said Artisan's Alec Brainerd. "We replaced everything else that wasn't up to snuff." This included extensive fairing and caulking, all new bronze through-hull fittings, new custom bronze rudder, and painstakingly fabricated interior blocking to support the new Sidepower electric bow thruster.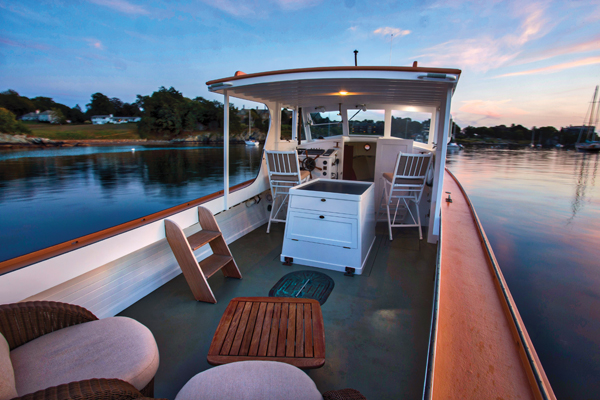 Vim's slate-topped engine box hides a new 240-hp Yanmar turbodiesel.
The project, with its elaborate powerboat-style systems, represents a bit of a new direction for Artisan Boatworks, which is better known for its traditional wooden sailboats. Interior work proceeded according to plans laid out by Bob Stephens of Stephens Waring Yacht Design and Barrington, Rhode Island-based naval architect Matthew Smith. Out went the old cockpit decking, floor timbers, engine beds, fuel/water tanks, and assorted ancient plumbing. The Artisan crew extended the aft deck forward to help make room for various new systems. New aluminum fuel tanks, freshwater and blackwater tanks, and associated modern plumbing came next. Then came new floor timbers and the working deck sheathed in epoxy-covered plywood, which was insulated with Soundown lead/foam soundproofing. Custom watertight and sound-insulated hatches offer access to under-deck systems. The original topsides, wheelhouse and side decks got the full fairing-caulking-sanding-painting treatment to yacht standards. Paintwork shows a blend of matte and gloss sheens in period-correct colors mixed by Epifanes. In true Mainer workboat style, there's exactly zero varnish. Deck hardware and cabin ports are weathered-looking bronze, a mix of originals and custom pieces fabricated by Joel Cox at Rockport Marine. As a result, from the outside
Vim
looks exactly like a brand-new 1957 lobsteryacht. Under the surface is where innovation makes this project more than just another wooden-boat rebuild. Flip up the slate-topped engine box and the view is all 2014. There's a fresh 240-hp Yanmar down there, surrounded by neatly crafted electrical panels, filters, hydraulic and coolant lines, and a veritable nest of wiring. Dual alternators on the engine handle charging duties for all the onboard systems and house batteries, backed up by a 4000-watt Mastervolt inverter-charger. At the helm, the mix of past and present continues. You might think that the bronze steering wheel and single throttle/gearshift lever were installed by Roy Wallace himself back in 1957; they are in fact brand-new units with a few modern tweaks. The full-function Garmin electronics suite (chartplotter, radar, depthsounder, etc.) runs through a single screen discreetly set into the flat wooden dash. The VHF radio is fitted around the side of the helm where it's barely visible. Two vintage bronze pieces crown this area's period look: a refurbished Danforth compass and pistol-grip handle for the antique brass roof-top spotlight.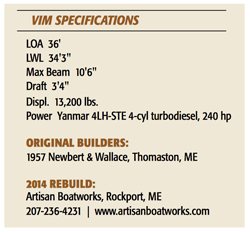 Poke your head into the cabin, and the first impression is all 1957 down below, too—starkly simple Herreshoff-style painted furniture, walls, and ceiling. Closer inspection reveals the galley's laminated slate countertop, stainless sink and two-burner Force 10 electric cooktop. A wooden raised-panel door opens into a gleaming Vitrifrigo fridge. The head compartment centers around a state-of-the-art Vaccu-Flush freshwater toilet—no mysterious unmarked antique seacocks to fiddle with here. The primary challenge with a project like this is how to start with a simple boat and add so many modern systems while maintaining the traditional look. The Artisan crew went to great lengths to maintain this balance. When
Vim
was on display at the Newport International Boat Show, a steady stream of yacht designers stopped by to check out the ways that tradition and innovation had been integrated into a pleasing whole. A heartfelt comment by a passerby summed the result up well: "That's the prettiest boat in the show!" Dave Getchell, Jr. is Associate Publisher of this magazine.
Share this article:
2023 Maine Boat & Home Show

Join Us for the Maine Boat & Home Show!
Art, Artisans, Food, Fun & Boats, Boats, Boats
August 11 - 13, 2023 | On the waterfront, Rockland, Maine
Click here to pre-order your tickets.
Show is produced by Maine Boats, Homes & Harbors magazine.