View from the Porch - Issue 128
Issue 128
By Peter Bass
Every now and then I catch myself envying friends who have retired and been able to adapt a seasonal home on the coast to year-round use. Should I have been able to do that, I'd like to think that some of the summer magic would carry over into the cold months, and I could keep some sort of a boat in the water for the odd pleasant winter day. Come spring, I would get a head start on the rusticators and be ready long before the high season arrived. Then I remember that for 30 years I lived within an easy drive of Boothbay and often visited during the winter to check for break-ins and various varmint antics. I also remember that once the ocean reaches its winter equilibrium there is little call to be on the water until early June. So I will leave the cottage on the point to its proper use: a few short months of family gatherings and the special sunny warmth that means more because it is so infrequent. Instead I have repaired to my winter porch where I can keep tabs on my native state without picking up a snow shovel.
Winds on the water
According to widely reported news, the Norwegian energy company Statoil has canceled its wind energy project off Boothbay. Statoil was the only bidder in 2010 when the Maine Public Utilities Commission went looking for an offshore wind project to support with ratepayer subsidies. The state Legislature, at Governor Paul LePage's request, reopened the process last summer. This resulted in a second proposal from a for-profit team, led by the University of Maine. Left with questions about Maine's interest in its project, which LePage opposed because of the above-market rate in its power purchase agreement, Statoil left the state. The U of M group, which is called Maine Aqua Ventus (get those old Latin textbooks out), has not negotiated a power purchase contract yet, so whether it will result in a better deal or not is yet to be seen. All we know is that we have traded one solo player for another. We don't know the rumors behind the news, which means we cannot enjoy one of our favorite porch pastimes: uninformed speculation. Perhaps the change in public policy simply provided a convenient cover for Statoil's exit for other economic reasons? That's our unfounded opinion, what's yours?
Over the bar
Watching the last America's Cup and noting the immense public interest in foiling catamarans that can hit speeds as high as 50 miles per hour made me think of how far we have come as a sport since the monohulls of the past, and the uphill battle for acceptance waged by multihull sailors and designers. Dick Newick, the designer and sailor behind much of the revolution, died at age 87 in late August.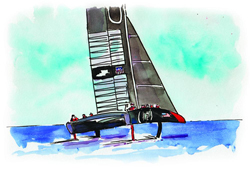 A little time spent on the Internet revealed a full life of adventure and innovation. I recommend trying to find the
New York Times
obituary of Sept. 15, 2013, which puts his many contributions into the context they deserve. I was left with two nuggets to carry around: first, that he embraced reincarnation and believed he was an ancient Polynesian boatbuilder in a previous life; second, his quote about boat speed: "People sail for fun, and no one has convinced me it's more fun to go slow than to go fast."
Doublespeak exposed
One often-used trick of political speech is to describe a lessening of the rate of increase in spending as a decrease. Politicians seem to think that if we are not climbing the stairs as fast as we were last year that we have started going down. This peculiar logic has jumped into the global warming debate in the form of an interpretation of a slower rate of global warming in the 2000-2010 decade as a reason to discount global warming. It's sort of like telling a state trooper that you weren't speeding because the last ticket you got was for 50 mph over the speed limit and this time it was only 40.
Long hair was not in style at the Naval Academy… A word from an officer enabled hospitality to trump hairstyle.
Philip Conkling's column in a November
Working Waterfront
  ("What is that seahorse doing in my trap?") noted how quickly some elements of the media reported that a decrease in the rate at which temperatures were rising was evidence that we didn't need to worry about it anymore. He then went on to describe many measurements and anecdotal evidence in Gulf of Maine water temperatures that belie such a conclusion. Not only is the water warming, but it is also rising. On the porch we started singing the 1970s tune by Shango: "Where can we go, when there's no San Francisco? Better get ready to tie up the boat in Idaho."
Slow and frivolous
Illustrations by Ted Walsh
Billing itself as the "Moped Death Race 2013" and taking place in an undisclosed location (did anybody see Dick Cheney?), a group of motorsports enthusiasts found an old industrial site and enjoyed the under 50cc version of Fast & Furious. The
Bangor Daily News
reported on the event, recorded by videographer Troy Bennett. Unlike the Fast and Furious, however, there seemed to be a distinct lack of gorgeous women hanging off the drivers. As noted in the video and accompanying article, the top speed of 25 mph may not attract any big names, but there were crashes (no injuries) and lots of fun. The growth of the sport may be hindered by the secretive nature of the event and lack of sponsorship opportunities. Clearly, a commissioner needs to be appointed to ensure that the participants have insurance, proper equipment, and hundreds of pages of rules. Stay tuned.
Spare the tape, spoil the child
In November a Surry school bus driver chose an unusual method to control noisy children in her charge, and for a four-day period put duct tape over the mouths of the offending youngsters. As you might expect, the school administration took a dim view of this and promptly suspended the driver, who has not been identified pending an investigation. Thinking it was part of a game, the students did not report it right away. The fact that the tape had "Hello Kitty" designs may have contributed to the innocence on the part of the students. The story appeared in a mid-November edition of the
Ellsworth American
. I have authorized the investigative staff of View From the Porch to stay on this case for future updates. As a parent I would have called for the driver's head on a pike.
Collegial sailing
The Maine Maritime Academy sailing team had a tough regatta at the annual McMillan Cup at the U.S. Naval Academy this fall, but they did take home a few decent finishes and some valuable big boat, 'round-the-buoys experience. I was keen to read the account in the
Ellsworth American
since I sailed in a McMillan Cup myself in 1971. My college team had qualified for the regatta and had a solid team with the Cup just a week away, when one member came up with an inconvenient academic probation and a replacement was needed. They cast about for another student who knew which way a line went around a winch and who didn't mind missing a football game. I didn't have a date for the weekend and the winch question was a 50/50 shot so I got the job. Ultimately we didn't finish well, but we had valuable life experiences. We learned not to bet too many post-race rounds at Marmaduke's (the sailors' bar in 1971), and that long hair was not in style at the Naval Academy, particularly with the stewards in the dining hall. "We aren't going to serve those hippies," was the comment I recall. A word from an officer enabled hospitality to trump hairstyle.
Buns away
My editor sent me a press release regarding a nifty new product for the alcoholic swimmer, Lazy Bunz. This is a piece of closed-cell foam shaped like a large diaper, which the floating sloths amongst us may straddle and remain in an upright position whilst quaffing beverages floating nearby on the aptly named Lazy Bar. It reminded us of the floating island of adult beverages which we reviewed some years ago. (Of course you remember!) Pool toys are getting so sophisticated these days. Lazy Bunz come in a variety of bright tropical colors to help lifeguards identify the exact spot the wearer was last seen floating, or in the event they are used in Maine, the last position before hypothermic unconsciousness. The release also invited me to drop by their booth at the Ft. Lauderdale Boat Show; I did attend but somehow didn't make it to their tent. There were, after all, a few boats to look at.
Know when to hold 'em
A couple of Maine coastal towns have purchased local pieces of land to ensure continued public access—always good to hear. Many coastal communities have had traditional access to the water through the benevolence of private landowners, access that is often lost when the property passes out of a family and a new owner asserts the privacy to which he is entitled. The
Working Waterfront
alerted us to two instances recently, one proposed and one a done deal. Hancock is exploring the purchase of a boatyard that has provided a ramp and storage space for recreational and commercial vessels, and the option for the owners to haul and work on their own boats, an increasingly rare privilege on the coast. Southport residents had a meeting in August to explore the purchase of a popular beach and adjoining house on Hendricks Head, then they voted to spend $1.25 million to do it. The town concluded the deal in October. No government gridlock there. As I write this, we have had standard time for a few weeks. As you read this, we will have gained back the hours lost to the Winter Solstice and can look forward to the return of daylight time March 9. Whatever the season, let's celebrate all that is wicked good in Maine. In that vein, if you don't have the Wicked Good Band's Facebook page in your news feed, add it now so you won't miss the fun to come. A word to the wise is sufficient. And to the WGB, with the additional two viewers this mention will get you, you will have gone viral.
Two months ago you closed the house Packed the boat and headed south. Left New England, then the Sound Southbound with the hammer down.
We like our coffee brandy We praise the whoopie pie Some claim a taste for Moxie Although I don't know why.
Though we travel other places And even live a while In warmer spots that get too hot They just don't have the style.
Like Arnold, "Ah'll be bahk" To my rocker steady A good Maine ale in hand Feet up, binoculars at the ready.

Long-time
MBH&H
Contributing Editor Peter Bass hopes that his review of the Lazy Bunz product won't prevent the manufacturer from sending along a set of four with Lazy Bar for field testing, and tickets to sunny South Florida to achieve a fair test. To submit your comments... newsy tidbits, photos, illustrations, clippings, rants, and raves for possible use in this column, use the form below. Or mail to "View From the Porch," P.O. Box 566, Rockland, ME 04841 or fax to 207-593-0026. Items may be edited for length and clarity; materials become the property of Maine Boats, Homes & Harbors, Inc.
Share this article:
2023 Maine Boat & Home Show

Join Us for the Maine Boat & Home Show!
Art, Artisans, Food, Fun & Boats, Boats, Boats
August 11 - 13, 2023 | On the waterfront, Rockland, Maine
Click here to pre-order your tickets.
Show is produced by Maine Boats, Homes & Harbors magazine.