The Hunt for a Bigger, Better Boat
A diagnosis-inspired quest for the perfect boat to entertain family & friends
By Joe Upton
Photos courtesy Joe Upton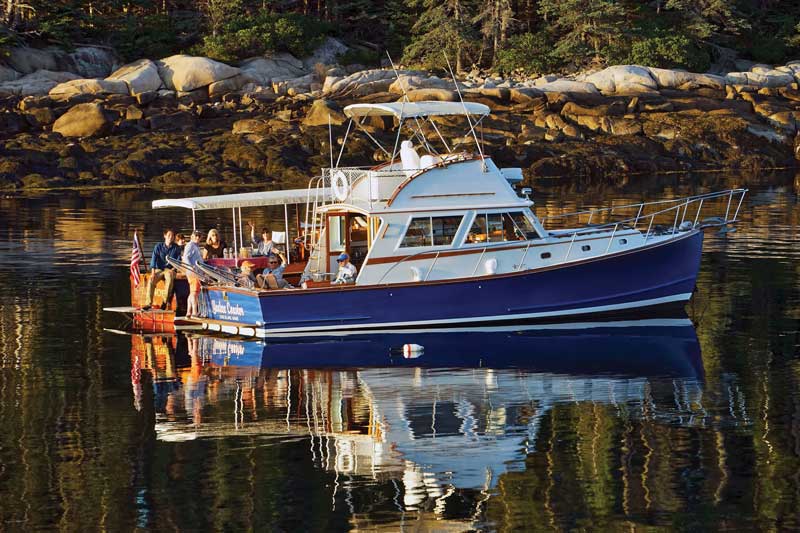 The author and his wife celebrated their purchase with a neighborhood raftup and dinner at Sand Cove on Greens Island.
January 2021: the setting was the cancer ward (prostate), me pushing my IV pole around, my catheter bag tied to it with a blue rubber glove, trying to keep my gown closed. I was thinking: "Hmm: things can change quickly in this life of ours. So if we wanted to get a boat big enough to take our grandsons (ages 5 and 7) overnight, sooner is better than later."
Our zippy 26' twin outboard C-Dory knockoff (MBH&H Issue #141) had been perfect for my wife and me for six years: speedy, beachable, kayaks on top, sleeps two, galley, head, cockpit chairs for four. But I yearned for bigger and, yes, slower—something like my old Alaska fishboats, with a place to stand with your coffee, chart on the table, autopilot doing the honors.
So the search began for a downeast-style boat, single screw, 36 feet or smaller, no genset, less than $200,000, New England location. When you narrow it down that far, you don't get many hits, but right off the bat we found a sweet looking 1984 Wilbur 34 flybridge in Rhode Island, with the original 3208 Cat engine. We got really excited about it—the price, $125,000, and the location were right. We live in Washington State, but planned to use it out of our cabin on Vinalhaven Island, Maine. Luckily a friend, ex-boat broker David Hooks, volunteered to drive down from Marblehead and check it out. "You'll have to completely revarnish the interior," came the report. "If a yard does it, it'll probably be $15,000 or more." Not what I wanted to hear, plus the engine was almost 40 years old. So we took a pass.
Next was a 1990 34-footer from a Mount Desert Island boatyard. The photos looked great and just what we wanted: repowered, thruster, flybridge, anchor winch, dinghy and dinghy davits. The negatives were a genset (to me, the fewer systems the better) and this really weird stove that used alcohol and electric. But the boat looked so clean in the photos, that I made an offer, was accepted, and put money down, without even seeing it in the flesh. The only wrinkle was that it was March and the boat was hauled out and covered up, so we planned for survey and sea trial in May. 
We got excited about that one, especially the fresh engine. The boat was in Norwalk, Connecticut. We arranged for a survey one day and the sea trial the next. But after five minutes aboard, it was obvious that this wasn't the boat for us; the galley was small and dark, the engine room was really cramped.
Then at the end of May another Wilbur 34 popped up, a real cream puff: rewired, replumbed, Cat 3208TA totally rebuilt with new parts, new Awlgrip, bow thruster, Dickinson diesel heater, always kept inside, upgraded up the ying yang. Not ideal: the galley was down, and the salon didn't even have a table, but it was in the Northeast and it was available. There were some issues: It was in New Brunswick, Canada, and the whole province was locked down due to COVID-19, plus the owner was off cruising in his new boat and wouldn't close until after Labor Day. It was way up the St. John River, and getting her to Maine would require two paid skippers: one to bring her down the river and down the coast to St. Andrews, and then a second paid skipper with dual citizenship who could take it across the channel to Eastport, Maine. Oh, and it was at the top of our price range.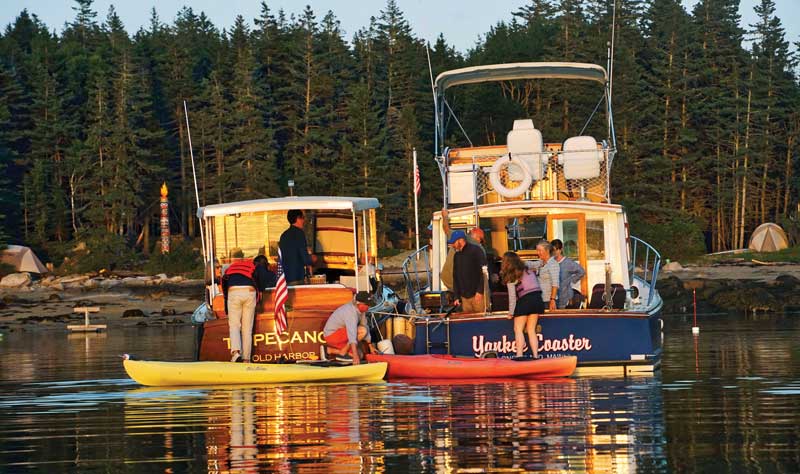 A couple of classy ladies: the author's Wilbur and neighbor Michael Imber's Tippecanoe, a 1926 Eldredge-McInnis.
But after the cancer diagnosis, we were determined have a boat that summer. So we started negotiating, and finally reached a barely acceptable compromise of $195,000 and a closing by August 8. It was way late, but the province was so locked down that the owner would have to quarantine for 10 days in a government facility if he wanted to come back to New Brunswick, and he was a Canadian citizen.
With some reluctance, we signed a purchase agreement, and paid a deposit, while all the time hoping that something would happen—the province would open its borders, the owner would agree to close sooner.
We did a video walkthrough and a survey concluding that the boat was indeed as advertised: a total cream puff. The broker suggested that if I accepted the survey the owner might want to close the deal sooner. So I signed off on that, assuming that if worst came to worst I could reject the boat at a sea trial. But at the same time we were checking other boat listings at least twice a day.
On July 7, another Wilbur 34, a 1982 flybridge, popped up with the features that we had been looking for all spring but never finding: a galley on deck and bunk beds. Plus it was in Portland, Maine, and very fairly priced at $130,000. We went to Portland to see it and, wow, it was totally perfect—that rare boat with few compromises. Its very conscientious owner had done many upgrades over the years including taking the engine out a few years earlier, replacing corroded parts including the oil pan and replacing the fuel tanks. It had the original 1982 engine but with only 2,500 hours. As my friend, boat broker David Hooks, told me, "Fishermen's engines wear out; yacht engines rust out."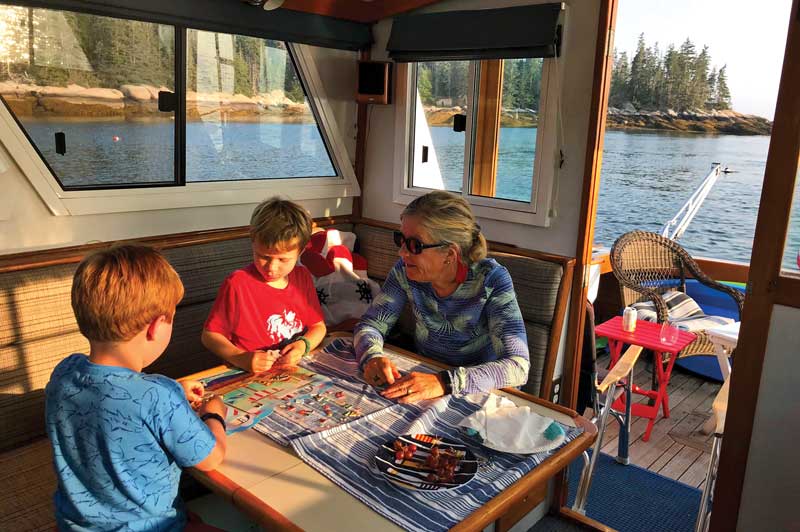 "Cruising with our grandsons made it all worthwhile," says the author about his new boat.
My wife, Mary Lou, and I were the first to view the boat, shortly after it was listed, and immediately made an offer. The owner had another interested party coming the next day, but said he would cancel the showing if I would raise my offer to $125,000 and just like that we had a deal. Luckily, broker Annie Gray had mechanic John Pride's number on her speed dial and was able to arrange an almost immediate sea trial. His associate Gil Heath came on the sea trial and essentially told us that the engine would outlast us. There were a few issues including deteriorated steel high-pressure injector lines that needed replacement. Fortunately, the owner agreed to pay, and Gray arranged with Pride to have the work done the very next day—now that's a broker earning her commission. We were thrilled.
There was however the potentially sticky issue of us having accepted the survey on the Wilbur in Canada and getting our deposit back. The sea trial wasn't scheduled until the end of July but I thought it would be best to let the seller know before then that we were going to reject the boat so that he could put it back on the market as soon as possible and probably still get it sold that year.
Big mistake.. the seller was unhappy that we would reject the boat and wanted to keep our deposit. This was getting ugly. Consulted with our son the maritime lawyer who was instantly in reprimand mode: "Dad check with me before you sign these things; we've been down this road before." He did have a point—a decade earlier we had purchased another boat in a complicated deal without consulting him and it was an expensive error. The next day I got a call from a friend of our sons, a maritime lawyer in Canada who reviewed the wording of the contract and explained what it meant: "You're screwed."
In the end we lost some of the deposit and hopefully a lesson learned: Always check with our son the fish lawyer. 
And when I ran it all past the Canadian Maritime lawyer, also a boater, what he said was a real balm: "Well if the other Wilbur is the perfect boat for you, losing part of your deposit is a small price to pay."
On July 16, with not so great a weather forecast—SW 20-25—we got under way from Portland Yacht Center in the late morning. Mary Lou had brought her knitting along with high hopes of finishing a sweater on the way back to Vinalhaven. (Spoiler alert: the knitting stayed in the bag.)
Turned out the weather was a bit nastier than forecast once we got away from the lee of the Casco Bay islands. The Coast Guard had to launch a chopper to pull three sailors out of the water 40 miles off Portsmouth, New Hampshire, after their 40' catamaran capsized.
We had a 6-8 foot southwest swell with a two-foot wind chop on top. The good thing was that it was on our stern quarter and we could pretty much keep at almost full throttle, rolling a bit more than I had anticipated. I hadn't really figured out the plotter, the sounder wasn't displaying for some reason, and there was too much wind up on the fly bridge to look at a paper chart. But it was a familiar route and we just stayed offshore, Seguin to Monhegan.
By 2 p.m. we were off Cape Small and the weather seemed worse. It would have been easy to find shelter up the New Meadows River and finish the trip in the morning.
But my wife had a commitment back on Vinalhaven, so on we went. It was rough enough that we just stayed up on the flybridge—we had to run up almost to the beach in the lee of Monhegan to be able to climb down the ladder and use the head.
And off Metinic, something seemed odd. The surf was booming 15 or 20 feet in the air at South East Breaker—very dramatic. But as far as I could tell there was nothing on the plotter until I zoomed way in and saw a barely noticeable "RK" notation. Note to self: give it a good berth.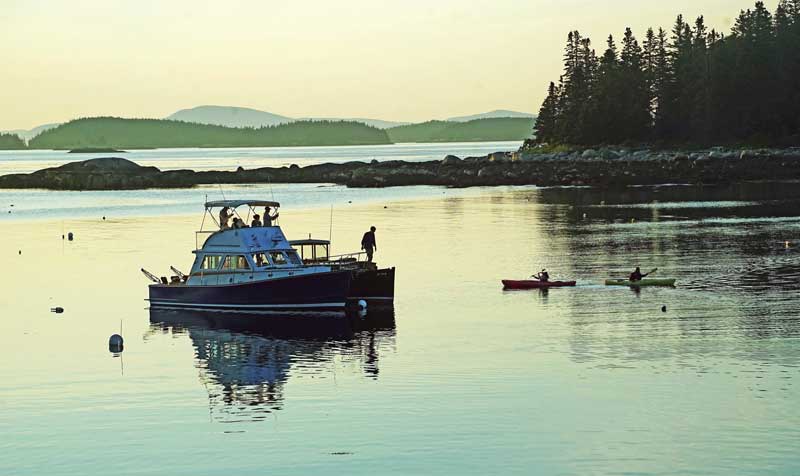 A perfect evening on Hurricane Sound as the kayakers return to the boat after a paddle.
Finally, in the approach to Vinalhaven, the sea died away and we picked up our mooring in Old Harbor on a warm and still late afternoon without any sign of the challenging conditions 10 miles south. Friends came aboard with margaritas and a new chapter in our lives began.  
---
Joe Upton's 1986 book Amaretto was republished in 2015 as Herring Nights: Remembering a Lost Fishery, by Tilbury House. He lives in Bainbridge Island, WA, and on Vinalhaven. 
Share this article:
2023 Maine Boat & Home Show

Join Us for the Maine Boat & Home Show!
Art, Artisans, Food, Fun & Boats, Boats, Boats
August 11 - 13, 2023 | On the waterfront, Rockland, Maine
Click here to pre-order your tickets.
Show is produced by Maine Boats, Homes & Harbors magazine.