Letters - Issue 113
Issue 113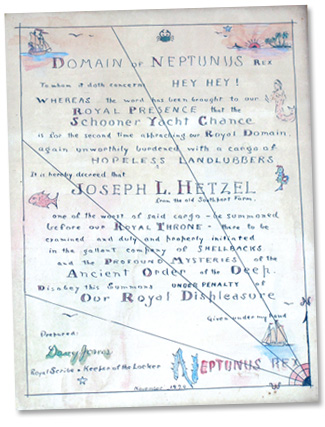 Neptunis Rex Certificate
Click on image to expand.
His Father Sailed on Chance
I finally got around to reading the back issues of this magazine I got at the Maine Boats, Homes & Harbors Show last summer. My jaw dropped as I read the review in the Winter 2010 issue, #107, of Edward H. Dodd's book
Great Dipper to Southern Cross
. My father, Joseph Hetzel, sailed on
Chance
, the boat central to the book, from Sydney onward as ship's doctor. He, too, had recently graduated from Yale. My sister, brother, and I each have treasures from his trip. My favorite is my father's shellback certificate [at left] dated November 1929. I also have a copy of an article by A. C. Brown about Chance in
The Rudder
; it was pasted into the back of
A Course in Piloting, Seamanship and Small Boat Handling
by Charles Chapman. Judging by the pages of notes inside, I think it is the text my father used to study for the voyage.
Michael Hetzel
Brunswick, Maine
The Painting Drew Him In
I just read "In Search of the Charlotte C" in the Winter 2011 issue, MBH&H #112. I was first drawn to the article by the wonderful painting of the old lobsterboat in the shed. In my 25-plus years of cruising the Maine coast, I've wandered through many of these rapidly disappearing old structures (the J.O. Brown yard in North Haven comes to mind). Looking at the painting, I could almost smell the atmosphere. As an amateur author with a few published works under my belt, I recognize a good piece of writing when I see one, and Charlotte Cowan has created a beautiful vignette of her mother. Even with the name showing clearly on the lobsterboat's transom, I was too dumb to realize where she was taking me until she hit me with the punch line at the end, which immediately brought tears to my eyes. A beautiful story.
Joel P. Gleason
Marblehead, Massachusetts
According to the photographer, Jim Hooper, the "painting" is actually a series of digital photographs taken at different exposures then compressed into a single file. He wrote: "The 'illustrative' quality is due to the fact that the image's tonal range is greater than that of a single-exposure photograph." We love the resulting image, but confess that we don't fully understand the process either. —The Editors
Knockabout Knowledge
At last! Thanks to Art Paine's lyrical description of sailing a knockabout in the Winter 2011 issue (MBH&H #112), I now know why my father waxed equally poetic about the class. A Florida native and 1918 graduate of Harvard University and MIT, my father, Freeman H. Horton, taught me to sail in a succession of able wooden boats, ranging from an elderly Fish-class sloop, through a Penguin-class dinghy, and finally, to my own boat, Lightning #2990. But he always wished for, and never found, a knockabout—a boat I suppose he must have sailed as a college student in New England. I hope someday I can realize what he and Mr. Paine appreciate about the knockabout type by sailing one. But if I never do, at least, thanks to
Maine Boats, Homes & Harbors
, and Art Paine's eloquence, I'll know what I missed.
Allan H. Horton
Nokomis, Florida
Alberg and the U.S. One Design
In reference to the article by Peter H. Spectre on Carl Alberg in the Boat Show Issue (MBH&H #111): He failed to mention that Carl had designed the U.S. One Design, which was a large class in Marblehead. I only know this because my father, Eugene T. Connolly, and Carl Alberg would get down on the floor of our library at home and go over the drawings for hours. Twenty-five U.S. One Design boats were built from 1945-1947. It was a lovely racing boat that originally sold for about $3,500. The overhang was not properly supported, thus most of the boats hogged with age. I am not sure if there are any in the water now.
Mary Lane Connolly Cairns
Marblehead, Massachusetts
Keeping Off the Rocks
I enjoyed "Three Encounters with a Line Squall" in the Winter 2011 issue (MBH&H #112) by W.R. Cheney, John Bryan, and Kent Mullikin—talented writers all. The stories brought to mind the time I took my sister out in a small wooden sailing dory of my own design and construction for an interlude that we both expected to be relaxing. Inland bodies of water in southwestern Idaho have very puffy winds shaped largely by air temperature and topography. Some of those "puffs" can become "walls of wind" and are capable of blowing a small boat like mine over. I've had dark water over the coamings while rounding up into the wind more than a few times. Sis and I, tucked into the cockpit between the fore and aft storage cabins, were having an afternoon sail. The two of us were talking and catching up with each other. The breeze had shifted from a morning catabatic to an afternoon anabatic and was beginning to build. The jib was still in its sail bag, and the main was to starboard as we ran before the breeze. I had not been paying full attention to the business of sailing. As we approached a basalt headland to port I noted with no little amount of concern that a significant puff was building behind us. I could see it on the water. I had gotten us much too close to that dark cliff face and became worried about whether we could come about or not. The wind had become stiff, and I knew that I should not attempt a jibe away from the rocks. So, as calmly as possible I told Sis that I planned to come about to port and that I would have to execute the turn very quickly so as to not run up on the rocks in that direction. White caps had built along a very short fetch across the water, and the wind was substantial. My sister was savvy enough to pull an oar out in the event she would have to fend us off the rocks. Fortunately, she didn't need it. I executed the turn, we came fully about, I put some distance between us and the rocks, let loose the halyard and stowed the sail. Our little boat and its occupants were well out from the rocks and safe. I then pulled out the oars and rowed us back to the launching ramp with the wind off my left shoulder. Sis's only comment as we were en route was, "That was
not
relaxing." I still chuckle at that.
Roy Heberger
Landlocked in Boise, Idaho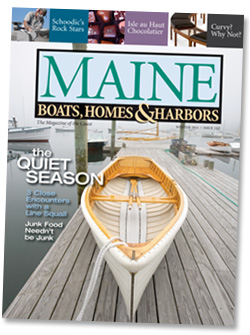 Issue #112 Corrections:
The full name of the skiff on the cover of issue #112 (shown at right) was the
Sadie Lewis Webb
, built by Richard Stanley, Great Harbor Boatworks, Southwest Harbor. In the same issue, we incorrectly said that furniture maker David Margonelli's work was influenced by the Quakers, when in fact it was influenced by the Shakers. In an attempt to depict the challenges of life on a remote island in our story on Isle au Haut's Black Dinah Chocolatiers, we gave the impression that there is "barely a store" on the island. In fact, the well-stocked Island Store is open seven days a week in summer and serves the local community off season as well:
www.theislandstore.net
. Oh yes, and we've been assured that packages are regularly delivered to Stonington by both UPS and Federal Express.