Pendleton Yacht Yard: New Wave
A classic design gets a new lease on life
By Art Paine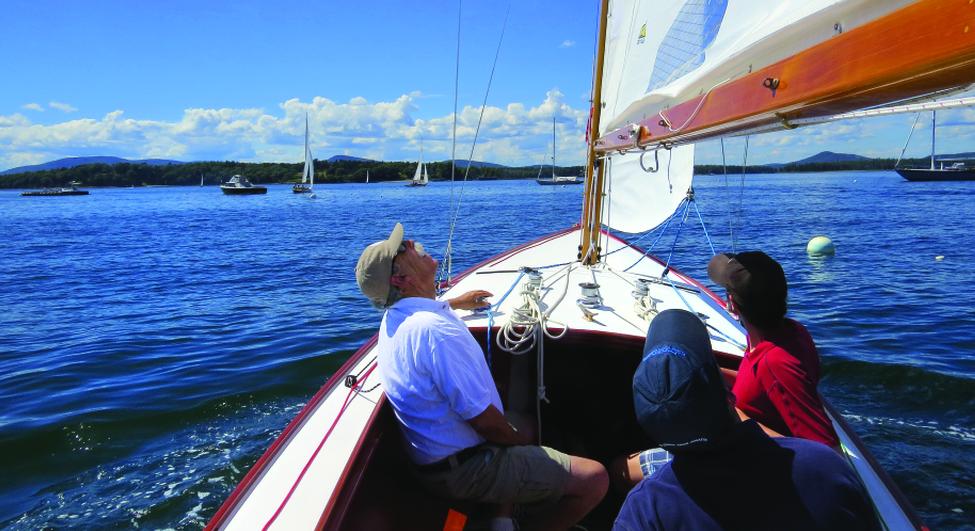 Every effort was made to ensure the fiberglass versions of the Dark Harbor 20 performed to the same standards as the original wooden boats. Courtesy Pendleton Yacht Yard Yacht clubs in Maine with aging fleets of wooden one-designs have been grappling with how or whether to introduce fiberglass versions of these classic boats. The Luders fleet on Mt. Desert Island is one, and, on Islesboro, the fleet of Dark Harbor 20s is another.
Fiberglass 20s, built by Shaw Yachts of Thomaston, Maine, were introduced to the Islesboro fleet several years ago, and recently Pendleton Yacht Yard on Islesboro has taken over the mold. The yard finished off fiberglass hull No. 5 this past year. 
Islesboro's Tarratine Yacht Club has been racing Dark Harbor 20s since 1936. Designed by Sparkman & Stephens, 21 of these sleek wooden boats were built between 1935-1942, and many have been raced off Islesboro every summer since. Eventually there was demand for a lower-maintenance fiberglass version. As with most fleets that add newer fiberglass versions, club members debated over how to guarantee even competition and commissioned S&S to do re-engineering.
The goal in developing the fiberglass version was to not only maintain the same weight, stability, and sailing characteristics, but also to preserve the classic feel of the existing boats while utilizing modern but conservative (low-tech) construction techniques.
Pendleton Yacht Yard weighed 11 different boats, soaking wet, in the fall of 2003. Then S&S Naval Architect Carl Persak spent several weeks documenting hull, keel, and deck geometry, testing construction materials, doing inclining experiments, and scale measurements of all the existing boats. Based on these measurements, S&S produced a detailed weight study confirming the weight, vertical and longitudinal center of gravity, stability, and righting moments of existing wooden boats. This study was the basis for the calculations of the 3D hull file for the fiberglass version.
Shaw Yachts won the contract to build a "preliminary" boat and three others. After many tests and analysis to confirm weight and performance, that first boat, now sail No. 23, was made available to TYC members for test sailing in 2004. In 2005, according to Gabe Pendleton, Shaw Yachts finished off the final three boats and they entered the TYC racing fleet.
Still, when the new boats started racing, one or two seemed to dominate. So one summer the club took the unusual tack of insisting that skippers sail each race in a different boat, including both wood and glass. The same person who'd been winning in his glass boat continued to win in whatever he sailed, according to Pendleton, showing the fiberglass and wood boats to be evenly matched. 
Pendleton Yacht Yard took over the mold used by Shaw in 2013 and started work on fiberglass hull No. 5 in 2014. Instead of starting from scratch though, the yard used parts from an older wooden DH20 (sail No. 10) that had been retired from the fleet, re-using the lead keel, deck house/coaming, tiller/rudder post, bulkheads, seats, spars, fittings, and original Lawley bronze castings. It still sails as No. 10. The result is a new fiberglass boat with the patina of age, even though Pendleton is quick to admit that it might've been more economical just to start from scratch. The new boat, named New Wave, made a conspicuous splash at the 2015 Maine Boats, Homes & Harbors Show in August. In an interesting twist, the yard used the left-over, old cedar planked hull to make a bar for a tasting room at a rum distillery outside of Boston.  
---
Contributing Author Art Paine is a boat designer, fine artist, freelance writer, aesthete, and photographer who lives in Bernard, Maine.
New Wave
LOA  30'2"
LWL  20'
Beam  6'6"
Draft  4'2"
Displ.  4,800 lbs.
Sail area  380 sq. ft.
Builder:
Pendleton Yacht Yard, Islesboro, ME
207-734-6728
www.pendletonyachtyard.com
Share this article:
2023 Maine Boat & Home Show

Join Us for the Maine Boat & Home Show!
Art, Artisans, Food, Fun & Boats, Boats, Boats
August 11 - 13, 2023 | On the waterfront, Rockland, Maine
Click here to pre-order your tickets.
Show is produced by Maine Boats, Homes & Harbors magazine.