Owls Head
Begin with a Bird's Eye View
By Mimi Bigelow Steadman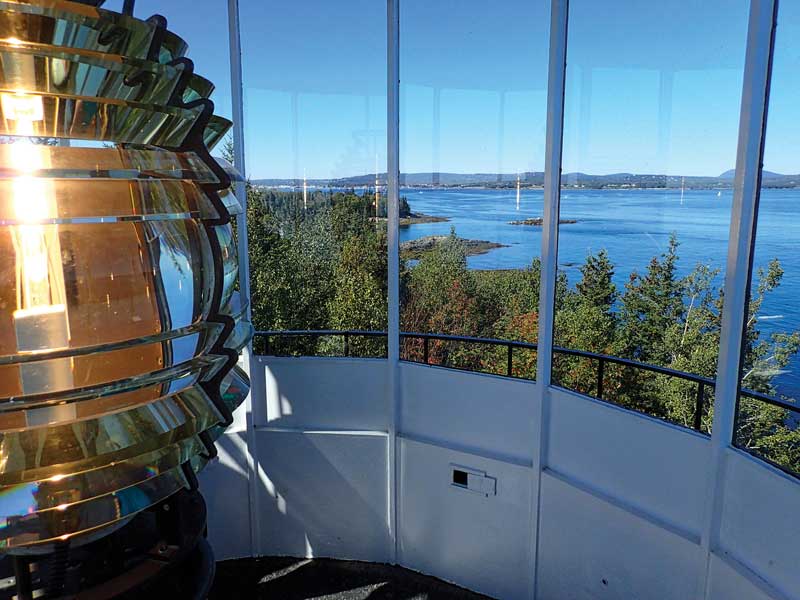 Owls Head Light's fourth-order Fresnel lens dates from 1856. Open to visitors in summer, the lantern room affords sweeping panoramas across Penobscot Bay to Vinalhaven and North Haven islands and Rockland. Photo by Rick & Mimi Steadman
I was standing in the small, glassed-in lantern room at the top of Owls Head Light, which crowns an 80-foot-high promontory at the southeastern rim of Rockland Harbor. In the clear, still, October air, Penobscot Bay looked like a glistening pond. The island of Vinalhaven and the monument on Fiddler Ledge that marks the western approach to the Fox Islands Thorofare—some 10 miles from the mainland—seemed only a dog-paddle away. Beyond the crest of North Haven, Cadillac Mountain rose like a pale blue thumbprint on the horizon.
On such you-can-see-forever days, it's easy to regard lighthouses simply as picturesque, romantic photo ops. Yet if you've ever searched for that dim, reassuring glow through the fog, you know how important they still are, even with GPS. The American Lighthouse Foundation, headquartered in the keeper's cottage at Owls Head, is committed to telling that story and to preserving Owls Head and 17 other New England lighthouses licensed to them by the government (the Coast Guard maintains the actual beacons). 
It's because of the foundation that visitors can now climb the 30-foot tower to enjoy spectacular seascapes as well as get an up-close look at the fourth-order Fresnel lens. (Located in Owls Head State Park, the lighthouse is open weekends, Monday afternoons, and Wednesday afternoons between Memorial Day and Columbus Day.)
Less than a mile from the lighthouse, Owls Head Harbor carves a notch into the peninsula. Even though it's home to a commercial lobstering fleet, Harbormaster Adam Philbrook told me, "It's an easygoing harbor." While there are no moorings designated for pleasure craft, he suggested it's usually okay to pick up a vacant mooring for a short visit (be prepared to move if the owner needs it). For anchoring, he recommended the southern end of the harbor, outside the mooring field and beyond a ledge. Ashore, you can tie up at town-leased dinghy floats on the northeastern side of the Ship to Shore Lobster Company wharf.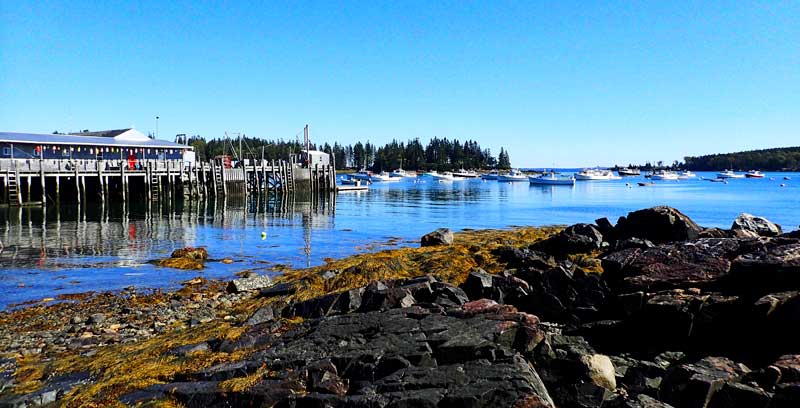 A commercial lobstering port, Owls Head Harbor also welcomes visiting yachts. Photo by Rick & Mimi Steadman
The town is working with Maine Coast Heritage Trust to combine two plots of land to create a small park, parking area, and dock, providing an ideal launching point for a paddle among nearby islands. The owners of Monroe Island, at the southern edge of the harbor, generously allow visitors to picnic (no fires) and/or explore a few unmarked trails, small beaches, and cliffs on the eastern side. To ensure that public access to this beautiful island continues in perpetuity, the trust is about halfway through a campaign to raise nearly $2 million to purchase and protect it. (To learn more and contribute, visit mcht.org or call David Warren at 207-522-9228.)
Just up the hill from the harbor, Owls Head General Store was until recently the home of the much-loved Seven Napkin Burger. After being for sale for some time, the store closed in November. Fans are now hoping a new owner will soon be serving up the behemoth burger piled with cheese, lettuce, tomato, onion, pickles, mustard, ketchup, and mayo. An equally satisfying lunch option awaits at the Salty Owl Café, tucked inside the terminal at Knox County Regional Airport. Specializing in crescent-shaped, empanada-like hand pies, it offers something you don't often find: really good airport food. 
A day in Owls Head isn't complete without a visit to Owls Head Transportation Museum, featuring a remarkable collection of antique aircraft and automobiles. And if it's a you-can-see-forever day, consider taking a "flightseeing" ride over the coast and islands with Penobscot Island Air. Be sure to ask for a fly-by of Owls Head Light as you head across that sparkling bay toward Vinalhaven.
---
Contributing Editor Mimi Bigelow Steadman lives on the Damariscotta River in Edgecomb.
Share this article:
2023 Maine Boat & Home Show

Join Us for the Maine Boat & Home Show!
Art, Artisans, Food, Fun & Boats, Boats, Boats
August 11 - 13, 2023 | On the waterfront, Rockland, Maine
Click here to pre-order your tickets.
Show is produced by Maine Boats, Homes & Harbors magazine.