Good Reads — Books on our Coffee Table
By The Editors
Art of Acadia
by David Little & Carl Little, Down East Books; 2016.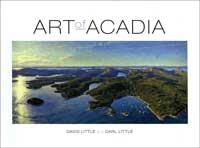 On the 100th anniversary of the founding of Acadia National Park, art critic (and MBH&H contributing editor) Carl Little teamed up with his brother, the artist David Little, on this gorgeous, comprehensive look at art inspired by Mt. Desert Island and Acadia. Organized chronologically, the Littles cover an amazing amount of ground, ranging from Native American birchbark work, to maps, hooked rugs, 19th-century artist rusticators such as Fitz Henry Lane, and on into the present. 
Carl and David cover gardens, social and cultural history, homegrown painters and famous people who visited the state. Some of the paintings will be familiar to people who know Maine art, but what makes this book so special are the many finds such as an 1850 drawing by Frederick Edwin Church of a fleet of close to 100 mackerel fishing smacks stretched across the horizon. Apparently Church saw the boats when he climbed to the peak of one of Acadia's several mountains. 
Simply put, this is a fabulous book for anyone who loves Maine, art, and history, with a special bonus for people who particularly like Acadia.
---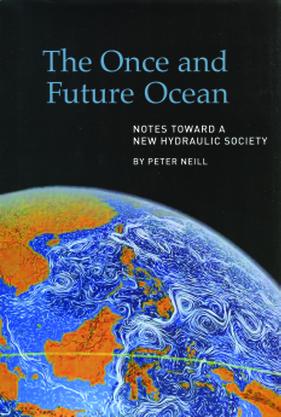 The Once and Future Ocean, Notes Toward a New Hydraulic Society
by Peter Neill; Leete's Island Books; 2016.
Peter Neill, founder of the World Ocean Observatory, takes a detailed look at the extremely broad topic of how to preserve the health of the ocean and its impact on climate, food, energy, health, and culture. He sees this book as a sequel to Rachel Carson's groundbreaking The Sea Around Us. It's not always
pretty reading but it's an important topic and Neill argues
eloquently for the cause of maritime sustainability.
---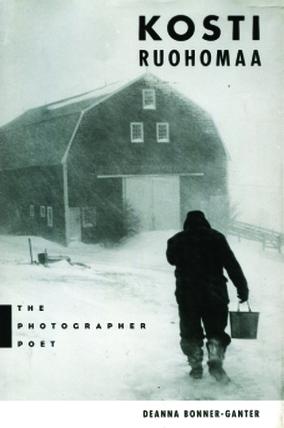 Kosti Ruohomaa, The Photographer Poet
by Deanna Bonner-Ganter; Down East Books; 2016.
Born to Finnish parents, Ruohomaa moved to Rockland, Maine, with his family as a young boy. After attending art school in Boston, he went west to work as an animator for Walt Disney before signing on as a photographer with the Black Star Agency, which represented him for the rest of his life. A regular contributor to Life, National Geographic, and other well-known magazines, Ruohomaa's passion was Maine and its people—haunting black-and-white portraits of people at work in the 1940s and 1950s, fishing, farming, and of the place, snow-covered barnyards and night scenes such as his iconic image of a steam-shrouded train stopped at the Wiscasset Station. You'll recognize many of the images. Now you can read the stories behind them and about the tortured soul who took them.
---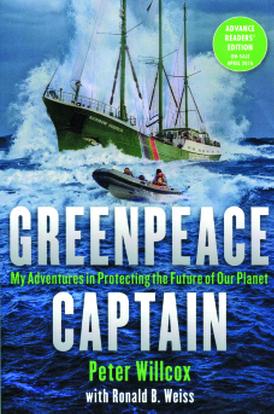 Greenpeace Captain, My Adventures in Protecting the Future of Our Planet
by Peter Wilcox as told to Ronald B. Weiss; Thomas Dunne Books, St. Martins Press; 2016.
From the opening description of being on a Greenpeace ship that was sabotaged by French agents while at the dock in New Zealand, this is a gripping account of a life of activism. 
Peter Wilcox began his career sailing on the Clearwater with Pete Seeger and has since spent over 30 years fighting for the environment as a Greenpeace captain. Wilcox, who lives on Islesboro when not at sea, made the national news in 2013 when he and his crew spent a couple of months in a Russian jail after being captured by Russian commandoes during a Greenpeace action in the North Sea. Whatever your opinion of Greenpeace, this is an entertaining, well-written story, well worth reading.
---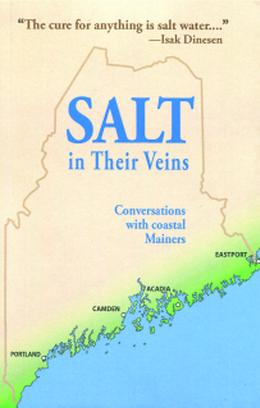 Salt in Their Veins
Conversations with Coastal Mainers, as told to Charlie Wing; 2016; self-published.
A Bowdoin College graduate who earned a PhD in physical oceanography from MIT, Charlie Wing worked as a research scientist before returning to his roots to teach physics at Bowdoin. He has written books about home building and marine-related topics, and helped start two do-it-yourself home-building schools. In this book, he travels along the Maine coast and talks to Mainers about their work, lives,  opinions about life in Maine, and anything else that comes up during the conversation. His subjects range from boatbuilders like Ralph Stanley and Richard Pulsifer to artists like the late Tom Crotty and Will Barnet with plenty of other characters in between. The interviews, transcribed in Q&A format, make for interesting if not always organized reading and provide a colorful snapshot of some of the many people who call Maine home.  
Share this article:
Digital Edition Available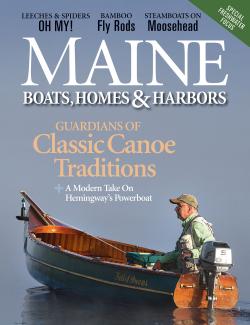 Can't get to the store to buy your magazine? We deliver the stories of Maine's coast right to your inbox. Sign up here for a digital edition.