Mainely Gourmet - Vignola, Portland
Vignola, the Old Port, Portland
By Letitia Baldwin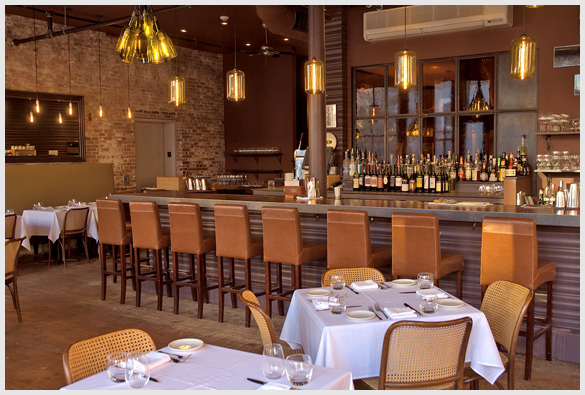 Vignola, in the Old Port, Portland.
Spring had come to Portland. The city's crab apple trees were about to bloom and shower some streets with their white, pale-pink, and carmine blossoms. The historic Old Port was starting to regain its nightlife after a Dickensian winter during which city dwellers negotiated the steep snow drifts that bordered the sidewalks and scuttled about the icy cobblestone streets and dark alleyways. At the corner of Dana and Wharf streets, a red-brick building with granite dressing its tall windows caught the eye. The facade was illuminated, revealing a lacy vine wreathing the exterior. It was only 5:00 p.m., but working folk were flowing through the front door, lured by the thought of wrapping their hands around a glass of Primitivo Puglia Luccarelli ($5.50), an Italian red wine similar to an American Zinfandel, or splitting an artisanal Belgian beer like Nice Chouffe ($16) to toast the end of winter. Loosely translated as "little vine" in Italian, Vignola is the latest "happening" place in Portland's dining and drinking scene. It was named after the village of Vignola in Italy's northeastern province of Modena. Its sister restaurant, Cinque Terre, housed in a former ship's chandlery a door away on Wharf Street, has won high marks for its northern Italian cooking from Gourmet magazine and the James Beard Foundation. (Cinque Terre is named after the rugged, mountainous stretch of coastline comprised of five ancient fishing villages in Italy's eastern province of Liguria.) Opened in 2006, Vignola was inspired by the osteria, an Italian institution where wine is the focus, but where one can also get a savory meal in a casual setting without fuss. It also is an enoteca, or wine bar, where one can sample from an extensive wine collection and get a bite to eat that complements the vintage or varietal being tasted. Lee Skawinski, who is executive chef at Vignola, was a chef for six years at Cinque Terre; previously he was at Boston's Four Seasons Hotel and the Harraseeket Inn in Freeport. He co-owns both venues—Cinque Terre and Vignola—with Dan Kary and Michele Mazur-Kary. The three had enjoyed the unpretentious air of osterias while traveling in northern Italy and thought the relaxed dining style would fit well in Maine. They also saw a niche for a late-night restaurant in Portland. Provisioning for two restaurants instead of just one, Skawinski and the Karys can afford to purchase whole cows, calves, pigs, lambs, goats, and fowl, enabling the kitchen staff to produce custom cuts of meat and make use of the entire animal. Through the seasons, Cinque Terre and Vignola also share the harvest of fresh fruit and vegetables from the restaurant-owned Grandview Farm north of Portland. The rest of their larder largely comes from farms elsewhere in Maine, including Rock, Harris, Stone Heart, Sunset Acres, and Laughing Stock farms. On a recent late night, people were happily dining and drinking alone at the mesquite-wood-topped bar where a youngish male bartender was talking animatedly about having been downhill skiing in Europe. Other diners were scattered about the big, airy dining room. The oversized windows, exposed brick walls, and raw granite casings made for striking decor. Chandeliers made from crudely cut-off green wine bottles hung like upside-down bouquets above the tables. The dining room was a little drafty when we visited, but the fine wine and food warmed us up. One could make a meal of a steaming bowl of creamy cauliflower soup, made with potatoes and root vegetables, and served with crostini and extra-virgin olive oil ($7), and roasted Maine rabbit served on a bed of greens and organic carrots, and topped with crispy ricotta cheese ($11). Among the other light offerings are prosecco and sweet onion soup with Asiago-cheese crostini ($6.50), and organic spinach with herb mustard vinaigrette, a sunny-side egg and duck rillette on brioche ($9). Vignola also serves Neopolitan-style pizzas cooked in the restaurant's own stone oven. All the pizzas are made from Italian flour, San Marzano, artisanal cheeses, and Sicilian oregano. Sample the Vignola ($10), made with Italian buffalo mozzarella and basil, with an exotic microbrew like Lion's Stout from Sri Lanka ($16) or Douchese de Bourgogne ($16). For a more substantive meal, the veal Milanese made with Harris Farm veal and served with arugula salad and pepperonata relish ($19) or grilled scallops with truffled lentils, pancetta, greens, and balsamic aioli ($22) would be good choices. Entrée portions appear small, but side dishes are meant to be ordered separately. The latter are $6 each and range from roasted fingerling potatoes with pancetta and rosemary butter to grilled polenta with Porcini mushrooms, thyme, and Reggiano cheese.
Letitia Baldwin, a freelance writer, lives in Gouldsboro, Maine.
Information:
Vignola, 10 Dana St., Portland, Maine. 207-772-1330. Open seven days a week for dinner, 5 p.m. to midnight. Lunch is 11 a.m. to 2:30 p.m., Thursday-Saturday. Sunday brunch is 10 a.m. to 2:30 p.m. Entrées (without side dishes) $16-$28. For more details, visit
www.vignolamaine.com
.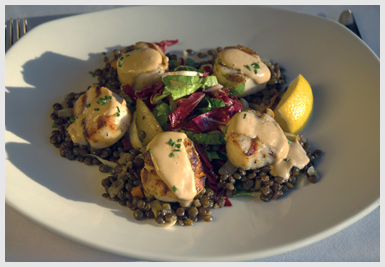 Grilled Scallops with Parsnips and Microgreens Salad.
Grilled Scallops with Parsnips and Microgreens Salad
4 large parsnips, peeled and diced 1/2 onion, julienned 2 cups milk 1 Yukon gold potato 8 large sea scallops 3 Tbsp. olive oil, divided 1/2 lemon, juiced 4 oz. microgreens (or the smallest mesclun available) 1 tsp. balsamic vinegar salt, pepper Gently simmer parsnips, onion, and milk until tender, purée. Boil and purée potato. Fold two purées together and season with salt and pepper. Heat grill (or sauté pan) for 20 minutes to a medium-high temperature. Season scallops with salt and pepper, and dress with 2 tablespoons olive oil. Cook evenly on all sides until firm. Dress microgreens with a dash of olive oil and juice of 1/2 lemon. Place purée in center of plate, place scallops to each side, and finish with microgreens. Drizzle olive oil on plate and add 1 teaspoon balsamic vinegar on top of oil. Serve.
Share this article:
2023 Maine Boat & Home Show

Join Us for the Maine Boat & Home Show!
Art, Artisans, Food, Fun & Boats, Boats, Boats
August 11 - 13, 2023 | On the waterfront, Rockland, Maine
Click here to pre-order your tickets.
Show is produced by Maine Boats, Homes & Harbors magazine.