Fledgling - Stalking the Wild Willet
Stalking the Wild Willet
By Marie Malin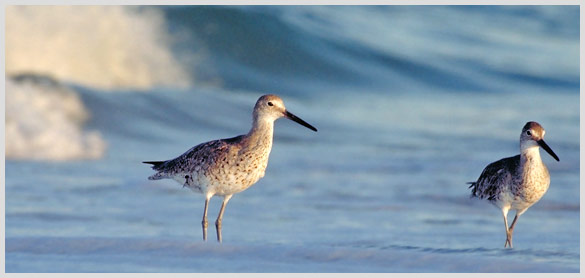 Willets, photo by
Peter Weber
I could never be a field biologist, or at least not a respectable one, because every time an animal surprises me, I scream. Recently I spent the morning looking for willet nests in Scarborough Marsh. My husband, a research biologist, and his colleagues at the BioDiversity Research Institute in Gorham are collecting eggs from various bird species along the coast. They plan to test the eggs for the presence of 192 different toxins. I was happy to tag along. Taking a cue from my husband, I dressed carefully in cargo pants, a raincoat, and rubber boots. I soon found out that the boots do little to keep my feet dry, when I bumbled into a knee-high sinkhole. Ever the eager student, as we crunched along the Eastern Trail toward our destination—a panne-rich area teeming with birds: willets, swallows, ibis, and more—I asked the biologists what a willet nest looks like, so I would know what to keep an eye out for. "What's my search image?" I inquired, trying to impress them by using the scientific term for what an animal has in mind when it's hunting for prey. "Not sure," they shrugged, and kept walking. I slowed in my tracks. "But, but—how will I find one if I don't know what it looks like?" "You'll know it when you see it." That shut me up. A few minutes later I was rustling through damp spartina grass that instantly soaked through my cotton pants (further proof that I could never be a field biologist—I wear cotton). But the grass was lovely, strung with dew-laced spider webs that quivered even in the still, pre-rain air. "How do you find something if you don't know what it looks like?" I mused to the swallows as they swooped silently overhead, their green backs flashing. I schussed along a narrow path between ditches dug by early settlers to irrigate their fields, cringing each time my boot crunched on dry grass, afraid it might be an egg. Dragonflies zoomed up from the wet grass as I passed. As a soon-to-be theology student, I should have been right at home seeking the unseeable, but isn't field biology supposed to be the realm of the concrete, the pursuit of questions that actually can be answered? But I knew that the willet nests must exist, because the willets themselves were there, calling "kyaah yah," and flashing their black and white wing stripes around me. But what do the nests look like? Suddenly, I screamed. A tannish gray form exploded upward three feet in front of me, screaming "kleeliilii, kleeliilii." I stopped dead, riveted with respect for the wild creature I had disturbed. "Look around," my husband called from a few hundred feet away. "You've found a nest!" I had? But I didn't see one. Afraid to step in any direction, I twisted one way and then the other, scanning the spartina—but there was nothing. I bent down closer to the ground, water sloshing in my boots. I noticed the designs in the silvery green grass, blown this way and that like a little boy's hair after a day on a boat. I felt and heard the first few drops of rain begin to fall. I sucked in the deep, rich smell of life decaying into new life. Suddenly I sensed space within what looked like a solid clump of grass. I leaned and gently pushed aside the top, revealing a hollow and a subtle indentation that cradled four off-white, brown-splotched eggs. Suddenly, the sky opened and soaked me from head to toe. That nest was the only one we found that day. Of course, for the sake of science, I wish we had found more, but a part of me was secretly thrilled that I, the cotton-clad neophyte who screams, found the only one. Later, as I squelched proudly through the grocery store wondering if anyone was thinking that I was a real biologist, I realized my morning's lesson applies to a lot more than searching for willet nests. How do you find something when you don't know what it looks like? Slow down. Enjoy the wonder around you. Stop trying. You'll know what you're looking for when you see it.

Marie Malin is a freelance writer and editor who lives in Falmouth. She is currently pursuing a Master's of Divinity at the Portland campus of Bangor Theological Seminary. A graduate of the College of the Atlantic, Marie was the communications coordinator at Maine Audubon for six years. In addition to Maine Audubon's journal Habitat, which she edited, her articles, essays, and poems have appeared in Maine Boats, Homes & Harbors, Maine Times, and Down East. Marie loves to surf, hike, and get lost on Maine's back roads.
Share this article:
Digital Edition Available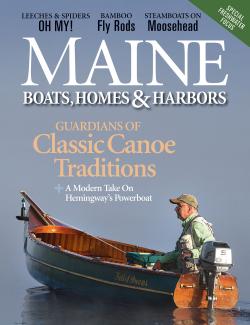 Can't get to the store to buy your magazine? We deliver the stories of Maine's coast right to your inbox. Sign up here for a digital edition.