In the Land of Legends
Fishing in the Rangeley Lakes with ghosts of the past
By Robert J. Romano, Jr.
Photographs by Patricia Romano
There are ghosts beside the rills and runs splashing down the sides of these slopes thick with spruce and balsam. They linger along the tannin-stained pools of rivers that meander through the shadows of this conifer forest. I've heard their rustlings in the still of a summer evening while walking barefoot along a deserted cove, caught movement at the edge of a fog-soaked pond as I cast my flies at dawn. 
It's been nearly 30 years since my wife and I drove down the logging road along the shoreline of the most western of the chain of lakes that comprises the Rangeley Lakes Region of western Maine, turning into our camp for the first time, our infant daughter nestled beside our black Labrador. Since then, we've come to appreciate the rich sporting tradition of this part of the state that has earned its nickname as The Land of Fishing Legends.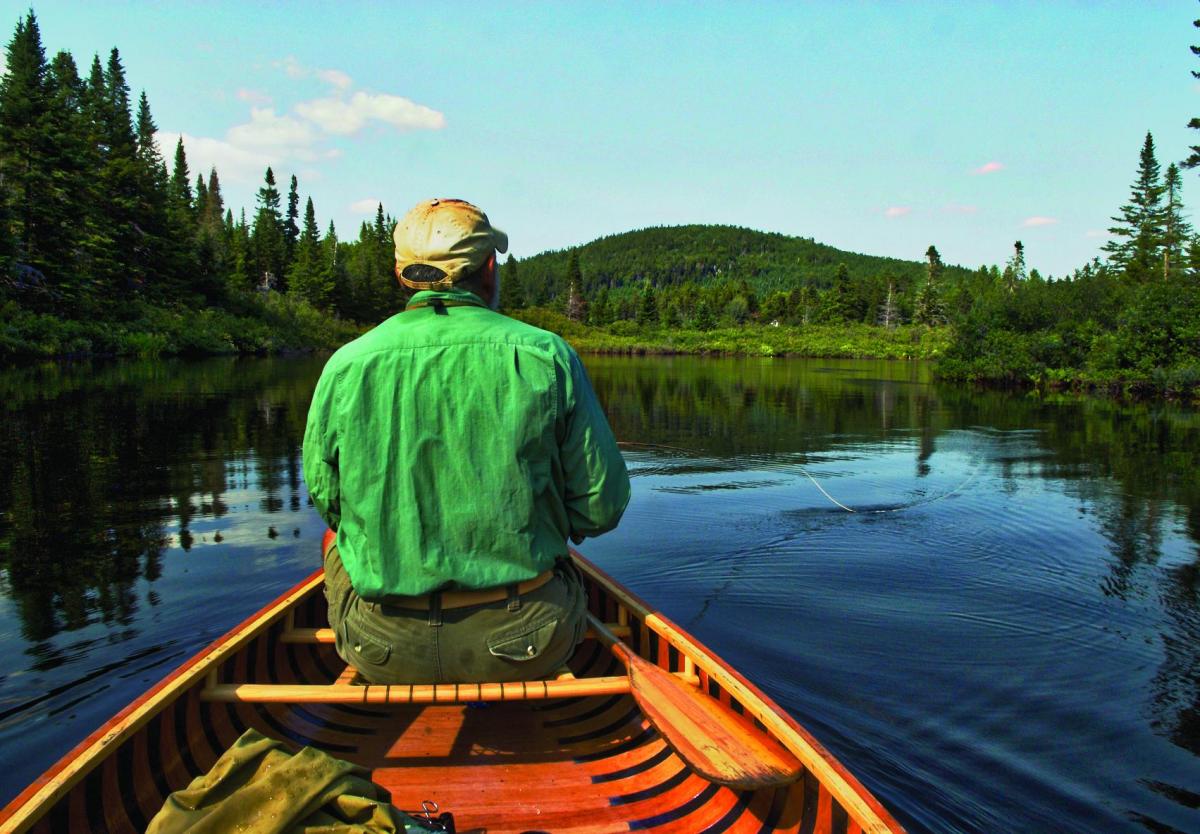 The Rangeley region's rivers and streams are ideal for fly fishing from a canoe, while providing the opportunity to gaze at an eagle, hear a beaver slap its tail, or wait with anticipation as a moose breaks through the brush. Here, the author casts his fly on the river above Little Kennebago Lake.
Before purchasing our cabin, Trish and I stayed at Bosebuck Mountain Camps, one of a number of traditional sporting lodges found within the seemingly endless forest that stretches south past Quebec's Boundary Mountains and north from the White Mountains of New Hampshire. Birch, poplar, oak, and maple combine with pine, spruce, and balsam to shelter tiny streams that slip across the border with Canada and then expand into larger rivers that connect vast bodies of water. Some retain their Abenaki names—such as Umbagog, Aziscohos, Cupsuptic, and the largest of them all, Mooselookmeguntic Lake. Others—Upper and Lower Richardson and Rangeley—are known by their English names.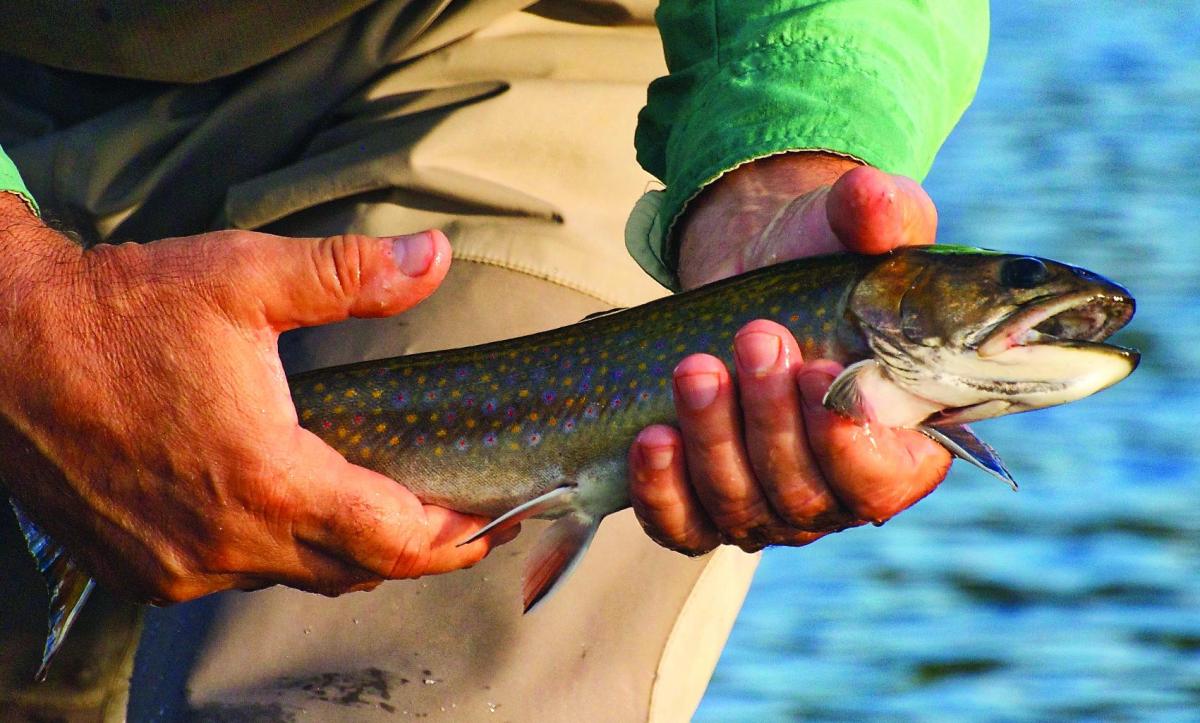 The author returns a brook trout to the Magalloway River. Native to Maine, brook trout, some as large as you'll find south of Labrador, have drawn anglers to the region since the 1800s. Like many lodges in the region, Bosebuck was built in the early 1900s and caters to men and women wishing to fish pristine waters, hunt abundant game, or simply to tramp through the unspoiled woodland. 
My wife and I were newly married that first time we made the nine-and-a-half hour trek from our home in New Jersey to the lodge that at that time was owned by Tom Rideout, a Master Maine Guide, known throughout the region. Unaware that we would soon own a cabin along the opposite shoreline, Trish and I pulled in beside the rough-hewn boards of the camp's main building, the windshield of our first-generation Isuzu Trooper coated with pollen, and its hood with dust from the 45-minute drive up the logging road that swings around the western edge of Aziscohos Lake. 
A fly fisherman, I was in search of trophy brook trout, a fish native to Maine, and landlocked salmon, those fish that leap through the surface to dance on their tails upon feeling the prick of a hook. 
Smelt, the baitfish that replaced blueback trout as the principal food source, keep the brookies and salmon fat and happy. Sixteen-inch fish are not uncommon while trout as big as an angler can imagine are still found in deep pools with iconic names like Little Boy Falls, Cleveland Eddy, Warden's Pool, Stump Pool, Pond-In-The-River, and the waters below Middle and Upper Dams.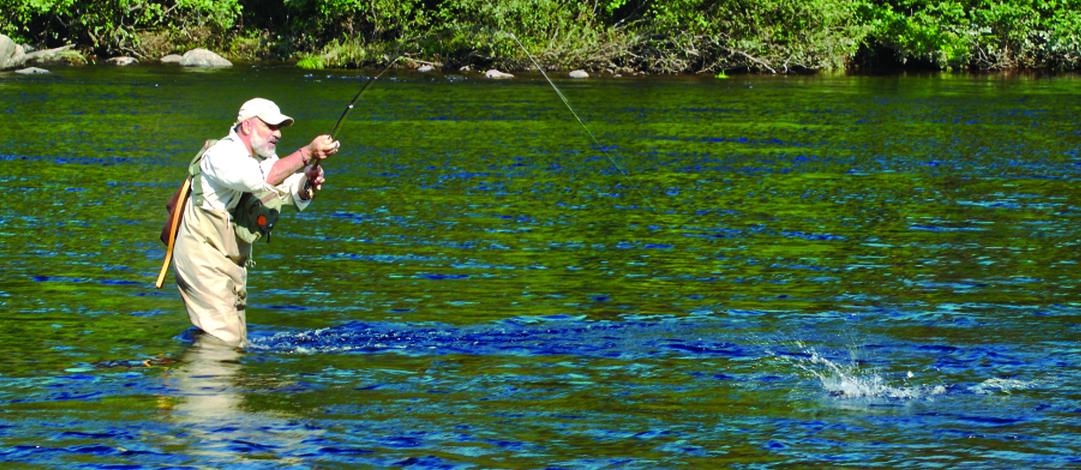 Whether wading smaller streams or larger rivers, the angler has the opportunity to cast a fly to the region's brook trout or landlocked salmon. We purchased our cabin in 1987, then until now paddling over the region's ponds, motoring across its lakes, and wading the rivers and streams. Although hiking well-marked trails has its benefits, we more often choose to bushwhack through the forest just to see what we can see.
This land of shadowy swamps and sparkling lakes, thunderstorms and rainbows, deadfalls and painted trilliums is frequented by sudden spates and fierce squalls, the salmon in its big lakes preferring those blustery days when wind-swept waves break over a boat's bow. Although his scenes depict the Adirondack Mountains, Winslow Homer's art comes closest to capturing western Maine's primitive beauty, as do the watercolors of the contemporary artist John Swan, whose family has owned a camp on Big Kennebago Lake for three generations.   
Although a hard land, western Maine holds the promise of trophy fish from May through September. Beware, however, two of these rivers are to be taken seriously. Beginning at its outlet below Middle Dam to its confluence with Umbagog Lake, the Rapid is a brawling take-no-prisoners affair, falling 120 feet in only three miles. To its west is a short mile-and-a-half stretch of the Magalloway River. To paraphrase a recent movie title, this section of the Magalloway is "no river for old men," as it sweeps out from below the Aziscohos dam and forms rapids that can humble the most experienced angler.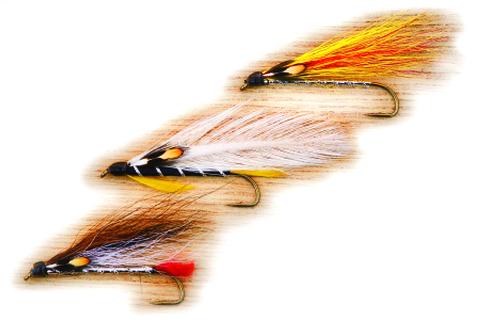 Bill Thompson, owner of North Country Angler in North Conway, NH, tied the Mickey Finn, Black Ghost, and Blacknosed Dace, traditional streamers used to imitate baitfish favored by the region's trout and salmon. Unlike the unbridled current of these bruising waters, the upper portion of the Magalloway River, as well as the Cupsuptic and Kennebago rivers meander through hummock-covered marshes and are best fished at the beginning or end of the season when the water temperatures are cooler. Then there are the smaller streams and brooklets, many without names, where behind each boulder and under every plunge pool there is a brook trout, some as small as a finger, each as bright as a lupine and as brash as a pup. While casting flies to these unrefined fish you can feel the presence of those who once waded the same water, treaded the same trails.
Fossils found when Aziscohos Lake was drained for repairs on its dam confirm that more than 10,000 years ago ancestors of the Abenaki tribes hunted caribou here. In the 1870s, John Danforth, a young trapper, was one of the first white men to explore the wild country through which the upper section of the Magalloway River flows. 
As time went on, others made their mark catering to those wishing to spend time under the sweeping branches of spruce and pine. The preeminent guide of his time, Wallace Stevens worked out of his camp located below Upper Dam. In 1920, his wife won second prize in a fishing contest after catching a brook trout in excess of six pounds with a streamer of her own making. An article published in Field and Stream Magazine described the event and propelled Carrie Stevens and her streamers to national prominence. Her many patterns continue to be used today to catch fish measured in pounds rather than inches.
Well-known decoy carver, and good friend of Wallace and Carrie, Charles "Shang" Wheeler spent the fishing season at Upper Dam where he wrote The Ode of White Nose Pete, a poem about a legendary brook trout that some say continues to break leaders and steal flies.
Set in the 1930s, Louise Dickinson Rich's classic book, We Took To The Woods, depicts her life with husband Ralph, along the rugged and isolated Rapid River. Today you can spend a long weekend at the "Winter House," the one-room cabin that Louise insisted Ralph build beside their rambling summer residence known as Forest Lodge, where, with their son, Rufus and dog, Kyak, they remained warm from first snow until ice-out. 
Yes, there are ghosts in these hills surrounding the lakes, rivers, and streams of this Land of Fishing Legends. While paddling up the Little Magalloway River, scan the rocky outcropping known as Wheeler's Dam and you might glimpse a line of Paleo-American hunters carrying their stone-pointed spears. Sit with me for a while beside this campfire and you might see the shadow of young Johnny Danforth hiking up the side of Big Buck Mountain with a rifle slung over his shoulder, a brace of rabbits clasped in his hand. Tomorrow we can drive down the logging road to Upper Dam, where you can cast a streamer, but be on your guard, lest White Nose Pete snatch another fly, his dorsal fin breaching the surface as he leaves your line limp. 
Oh, and if, like Trish and me, you decide to spend the night at Louise and Ralph's Winter House, don't be concerned if you hear scratching at the cabin door. It's only Kyak looking for a handout.     N
---
Robert J. Romano, Jr. and his wife Trish have maintained a camp in the Rangeley Lakes Region for nearly 30 years. His book of essays about the region, Shadows in the Stream, includes illustrations by Trish. He has also written three novels set in western Maine. Visit forgottentrout.com for more information.
Share this article:
Digital Edition Available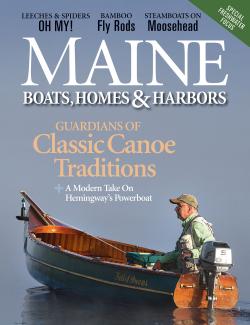 Can't get to the store to buy your magazine? We deliver the stories of Maine's coast right to your inbox. Sign up here for a digital edition.