Thrilling Sailing on a Flying Fifteen
By Ben Emory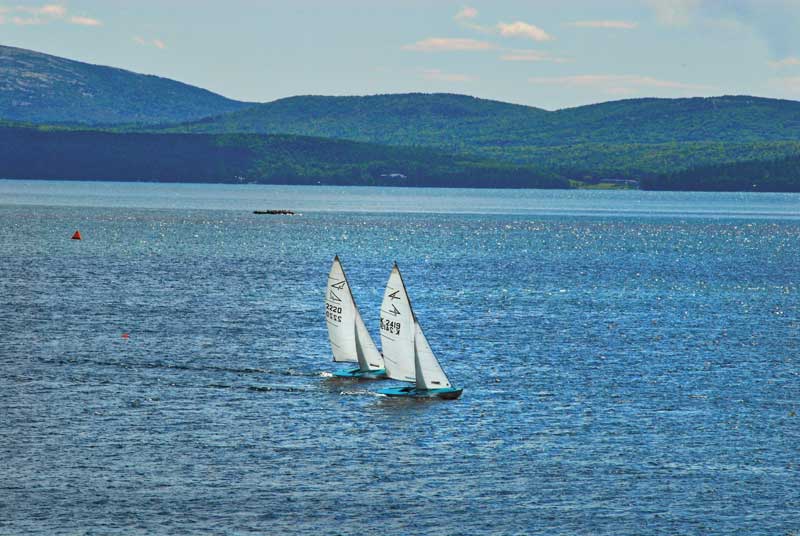 Mount Desert Island provides a dramatic backdrop for a pair of Flying Fifteens. Designed by Uffa Fox, the fast-planing keel boats have been described as daysailing sports cars. Photo by Lucy Hull
For the most fun per dollar I've spent, one sailboat with which to enjoy Maine's waters has exceeded all others: the Flying Fifteen.
English designer Uffa Fox, in his book Sailing Boats (George Newnes Limited, 1959), related that while lazing in his bathtub he conceived the design and sketched it on a handy magazine. An enthusiast of the exciting performance of the International 14 dinghies, which are centerboarders, he sought similar thrills for older sailors in a boat that would not capsize. He succeeded. Today, the on-line Flying Fifteen blog trumpets this high praise: "Flying Fifteens—The Most Fun You Can Have With a Keel On!"
Under a rig similar to that of the International 14s, Fox created one of the early planing keel boats by giving the Flying Fifteen a long, light, narrow hull with shallow, flattish sections, a fin keel, and spade rudder. Long-ended, the waterline length is 15 feet, the overall length 20 feet, and the draft 2 ½ feet. The beam is 5 feet. The boat weighs approximately 700 pounds, 400 of that being the keel.
About 4,000 Flying Fifteens have been built since the class appeared in 1948, and new boats are still available. Early boats were wooden, some built by amateurs. The vast majority are fiberglass. With multiple builders over the years and Uffa Fox's authorization of some changes in original specifications, the boats are not all identical. Polyester fiberglass has been supplanted in recent years by vacuum-bagged epoxy E-glass foam construction and carbon. Visually obvious are the variations in cockpit layouts and rigging hardware. An earlier boat I sailed had much more weather helm than the 1976 boat I own. Today, early boats are called "Classics," later boats are in the "Silver" fleet, and the newest are "Gold," but older boats remain permitted to race with newer boats tricked out with the latest go-fast gear.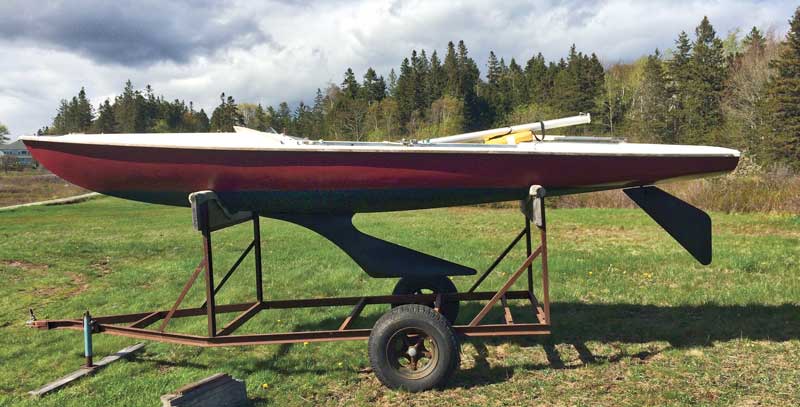 The author's boat out of the water shows the design's unusual keel shape and swept-back spade rudder. Photo by Ben Emory
To my knowledge, Maine has the only fleet in North America, at Sorrento on Frenchman Bay. But after they were introduced, Flying Fifteens became widely popular across the then British Commonwealth, spurred by Britain's Prince Philip, who was an avid racer. Today a web search finds active class associations in England, Ireland, France, Belgium, Spain, Hong Kong, Australia, and New Zealand. Their popularity in Frenchman Bay began when an enthusiastic sailing couple bought one, and then an extended family nearby opted for a family fleet. Various members of the Sorrento Yacht Club saw the boats, were smitten, and brought quite a few more to local waters.
Flying Fifteens had been sailing in Sorrento for about 30 years when, in the mid-1990s, I bought one and moved it to Brooklin, not to race but to use as a "sports car" daysailer. I only paid $2,500 for the fiberglass boat and its trailer and have maintained it myself since. On Eggemoggin Reach it continues to thrill me with its ability to move in zephyrs, and take off in a breeze. In smooth water the low freeboard and the unusually intense wh-i-sh-sh of the bow wave enhance a wonderfully rewarding sense of speed.
Usually alone, I cannot hold the boat down as well as a racing crew of two.  Fortunately, the overlapping jib rolls up quickly, and a Flying Fifteen sails exceptionally well under just the mainsail. Nonetheless, without the weight of a crew member, a stiff summer breeze can be overpowering even when I'm leaning way out with only my toes under hiking straps keeping me on the boat. I keep abreast of wind forecasts, and when in doubt, I sail a heavier boat.
Uffa Fox's design for the fin keel is startlingly eye-catching, although my boat's relatively wide pointing angle while making considerable leeway suggests the keel's hydrodynamic efficiency could stand improvement. The cast iron fin has a very short chord at the top, getting longer with depth as it rakes aft until it merges into the bulb at the bottom. More weight on the windward rail keeping the boat flatter in a breeze would help, but for my non-racing purposes the sagging to leeward makes little difference.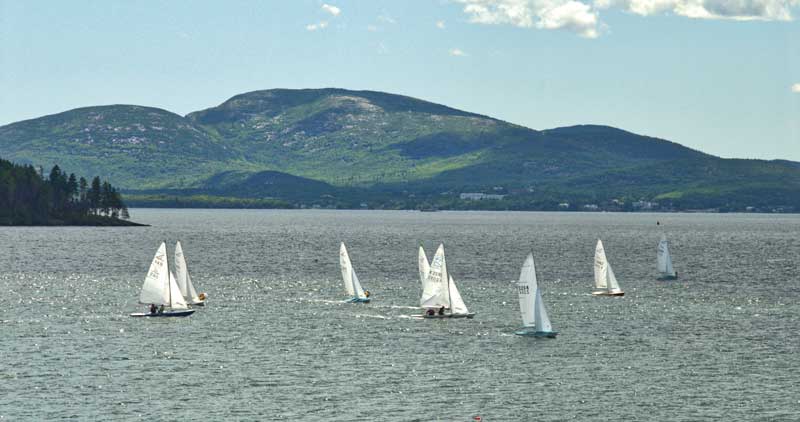 Sorrento, Maine, was home to an active racing fleet of Flying Fifteens for many years. This photo shows the fleet in its heyday. Photo by Lucy Hull
Flying Fifteen racing in Sorrento eventually petered out. But about 20 years ago my youngest daughter, Chafee, creative and entrepreneurial, determined to revitalize the racing by adding to the fleet. While briefly working in London after college, she scoured England for used Flying Fifteens. She sent two container loads carrying eight or nine boats and trailers across the Atlantic, and had some success selling them to people in the Sorrento area. But she was unable to revive the active racing fleet.
I asked Chafee why she became so interested in Flying Fifteens. Her answer captured their essence. She liked them because having keels, not centerboards, they were sporty boats suitable for Maine's dangerously cold water. Back when Uffa Fox designed them, that was unusual, but in the years since many more such designs have appeared.
Indeed, there are sporty alternatives now, but why switch? Ever more cognizant of the crucial need to avoid wasting our planet's resources, I like to use and enjoy what I have, especially when it is so satisfying.  
---
Ben Emory splits his time between Salisbury Cove and Brooklin, Maine. His book Sailor for the Wild—On Maine, Conservation and Boats was recently published by Seapoint Books.
Share this article:
2023 Maine Boat & Home Show

Join Us for the Maine Boat & Home Show!
Art, Artisans, Food, Fun & Boats, Boats, Boats
August 11 - 13, 2023 | On the waterfront, Rockland, Maine
Click here to pre-order your tickets.
Show is produced by Maine Boats, Homes & Harbors magazine.