American Impressionist:
Childe Hassam and the Isles of Shoals
By The Editors
When Childe Hassam stepped off the ferry onto the rocks of Appledore Island, he found the place that would occupy his imagination for three decades. There he created a body of work that remains a pinnacle of American impressionism.
The Peabody Essex Museum in Salem, Massachusetts, will host the first exhibition in more than 25 years to focus on this work, on view from July 16 through November 6, 2016.
The Isles of Shoals are a group of small, rocky islands lying in the Gulf of Maine six miles off the coast of Portsmouth, New Hampshire. The exhibition features more than 40 oil paintings and watercolors dating from the late 1880s to 1912, offering a sustained reverie on nature, the pleasure of painting, and a rapturous sense of place and color: a celebrated island garden with its gem-like flowers, dense thickets of bayberry wedged in granite crags, and the dark ocean breaking against rocks and swirling in tidal pools. Comfortably ensconced in a rambling resort, waking to bright sun and Atlantic breezes, the artist gave himself over to painting en plein air. 
The exhibition is the result of an unprecedented collaboration between geologists, marine scientists, and curators that has led to new discoveries about Hassam's paintings and artistic practice. 
The Peabody Essex Museum and the North Carolina Museum of Art, Raleigh, organized American Impressionist: Childe Hassam and the Isles of Shoals. Carolyn A. and Peter S. Lynch and The Lynch Foundation provided generous support. The East India Marine Associates of the Peabody Essex Museum also provided support.
FMI: www.pem.org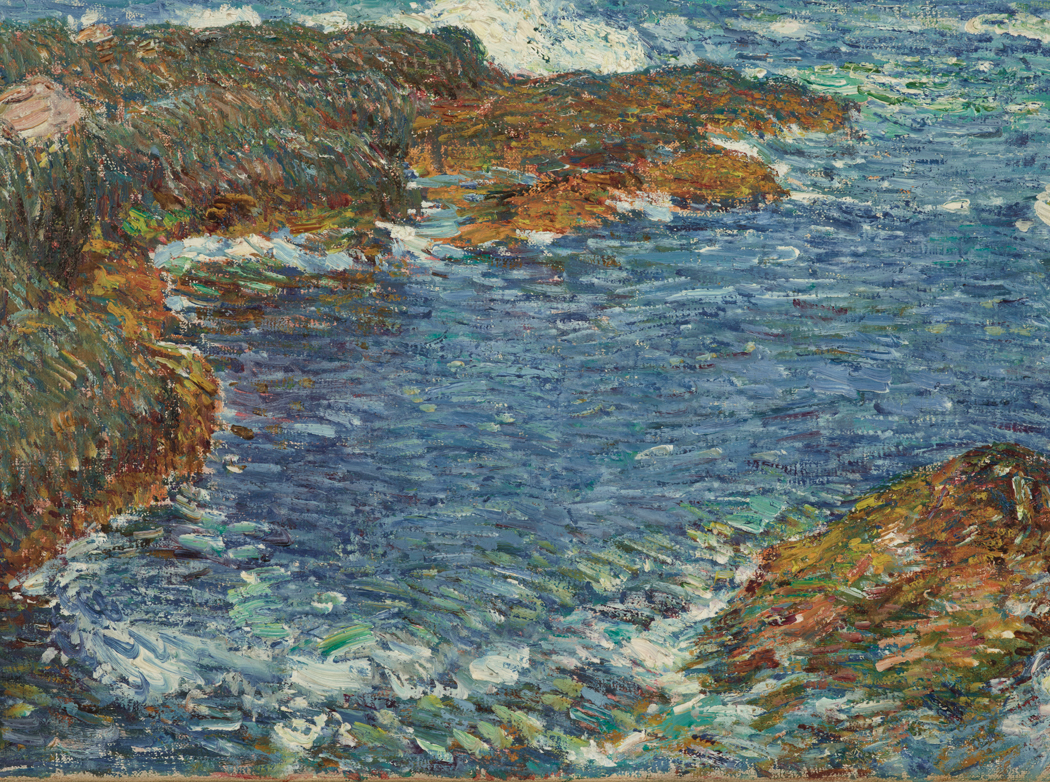 detail Childe Hassam • Isles of Shoals • 1907 • Oil on canvas
19.5 x 29 .5 in. (49.6 – 75 cm)
North Carolina Museum of Art, Raleigh, Promised gift of Ann and Jim Goodnight
Childe Hassam • Moonlight • 1892
Oil on canvas, 18 x 22.5 in. (45.8 x 57.2 cm)
Private Collection • Photograph by Alex Jamison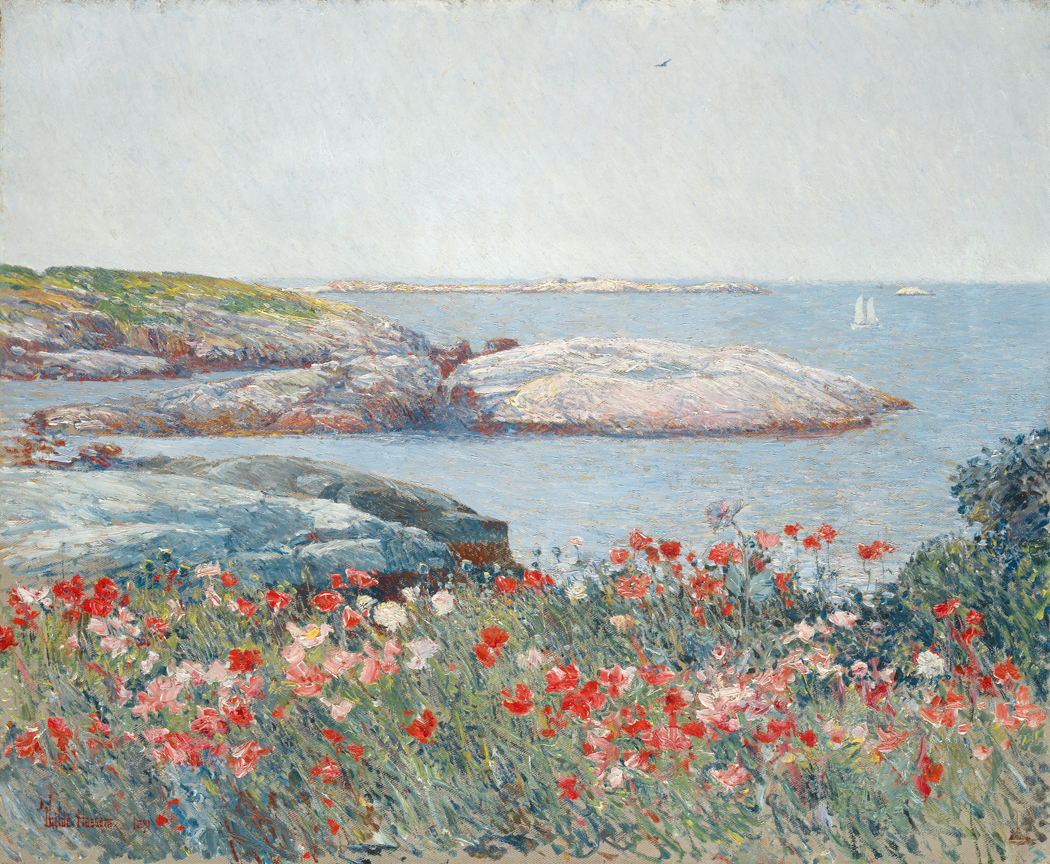 detail Childe Hassam • 1859 - 1935, United States
Poppies, Isles of Shoals, 1891 • Oil on canvas
overall: 50.2 x 61 cm (19.75 x 24 in.) framed: 73.5 x 83.8 x 6.7 cm (28.94 x 33 x 2.63 in.)
Gift of Margaret and Raymond Horowitz • 1997.135.1
Courtesy National Gallery of Art, Washington D.C
Childe Hassam • Isles of Shoals • 1912
Watercolor on paper • 12 x 18 in. (30.5 x 45.8 cm)
Private Collection • Photography by Jesse Boles
The West Wind, Isles of Shoals • 1904
Oil on canvas • 15 x 22 in. (38.1 x 55.9 cm)
Yale University Art Gallery, Bequest of Sinclair Lewis to the Collection of American Literature, Beinecke Rare Book and Manuscript Library, 1952.25.1
Share this article: