Rolling on the River
Exploring the Kennebec
By Mimi Bigelow Steadman
Every once in a while, it's good to go in a new direction. On a sunny Saturday last June, we did just that, leaving the coast behind and pointing the bow up the Kennebec River.
Fortunate to have the use of a friend's 21-foot Padebco that can easily do 35 knots (we chose 25 for sightseeing and fuel economy), we covered an impressive amount of ground. After zipping down the Damariscotta River to the sea, we turned west and traced an arc around Ocean Point. Boothbay Harbor lay to starboard as we approached Townsend Gut, where we slipped beneath the bridge. Once across the Sheepscot River, we breezed by Riggs Cove (Robinhood), bore to starboard, and entered the narrow Sasanoa River, the "Inside Passage" between Boothbay and Bath. Strong currents boiled around us as we powered against the tide through Lower and Upper Hell Gate.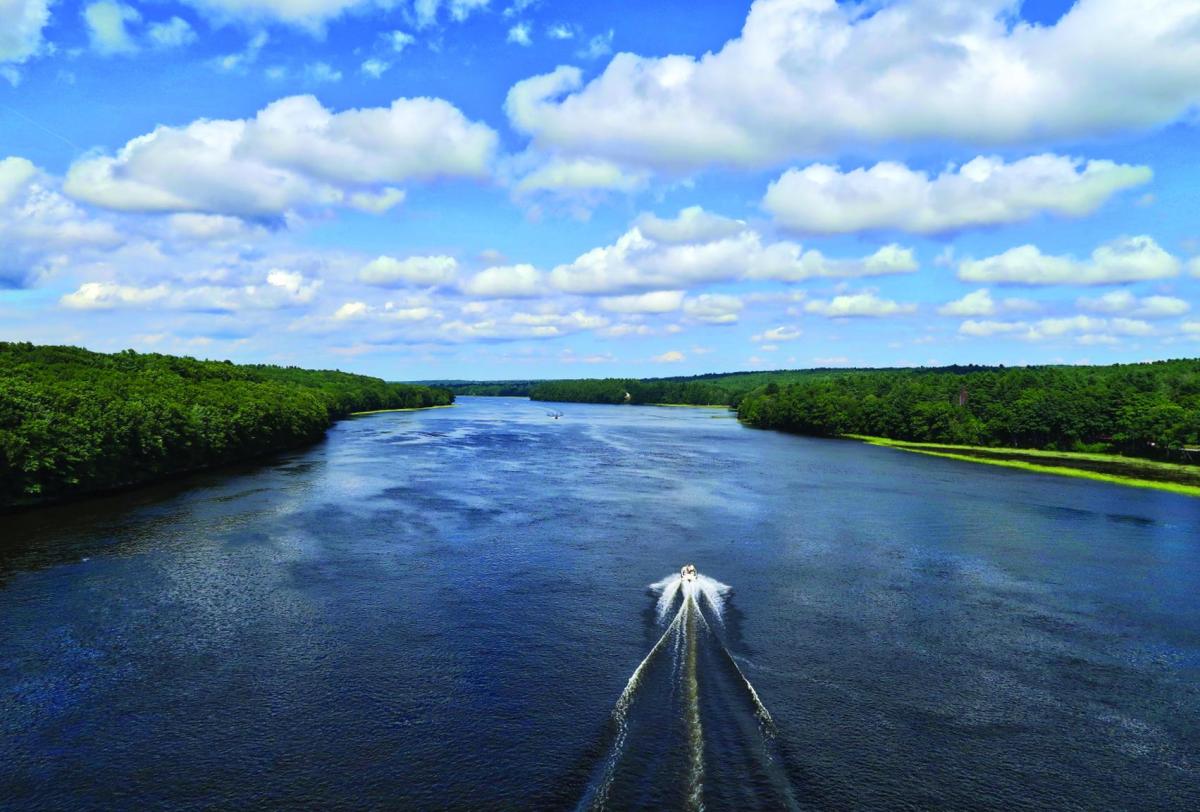 North of Bath, the Kennebec River flows through verdant countryside, along the edge of Merrymeeting Bay, around the Swan Island wildlife preserve, and past charming riverfront towns dating back more than two centuries. Shown here is the upriver view from atop the bridge connecting Richmond and Dresden. Photo by Mimi Bigelow Steadman
After passing under the bridge to Arrowsic Island, we arrived at the Kennebec—and I gasped. Looming before us were not one, but two Zumwalt-class destroyers under construction at Bath Iron Works. Glimpsing the 610-foot behemoths while driving over the Bath bridge hadn't prepared me for seeing them up close, from water level. Their immense size and angular, futuristic shape—resembling giant submarines topped with pyramids—bowled me over. What amazing work they do at BIW!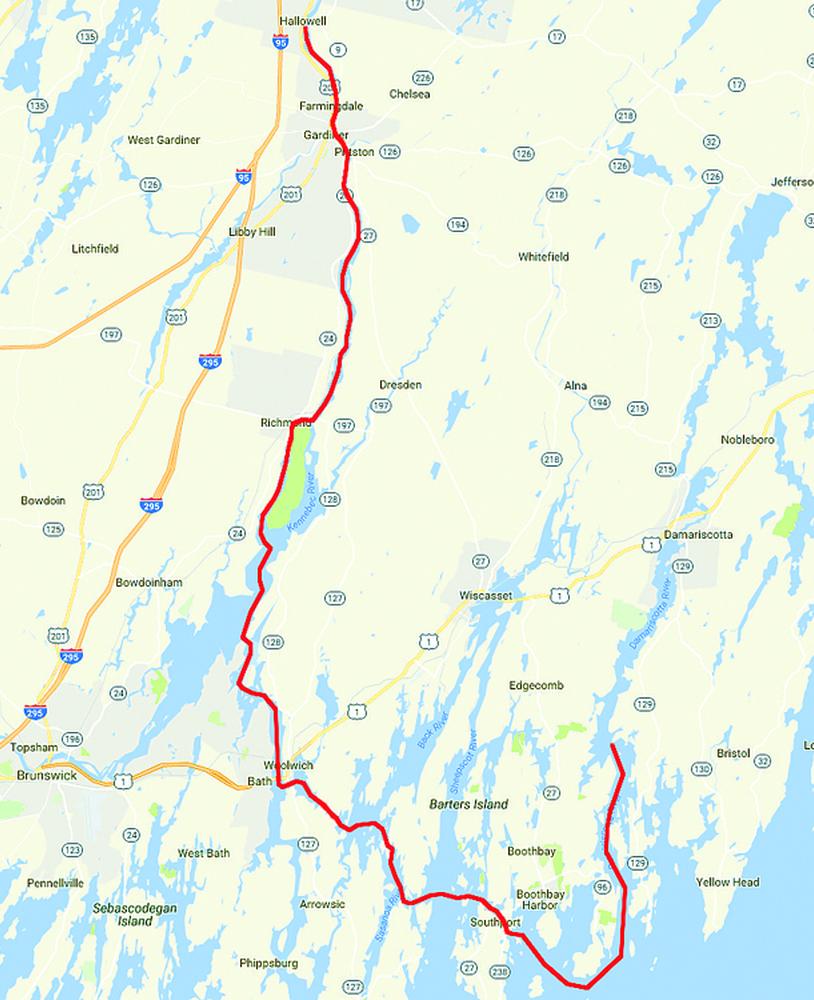 A trip from the Boothbay region to Bath via the Sassanoa River, and then up the Kennebec River to Hallowell, offers an appealing alternative to a cruise along the coast. It's important to pay close attention to all channel markers in order to avoid frequent shallows, rocks, and ledges. The tide is also a concern. In the Sassanoa, an incoming tide meeting the river's outflow can create daunting whirlpools. In the Kennebec, going with the tide rather than against it is always advisable. Map data ©2016 Google
We motored under the Bath bridge and north to broad Merrymeeting Bay, formed by the confluence of the Kennebec, Androscoggin, and four smaller rivers. The largest freshwater estuary system north of the Chesapeake, its wild-rice-filled marshes draw massive flocks of migratory birds and provide breeding grounds for Canada geese, ducks, herons, and other waders. More than 60 bald eagles also live here, and several of the locals soared above and watched from the shallows, keeping a true eagle eye on us as we went by.
A few minutes later, we were treated to a seemingly jet-propelled water ballet. A gray-and-white sturgeon measuring two feet or longer leapt several yards into the air, turned on its back, and slammed into the water. Then we saw another hurtle skyward, and another. Scientists theorize the loud splashing is a means of communication. To me, the sturgeons' acrobatics communicated the sheer joy of freedom.
Near the top of Merrymeeting Bay, we threaded our way between the mainland and four-mile-long Swan Island, rich with wildlife and graced with a handful of 1800s-era structures, remnants of a long-abandoned township. Maine's Department of Inland Fish and Wildlife, which manages the island, prohibits landing by private craft larger than canoes and kayaks, so we carried on, vowing one day to take the five-minute ferry over from Richmond to explore. 
We slowed briefly for views of the Richmond and Gardiner waterfronts before going on to Hallowell, our lunch destination. There's no time limit for daytime tie-up at the town dock: "Stay as long as you like," Hallowell harbormaster Dan Davis told me. "Visit the shops and load up your boat with good stuff."
Ashore, we walked past a wharf-side lineup of rainbow-hued Adirondack chairs and up to Water Street. En route to the Liberal Cup brewpub, we peeked into windows proffering antiques, candy, ice cream, and lots of other goodies. (The old brick storefronts provide the backdrop for Winter Holidays in Hallowell, coming up December 10. The full day of festivities concludes with a parade and fireworks.)
After lunch, we headed downriver, eyes peeled for more jumping sturgeon and watchful eagles. As we neared the coast, I happily breathed in the sea air. Yet as I thought back over the highlights of our inland adventure, I was glad we'd decided to go in a new direction for a change.      
---
Contributing Editor Mimi Bigelow Steadman lives on the Damariscotta River in Edgecomb.
Share this article:
2023 Maine Boat & Home Show

Join Us for the Maine Boat & Home Show!
Art, Artisans, Food, Fun & Boats, Boats, Boats
August 11 - 13, 2023 | On the waterfront, Rockland, Maine
Click here to pre-order your tickets.
Show is produced by Maine Boats, Homes & Harbors magazine.