Classic Boat Shop
Finding a niche with the Pisces 21
By Laurie Schreiber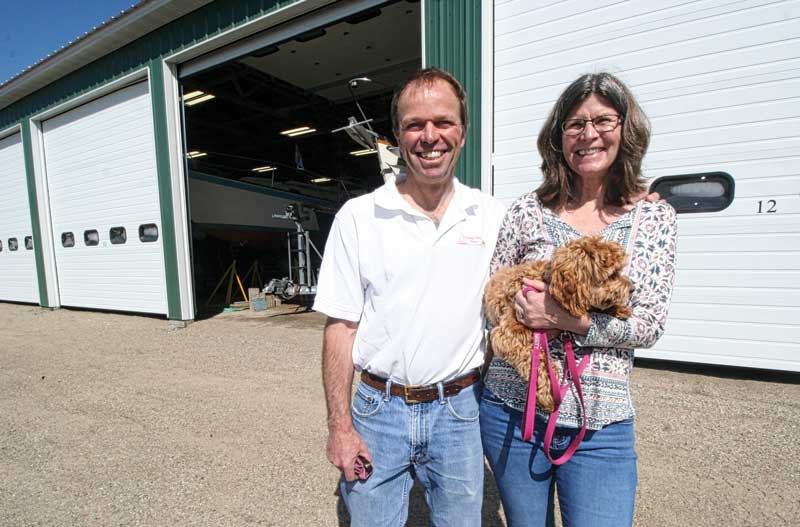 Jean and Margaret Beaulieu opened Classic Boat Shop in 1996. The full-service yard is going green, adding new solar panels. Photo by Laurie Schreiber
Jean Beaulieu and his team at Classic Boat Shop in the fishing village of Bernard, on Mount Desert Island, passed a milestone in 2016, when they splashed hull No. 50 of the yard's signature small sailboat, the Pisces 21.
The Pisces was designed in 1999 by naval architect Chuck Paine, with input from Beaulieu, as a takeoff on the Fish class sloop designed and built by Nathanael Herreshoff in the early 20th century. The Pisces has similarly classic lines but incorporates features that make it more seakindly and stable for boaters of all abilities. Praised as a wonderful family boat and great for singlehanding, the Pisces gets attention from boaters aiming to downsize from large yachts but still yearning for traditional styling and top-quality workmanship, albeit in a smaller package.
Beaulieu and his wife, Margaret, started Classic Boat in 1996. In addition to being the exclusive builder of the Pisces 21, the full-service yard also offers boat repairs, storage, and yacht brokerage services. Beaulieu got his start in the business by way of nearby high-end boatbuilder Morris Yachts. In the 1970s, while living in southern Maine, he bought a bare Morris hull, spent time with his wife finishing it, and sailed up the coast to Southwest Harbor, where he showed his handiwork to the late Tom Morris, then the owner of Morris Yachts.
"He said, 'If you're ever looking for a job, come on in,'" Beaulieu recalled. Ten years later, he took up the offer. At that time Morris was building smaller boats in the 30-foot range. Beaulieu loved the work. But when the yard moved toward bigger yachts, the Beaulieus saw an opportunity to focus on daysailers and left to start Classic Boat.
They started with storage and maintenance in the new yard, then rebuilds of Bullseyes, also designed by Herreshoff. Beaulieu finished a Morris 34, which was designed by Chuck Paine, for Tom Morris and the boat won best boat in show at the Annapolis Boat Show. He then connected with Paine to design a new boat, one like the 12.5-foot Bullseye, but larger.
"In 1914, people loved the Bullseye. Adults bought them for the kids, then realized they were a lot of fun. But the major complaint was that it was too small and too wet for an adult. So Herreshoff rescaled the boat and designed the Fish," Beaulieu said.
Paine and Beaulieu went with the same rescaling concept, studying the Fish lines and old Fish boats.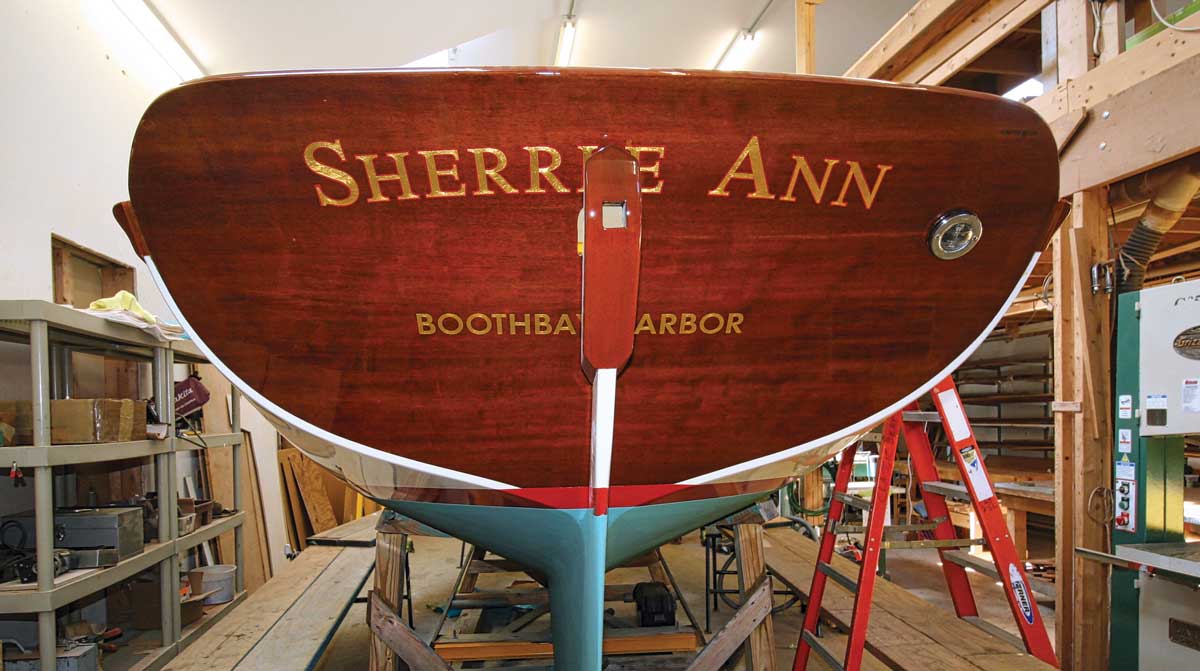 Beaulieu produced the mold for his fiberglass Pisces 21 from Sherrie Ann, one of his early cold-molded wood versions. Photo by Laurie Schreiber
First launched in 1999, the Pisces 21 draws 2 inches less than the Fish. "The bilge is fuller, and that translated into more initial stability," Beaulieu said. "We tweaked the sail plan and the keel to take some of the weather helm off, making the boat easier to drive. The rig looks traditional, but it's modern and efficient."
Beaulieu initially offered a diesel motor option, and in 2001 became an early adopter of the electric motor as an alternative. 
"It's helpful that it's been mainstreamed in the auto industry," he said. "Talking with customers about electric drives, it used to be, 'Nooo.' Now it's, 'Oh, you have electric!' So it's turned around."
Initially, the Pisces was offered in cold-molded wood; in 2004, Beaulieu began to offer it in fiberglass, as well. Both versions feature meticulously crafted varnished mahogany woodwork.
"When you step back and look at a fiberglass boat and you look at a wood boat, they look the same," Beaulieu said on a spring day when the crew was busy commissioning storage boats for launching, and readying a brokerage Pisces for shipment. "I think it shows that, aesthetically, you can have either one, and it will look like a wooden boat."

The cold-molded wood Pisces, center, belongs to Beaulieu and is the second in the line. Fiberglass hulls are on either side. Photo by Laurie Schreiber
Beaulieu has sold Pisces 21s across the nation, one to Bermuda, and two to Japan, thanks to a Japanese group that happened upon Classic Boat. Lately, the yard has come full circle as older Pisces 21s come into the brokerage—and quickly sell to new owners.
Beaulieu credits his wife and their employees for playing an essential role in the yard's success.
"I consider our employees to be just as important as our customers," he said. "Most have been with us for 10 years on average. We try to keep a steady workforce busy during all four seasons. Thanks to our large capacity of indoor heated storage, our employees are able to accomplish all that's needed during the less-busy colder months so that, come spring and summer, we can focus on launching all our boats on time."
As much as he's passionate about small, classic boats, Beaulieu is also an adherent to clean and safe boatyard practices. The yard is one of approximately a dozen in Maine certified under the Occupational Safety and Health Administration's Safety Health Achievement Recognition Program, which recognizes small employers who achieve exemplary injury and illness prevention through measures like safe handling and storage of tools, equipment, and materials, and proper protective gear.
The yard is also a designated facility of the Maine Clean Boatyards & Marinas Program, a partnership among industry, state and federal agencies, and environmental organizations promoting best management practices in areas like fueling activities and petroleum control, as well as waste recycling, disposal, and storage.
"It's a higher standard for the way we handle waste," Beaulieu said. "We educate our employees on how to achieve zero spills of hazardous material. We hire recycling companies to haul hazardous substances. All of our bottom wash water is collected over a concrete sealed pad and goes through a polishing system—like a mini sewer treatment plant—that takes out the impurities and metals."
This year, the yard is taking another step toward environmental stewardship, with the addition of solar panels, expected to produce 85 percent of the operation's energy.
After 23 years, Beaulieu still loves his job.
"I once heard the saying, 'Do what you love and don't let it feel like work,'" he said. "I think that keeps you young at heart."      
MBH&H Contributing Editor Laurie Schreiber is also a Mainebiz staff writer and has covered topics in Maine for more than 25 years.
---
For More Information:
Classic Boat Shop
369 Tremont Road, Bernard, ME
207-244-3374; www.classicboatshop.com
Share this article:
2023 Maine Boat & Home Show

Join Us for the Maine Boat & Home Show!
Art, Artisans, Food, Fun & Boats, Boats, Boats
August 11 - 13, 2023 | On the waterfront, Rockland, Maine
Click here to pre-order your tickets.
Show is produced by Maine Boats, Homes & Harbors magazine.