Crafting Wooden Spars
At Elk Spar & Boat Shop
By Laurie Schreiber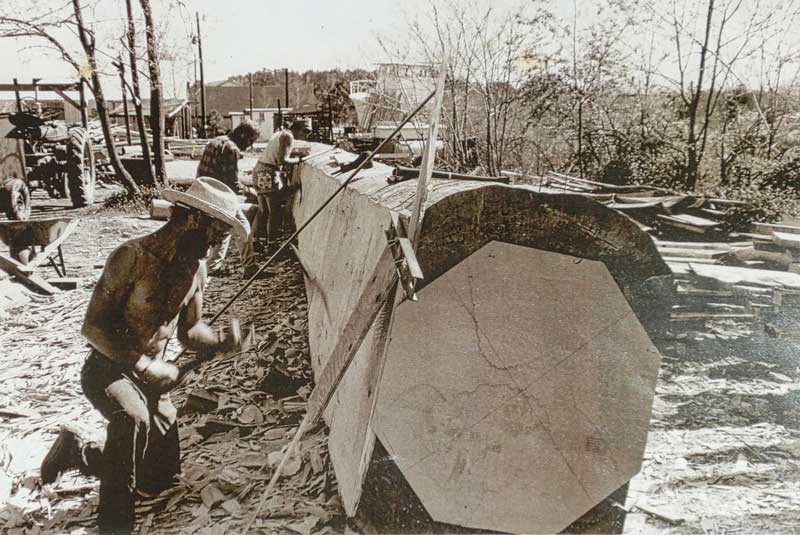 Seen here, Jim Elk (center) works on the old-school spar construction of the USS Constellation's main mast, in 1977 at the Richardson Boatyard. Photo courtesy Jim Elk
Maine is known for its builders of wooden boats, and many of those boats—at least the ones with sails—need spars, i.e. masts, booms, bowsprits, and the like. That's where Jim Elk comes in. Since 1996, he's been making wooden spars as well as restoring classic sailboats in his shop in Bar Harbor.
He's produced hollow and solid spars up to 90' long and more than 2' in diameter, with the quality of fine furniture and the strength to carry the tremendous load of a sail pushing a boat in high winds and rough seas. He's been the go-to person for clients ranging from individual boat owners to Maine shipyards to producers of historical reproduction boats. 
Originally from Iowa, Elk actually got his start before 1996. He moved to Maryland from the Midwest in the 1970s to work for Jim Richardson, a Chesapeake Bay master boatbuilder. There, he helped build spars for the skipjack fleet, a schooner, and other classic wooden boats. That's also where Elk met his wife-to-be. When she enrolled at College of the Atlantic in Bar Harbor, he followed her. On Mt. Desert Island, he found work first with John Williams Boat Co. and then with Frenchman's Bay Boating Co. He did jobs for other MDI boatyards, including the Hinckley Company, where he helped renovate a 100' Trumpy motoryacht.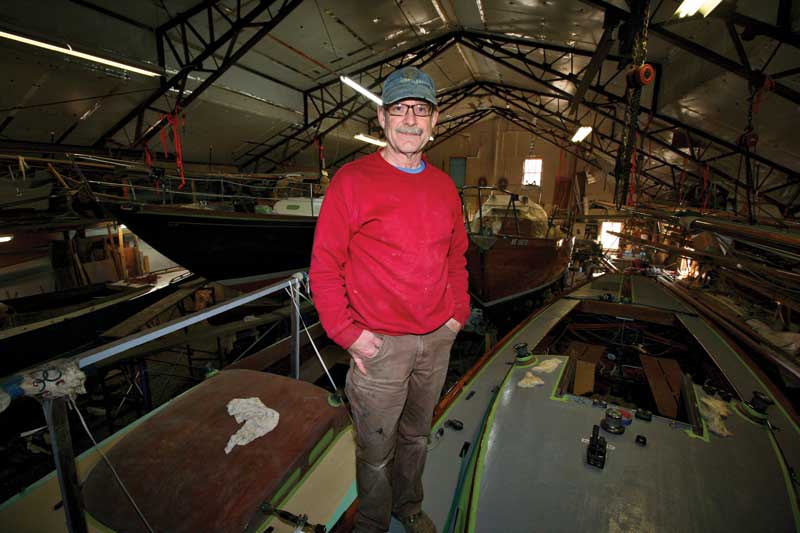 Longtime Bar Harbor spar builder and boat restorer Jim Elk stands atop the Luders 16 Lyra, which he restored, surrounded by other Luders 16s and an International One Design. Photo by Laurie Schreiber
During this time, Elk bought an International One Design racing sloop to fix up and sell. When the mast broke, he screwed brackets to the fence at his house as a makeshift spar-making operation, and built his own 45' hollow mast. As it happened, another fellow who had been building wooden spars for local yards had just gone out of business. When John Butler, who ran one of those yards, found out about Elk's mast he ordered six for IODs under his care.
"So I quit my job and went into business," Elk said. "I put an ad in WoodenBoat and started getting all kinds of work. Nobody was doing it back then."
With the construction of a 50' by 80' shop in 1996, building spars became the heart of his operation—and his favorite kind of work. He's built dozens of hollow spars, ranging in size from a dainty little mast for a Lightning class racer to 80-foot-tall pillars installed on a 65' schooner. Elk has made hollow masts for Brooklin Boat Yard, Boothbay Harbor Shipyard, Hylan & Brown, and an array of private boat owners. 
Elk primarily uses Sitka spruce, calling it "the epitome of a spar-maker's trade." Other woods include stronger but heavier Douglas fir and the versatile and affordable local red spruce. Hollow masts usually require internal room for wiring for lights and antennas and, depending on the job, halyards, radar reflectors, lightning protection cables, copper tubes for an air horn, and, once, even a picture of a grandmother. Special projects have included building the solid spars and all of the wooden rig-ging parts, such as the crow's nests and top-mast fittings, for Discovery and Godspeed, reproductions of historical Jamestown Colony boats built by Rockport Marine in 2007. Elk built spars for Adventure, a reproduction of a 17th century cargo vessel for the state of South Carolina; and for the Eleanor and Beaver, two ships built for the Boston Tea Party Museum in 2012, complete with crow's nests and period wooden rigging details.
Traditionally, Elk used an adze and a circular saw to shape his spars. Then in 2008, he designed a unique sawmill. A saw equipped with an articulating head and a control box allows the operator to tilt the blade and head up or down as needed to cut along a curved line. That provided considerable time-savings by making it possible to cut tapers in one pass.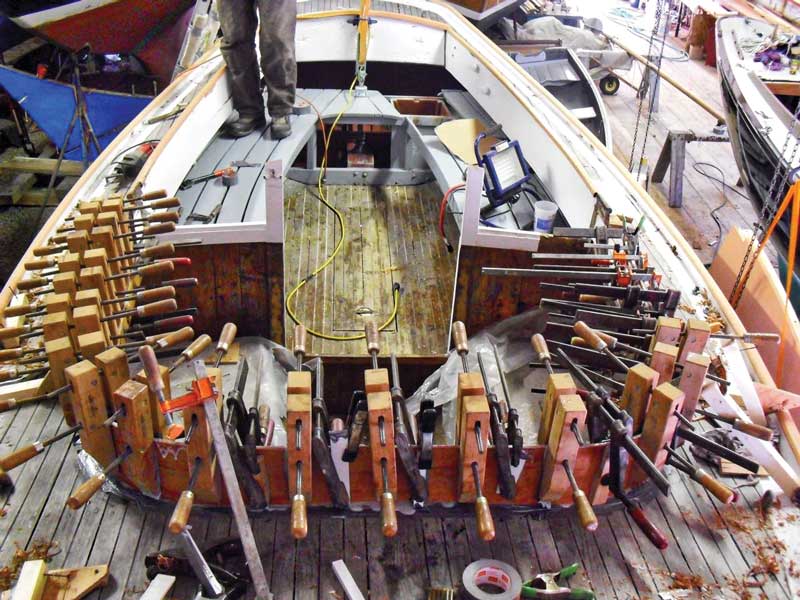 Elk has restored a number of Luders 16s, including this one from 2010. Photo by Laurie Schreiber
Elk has also restored a number of boats, including ones built by the Luders Company, a Friendship sloop, a sardine carrier, and a steam launch. These days, employing a couple of people at a time, he's concentrating more on storage and service. Recently in the shop were five Luders 16s, an International One Design, and Elk's own boat, a bright-varnished yawl named Premise that he charters out in the summer. Several of the L-16s were in pretty bad shape when they first came to him. Lyra originally arrived with rotten hull veneer and other decayed parts, and received a complete fix. Nearby is the black-hulled Sea Wolf, a job from 2009. 
"It was so rotten down below that I couldn't find any wood to glue to," he recalled. He turned the boat over and laid up layers for a new hull over the old one. "So because it was the worst one, it ended up being the nicest one in the fleet because everything got replaced." Elk used a similar process for Sylph, a Luders 24 whose veneers along the backbone were rotten. Cutting the bottom off high enough to be able to splice into good wood, he used the old boat as a form to cold mold sections of the hull. 
On a day last spring, a couple of long wooden masts sat on sawhorses, awaiting hardware installation and springtime commissioning. Outfitted in a Tyvek suit, Elk put on his respirator and safety goggles and got to work sanding as part of a paint and refastening job.
"A lot of guys who start out end up taking over the office side while everyone else does the work," he said. "But I always liked the work."  
---
MBH&H Contributing Editor Laurie Schreiber is also a Mainebiz staff writer and has covered topics in Maine for more than 25 years.
---
ELK SPAR & BOAT SHOP
Bar Harbor, ME    
Share this article:
2023 Maine Boat & Home Show

Join Us for the Maine Boat & Home Show!
Art, Artisans, Food, Fun & Boats, Boats, Boats
August 11 - 13, 2023 | On the waterfront, Rockland, Maine
Click here to pre-order your tickets.
Show is produced by Maine Boats, Homes & Harbors magazine.