Zola — Issue 155
The 2018 World Champion Boatyard Dog is (again)...Zola!
By The Editors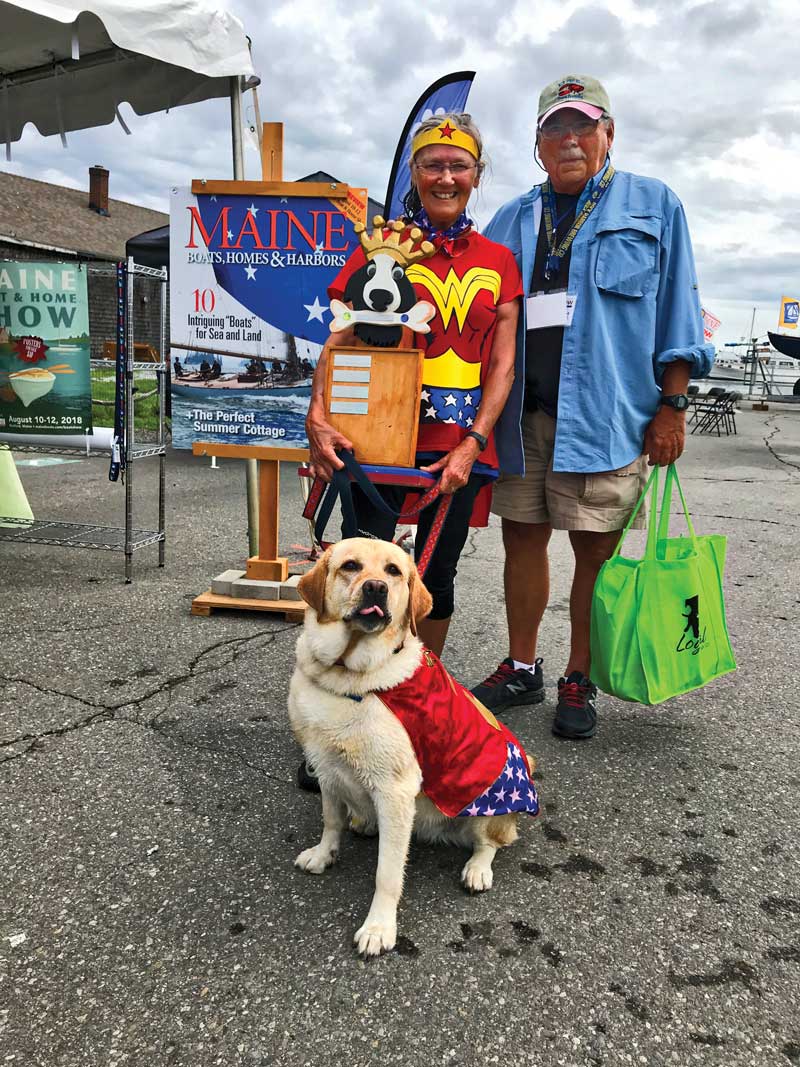 Photo by Polly Saltonstall
For the second year in a row, the high-spirited and high-flying Zola the Wonder Dog captured the title of World Champion Boatyard Dog® at the 2018 Maine Boat & Home Show in Rockland. The 3.5-year-old Labrador retriever lives on Pleasant Point Gut in Cushing, and with two wins under her collar she is convinced that her superhero status knows no bounds.
Accompanied by her trusty sidekick Nancy Holmes, who was disguised as Wonder Woman, Zola dazzled the crowd as she navigated the dockside obstacle course, bounded in and out of a tippy dinghy, and showed a stuffed lobster who was boss while the theme songs from Wonder Woman and Rocky set the stage. Her cape-clad performance culminated with a tandem dive into the ocean; Zola fetched a tennis ball while Wonder Woman retrieved the less-desirable Frisbee, and a not-so-subliminal crescendo of Queen's "We Are the Champions" played as they swam back to the dock. 
The crowd and judges agreed that Zola was the paws-down favorite, and she won the Canine Crown trophy and a photo shoot with sponsor and event photographer Debra Bell of Bell's Furry Friends Photography of Hermon.
When not saving the universe, Zola spends time with her mother Maizie and "uncle" Moxie chasing tennis balls and squirrels, playing tug-of-war with squeaky toys, and liberating socks from the sock drawer. The three pups also swim nearly every day in the chilly ocean water off Cushing.
As is always the way at the trials, every dog was a winner. Each competitor received a gift bag filled with delights from trials sponsors Loyal Biscuit and Water Bark Wellness.
Hopeful canine contenders for the 2019 Boatyard Dog Trials should send a letter and photo to byd@maineboats.com telling us why they want to compete in these paw-pular shenanigans. 
Share this article:
2023 Maine Boat & Home Show

Join Us for the Maine Boat & Home Show!
Art, Artisans, Food, Fun & Boats, Boats, Boats
August 11 - 13, 2023 | On the waterfront, Rockland, Maine
Click here to pre-order your tickets.
Show is produced by Maine Boats, Homes & Harbors magazine.