On the Town Dock 156
Ocean classes, river tunes, boats
By Polly Saltonstall
An education inspired by the sea
It is fitting that Searsport, known as the "town that went to sea," is the home of the newly launched Maine Ocean School, a public magnet school that uses the sea and its traditions, industries, sciences, and community to teach high school students. In its heyday, Searsport had more deep-water captains per capita than any other town in the country. Here, the next generation of marine-focused leaders is being formed.
The school, in its first year of operation, is a community-driven dream turned into reality. The members of the board are retired deep-sea ship captains, marine scientists, educators, and professionals who hoped that others could have successful lives like theirs, based on the common love of the sea. This passion for the sea is the prism through which the entire curriculum flows.
The school's math class has navigation components, biology has a marine slant, and even the English and history courses are stained with salt water. The kids must meet the same Common Core standards as all other Maine high school students, but unlike many of their peers, the Maine Ocean School students can see the "why" behind the classroom exercises.
There are a dozen kids in the first class, fairly evenly divided between boys and girls. All have post high school dreams. Hannah, a 14-year-old freshman from Stockton Springs, wants to be a marine biologist and thinks that "colleges will take me more seriously, because I am coming out of the Maine Ocean School." Islesboro resident, May, takes the ferry to school every day. She spends her mornings in the wheelhouse, and the return trips down in the engine room. "It's great. I even helped change the oil," she said.
There is great joy evident in this group of kids; they know they are a part of something new and proud of it. For more information about the Ocean School: www.maineoceanschool.org.
---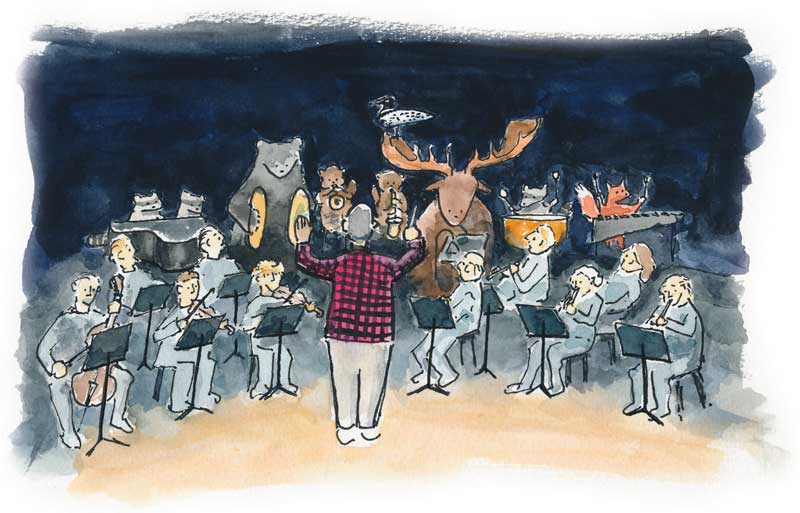 Illustration by Ted Walsh
The river's songs
The Allagash Wilderness Waterway is alive with the sound of music. And an enterprising first-time composer has set that music down on paper in a work he calls the Allagash Suite. The Augusta Symphony Orchestra performed the suite's world premier last November.
A seven-part musical adventure that transports the listener on a trip down the 92-mile Maine waterway, through Chase Rapids and Umsaskis Meadows and on, the work ranges from rollicking, as when logging trains sound off, and loggers yell timber (played by a trombone slide), or contemplative through vocalizations of creatures such as loons (played by the clarinet) and moose (the base fiddle), a chickadee (a piccolo and flute), and even bull frogs and peepers (piccolo, contra bassoon and bassoon), as well as a section devoted to sitting by the campfire and another concerning the river rapids. The approximately 20-minute-long piece of music is based on composer Nate Saunders's memories of a trip down the waterway when he was 15. He got the idea for the suite while listening to the Grand Canyon Suite by composer Ferde Grofé.
"I love the Allagash and I really love canoe trips," Saunders said. "And I really wanted to write a piece about Maine."
During the premier, members of the community orchestra wore plaid shirts over their regular black garb in a nod to the lumberjack ethos.
A musician who plays the violin with the Augusta orchestra, an amateur violin maker, and a Registered Maine Guide, Saunders, 58, said this was the first piece he has ever composed. He's not sure where he will take the work from here, but was adamant this was a labor of love, and not for financial gain. His day job is as an engineer with the state of Maine's Drinking Water Program.
"I hope it can be played again and that it's heard in different parts of the state," he said. "But this was for fun. This is not a financial venture for me."
---
Grant for 3D boatbuilding technology
The University of Maine Advanced Structures and Composites Center has received $500,000 from the Maine Technology Institute to form a technology cluster to help Maine boatbuilders explore how large-scale 3D printing using economical, wood-filled plastics can provide the industry with a competitive advantage. The grant will be matched with $500,000 from the U.S. Army Natick Soldier Research, Development & Engineering Center to form a technology cluster of UMaine engineers and Maine boatbuilders.
The consortium will design and print marine tools and boat molds for testing and evaluation, and develop a 3D printing training course for boatbuilders, as part of the process. The members of the technology cluster include: Custom Composite Technologies in Bath, Compounding Solutions in Lewiston, Back Cove Yachts in Rockland, Sabre Yachts in Raymond, Front Street Shipyard in Belfast, Hinckley Yachts in Trenton, Hodgdon Yachts in Boothbay, Kenway Composites in Augusta, and Lyman-Morse Boatbuilding in Thomaston.
Boatbuilders are often challenged by the cost and time required to create traditional marine tools and boat molds. 3D printing can reduce the production time by as much as 75 percent. But the high cost of the 3D printers and the cost of feedstock materials have been an impediment.
The UMaine Composites Center will develop a range of economical wood-filled materials for composite tooling applications. The goal is to lower the cost and increase the stiffness and toughness of the material, while reducing the environmental impact and improving recyclability.
---
Bucksport to cruise ships: "Visit us"
While other coastal Maine communities including Rockland consider ways to regulate cruise ships, Bucksport plans to pitch itself as a destination for major passenger cruise lines this winter, according to the Bangor Daily News.
The news came in October after the town on the Penobscot River welcomed the Hurtigruten Group's MS Fram, the first international cruise ship with a scheduled stop in Bucksport.
Bar Harbor and Portland lead the state for 2018 scheduled cruise ship stops. Rockland has put a cap on big cruise ship visits, while several Mount Desert Island towns don't allow any cruise ship traffic anymore, according to the BDN.
---
Big new building at Front Street
Front Street Shipyard's newest building is a 22,500-sq-ft facility that will enhance its ability to work on large vessels.
JB Turner, president and general manager of the shipyard, hosted a ribbon-cutting ceremony for the structure, which is known as "Building 6," on Nov. 7. The event was attended by U.S. Sen. Susan Collins, R-Maine, who delivered brief remarks, as well as Paul Andersen, president of Androscoggin Bank, which provided financing.
The massive steel structure was built by Maine Coast Construction, engineered by Gartley & Dorsky, and designed by John Hansen of South Thomaston. It was designed to be tall enough to accommodate the shipyard's 485-ton mobile lift—the largest in New England north of Newport, Rhode Island—which is big enough to move a 170-foot steel-hulled boat. Turner said he and his partners, as well as the shipyard's 100 employees, were grateful to everyone who has supported the yard over the past seven years.
Front Street also received $667,028 from the U.S. Department of Transportation's Maritime Administration's Small Shipyard Grant Program to purchase a new waterjet cutting machine that will streamline the construction of custom and production vessels. The grant is expected to enable Front Street to add 40 jobs, Collins said.
---
Hi-tech listening posts along the coast
We were intrigued by a recent article in the Working Waterfront about the legacy of the Cold War era military presence in Maine. According to the article, the military presence in downeast Maine—dating back to 1908 and a small radio receiving station on Mount Desert Island—has been transformed. Instead of a lot of people, it now involves an active and somewhat hush-hush Pentagon presence in both Cutler and Prospect Harbor.
Cutler's "bow tie" configuration of antenna masts, ranging in height from 200 to 980 feet, are apparently among the most powerful low-frequency radio transmitters in the world. According to the article, they remain essential to the Department of Defense's ability to communicate globally with submarines and other U.S. warships armed with nuclear weapons. For that reason tiny Cutler has been reported to be included among targets for immediate destruction in the event of a global war.
Prospect Harbor is home to the high-security, six-acre Detachment ALFA of the Naval Satellite Operations Center, the Working Waterfront reported. It serves as "mission control" for networks of satellites capable of monitoring real-time sea conditions—wave heights, winds, sea currents and weather—from virtually anywhere visible from space, despite cloud cover.  Naval technicians in Prospect Harbor can point surveillance satellites at global areas of strategic concern, such as the Middle East. The details are kept very secret, but the newspaper reported that Prospect Harbor's satellite tracking, telemetry, and command station is capable of managing at least five different constellations of earth-orbiting satellites under the U.S. Navy's satellite control authority.
---
I can see clearly now
Not so secret is a new set of spying tools in use by the Maine Marine Patrol.
With a $3,200 grant from the Maine Outdoor Heritage Fund and matching funds of $2,339.50 from the Maine Department of Marine Resources, the Marine Patrol has purchased binoculars that will improve the ability of officers to conduct surveillance for enforcement and search and rescue.
The new 14x40 Fujinon Image Stabilization binoculars have been distributed to the Marine Patrol's fleet of large patrol vessels throughout the state, replacing models that had only 7x magnification.
"The enhanced magnification allows Marine Patrol Officers to survey more area in greater detail," said Marine Patrol Colonel Jon Cornish. "This is especially important as more fishing activity is moving farther offshore."
The stabilization technology allows images at the higher magnification to remain in view as Marine Patrol Officers stand on the deck of a moving boat.
"We've gone from trying to identify boats that we can barely see on the horizon, to being able to see the antennas on boats before we can see the actual boat because it is still below the horizon!" said Marine Patrol Officer Matthew Wyman.
---
Shipping company fined for polluting
A German shipping company, MST Mineralien Schiffahrt Spedition und Transport GmbH, has been ordered to pay a $3.2 million fine after pleading guilty last fall to federal charges that it deliberately discharged oily waste in Portland Harbor, and then covered up the illegal dumping with falsified log books.
MST pleaded guilty to one count of violating the Act to Prevent Pollution from Ships and one count of obstruction of justice for using falsified log books to hide intentional waste discharges over a nine-month period during which the ship made port calls in Portland, according to a news release from the Justice Department's Environment and Natural Resources Division and the United States Attorney for Maine. In addition to the fine, the company must serve a four-year probation during which its vessels will be required to implement an environmental compliance plan, including inspections by an independent auditor. According to court documents, MST discharged oily bilge waste through the use of a so-called "magic pipe" that bypasses pollution prevention equipment. The discharges were not recorded in the vessel's oil record book.
---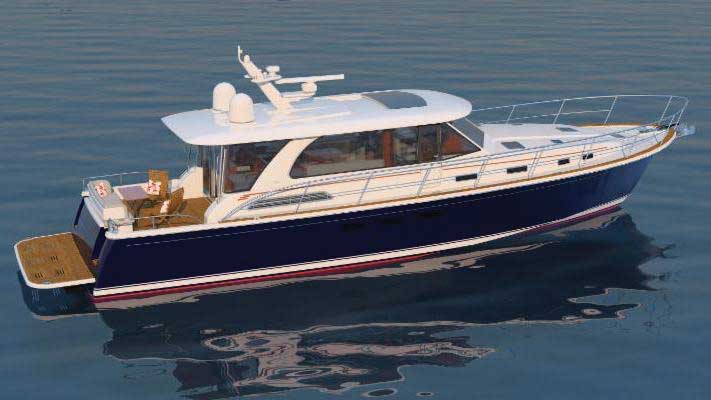 New model at Sabre
Sabre Yachts has begun production on their newest model, the 58 Salon Express, which is expected to debut in late 2019.
The 58 Salon Express design features large windows, and a main salon door that opens fully from port to starboard, merging exterior and interior spaces.  Located aft within the pilothouse is a fully equipped galley. Below deck, the 58 Salon Express houses three cabins each with ensuite head and shower,  including a full-beam master stateroom with a walk-around king berth, a head and shower unit, and abundant storage.
The Sabre 58 will be equipped with Volvo IPS 950 drives and Volvo Glass Cockpit accessories.
---
Brooklin Boat Yard building 55' sloop
Brooklin Boat Yard is building a cold-molded 55-foot sailing yacht custom designed by Botin Partners of Santander, Spain. Engineered for racing, the yacht has a simple, lightweight interior and three-spreader carbon mast. Upon her launch, the spirit of tradition sloop will race in the Panerai series of regattas in North America.
This is the yard's second collaboration with Botin Partners—the first was Toroa—launched in 2017. The Botin 55 has a lightweight cold-molded wood hull and deck built using some carbon-reinforced structure. The Botin 55 owner chose Brooklin Boat Yard and Botin Partners to design and build a custom yacht after seeing Toroa. The finished yacht is due to launch in May 2019.
---
Supersize movement hits a ceiling
Over the past couple of years, Maine fishing boats have gotten bigger and bigger as lobstermen travel farther in search of their catch. As the boats have grown, so have their engines. New environmental regulations have put the brakes on the manufacture of those engines, putting boatbuilders in a quandary and forcing them to look for work-arounds.
But thanks to the work of a young Maine-based product support specialist with Mack Boring there may be light at the end of the tunnel. Mack Boring's Peter Emerson has been working hard to persuade the U.S. Environmental Protection Agency to change or delay the implementation of the new rule. In response, EPA officials visited with boat owners and builders in Maine last fall, according to Mack Boring's New England Marine Sales Rep Jay Perrotta.
At stake is a set of EPA rules that took effect in October 2017. Without getting technical, suffice it to say that these rules make it difficult to equip the kind of boats used in the lobster fishery with engines larger than 805 hp.
Boatbuilder Steve Wessel told the Ellsworth American in October that his company, Wesmac Custom Boats, was feeling the pinch. "This is creating havoc among customers and builders," he said.
The emissions control equipment required to make higher horsepower engines that comply with the new rule and would work in shallow draft lobsterboats are complex and expensive, Perrotta said. His company and others made the decision that making engines for such a relatively small market would not be cost-effective—recreation boats were exempted from the new requirement.
Perrotta said he and others in the industry hope to have an answer soon from the EPA on whether the rule can be delayed. Stay tuned!
---
Shrimp season canceled until 2022
Citing continuing concerns that further fishing could drive the species to extinction, the Atlantic States Marine Fisheries Commission has canceled not only the 2019 Maine shrimp season, but the 2020 and 2021 seasons, as well.
The stock is so low that some fishermen said the fishery might never recover. "What I am communicating to our fishermen is that this is a signal that you should not plan on shrimp as a part of your business plan at any time in the future," Ben Martens, spokesman for the Maine Coast Fishermen's Association, told the Bangor Daily News.
The commission's draft Northern Shrimp 2018 Stock Assessment Report called the northern (Maine) shrimp stock depleted. "The stock has a low likelihood of ever recovering," G. Ritchie White, a N.H. commissioner, said in October.
Martens sees "two slim hopes" for the fishery to return. First, several very cold years in a row could allow shrimp to lay eggs and create a new generation, "but we haven't seen that happen." Or a significant effort to obtain new data might return different results. Neither is likely, he said.
---
Over the bar
Maine lost one of its treasures in late November with the passing of Dave Getchell Sr., 89. During a long career, he was managing editor and editor of the Maine Coast Fisherman, National Fisherman, and founding editor of the Small Boat Journal and the Mariner's Catalog.
Getchell co-founded the Maine Island Trail and created the Georges Highland Path, a 40-mile hiking trail system in midcoast Maine. "Getch," as he was known to his friends, loved nature, the water, fishing, and boats. He will be sorely missed. 
Share this article:
2023 Maine Boat & Home Show

Join Us for the Maine Boat & Home Show!
Art, Artisans, Food, Fun & Boats, Boats, Boats
August 11 - 13, 2023 | On the waterfront, Rockland, Maine
Click here to pre-order your tickets.
Show is produced by Maine Boats, Homes & Harbors magazine.